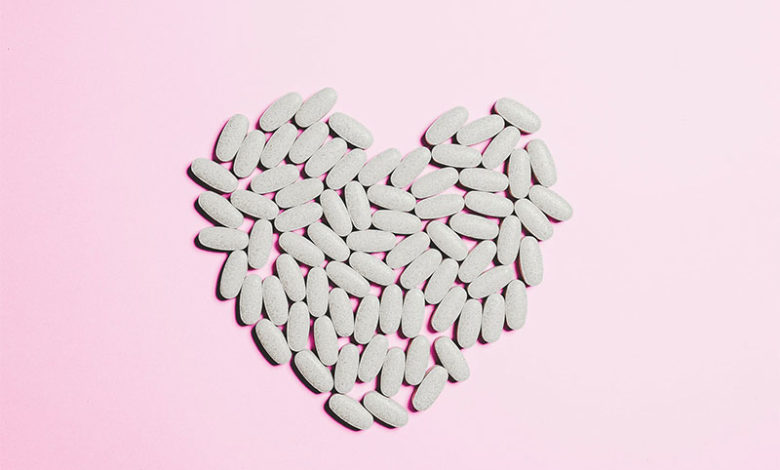 Are you taking your daily multivitamin? If that's a yes, you're one of the millions of women doing so every day. In fact, a recent study suggests 86% of American's pop their multi of choice[1]. Another found that only 10% of Americans actually eat enough fruit and veggies every day[2] – something creating deficiencies of important minerals among many women[3].
When accompanied by a nutritional, balanced diet, a multivitamin is a great way to make sure we cover all micronutrient bases. So, it makes sense we choose one best suited to us. After all, our specific needs certainly differ from men.
Did you know we require more iron than they do, for example? How about the eight milligrams of zinc that bumps up to 12 if we're pregnant? Yes, you guessed right, your bog-standard multi-sex multivitamin won't always do. More so if it's lower quality.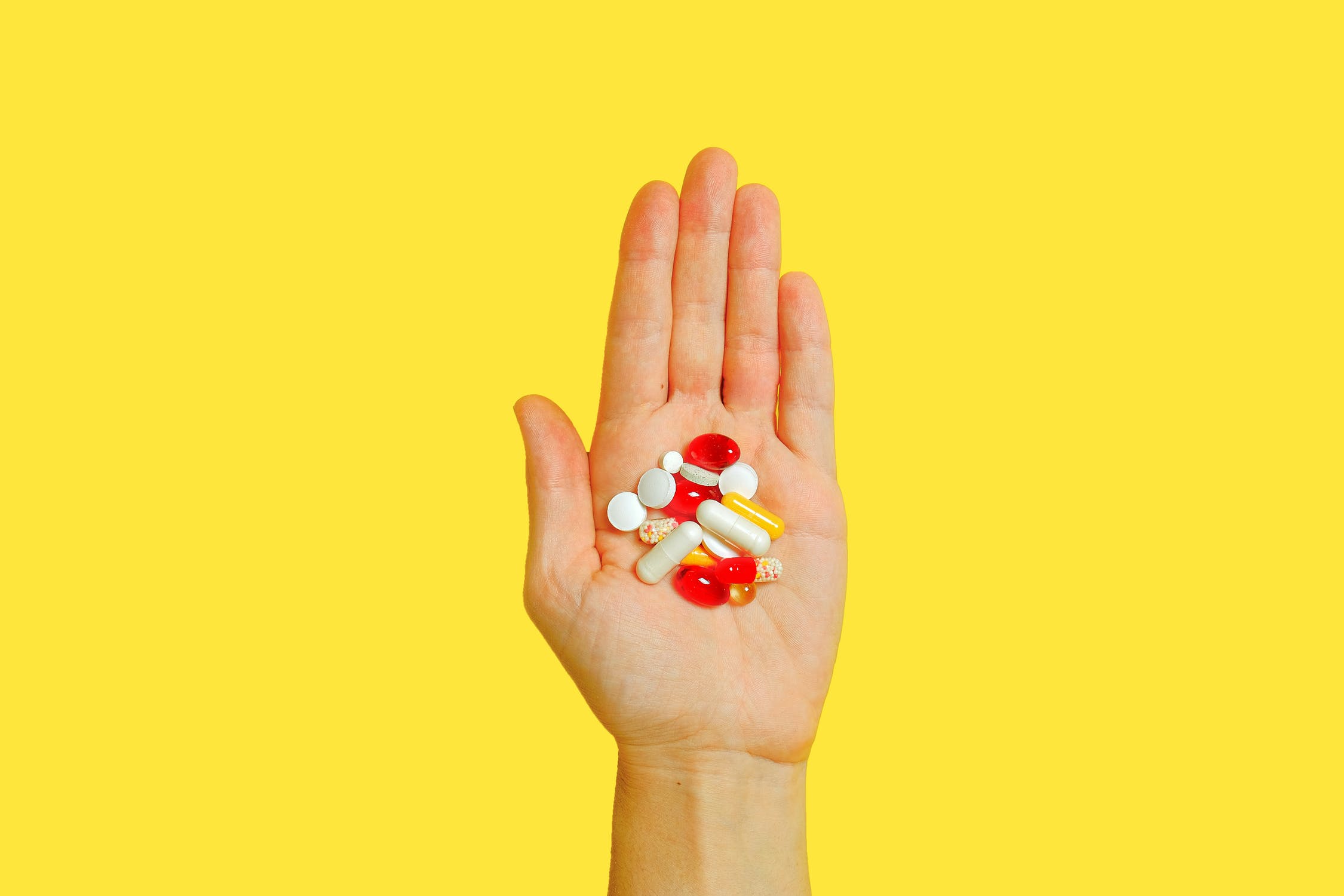 Benefits of Multivitamins
Micronutrient deficiencies are no laughing matter. Side effects can range from mild tiredness right through to anemia, brittle bones, and menstrual problems. Your health suffers, and as a result, so does your wellbeing.
On a positive note, if you're filling your plate with a wide variety of natural foods, you're well on your way to a healthier you. We recommend all women follow a well-rounded, nutritious rich diet of natural and fortified foods.
Multivitamins are there to fill in any gaps that creep in. Because although you might be doing your best, modern manufacturing and farming can damage food. Micronutrients are often lost or destroyed as a result, without us even knowing about it. Your multivitamin can make sure you're not missing out!
Another benefit of a multivitamin is pure convenience. Instead of rooting around in the cupboard or supplement drawer for five or six bottles, one does the trick. It's probably going to be easier to remember to take it too – not to mention easier to swallow.
What to Look For In Multivitamins for Women?
Okay, so what do you look for in a women's multivitamin? Here are a few things to keep in mind:
Seriously, you can always have too much of a good thing. Taking too much of specific vitamins can actually be bad for you – even harmful. Plus, us women are generally smaller than men, so the extra amount we're taking is going to be bigger. Stick to sensible doses – megadosing is a poor marketing tactic.
Dietary supplements like multivitamins generally aren't regulated by the FDA. So, by choosing third party tested multis, you can be sure of what you're getting. This means a healthier you because you're getting the nutrients you paid for – not underdoses.
Zinc is a trace mineral that's especially important for women's health. Your first reason to get enough is its amazing healing properties. We're not talking new age mysticism here, but genuinely helping cuts and wounds to mend. It's also important for keeping your immune system strong as well as aiding natural digestion.
Iron, like zinc, is another essential mineral for your health. We need a lot more of it than men too, which is why it's worth checking your chosen multivitamin. Unfortunately, menstrual bleeding results in iron loss, and sometimes deficiency.
Because iron is essential for the transportation of oxygen around your blood, not getting enough can make you tired. If a deficiency becomes bad enough, you might develop anemia. Side effects include headaches, brittle nails, fatigue, weakness, and dizziness.
Best Multivitamins for Women in 2021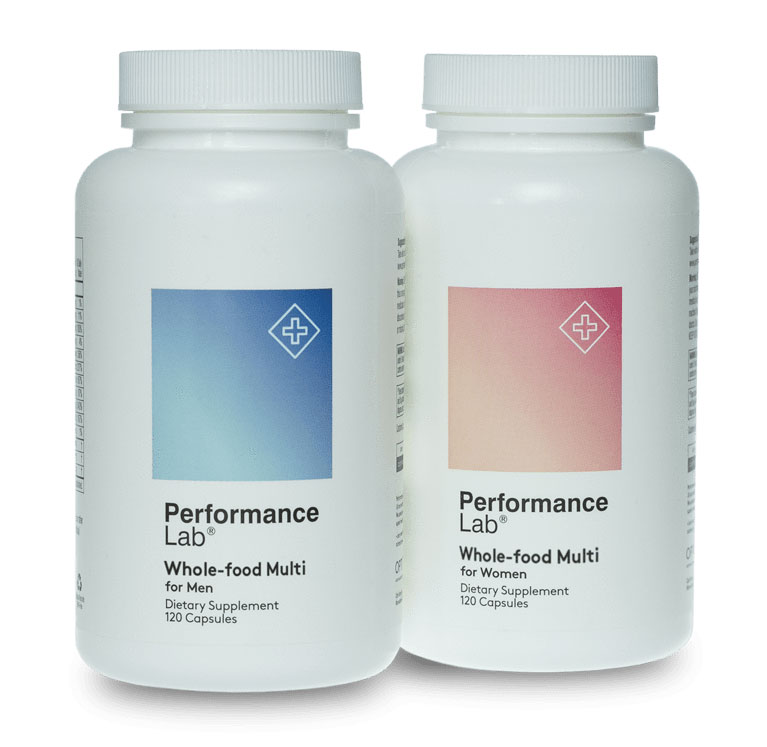 Performance Lab's Whole Food Multi for Women is our top choice of 2020. It's completely vegan-friendly, non-GMO, and supplies 100% daily value of over 17 essential vitamins and minerals. Plus, there's added probiotics inside to help digestion and improve absorption. Performance Lab has really gone the extra mile on this one -without dangerous megadoses.
Formulated for women
Probiotic BioGenesis™ + Prebiotic Plantcaps® for Digestive Support Synergy
Supplies at least 100% Daily Value of 17+ essential vitamins and minerals
Non-GMO
Allergen friendly
Vegan
Gluten-free
Soy-free
No megadoses
Good value for money
At just $40 per bottle, Whole Food Multi for Women is the best value for money multivitamin out there. Not only is the formula filled of the essentials, but it's packed with nature-identical vitamins and minerals. We're also huge fans of Performance Lab's choice to go allergen-friendly and vegan.
Shop Performance Lab Women Multivitamin Now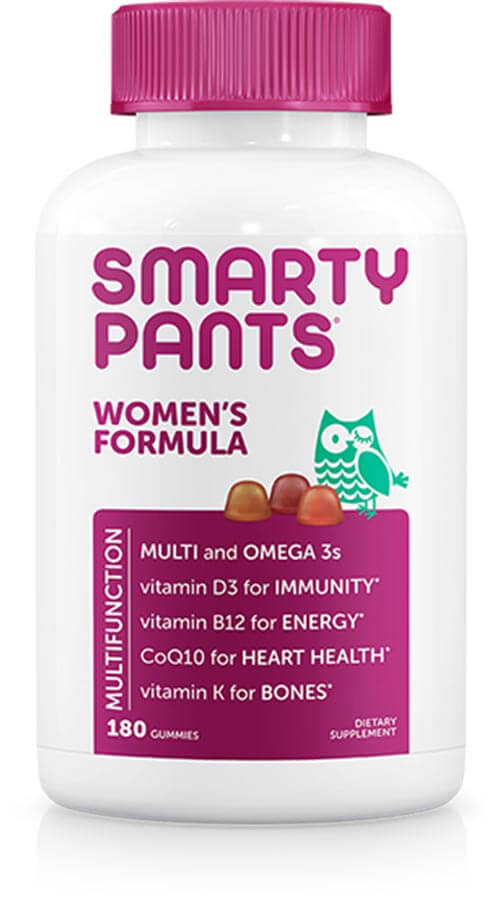 In second place is Smarty Pants Women's Formula Gummy Vitamins. These are tasty, chewy, convenient, and crammed full of goodness. Inside you'll find 17 essential nutrients vita for women's health, as well as added extras. These include fish oil for joint and immune health, as well as co-enzymes for digestive help. If you're not a fan of swallowing capsules, these SmartyPants gummies are a great choice.
Gummies, not capsules
3rd Party lab tested
Non-GMO
17 Essential nutrients
Biotin for healthier hair, skin, and nails
No synthetic colors or artificial sweeteners
Gluten-free
Premium ingredients
Affordable
It's not very often you find a high-quality multi you can chew and enjoy the flavor. At $14.99, they're great value for money too, falling just behind our top pick. These gummies are 3rd party lab tested, so, you can be confident you're getting everything you pay for. Unfortunately, they're not vegan though.
Shop SmartyPants Multivitamin Now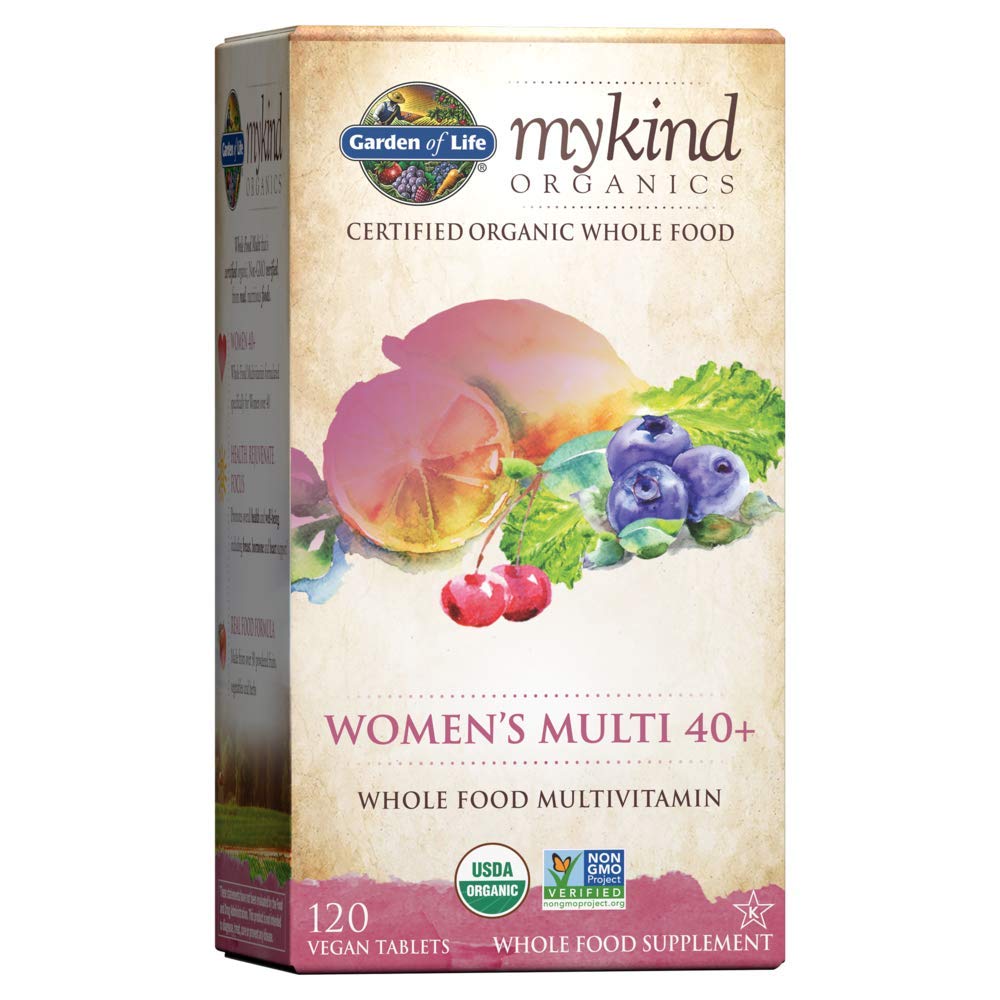 Taking our third spot is Garden of Life's Multivitamin for Women. Garden of Life are one of the most respected makers of multivitamins and their women's multivitamin is no exception. It's certified organic, non-GMO, vegan, and free of both gluten and synthetic dividers. There's even organic food, breast support, and hormone support blends too.
USDA Certified organic
Vegan
Gluten-free
Hormone & breast support blend
16 vitamins and/or minerals at 100% daily value or more
Thyroid support
Verified whole food multivitamin
Garden of Life have been a leader in the multivitamin field for years. Their dedicated women's supplements offer the high-quality attention to detail you'd expect too. This one is not only USDA certified organic, but vegan and gluten-free as well. At $51.08, it's slightly more expensive, but the thyroid and breast support could be extras worth paying for.
Shop Garden of Life Multivitamin Now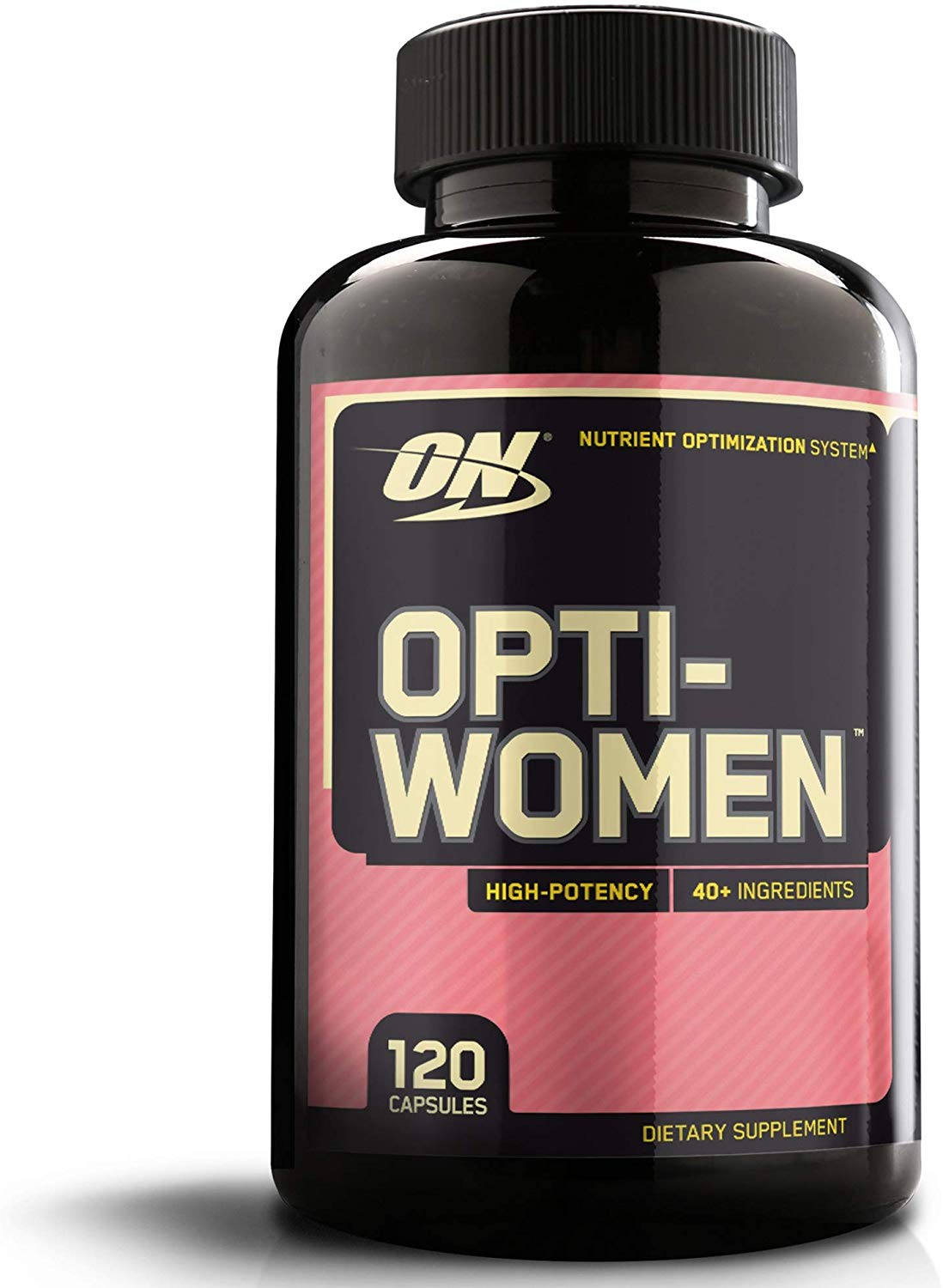 If you're into keeping fit, you might have heard of Optimum Nutrition. They're a leading manufacturer of sports nutrition supplements and have a reputation for high-quality. We've picked their Opti-Women multivitamin for the number four spot because it's filled with 23 essential micronutrients, as well as 17 specialty ingredients for women. These are all delivered in a Vegetarian Society Approved Vcap too.
23 Essential vitamins & minerals
18 mg Iron
17 Specialty ingredients
Made with Vegetarian Society Approved Vcaps
Created in Optimum Nutrition owned facilities
High-quality ingredients
Opti-Women is a great, all-round multivitamin at an affordable cost. We'd even say it's probably the best $20 women's multi available. Inside are all the vitamins and minerals we'd hope to see for women's health, plus more. It's hard to say if the added parts will all be beneficial, but Opti-Women's main formula is brilliant.
Shop Optimum Nutrition Opti-Women Now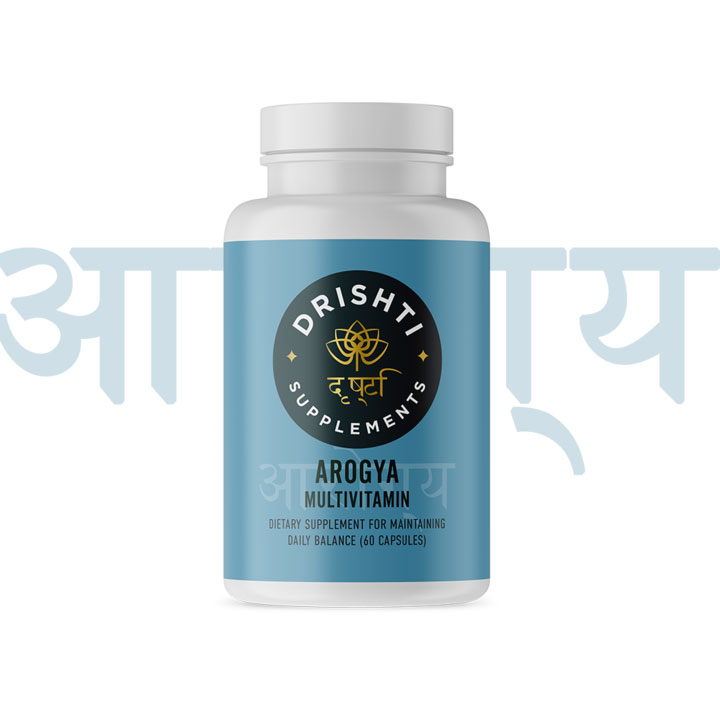 Manufactured by PFX Labs, Arogya is a very promising and good value women's multivitamin. It's a product perfect for the most active woman, right down to the most sedentary. Arogya by Drishti is a multivitamin that contains a complete and balanced blend of vitamins and minerals to boost immunity and energy levels. It also contains blends of carefully selected herbs that can positively impact female hormones.
20 Essential vitamins and minerals
Health Support, Immune Support, and Antioxidant Fruit and Energy Blend
Designed for active and sedentary women
Vegetable capsule
15 Micronutrients at 100% Daily Value or higher
This multivitamin uses research-backed ingredients like Green tea and Echinacea to support immunity, whilst also containing ingredients like Saw Palmetto and Lutein to promote healthy estrogen levels and reduce exercise-related inflammation. Coupled with the fact it has a range of key vitamins and minerals essential for daily health, Arogya Multivitamin by Drishti should be a perfect product for any woman to supplement.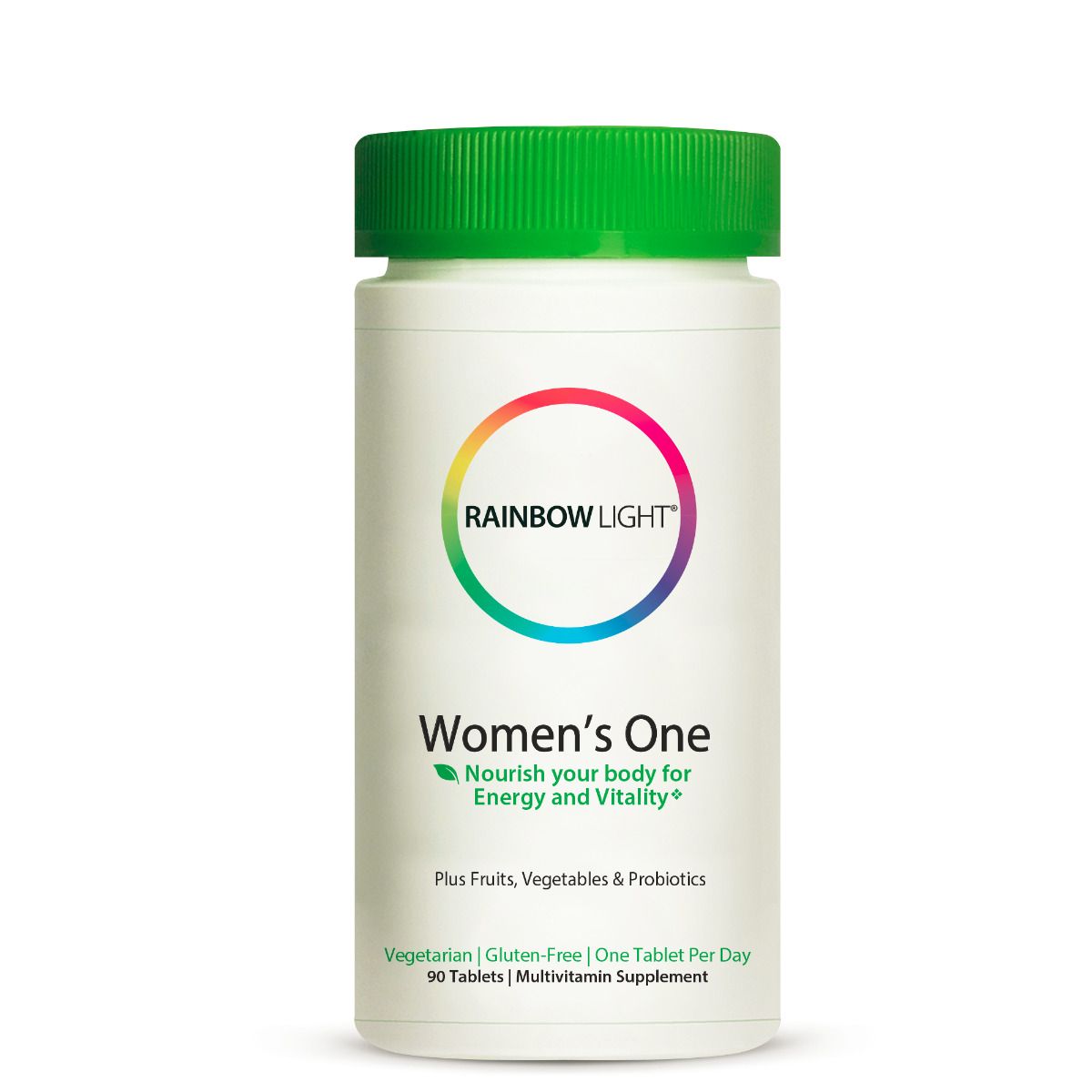 Rainbow Light's Women's One is an innovative multivitamin promising customized nutritional support. Apparently, it's, "packed with scientifically studied vitamins and minerals to nourish, energize, and fuel female vitality at the cellular level." The nutrition label certainly says so, showing all the essentials, plus Digestive Support, Women's Vitality, and Organic Vibrant Food blends. Given Rainbow Light's reputation for high-quality products, we're happy to recommend Women's One.
Customized nutritional support
Promotes whole-body health
Vegetarian
Gluten-free
24 Essential vitamins & minerals
Digestive Support, Organic Rainbow Vibrant Foods, and Women's Vitality Blends
No artificial preservatives
Allergen friendly
It's hard to find fault with Women's One. You'll find all the key components we'd expect in a women's multivitamin and more. We love the Vibrant Food Blend and like how Rainbow Light have included a Women's Vitality Blend too. At $37.99 for 150-capsules, it's very affordable too. We just think they're missing a gap in the market not making it vegan.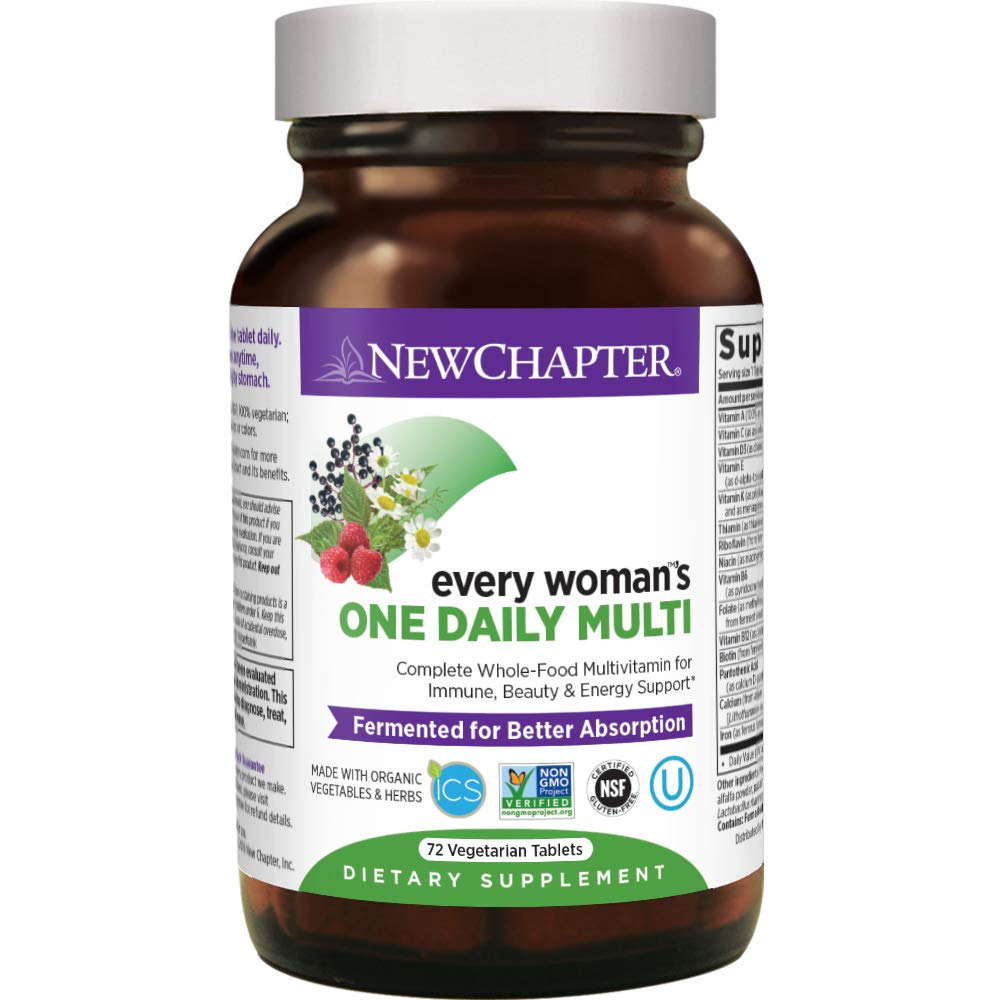 Next up is New Chapter's Every Woman's One Daily. Here we have a complete whole-food women's multivitamin fermented for better absorption. Given that the only useful nutrients are the ones you absorb, this is a big plus in our book. We also think it's innovative how, even though it's a gummy, they've chosen not to use animal gelatin. So, each one is 100% vegetarian.
Immune, energy, & beauty support
23 Essential vitamins & minerals
Vegetarian
Stress & energy support blend
Fermented for better absorption
Non-GMO
Gluten-free
Gummies
New Chapter are a vitamin brand we see time and time again – for good reason too. They're well known for making some of the most innovative multis around and we're really impressed by their Every Woman's One Daily. It's also very good value for money at $35.97 per 72-count bottle.
Shop New Chapter Women's Multivitamin Now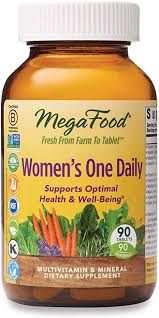 Our eighth spot MegaFood says their vitamins are "fresh from farm to tablet". So, if you're looking for a nourishing multivitamin untouched by pesticides and herbicides, this might be the one. Women's Daily also claims to give women like you what your body needs. It's great to see they've included a whole 9g of iron to replenish anything lost during menstruation.
22 Essential vitamins & nutrients
9 mg of iron to replenish levels lost during menstruation
Nourishing food & herb blend
Tested for 125+ pesticides & herbicides
Vegetarian
Non-GMO
Free from soy & dairy
They've really gone out of their way to make Women's One Daily as natural as possible. On the label are certifications assuring us of such, and we love how the level of ingredients inside isn't compromised either. It's the full package for any woman looking for a natural, well-balanced multivitamin. $45.91 is a competitive price too.
Shop MegaFood Multivitamin Now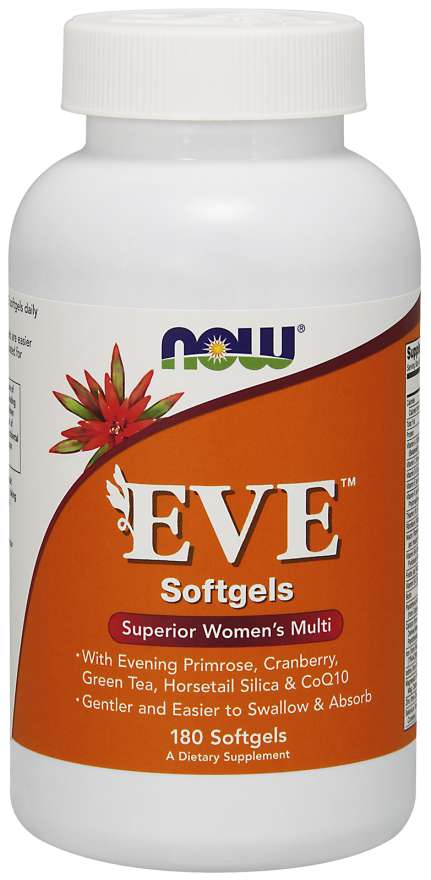 NOW EVE Women's Multivitamin soft gels are said to be specially formulated for pre-menopausal women. Inside you'll find the key vitamins and minerals you'd expect, with added extras like antioxidant-rich Green Tea, CoQ10, and cranberry. NOW are also a founding partner of Vitamin Angels – a foundation committed to ending malnutrition in children.
Easier to swallow soft gels
Rich in antioxidants
23 Essential vitamins and minerals
Quality GMP Assured
Laboratory testing GMP Quality Assured
Packaged in the USA by family-owned and operated company
If you're looking for an easy to swallow multivitamin, NOW's dedicated women's soft gels could be for you. They're designed to be easier on your GI tract than tablets and feature added antioxidants for cell protection. Unfortunately, NOW EVE Women's Multivitamin isn't vegetarian, so it might not be for everyone. But some of your $30.15 cash will contribute to helping end child malnutrition.
Shop Now EVE Women's Multivitamin Now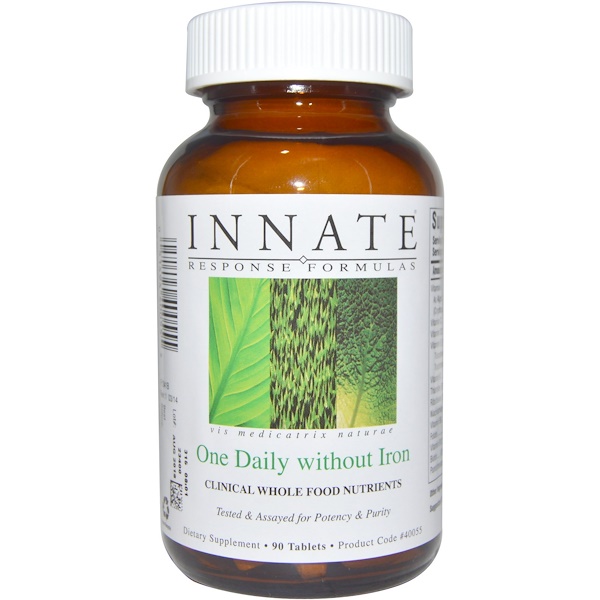 Our number ten pick comes from INNATE Response Formulas. They say they've taken a "wholistic" approach with their Women's One Daily, which is just what we like to hear. It's non-GMO, tested for 125+ herbicides and pesticides, while also being rich in iron.
Tailored nutritional support
8 mg iron
Promotes bone health
22 Essential vitamins & minerals
Rich in antioxidants
Gluten-free
Certified kosher
Dairy-free
INNATE Response Formulas claim their products are where nature and science meet. Their Women's Only Daily definitely fits the tagline and it's a good, well-rounded multivitamin. We especially like how they've included iron, chosen to remove a lot of allergens and refrain from pesticides for purity. However, the $40.96 could be seen as a little steep.
Shop Innate Response Formulas Now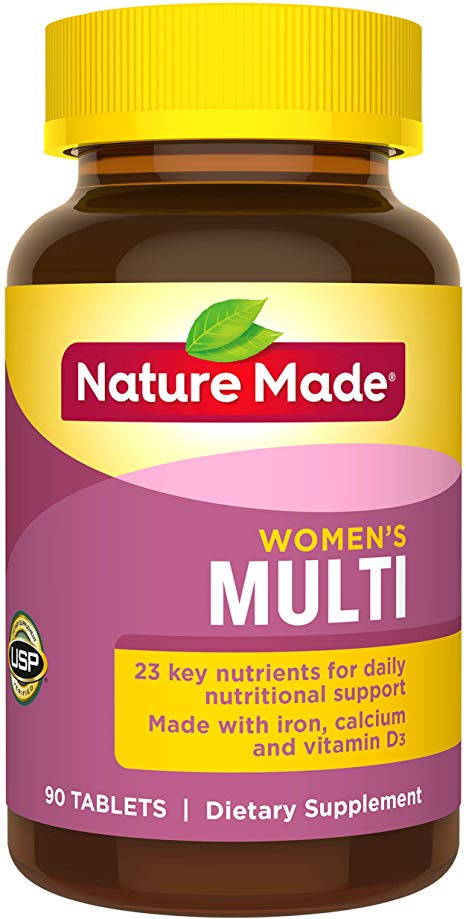 Nature Made's Women's Multi contains 23 key nutrients essential for healthy wellbeing. What we like is how streamlined this multi is, which might be something you're after. It's also free from gluten, artificial flavors, and colors too.
23 Key vitamins and minerals
Streamlined
Gluten-free
No artificial flavors or colors
18 mg of iron
Sometimes all we want is a multivitamin without the added extras. If that's you, Nature Made's Women's Multi could be the one. All the key nutrients are inside, and it's extremely affordable at $21.99 for 300-tablets. We'd say this is ideal for any woman on a budget – so long as you're not vegan.
Shop Nature's Made Multivitamin Now
Who Should Use Multivitamins for Women?
This isn't a trick question – but who should use multivitamins for women? We'd recommend a multivitamin to any woman looking to protect herself against nutrient deficiencies. It's really that simple sometimes.
If you find yourself occasionally having to eat less nutritious meals, a multi-vit could help fill any gaps. Maybe you're stuck out and can't have your usual fill of fruit and veggies. Life can be like that sometimes, but you'll be protected.
However, if you're pregnant or on any medications, speak to your doctor first. They'll be able to advise if a women's multivitamin is right for you.
Summary
Finding the right multivitamin for your goals is an important process. After all, everything you put in your body impacts your health in one way or another. You're the kind of wellness conscious woman who wants to make a positive difference.
Narrowing down the huge list of women's multivitamins down to just ten was hard. But we got there in the end, and we're confident in our choices.
Performance Lab's Whole Foods Multi stood out to us from the start. So, while picking just 10 in total, finding our top choice was easy. It's the most comprehensive formula out there today, alongside being one of the most innovatively manufactured. Vegans, omnivores, and all-round holistic women are supported here.
Now, we know not everybody likes to swallow capsules or a tablet. That's why we put a tasty gummy in second place. We've also looked at including soft gels in our list too, which are said to digest better. Naturally, if you're someone with mild digestive issues, these might be the best option for you. You'll also notice we've added a budget option in case you're feeling the squeeze, but still want to stay healthy.
A multivitamin is there to help boost your already nutritious diet. We're confident in recommending any of our top-10 picks to any woman who wants an extra step of support for her health. It's all about choosing the right one for your goals – whatever they might be.
References
[1] https://osteopathic.org/2019/01/16/poll-finds-86-of-americans-take-vitamins-or-supplements-yet-only-21-have-a-confirmed-nutritional-deficiency/
[2] https://www.cdc.gov/media/releases/2017/p1116-fruit-vegetable-consumption.html