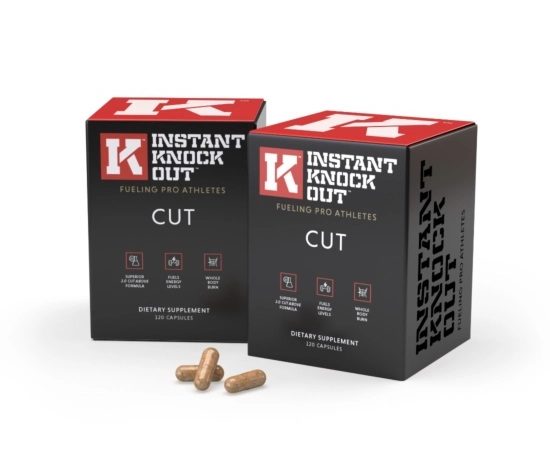 Reviews
Supplement Reviews
Instant Knockout Cut Review 2021 – Does it Really Burn Fat?
We take a closer look at Instant Knockout Cut to find out if it really can help you lose fat
Introducing Instant Knockout Cut
Initially designed to help MMA fighters and boxers cut before a big fight, Instant Knockout CUT is now one of the most popular all-natural fat burner supplements on the market. It might be popular, but we want to look beyond the hype and find out whether it really works.
In this Instant Knockout Cut review, Spot Me girl put it under the spotlight. Keep reading to find out more.
The design of the box and bottle really do pack a punch, with a black and red box complimented by an innovative and eye-catching fist shaped bottle! We know what you're thinking, overall it looks like a product that's created for dudes. However, that's not an issue for us at SpotMeGirl. We don't mind the color of the box when it comes to supplements, as long as what's inside gets results for women too.
Instant Knockout Cut claims to help you lose weight through a number of different methods. Apparently, it'll help to boost your metabolism, burn more fat, control your cravings and boost your overall energy levels.
We see these kinds of claims from countless fat burner supplements and more often than not, they add up to a huge dose of caffeine and a headache. In such a saturated, unregulated market packed with dodgy products, finding the fat burners that are well researched and effective is no easy task.
After years of reviewing supplements, we know what makes a quality supplement and what's going to be a flop. The answer to whether it really does deliver on its promises is in the supplement facts. Our Instant Knockout Cut review will put each ingredient under scrutiny.
We're looking to see if each ingredient is familiar to us, proven to work through scientific research and well dosed. From there, we can tell you how effective Instant Knockout Cut really is at burning fat.
At SpotMeGirl, safety is a huge deal. So, during our Instant Knockout Cut review, we'll be identifying any potential side effects you may experience from taking the supplement.
As women reviewing a supplement, we also have the unique needs of female fitness fiends at the forefront of our mind. We actually have slightly different needs when it comes to succeeding at a diet compared to men, so we're looking to see if Instant Knockout Cut can support women in their weight loss journey.
We also want to see results in the flesh, so we'll look into what other people are saying about Instant Knockout Cut and find out if it really helped them lose weight.
Finally, we'll round off this Instant Knockout fat burner review by assessing the effectiveness of the product vs the price to find out if it's worth your money.
Find out how Instant Knockout Cut fares under review and read on.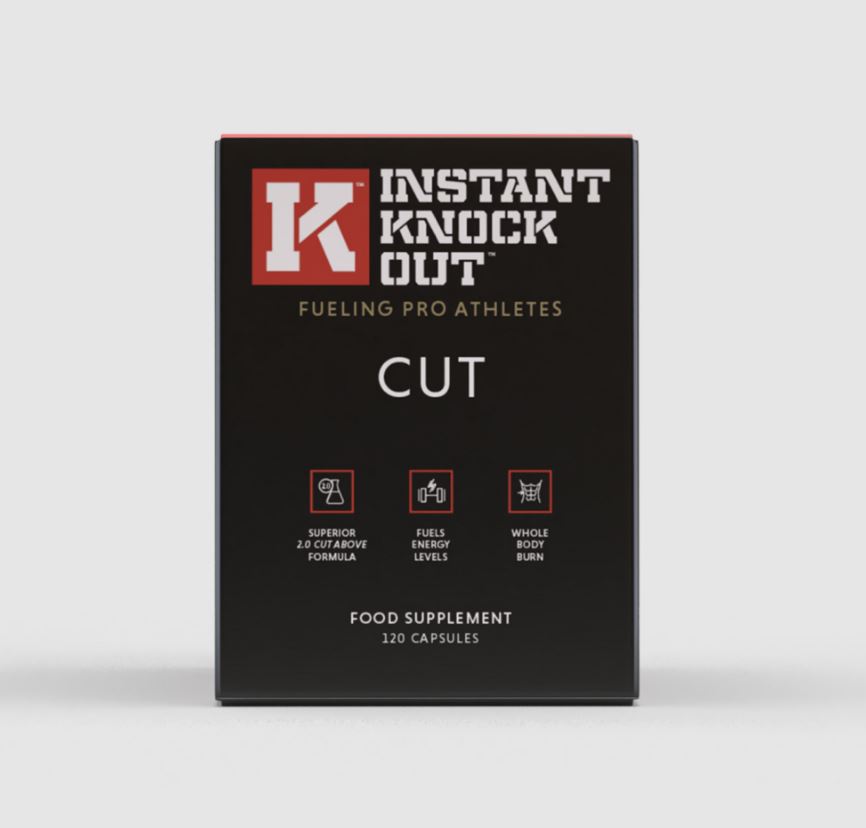 What are the benefits of taking Instant Knockout Cut?
The key benefits of Instant Knockout Cut involve more than fat burning. After close review, we discovered that this supplement offers more of a support system to help maintain a diet and healthy lifestyle.
Helps your body burn more calories
First and foremost, lets address the fat burn. Instant Knockout Cut contains potent thermogenic ingredients we're very familiar with, designed to raise your metabolism. That means you'll be burning more calories, even at rest.
Supports you and your diet
The Instant Knockout formula also contains proven appetite suppressants. This is especially important for women, as we're more likely to give into cravings than men are. With an appetite suppressant in the mix, you're in complete control of your diet and are more likely to stick to it. Which in turn, leads to extra fat loss.
Keeps you energized
On top of that, there's also some caffeine in the formula to help you stay energized and focused while on a low-calorie diet. As an active lifestyle is essential to a fat loss journey, a stimulant like caffeine is so important.
We're used to seeing stimulants in fat burners, however the majority of manufacturers over-dose their supplements with it. An additional benefit of Instant Knockout Cut is it only contains about half as much caffeine as other fat burners. We found it to be optimally dosed to bring you a clean lift, without any jitters or a migraine.
Is Instant Knockout Cut safe?
As a carefully dosed, completely natural formula, we found Instant Knockout Cut to be one of the safest fat burner supplements out there.
Firstly, it's completely free of proprietary blends, which is a huge plus for us in terms of safety as many manufacturers use these unidentified mixes to fill their capsules. The main issue with them is you don't know what's inside, whether it's good for you, or if these mystery ingredients are safely dosed.
Instant Knockout Cut is completely free of proprietary blends and its capsules are vegan friendly.
We also mentioned before that Instant Knockout Cut contains some caffeine. Although it is a substantially lower dose than most other fat burners and should be safe, it's worth factoring the extra caffeine into your day. The addition of L-theanine also works with caffeine to alleviate any harsh side effects from the stimulant – such as jitters or anxiety – so you can enjoy the energy boost without the worry.
If you're a regular coffee or tea drinker, think about lowering the number of cups you would normally have. As caffeine is a diuretic, we'd also recommend you drink plenty of water throughout the day to avoid dehydration.
If there is any chance you could be pregnant, we recommend you speak to your doctor before purchasing a supplement.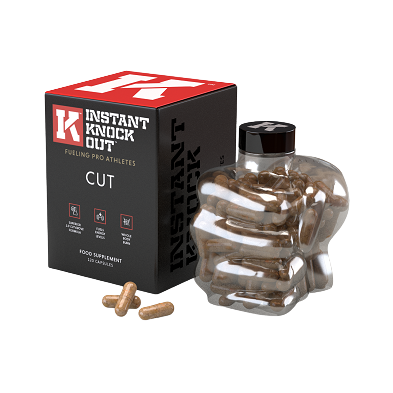 Instant Knockout Cut ingredients
Instant Knockout Cut contains 9 completely natural ingredients, including a number of vitamins and minerals. After reviewing the whole selection, we can confidently say they've been well researched and each one contributes to the fat loss process.
To give you an idea of how this supplement works, we've pulled out the key players and identified their fat burning roles within your body.
Green tea extract
Green tea is a powerhouse in the world of fat burner supplements.
We've seen countless journals of scientific research, showing the weight loss results associated with green tea [1]. According to these studies it's the catechins in green tea that play a big part in promoting fat loss [2].
It also contains a small amount of caffeine, which is a thermogenic, meaning your metabolism will be higher and you'll burn more calories. Overall, we've found that this ingredient has been linked to fat loss in 11 individual studies.
On top of this, the caffeine can also help to provide an additional energy boost for bigger workouts.
Glucomannan
Also known as Konjac Root fiber, this is the ingredient that helps you stick to your diet. Glucomannan is a powerful, proven appetite suppressant that's well known in the fat burner industry [3]. It expands when it hits your stomach, making you feel fuller, so you're less likely to give in to cravings or overindulge.
As we've mentioned, this is a key element for women. Sweet treats and cheat snacks can often throw us off track when it comes to dieting. With additional support from glucomannan we're more likely to stick to our diets and resist temptation.
Cayenne pepper seeds
We're also familiar with the powers of cayenne pepper seeds. Not only are they packed with vitamins that will nourish your body, it's also another powerful thermogenic. The spice in these seeds heat up your body, so you have to work harder to cool down. All of this expends energy, which means your metabolic rate will be raised.
It also works by increasing your insulin sensitivity [4], so you use and store carbs more efficiently. If you're resistant to insulin, you're more likely to store carbohydrates as fat, so the higher your sensitivity, the better.
Caffeine anhydrous
Many of us know caffeine can be a game changer when it comes to the working week. But when you're on a weight loss journey, it's essential to keeping you energized, even when a low-calorie diet has you feeling fatigued. With support from this ingredient, you're more likely to smash a workout and stay active, which is vital to losing weight in a healthy way.
Instant Knockout Cut is dosed to around half of many other similar supplements. This may sound like they've under-dosed it, however we like this a lot. So many products are overfilled with the stimulant, often resulting in headaches and jitters. This fat burner gives you the optimal amount to boost energy, without nasty side effects.
L-Theanine
L-theanine is an amino acid most commonly found in tea leaves. Whilst it has been used to treat many ailments over the years, it also complements weight loss well too. It is highly effective as an appetite suppressant[5], to combat overeating and cravings so you can keep a lid on calorie intake. it also possesses stress-fighting abilities, to reduce anxiety and insomnia significantly[6].
Because of this, it brings out caffeine's benefits for improved focus, drive and energy[7] whilst keeping the negative side effects like 'jitters' at bay. The combination of the two in Cut's formula will take workouts to the next level and help you concentrate on cutting fat easier without nasty side effects from caffeine.
How do you take Instant Knockout Cut
As with all supplements, we recommend you following the guidance of the manufacturer when it comes to how much you take. The people behind this supplement recommend taking 4 capsules a day with a large glass of water.
The key to making the most out of the appetite suppressants in Instant Knockout Cut is to carefully time your intake around your meals. This way you'll be less likely to overeat at meal times. And if you get particularly hungry around mid-afternoon, plan a dose in for then too.
For example:
First capsule: 30 minutes before breakfast
Second capsule: 30 minutes before lunch
Third capsule: Around mid-afternoon
Fourth capsule: 30 minutes before your evening meal
The best way to get the most out of this supplement is to take it regularly and consistently.
You should also take your last dose no later than 5 hours before you plan to go to bed. Otherwise the caffeine could impact your ability to sleep soundly.
| Ingredients | Amount per serving |
| --- | --- |
| Vitamin B6 (Pyridoxine Hydrochloride) | 5mg |
| Vitamin B12 (Cyanocobalamin) | 10mcg |
| Vitamin D3 (Cholecalciferol) (vegan) | 45mcg |
| Green Tea Extract | 500mg |
| Cayenne Pepper | 100mg |
| Glucomannan (Konjac Root) | 1800mg |
| L-Theanine | 100mg |
| Caffeine (Caffeine Anhydrous) | 300mg |
| Black Pepper Extract (Standardized to 95% PE) | 10mg |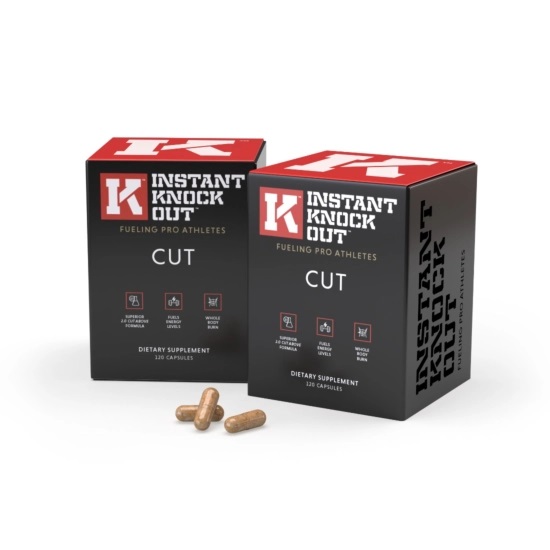 How much is Instant Knockout Cut?
A single bottle of Instant Knockout Cut is enough for a full month supply.
$59/£35 for one bottle
$118/£70 for two bottles
$185/£110 for three bottles + one free bottle + free delivery
Although this may be a premium price, the multi-buy option can help you save cash if you decide to use Instant Knockout Cut in the long run.
Instant Knockout Cut testimonials
This supplement is well known across the industry, so finding testimonials and Instant Knockout Cut reviews online wasn't hard.
Overall, we noticed how well received the supplement was.
We were surprised to find a huge number of body transformations, which claim that the fat burner was responsible for their impressive physique changes.
On top of that, we noted that a number of athletes like John Dodson, Holly Holm and Diego Sanchez were happy to recommend Instant Knockout Cut.
While we understand these may paid endorsements, our overall impression of the supplement, based on testimonials was a very positive one. Many consumers appear to be happy with the effects it offers.
Of course, we also found a number of reviews where the customer didn't feel any difference when taking the supplement. However, fat loss is about a healthy lifestyle and a good attitude to food, so it's difficult to say whether these consumers were active and succeeded in maintaining their diet.
Read real life women Instant Knockout reviews
Find More Instant Knockout Cut Testimonials
The verdict
That concludes our Instant Knockout Cut review and we have to say, Instant Knockout Cut is hands down one of the best fat burners we've found.
After review, we can safely name it one of our favorite products in this area of supplementation.
Its all-natural profile, potent ingredients and the support it offers dieters puts it firmly up there as one of our most recommended supplements.
The combination of intelligent ingredients work together to provide a full support system, along with powerful fat burning elements that add up to bring you real weight loss results.
We're particularly impressed with the addition of appetite suppressants, which makes this an excellent fat burner for women.
In real life situations, it seriously seems to work. If you're struggling to burn off that last bit of stubborn fat, a product like Instant Knockout Cut can help give you that final push. And from scouring internet forums, Instant Knockout Cut review pages and more, we've seen some very impressive transformations.
The one drawback of Instant Knockout Cut is that it's at the higher end of the spectrum when it comes to cost. Although it's by no means the most expensive supplement we've seen, it's still pricier than the majority. Having said that, we'd still say it's worth your attention.
With so many dodgy supplements out there and a huge number of them over or under-dosed, paying a little more can be worth it. Especially when the supplement is so effective and has the potential to really give your weight loss journey an edge.
As long as it's accompanied by a healthy, calorie-controlled diet and an active lifestyle, we see no reason why Instant Knockout Cut won't get results for you too.
---
Pros
Trusted by sporting pros
Completely natural ingredient profile
Intelligent formula
Supports and boosts effects of dieting
Side effect free
Vegetarian and vegan friendly capsules
Thoroughly researched and backed by science
Cons
Premium products attract premium prices
Needs to be taken consistently
Final score
10/10
*Individual results may vary. Please speak with your doctor or physician before undertaking any new weight reduction, supplement, or exercise regime
Find out how Instant Knockout CUT compares to the competition and read our review of the best fat burners for women.

References
Hursel, R et al. The effects of green tea on weight loss and weight maintenance: a meta-analysis. Int J Obes. 2009; 33(9): 956-61
Hursel R et al. The effects of catechin rich teas and caffeine on energy expenditure and fat oxidation: A meta-analysis. Obes. Rev. 2011; 12: e573–e581
Zalewski, BM et al. The effect of glucomannan on body weight in overweight or obese children and adults: a systematic review of randomized controlled trials. Nutrition. 2015; 31(3): 437-42
Ahuja, KD et al. Effects of chili consumption on postprandial glucose, insulin, and energy metabolism. Am J Clin Nutr. 2006; 84(1): 63-69
https://www.medicalnewstoday.com/articles/324120
https://www.healthline.com/health/l-theanine
https://pubmed.ncbi.nlm.nih.gov/21040626/
Disclaimer:  The information on this site has not been evaluated by the FDA. The products on this page are not intended to diagnose, treat, cure or prevent any disease. Results in description and Testimonials may not be typical results and individual results may vary. We may earn commission if you click the links and buy the products featured on this page.