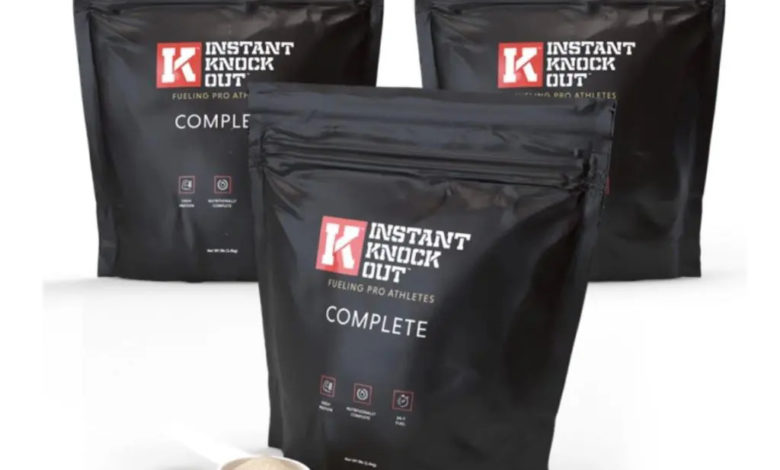 This Instant Knockout Complete review will give you all the answers that you will need before making a purchasing decision.
Instant Knockout is a supplement brand that is dedicated to helping its customers lose weight in a safe and effective way. They offer two products, a fat burner called Instant Knockout Cut, and a meal replacement shake called Instant Knockout Complete. We're reviewing the latter today, but it is important to understand that both products share a synergistic relationship. Each amplifies the benefits of the other.
What is Instant Knockout Complete?
Instant Knockout Complete is a meal replacement shake that is designed to help aid weight loss. The idea is that you replace high-calorie meals with a 400 calorie shake, that is high in protein and fibre. The protein and fibre increase satiety, helping you to avoid hunger and cravings, which so often derail most diets.
There is a lot of science to support the use of meal replacement shakes for weight loss, with studies finding this form of diet to be more successful than traditional calorie counting or any of the well-known diets that are out there [1].
Instant Knockout Complete uses real plant-based foods to provide a high protein, high fibre, shake with low GI carbs, and a decent serving of healthy fats rich in omega-3s.
Instant Knockout Complete Pros and Cons
Pros
High in protein
High in fibre
Uses top-quality ingredients
Excellent taste and mixability
Excellent source of healthy fats
Combines amazingly well with IK Cut for next level weight loss
Cons
Premium price for top-quality ingredients
Only available from the Instant Knockout website
Only 1 flavour to choose from
Who Makes Instant Knockout Complete?
Instant Knockout is produced by a company called Roar Ambition, which has been selling supplements since 2014. Roar Ambition is also responsible for products such as Prime Male and TestoFuel. They are based in the UK but sell their supplements internationally.
How Does Instant Knockout Complete Work?
Instant Knockout Complete is a meal replacement shake, this means that it is designed to be used instead of one of your daily meals. Often it is used instead of breakfast or lunch, sometimes both meals are replaced.
Because Complete is only 400 calories (and an average lunch is around 500-800) you will save calories. When it is combined with increased exercise and smarter food choices for your other meals, it can lead to significant weight loss over time.
Instant Knockout Complete is also designed to be highly nutritious, it is packed full of the vitamins and minerals required to lead a healthy lifestyle. Complete is well known to increase satiety, making snacking due to hunger much less likely.
What Can You Expect From Instant Knockout Complete?
You can expect a pouch that contains 14 meals (or two pouches that contain 28). Each meal is 400 calories, with 35 grams of protein, 35 grams of carbohydrates, 13 grams of fibre, less than 3 grams of sugar, and 13 grams of fat.
Instant Knockout Complete Ingredients
There are six main ingredients contained within Instant Knockout Complete, you also have a vitamin and mineral blend and some probiotics.
Oat Flour
Oat flour is incredibly popular with meal replacement shake companies because it ticks a LOT of boxes. It is high in fibre, has a low GI score, mixes well, has a decent amount of protein, and oats are highly sustainable. So it's good for the planet too!
But what are the benefits to the customer? Oat flour is very high in fibre, which means that it can increase post-meal satiety [2], reducing the likelihood of hunger cravings and snacking between meals. Very important when on a diet.
Plant-Based Protein
The plant-based protein blend used in Instant Knockout Complete is a combination of pea protein and soy protein isolate. There are 35 grams of protein per serving, and the majority comes from these two sources. Soy is a great protein source, easy to absorb and digest, packed full of amino acids, and ideal for vegans.
Pea protein is very popular with meal replacement shake companies as it has a really good amino acid profile (when combined with brown rice it is a complete protein), comes from a highly sustainable source, and is well absorbed by the body.
Golden Flaxseed
Flaxseed is a super source of omega 3 fats as well as fibre. Increasing your omega 3 intake is something that everyone can benefit from. It can help to lower blood pressure, improve heart health, and can reduce blood triglyceride levels [3]. The fibre will increase satiety, improve your gut microbiome, improve digestion, and help to reduce the risk of certain cancers and heart disease [4].
MCT Oil
Unlike some meal replacement shakes that only contain a tiny amount of MCT oil, Instant Knockout Complete uses it as its main fat source. MCT oils are incredibly beneficial, fewer calories from MCTs are absorbed by the body than with regular fats [5], helping to reduce calories while delivering the same health benefits.
MCT oil is also being looked at as a cognitive enhancer. Studies on people suffering from Alzheimer's disease found that MCT oil improved cognition significantly [6]. It may help to improve memory as well as brainpower, but more research is required.
Organic Brown Rice
Another excellent protein source, brown rice protein is added to complement the pea protein that is already being used. Together, pea protein and brown rice protein form a complete protein.
Chia Seed
Like flax seed, chia seed is a great plant-based source of omega-3 fatty acids. It is also high in fibre and protein. It contains high levels of calcium, magnesium, and phosphorus while remaining low in calories.
How to Take Instant Knockout Complete
The instructions for taking Instant Knockout Complete are nice and straightforward. Grab your shaker and pour 500 ml of water into it. Then add two scoops (100 grams) of Complete powder to the water. Tighten the lid, and then shake thoroughly for 10-20 seconds.
You can take Instant Knockout Complete once or twice per day as a replacement for main meals. Alternatively, if you are looking to gain weight, you can take it as a pre or post-workout supplement.
Benefits of Instant Knockout Complete
There are a number of benefits to taking Instant Knockout Complete, here is a quick rundown of some of the biggest benefits:
Convenient – Complete is easy to store, easy to transport, and only takes 30 seconds to prepare. Washing up afterwards is also a breeze.
Cost – While there are cheaper alternatives out there, Instant Knockout Complete is still significantly cheaper than the cost of a regular lunch or breakfast.
High in Protein – There are 35 grams of plant-based protein in each serving of Instant Knockout Complete.
High in Fibre – High fibre content means increased satiety and an easier weight loss journey. It's also crucial for gut health and reducing your risk of heart disease.
Healthy Fats – There are a number of quality fats in this powder, from MCT oil to chia seed, to flaxseed. Filled with nutrients to help with weight loss and health.
How to Get the Best Out of Instant Knockout Complete?
As we mentioned at the beginning of this review, Instant Knockout Complete is designed to be taken either on its own or in conjunction with the fat burner Cut. If your goal is weight loss, then combining the two will provide you with the best results.
But you also need to make changes to the rest of your diet, increase your activity levels (if you are currently sedentary), improve your sleep quality and quantity, and manage your stress better. Do all of this and you should be able to burn fat while preserving muscle mass and improving your health through nutrition.
Instant Knockout Complete Summary
If you struggle to follow a healthy diet, particularly at lunch or breakfast, then Instant Knockout Complete is a perfect choice. It is high in protein, high in fibre, and a source of healthy fats. All for just 400 calories per serving.
It is convenient, and easy to use, and the cost per serving is great. Not only will it help with weight loss and then weight management, but it can also help you to improve your nutrition by providing vitamins, minerals, and phytonutrients.
If you are looking for a meal replacement shake that will help you towards your weight loss goals, then Instant Knockout Complete is the right choice for you.
References
[1]
https://www.ncbi.nlm.nih.gov/pmc/articles/PMC6327254/
[2]
https://www.ncbi.nlm.nih.gov/pmc/articles/PMC4757923/
[3]
https://www.ncbi.nlm.nih.gov/pmc/articles/PMC3875260/
[4]
https://jamanetwork.com/journals/jamainternalmedicine/fullarticle/216689
[5]
https://www.ncbi.nlm.nih.gov/pmc/articles/PMC2874191/
[6]
https://www.ncbi.nlm.nih.gov/pmc/articles/PMC8919247/