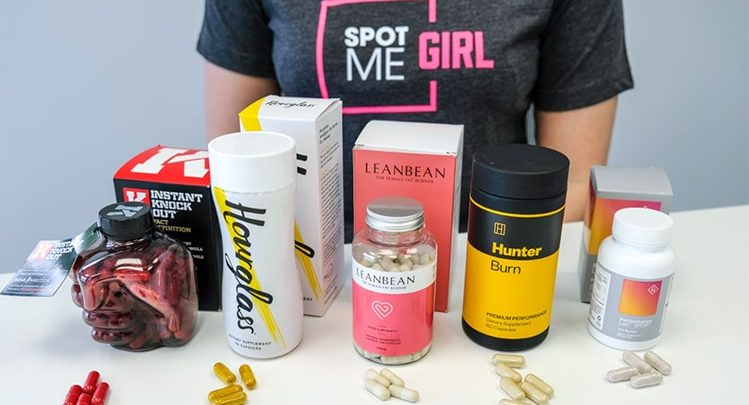 Supplements
Best Rated
Supplement Reviews
Best Fat Burners for Women 2021 [Updated]
Fat burner supplements can be confusing - but they don't have to be. Get informed with Spot Me Girl and discover market leading products that suit your weight loss needs.
**Updated for 2021**
Looking for the best fat burning supplements to reach your 2021 fitness goals? Our rigorous testing program will answer all your questions and more.
We've rated and ranked the top-rated supplements on the market to help you make the right choice.
Genetically, women are programmed to hold more fat than men, making it harder for us to lose weight. That's why we've assessed only the best, most effective fat loss supplements available to bolster your efforts and fit the female physiology.
With our own carefully developed criteria, you can discover which market-leading fat burners have what it takes to help you get the fat-loss results you dream of.
Check out our top fat burners for women 
Our approach to singling out the best women's fat burner is simple yet effective. Each fat burner should:
Be powerful
Have an appropriate caffeine content
Boost your metabolism
Help control your diet
Contain proven fat-burning ingredients
Be completely natural
We've put each product to the test, pitted them against each other and ranked the best options on the market. All to help you kickstart your weight loss regime.
Read on to discover which of these weight-loss supplements gained the SMG stamp of approval and which aren't worth your money.
Discover the best fat burners for women in 2021
---
FAQs
Where can I buy Burn Lab Pro Fat Burner?
Burn Lab Pro Fat Burner is only available from the official Website: www.burnlabpro.com
We prefer to see a manufacturer where their product is exclusively available directly from their own stock. This ensures the formulas are up to date with the latest research and guarantees a certain standard of care.
What's more, it gives the customer access to better service, directly from the company.
Is Burn Lab Pro Fat Burner safe?
This supplement contains only completely natural ingredients, is free from proprietary blends and doesn't contain any stimulants.
This allows us to comfortably confirm it's safe to use when following the manufacturer's guidelines.
*Individual results may vary. Please speak with your doctor or physician before undertaking any new weight reduction, supplement, or exercise regime
---
Best fat burner ingredients to look out for
In the world of fat burning supplements, there are a few ingredients that are superior to others.
By this we mean they generally have better scientific backing, are safe and are front-runners when it comes to potency.
To help you spot a top-quality fat burner for women, we've listed out all the very best ingredients and the benefits they offer. From thermogenic to appetite suppressants, these are the elements you want to see on a supplement facts label.
Caffeine Anhydrous
The stimulant can raise your metabolic rate through thermogenesis, which can help your body burn more fat, even while at rest. It also helps you to stay energized on a low-calorie diet, so you can work out and maintain an active lifestyle[27].
Caffeine can also help you to stay focused and mentally alert[28] even when energy levels are low.
Green Tea Extract
The catechins and caffeine may maximize fat burning potential by provoking thermogenesis[29], which raises your metabolism, targets fat and boosts your daily calorie expenditure. There is a small hit of caffeine in green tea, which can heighten energy levels.
Glucomannan (Konjac Root)
This soluble fiber expands into a gel-like consistency once it enters the stomach. When this happens, it creates a feeling of fullness[30]. This is essential to a good fat burner, as it helps you to stay in control of your diet by reducing cravings and limiting portion sizes.
Glucomannan is the sign of a quality fat burning aid that takes every stage of the weight loss process into account.
Cayenne Pepper
Not only is this ingredient packed with essential vitamins that support overall well-being, but cayenne pepper is also known as a powerful thermogenic[31]. It raises your metabolism[32], whilst enhancing your body's ability to use fat as an energy source too.
White Kidney Bean
This is the only known natural carb blocker. If you slip up on your diet and opt for a cheat meal, it reduces the amount of carbohydrates your body absorbs[33] – acting as a form of damage control.
Again, this is a very intelligent addition to a fat burner and provides a weight loss support system rather than just heightened calorie burn.
---
Looking to improve the rate you burn off calories? A metabolism booster could help.
FAQs
Do fat burners work?
Fat burner supplements are designed to complement a calorie-restricted diet and active lifestyle. When used in these particular conditions, they can help to support and enhance results. However, when used alone they aren't enough to help you lose weight.
What are fat burners?
These are supplements used to help heighten weight loss results from a reduced-calorie diet and regular exercise. They are made up of a range of ingredients that have been linked to improved fat loss and diet management.
Are fat burners safe?
The majority of natural fat burners are generally safe to use. However, those with high caffeine content may lead to side effects if you don't account for the additional stimulants in your diet or if you are pregnant.
Fat burners that use synthetic ingredients or contain proprietary blends can be deemed unsafe as you can't know what ingredients are used, how they'll affect your body or, where proprietary blends are concerned, how they're dosed. We'd recommend avoiding these supplements at all costs.
Should I take fat burners?
Fat burners aren't a miracle weight loss pills. If you're looking for a supplement of this kind, you may need to alter your expectations of fat burner capabilities.
If you're dedicated to a calorie-restricted diet and regular exercise as a weight loss plan, and you want to enhance the results, then a fat burner could help you.
---
Final Word
Overall, we were happy to find five effective fat-burners for women.
After a close review of all the market-leading products, we found Instant Knockout to be the best option, that ticked every box in our meticulously created criteria.
Secondly, we liked Hourglass Fit. Its female-focused (and friendly) formulation really stands out in a marketplace dominated with male products.
Having said that, Hunter Burn and Leanbean are also extremely effective fat burners for women and should support you on your weight loss journey.
By choosing one of these fat burner supplements, you can rest assured they're effective, well-researched, safe and suitable for women.
Shop The Best Fat Burner for Women Now
Disclaimer:  The information on this site has not been evaluated by the FDA. The products on this page are not intended to diagnose, treat, cure or prevent any disease. Results in description and Testimonials may not be typical results and individual results may vary. We may earn a commission if you click the links and buy the products featured on this page.
---
---