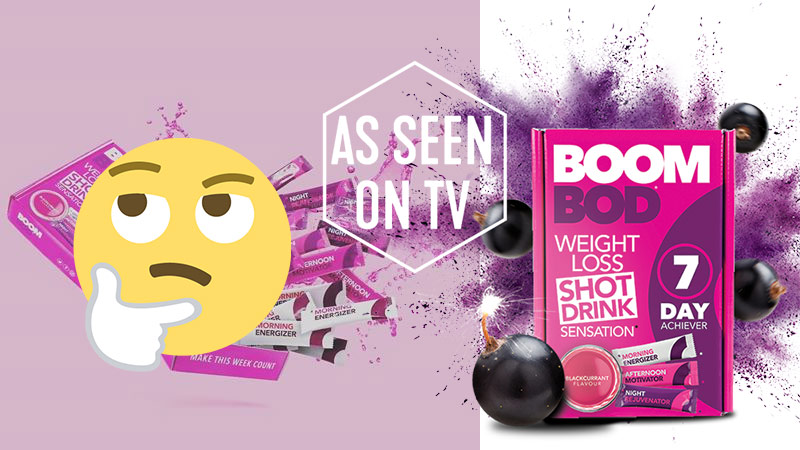 If you've got your fitness eye fixed to social media you'll have heard of Boombod – a brand new supplement craze, claiming to help you lose weight in just 7 days. But is all the hype and hysteria real? Could Boombod really be the magic sachet we've all been looking for?
Let's look at the facts to find out…
According to the manufacturer and the celebrities paid to endorse it, Boombod is a quick fix solution to dieting with amazing results. It's clinically proven, might we add, and with absolutely no laxatives, caffeine, or aspartame included it certainly is a refreshing weight loss solution that might actually help you get results.
Find out what actually works
– View our best fat rated burners – 
Just three of their little pink sachets is enough to make you lose weight and get a flatter tummy. Wow.
When Boombod hit the market a few years ago over 500,000 units flew off the shelves almost immediately. Apparently, this mass panic caused the product to sell out and saw single boxes sold on eBay for £500. For us, in the U.S., that's a crazy $643.26 at the time of writing.
Of course, this information was ultimately put out into the world by Boombod themselves. As is the case with sponsored posts in Newspapers, whoever pays gets to decide what the public is told.
How does Boombod work?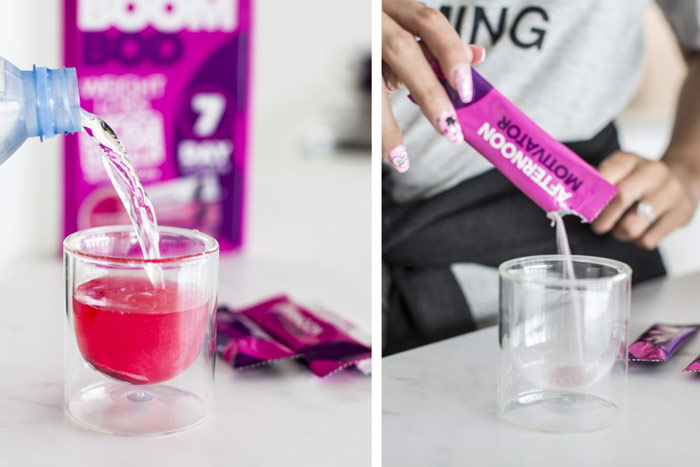 Boombod is sold on the idea that it'll suppress your appetite, but still give you energy. So essentially you will lose weight and reduce bloating by eating less.
All you have to do is take a 10 kcal sachet, three times a day with water. A cycle of the stuff lasts for 7 days with a total consumption of 21 servings. There's also the option to try a 14-day or 28-day cycle.
And you won't get bored of the flavors, as there are four to choose from to keep you motivated. These include blackcurrant, lemon lime, orange mango and black cherry.
When the hardest part of losing weight is always feeling hungry, we were glad to see Boombod focus on this aspect the most. The people that endorse it say Boombod is great if you're a grazer. Specifically, someone who struggles with snacking between meals or strict dieting in general. Yeah, we'll hold our hands up as serial snackers too!
Plus, not only will it help you lose weight, but it'll support your hair and skin health too. That's due to the Biotin found in the Night Rejuvenator sachet.
Key point: Boombod works by reducing hunger and restricting bloating. You will eat less by not feeling as hungry.
Break through the noise! Discover our top fat burners for women…
 – View our highest-rated fat burner supplements –
Glucomannan: The magic fiber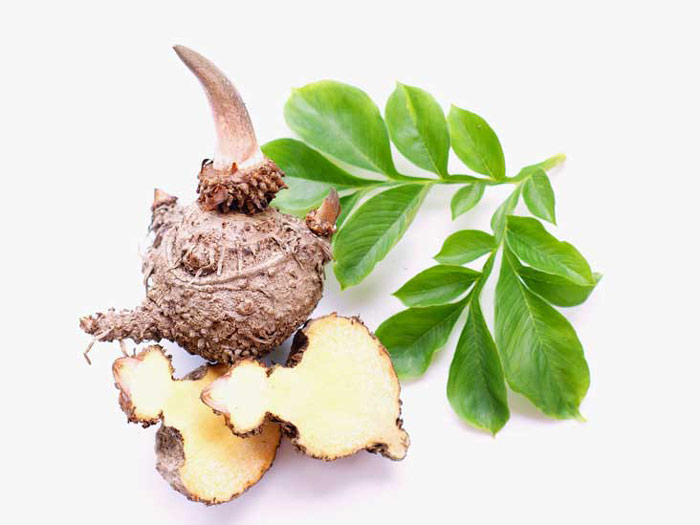 Glucomannan is the major selling point of these tiny sachets and is a common ingredient used in almost all weight loss aiding supplements. Boombod, for example, contains 3g of this magic ingredient in all three doses. According to research, this is the clinical dose required to obtain the required effect of fullness and increased satiety[1].
The natural, dietary fiber is extracted from the roots of the elephant yam, which originates from South East Asia. For years cultures in that part of the world have used it in herbal mixtures and traditional foods – think shirataki noodles, tofu, and konjac jelly.
As a natural fiber, it is amazing at absorbing water. So, when we ingest Glucomannan it absorbs fluid and takes of plenty of space in our stomach.
Hence, why it is so good at making us feel full and aiding weight loss.
According to the company that creates Boombod, their product has 95% glucomannan purity – the highest on the market. But what does that really mean?
Can a natural dietary fiber be any purer that it's actual original form? We're not too sure if it's all savvy marketing speak…
Key point: Glucomannan is a natural fiber that is great at absorbing water. It swells up inside your stomach to help you feel full.
Other Ingredients: Boombod's vitamin and mineral profile
Hey, we're not going to lie, there's some pretty good stuff in these sachets. Behind all the obvious influencer and celebrity endorsements, there are some genuine health kicks going on.
First up there's the Morning Energizer shot. It's only 2.5 g but contains the likes of Iron, Magnesium, Fiber and Vitamin C – which isn't a bad little collection to help you start the day.
Next, for your mid-day dose, there's the Afternoon Motivator. Another 2.5g serving, however, this time containing Zinc, Vitamin B12, B6, and B1. Zinc and B vitamins are all essential in keeping us energized and reducing tiredness[2] [3].
Lastly, you have your Night Rejuvenator, laced with Biotin, Selenium and Vitamin D3.
Biotin is said to contribute to the maintenance of normal skin and hair[4] whereas Selenium acts as a powerful antioxidant[5]. Sunshine vitamin, AKA Vitamin D3 is important for weight loss and is thought to have a powerful and positive effect on reducing appetite[6].
Key point: Boombod contains additional vitamins and minerals that promote everything from energy to healthy skin and hair.
How does Boombod compare to the competition?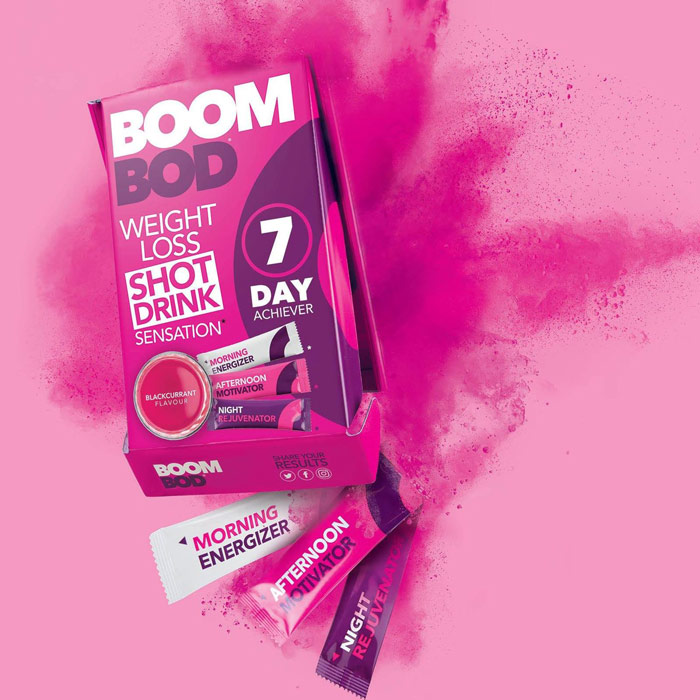 When you see everything Boombod has to offer we'd forgive you for getting excited. Who wouldn't want to lose weight and get a daily dose of vitamins at the same time?
But, how does Boombod really stack up when stood side-to-side with other options on the market?
To find out we grabbed another two highly popular weight-loss supplements and compared them. Our choice of competitor was Hourglass Fit, a fat burner specifically designed to suit the needs of women and Instant Knockout CUT which promises to aid weight loss as a premium, powerful fat burner.
1. Hourglass Fit

Hourglass Fit is a revolutionary fat burner for women which has grown in popularity since its formula refresh in 2020.
The careful consideration towards female weight loss is clear to see with this supplement.
When compared to Boombod, Hourglass Fit holds its own as a more potent and high-quality weight loss solution. With powerful fat burning ingredients like cayenne pepper extract and extra mood boosters like 5-HTP, it's safe to say Hourglass Fit has the edge. It works to boost your metabolism while helping to reduce cravings and remove temptation.
Like Boombod though, you won't find any harsh stimulants. For many women, this is a welcome relief as we know many women are sensitive to caffeine. If you want a gentler but effective solution to weight loss, you should try Hourglass Fit.
Visit HourglassFit.com 
2. Instant Knockout CUT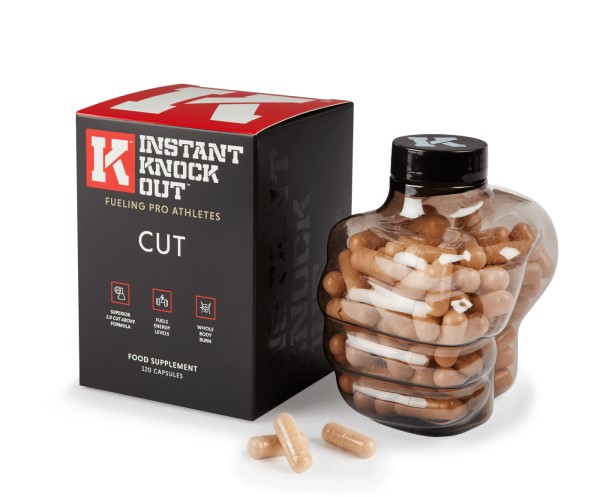 Why Instant Knockout CUT? Well, there were a few that made the short list but Instant Knockout CUT we chose because of transparency too. In terms of women's needs though it's probably not as gentler as Hourglass Fit or Boombod. It's packed with a heavy dose of caffeine which will keep you energized but you'll have to monitor your caffeine intake throughout the day. If you need something with a potent kick and a combination of ingredients that provide a full support system, Instant Knockout CUT could work for you.
When looking at these supplements, all of their ingredients are clearly labelled on their product and website, plus there are no proprietary blends what so ever!
It's probably worth pointing out right now that proprietary blends are bad news. If a company doesn't have the decency and honesty to tell you exactly what is in their product, can you really trust it? We don't think so and instantly begin to wonder what they might be hiding…
Visit InstantKnockout.com
 – View our highest-rated fat burner supplements –
The cost – How big does Boombod bang for your buck?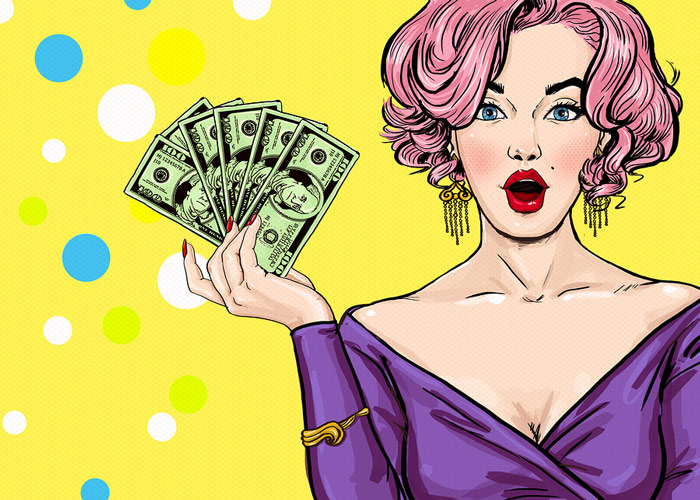 We're not going to lie, we do think Boombod is a tad on the expensive side. A single 7-day supply comes in at more than the cost of half a month from other competitors. At $39.99 a pop, consistently using Boombod as your go-to could seriously add up.
On the other hand, we believe Hourglass Fit to be a lot more reasonable. For as little as $55.00, you get an entire month worth of weight loss capsules. Plus, unlike Boombod, Hourglass Fit offers a complete 100% money back guarantee if you take it continuously for 90 days and it doesn't work for you. This takes the risk out of the equation.
When we browsed on the Boombod store we could easily grab hold of a week supply in minimal clicks. What's more, it also offers buy one get one free deals on the 7-day, 14-day and 28-day program. Additionally, for a limited time only, Boombod is running free UK and USA shipping.
We're always looking to shape up and like the fact that a lot of supplement companies reward us for our ongoing efforts. So we're pretty used to being able to purchase more than one supply for a more affordable rate.
However, what we prefer about Hourglass Fit is its bundle options. When you purchase 3 bottles you get 120 more capsules free. Plus, on top of all that, free worldwide delivery and a money back guarantee are included.
[Read our Hourglass Fit review] 
Key point: Boombod promises results in 7 days. However, it is much more expensive over time compared to Instant Knockout CUT and Hourglass Fit.
Ingredients – Is Boombod better than its competitors?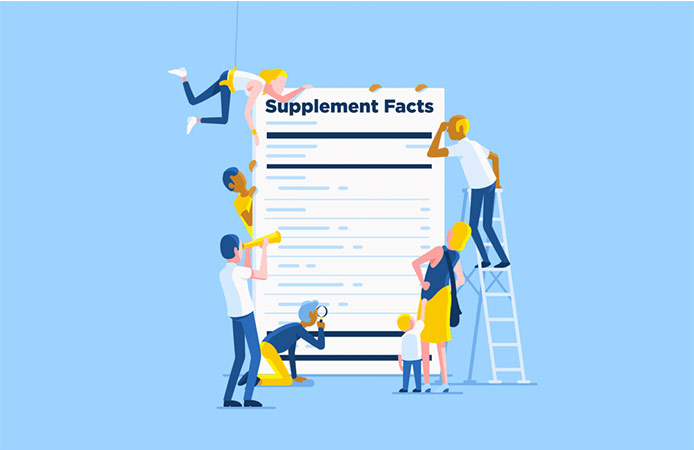 As we've already discussed Boombod does have quite an impressive ingredient profile.
There's everything from appetite suppressants to vitamins crammed in there, which is all laid out for the world to see. They're not shy about what is in their product, which is obviously a positive note.
Glucommanan
Obviously, the number one pushed ingredient in Boombod's marketing strategy is Glucomannan. Which, by the way, they've included in a healthy and generous dose according to research[7] [8].
Instant Knockout CUT, on the other hand, doesn't offer quite the same amount. In fact, it doesn't quite measure up to an optimal dose as an appetite suppressant for weight loss.
But this is probably due to Instant Knockout CUT being engineered as a fat burner. Rather than just stop hunger, Instant Knockout CUT is designed to alter your metabolism and target stubborn fat cells. Ultimately, it will change your body rather than restrict it.
Similarly to Boombod, Hourglass Fit contains a generous 3g dose of glucomannan which is super effective for suppressing your appetite. It's good to remember that Hourglass Fit is also a fat burner first and foremost, so it focuses in on boosting your total energy expenditure on top of suppressing appetite.
Key point: Boombod contains an optimal dose of Glucomannan according to studies.
Vitamins and Minerals
Now, the whole weight loss world doesn't just revolve around glucomannan, does it? Otherwise why do we diet, work out, or even try different supplements in the first place?
So it goes without saying vitamins and minerals play an important role in healthy weight loss. If anything, rather than make us lose weight, they can help to keep our health in check and bodies performing at their best.
Boombod, Hourglass Fit and Instant Knockout CUT don't hold back on the B vitamins. This is great for anybody on a weight loss journey. Why? Because it's those beautiful B vits that support normal energy function. Something vitally important when eating less.
Also, all three supplements contain Zinc, which as we know the body uses to support immunity and create protein cells. Yet it's only Boombod that contain manganese and copper gluconate.
This is probably because the makers of Boombod expect you to be eating fewer nutrients. Therefore, you are less likely to get all the essential vitamins and minerals in your diet.
In a way, this is kind of worrying…
Note: Does Boombod contain extra vitamins because they are worried about you not eating them naturally? We think so…
Note: Does Boombod contain extra vitamins because they are worried about you not eating them naturally? We think so…
Thermogenics
If you've never heard of thermogenics let us take you on a short science lesson you're going to love. Essentially, thermogenics are compounds that can actually increase the thermogenic effect of food!
That means one thing – a faster and more efficient metabolism.
Your body will literally burn more calories just by having these ingredients present. Sounds pretty cool, right? Especially if you're the type of woman who puts on weight quite easily.
What we thought was surprised was that Boombod does not contain any thermogenic ingredients at all. Meanwhile competitors Instant Knockout CUT and Hourglass Fit are both jam-packed full of them.
Hourglass Fit contains a number of powerful thermogenic qualities. Specifically formulated Capsimax and Bioperine should all ensure you burn more calories than you normally would.
According to Instant Knockout CUT's website, the premium fat burner contains 9 specially selected natural ingredients. These include the likes of Green Tea Extract, Cayenne Pepper Seeds, Black Pepper Extract, and Caffeine Anhydrous. These are all potent, proven thermogenic ingredients.
If you're still not sure, click on each ingredient to be directed to a study proving their fat scorching effectiveness.
[Read our Instant Knockout CUT review]
Key point: These products have very similar ingredients. Boombod steals the show in terms of vitamins but does not contain thermogenic compounds. Instant Knockout CUT and Hourglass Fit, on the other hand, are filled with fat fighting ingredients proven to aid weight loss.
What do their customers think?
To truly understand the effectiveness of a supplement, it's often best to hear about how it performs in action. Lets take a look at some testimonials.
Boombod: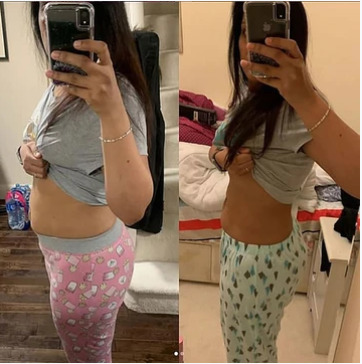 "The proof was in the results; my tummy was flatter, my thighs were slimmer and my clothes were definitely looser " I've done Boombod several times, and I'm really happy with the Progress!"—  Suzette, 14 Day Achiever

Hourglass Fit: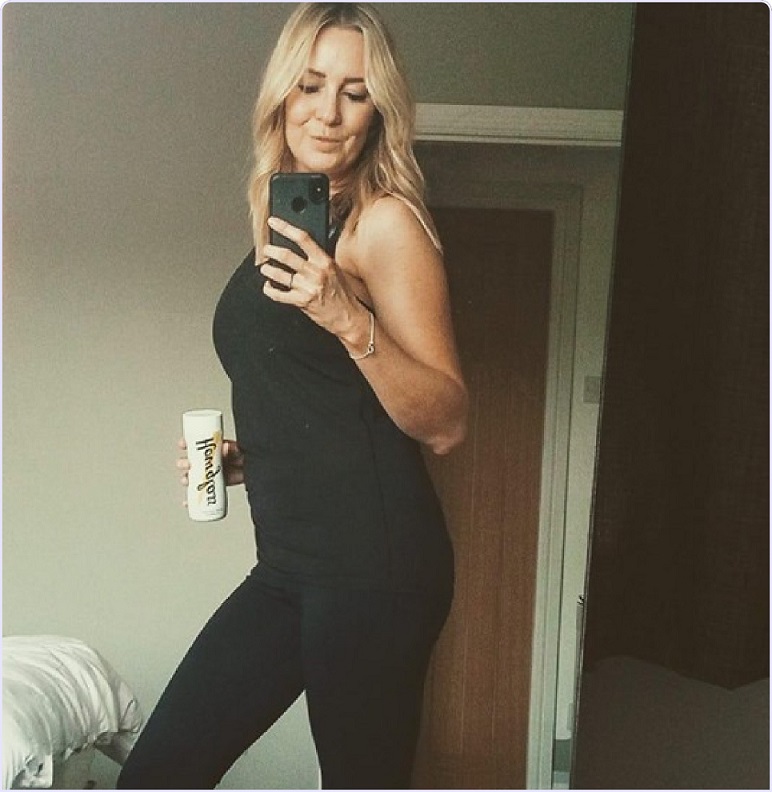 "After I had my second child, I really struggled to lose the baby weight. No matter what I tried at the gym, I just found that I couldn't shift that last little bit of post-baby bump… Hourglass Fit ticked all the boxes in terms of what I was looking for.
… I found it so simple to incorporate into my daily life. Within weeks I could see and feel the difference it was making. I'd recommend Hourglass Fit to anyone in the position I was once in.." – Charlotte

Once again, longer term supplementation appears to offer lasting results in comparison to Boombod. Customers claim that Hourglass Fit helped them to lose weight and avoid temptation whilst also allowing them to maintain their new, lighter physique and feel happier.
Instant Knockout CUT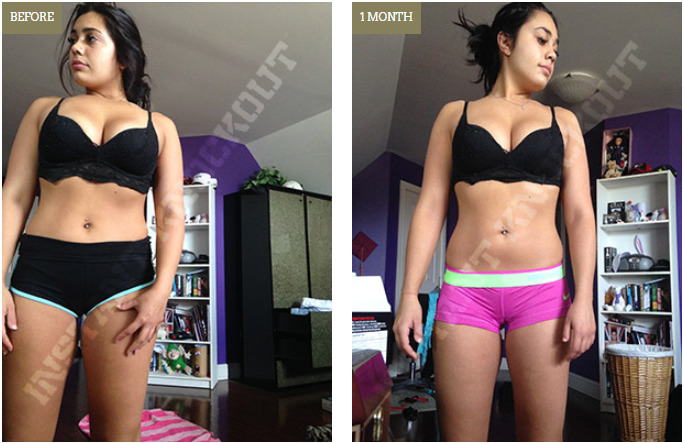 "I was very skeptical in trying this product as I have used many other fat burners without any results. I am fairly active, working out six times a week and I was stuck in a place where I was no longer burning any fat or making any progress physically. I gave this a shot as was pleasantly surprised.
"I was seeing results in a week! One month in I was so pleased with the results…" – Sabrina Alessandrino

When we look at the long term results of Instant Knockout CUT, we see results like this. Not only do customers keep the weight off, it appears it stays off for longer. Like Hourglass Fit, this appears to be a more sustainable approach.
Boombod vs Instant Knockout CUT and Hourglass Fit – Which should you choose?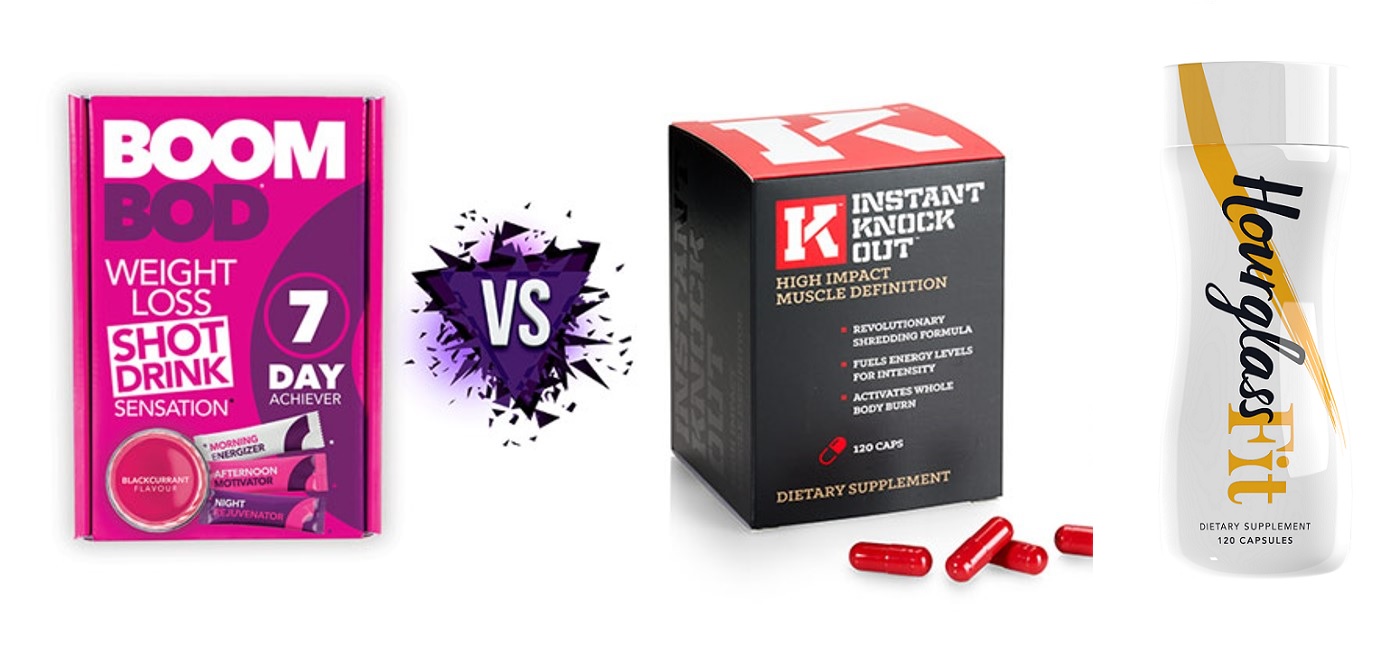 After 7 days you're most probably going to see results with Boombod. Their good dose of glucomannan should keep cravings at bay and ultimately see you eating less.
Plus, because you're eating less, you've got a lower chance of bloating up and your tummy will be flatter. Well, flatter than your usual self that is.
But we won't pretend that Boombod's weight loss methods aren't a bit of a cheap-fix. We should also say they're definitely worrying in terms of overall health and definitely not for long term use.
Why are they so concerned about keeping your energy high, immunity up, and hair in good shape? We think it's because they're banking on your weight loss happening by simply not eating. Obviously, this is very unhealthy and unsustainable.
Once you stop using Boombod you're likely to put any lost weight straight back on. You're going to be hungrier than ever too.
And at $39.99 a week, keeping up a regular cycle of Boombod is going to be really expensive! We don't think it's worth the risk at all, especially when the results from Instant Knockout CUT and Hourglass Fit will stay when you've finished.
Sustainability over time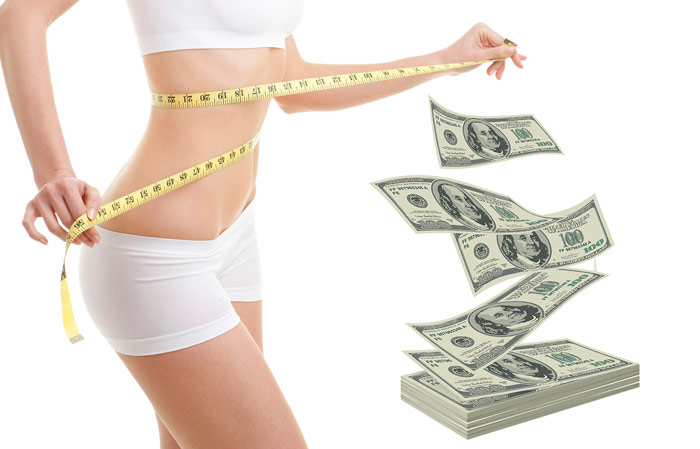 Instant Knockout CUT and Hourglass Fit are much safer, more sustainable, and budget-friendly options. 
By using all natural thermogenic ingredients, Instant Knockout CUT and Hourglass Fit help speed up your metabolism so you don't have to starve yourself of important and vital nutrients!
What's more, Hourglass Fit will make sure your mood stays high so you feel motivated to continue your weight loss journey.
Both of these fat burners will give you the lean and toned results you're after. What's even better is that they won't instantly disappear when you're finished using it. For longer, daily use, Hourglass Fit is much gentler as it avoids stimulants in the mix.
You also still get the feeling full benefits of glucomannan without having to risk malnourishment. And whilst that might not be too scary to some, it really should be. You don't want to have to face bad skin, weak muscles, and low mood, simply because you were too full to eat a healthy balanced diet.
Finally, we believe the cost of the fat burners seals the deal. Over time they are much more affordable than Boombod, and you get a bigger supply in one purchase. Yes, it might not have the celebrity endorsements or taste sweet, but it works.
Conclusion: So, who comes out on top for best weight loss supplement?

Without a doubt, we'd say go for Hourglass Fit.
Although Instant Knockout CUT comes in at a close second, and way ahead of Boombod, Hourglass Fit takes the spotlight as the best and safest female-friendly fat burner. But if you prefer a stimulant option, check out Instant Knockout CUT.
Hourglass Fit is completely transparent, safe, gentle for long-term use and is proven to work through scientific studies. Not to mention it promotes healthy fat loss, not just swelling your stomach with fiber to kill hunger.
Boombod might work great for a quick-fix, but you could save yourself a lot of cash by just not eating.
Of course, we would never recommend you actually do that! As starving yourself is severely damaging to your health. But, we'd be lying if we said the results would be any different.
Happy weight loss journey, ladies. Remember to stay safe and concentrate on small amounts over time.
Health is wealth, and should always be your main priority. A safe amount of fat loss is considered around 1-2 lb per week.
So be kind to your body and don't crash cut. Good luck, girls.
Has this comparison got you hungry to kick start your weight loss journey? Go check out:
Disclaimer:  The information on this site has not been evaluated by the FDA. The products on this page are not intended to diagnose, treat, cure or prevent any disease. Results in description and Testimonials may not be typical results and individual results may vary. We may earn commission if you click the links and buy the products featured on this page.