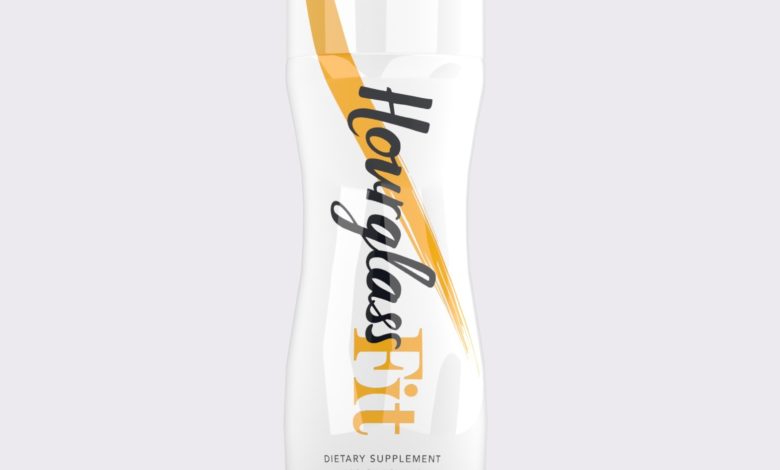 Read our Hourglass Fit fat burner review and find out whether this supplement can help you lose weight. 
Introducing Hourglass Fit
The Hourglass Fit fat burner is a female supplement, designed specifically to help women with their weight loss journey. Recently, it's gained quite a bit of traction amongst all the fit ladies out there, but we wanted to look deeper and use our expertise to find out whether it can really help you lose weight.
With no caffeine, and claims it can help you get a 'sexy, Hourglass Fit physique', is this the best caffeine-free fat burner on the market?
The design is smart and clean-cut and the name itself identifies it clearly as a product that's designed to cater to women. We've said it before in our other reviews, but we're always wary of a product that markets itself towards female consumers.
We know first hand that women have different needs to men when it comes to losing fat. However, a lot of supplement manufacturers just repackage normal fat burners to appeal to a female audience, in a bid to cash in on our weight loss attempts. That doesn't fly with us. As we carry out our Hourglass Fit fat burner review, we'll always have the unique requirements of women in mind.
Our first impression was a good one. We can see it's specifically tailored for female biology. We're happy to see the manufacturers refer to their product as a "slimming partner". They're realistic and responsible about the fact this is an aid to a calorie-controlled diet and an active lifestyle.
They haven't made any unfounded promises about guaranteed transformations, these weight loss capsules are presented as a support rather than a cure.
What is Hourglass Fit?
Hourglass Fit fat burner is a supplement deigned to help women melt away fat healthily, reduce hunger, and achieve a toned, sexy physique. The completely natural weight loss capsules are crafted specifically for the female physique, with no caffeine meaning no energy spikes or crashes.
The creators claim Hourglass Fit can help make your figure goals a reality, with less body fat and more toned muscle. They say the weight loss supplement will do this by using quality ingredients, formulated to create an intelligent fat burner that's designed to help you drop pounds. They've also put a big focus on a burner without side effects or caffeine, which sounds great, but we want to know how it will help you stay active.
To see if the product really lives up to these claims, we're going to put the supplement profile under the microscope. We're looking for all-natural, high-quality ingredients that work harmoniously to boost fat burning and reinforce all the hard work that women put into their diets.
We'll look into how these ingredients are dosed to assess whether they're effective for weight loss, yet still safe to use.
From there, we'll explore the internet to see what fans and critics are saying about Hourglass Fit capsules. This is to make sure the tablets are delivering results across a wider pool of consumers.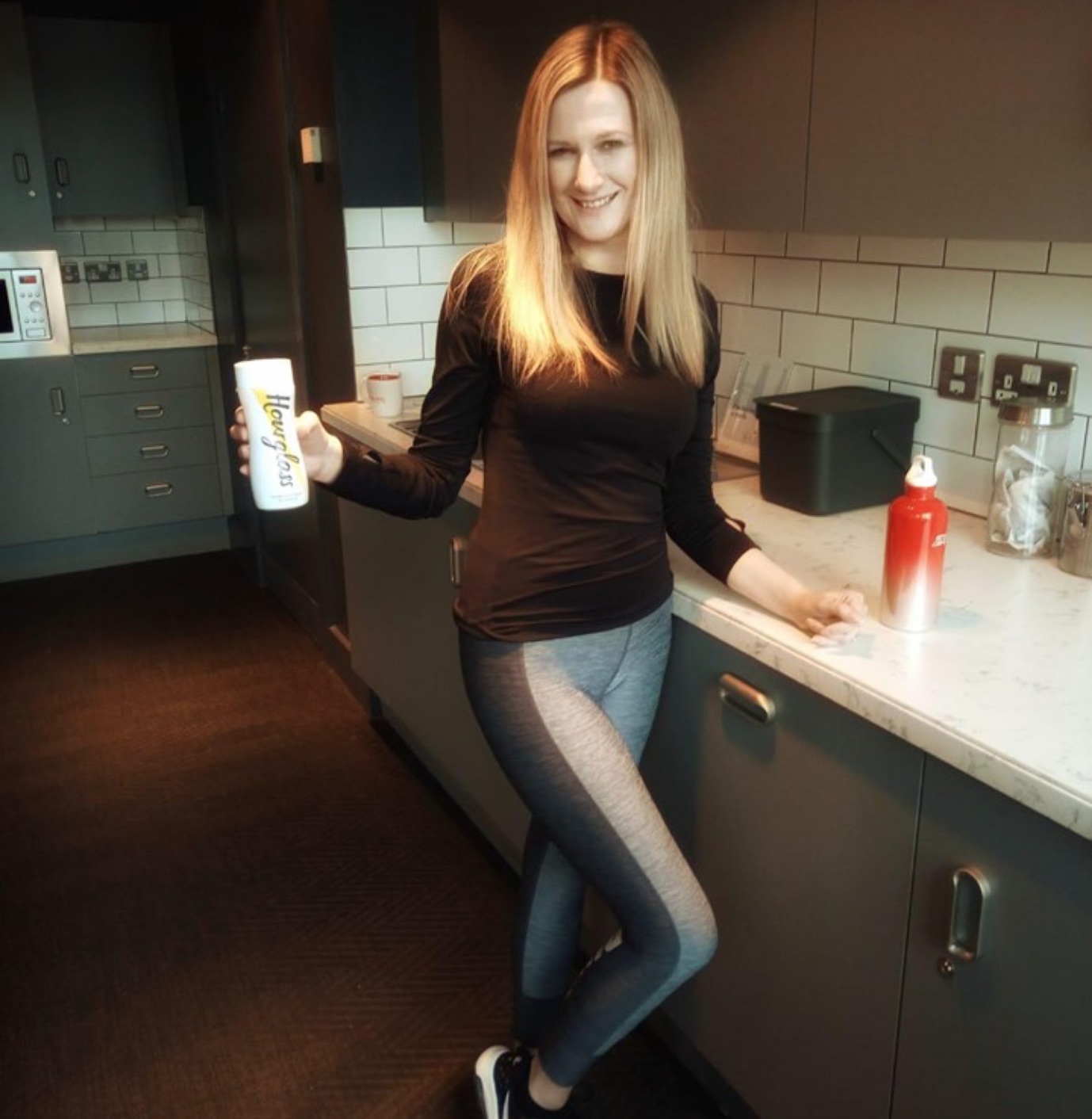 To finish, we want to know if Hourglass Fit is value for money. We'll compare our findings with the cost of the supplement to find out if you should be spending your hard-earned cash on these fat burner pills.
At SpotMeGirl, we've collectively got years of experience reviewing and testing supplements. When you've been doing this as long as we have, you have a good idea of what ingredients to look out for, what will work and what's a scam.
We're going to share that expertise with you and give you some insight into what we found.
Hourglass Fit Pros and Cons
Pros
Powerful all-natural fat loss formula
Reduces belly fat
No unwanted side effects
Supports women in their diet
Potent appetite suppressant element
Suitable for vegans
Enhances fat burn
FREE US & UK delivery
Easy to take capsules
Cons
Can only buy online 
Premium price
Here's our Hourglass Fit fat burner review.

Who makes Hourglass Fit fat burner?
The company behind Hourglass Fit is USA and UK based supplement specialists Roar Ambition. These guys have an impressive research and development team from around the globe to create premium, scientifically-researched products – all of which are made only in FDA and cGMP approved facilities, confirming their safety and effectiveness.
Roar Ambition is popular and has a number of industry-leading supplements under its belt, including famous fat burner Instant Knockout Cut.
How does Hourglass Fit work?
Hourglass Fit fat burner claims to work in 3 clear-cut ways. The science-backed formula works to help you burn fat healthily, boost energy naturally and help reveal a toned, shapely physique by:
Boosting calorie burn by raising your metabolism using potent thermogenic compounds like cayenne pepper and black pepper
Curbing hunger and stopping you from snacking with 3,000mg of effective appetite suppressant glucomannan – more than you'll find in most competitors
Elevating mood and motivation so you can stick to your training plan and keep burning fat
What can you expect from Hourglass Fit fat burner?
The creators behind Hourglass Fit say this natural fat burner tackles body fat in 2 key ways.
First, it helps prevent you from overdoing it with your calories by curbing hunger with a potent dose of glucomannan. Second, the powerful thermogenic ingredients help to melt fat away and raise calorie burn so you can see results faster. This smart 2-in-1 formula should help you stick to your healthy diet, stay motivated and bid goodbye to pesky hunger cravings.
Better yet, Hourglass Fit delivers a caffeine-free energy lift, so you can keep active without any accompanying crashes. Want to know what's inside? Keep reading this Hourglass Fit fat burner review to discover its ingredients.
Hourglass Fit Ingredients
Hourglass Fit is made up of 9 well-dosed, completely natural ingredients. This lower number of ingredients means they can perfect the doses to maximize effectiveness, and we've noticed many generous measurements.
After examining the Hourglass supplement facts label, we found that each one is highly researched and proven to aid the fat loss processes within your body. Alongside a healthy diet and exercise plan, we have no doubt that Hourglass Fit pills can support your body's natural ability to lose fat.
To give you a better idea of what we found in the Hourglass Fit formula, we've rounded up and assessed the key players.
 Vitamin B6
This vitamin is a regular in supplements. Not just fat burners either, as B6 can be found in just about every multivit going, which is why we know all about it. One of the benefits of B6 is it can help your body use stored glycogen (aka fat) for fuel, meaning you're more likely to turn to fat cells to create energy [1].
It may also boost your metabolism and help improve the way you oxidize fat. Some experts say that those who regularly supplement B6 and B12 (which is also in the formula) experience less weight gain than those who don't. Vitamin B6 is also said to support overall female health, relieving PMS symptoms such as low mood [2].
Glucomannan
Otherwise known as konjac root fiber, this is one of the most effective appetite suppressants you'll find in a natural fat burner. As a soluble dietary fiber, it swells when it hits your stomach, making you feel fuller [3]. Understandably, this has a plethora of benefits for a woman on a diet. If you're not hungry, you'll feel less inclined to snack and overeat, avoiding any diet disasters.
Science has linked the ingredient to numerous cases of fat loss, making it one of the most popular appetite suppressants in the fat-burning range. In Hourglass Fit, you get a generous 3g of glucomannan per serving. According to research, this is the ideal amount needed to obtain the claimed effect[4].
Cayenne Pepper Extract (as Capsimax®)
A range of studies have linked the thermogenic qualities of chili peppers to fat loss and even to suppressing appetite [5]. This form of capsicum supplement is a much more concentrated extract taken from the original fruit. After research, we've found this to be a powerful thermogenic ingredient, which provides benefits without the irritating side effects that often come with spicy foods.
Capsimax® heightens the level of capsaicinoids in the Hourglass supplement, which heats up the body and boosts your metabolism.
Chromium
Chromium has been shown to influence a number of ways your body processes food and is proven to help reduce the feeling of hunger [6].
Chromium helps to normalize blood sugar levels, which can help to increase insulin sensitivity, thus improving the way we use and store sugars in fat cells [7]. According to studies, normal blood sugar levels are also linked to reduced cravings, providing another barrier against snacking and overeating.
5-HTP
An amino acid that is naturally produced by your body, 5-HTP is another key player for suppressing the appetite and keeping that calorie intake under control [8]. The compound is converted into serotonin in the brain, increasing levels of the brain chemical in your body. Serotonin is one of the many important substances that regulates appetite, pain sensations and sleep. Therefore, having higher levels provides various benefits. 5-HTP has also been shown to counteract hunger-inducing hormones, helping you stay on track with your calories [9].
It's a well-known fact that women struggle with food cravings – so it's good to see another ingredient like this in the weight loss-boosting mix.
Zinc
Zinc plays an essential role in overall health and wellbeing and is said to be the second-most-abundant trace mineral in your body. Not having enough of this mineral may even put the brakes on the best-intentioned fat loss regime. This is because having a zinc deficiency can lead to decreased levels of secretion of thyroid hormones, which may affect normal metabolism and resting metabolic rate [10]. Studies have also shown zinc to have favorable effects in reducing body mass index, insulin resistance, and appetite in individuals with obesity [11].
Ingredients
Amount per serving
Vitamin B6
1.7mg
Vitamin B12
2.4µg
Chromium (as Chromium Picolinate)
125µg
Zinc (as Citrate)
8mg
Vitamin B2
1.1mg
Glucomannan
3000mg
Cayenne Pepper Extract (as Capsimax®)
100mg
Black Pepper Extract (as Bioperine™)
5mg
5-HTP (Griffonia simplicifolia extract)
150mg
How do you take Hourglass Fit fat burner?
Some of the ingredients within Hourglass Fit have been clinically dosed to provide certain results, so we suggest you follow their guidance to get the best experience out of these fat burner pills.
The recommended dose of Hourglass Fit is one capsule, four times a day, to be taken at meal times. One slight adjustment we'd make is to take the fat burner around half an hour before the meal with a large glass of water, rather than when you eat. This gives the glucomannan time to expand into a gel in the stomach, stopping you from overeating.
We recommend you follow this pattern:
First capsule before breakfast
Two capsules before lunch
Final capsule before your evening meal
What are the benefits of taking Hourglass Fit?
One of our main benefits of Hourglass Fit is that it caters to women's needs. It offers female users the opportunity to 'feel the joy' of finally shedding your fat. Hourglass Fit achieves this through a range of different methods, which all bring their own benefits. Here's what you can expect from this Hourglass supplement.
Burn more calories
Each Hourglass Fit fat burner capsule contains a number of potent ingredients designed to trigger thermogenesis. When this happens, your body temperature is raised slightly, which burns more calories, as your internal systems attempt to cool back down.
Help combat cravings
This additional fat burn is complemented with an excellent choice of appetite suppressants. These take the edge off cravings and hunger pangs, so you can focus on sticking to your diet, without being tempted by snacks.
Won't give you a headache
The Hourglass Fit formula is completely caffeine-free. Compared to other fat burners, which are packed with caffeine or a caffeine-like substance, this may be a nice change. It'll also be a huge benefit to some, as we know many women are sensitive to caffeine.
Helps you use food the right way
Hourglass Fit tablets also put a lot of emphasis on helping your body process food and metabolize it into energy rather than fat. These ingredients should improve the way you store fat, promoting a healthier composition of brown, to white fats.
What do people say about Hourglass Fit?
Sadly, female fat burners are in short supply, so Hourglass Fit is an impressive addition to the market. It's extremely popular with women who like to stay active and achieve specific fat loss goals.
We scoured the web for reviews and found multiple positive comments about the formula. Users praise Hourglass Fit fat burner for its ability to help them cut fat without any jitters and the way it powerfully curbs hunger.
Is Hourglass Fit safe?
Due to its completely natural profile and lack of added caffeine, we'd rate Hourglass Fit pills as completely safe.
All of the ingredients in the mix are well dosed and the lack of caffeine anhydrous makes it a safe formula, that shouldn't give any adverse symptoms.
Hourglass Fit also contains a generous dose of glucomannan, a fiber that creates a sense of fullness by absorbing water and expanding in your stomach. Because of the way it works, be sure to drink plenty of water when you take this supplement.
If you're pregnant, speak to your doctor before you take fat burner pills or any kind of supplement.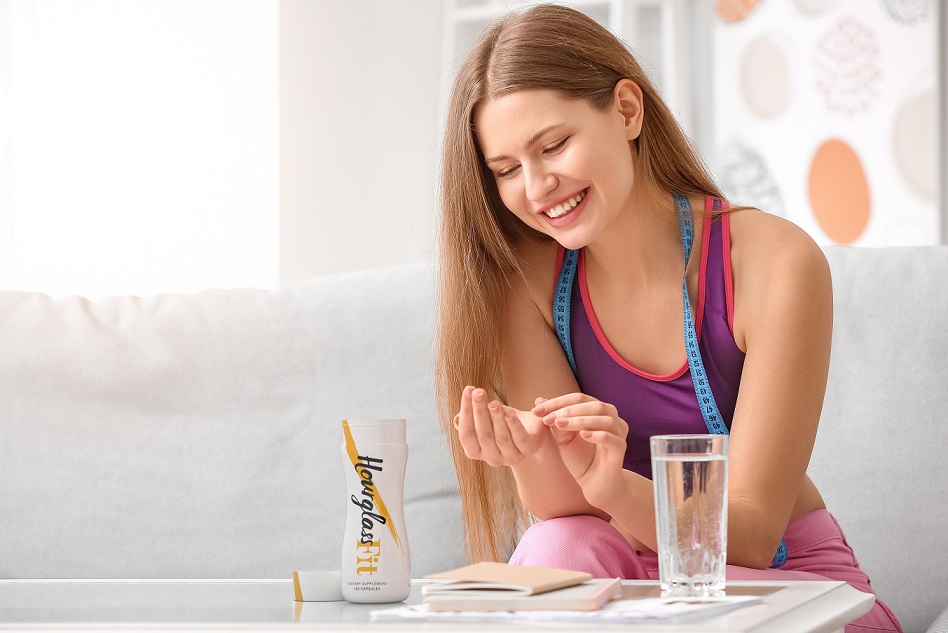 How to get the best out of Hourglass Fit
To feel the full benefit of this fat burner, the creators say you should take it consistently, alongside a healthy diet and exercise regime. Because there's no caffeine, you shouldn't need to really worry about what time you take it.
But, we've put our top tips together below to help you get the best out of this supplement:
Take consistently and every day
Use alongside a healthy, balanced diet and workout routine
Take with food to increase ingredient absorption
Drink lots of water and eat a high-protein diet
Try adding more strength training to your workouts to boost muscle building and calorie burn
Where to buy Hourglass Fit
A single container of Hourglass Fit fat burner contains 120 tablets, enough to last for 30 days and can be purchased from the official website. The prices below are correct at the time of writing.
One bottle is priced at: $55/£35/€45
Two bottles are: $110/£70/€90
The manufacturers also provide various deals from time to time which could save you money if you decide this is the fat burner you want to use long term. One such deal that's currently live includes:
4 bottles + 1 FREE bottle + FREE worldwide delivery at a cost of: $165/£105/€135
They also provide FREE shipping on ALL bundles to the UK and US.
Anything else to know about Hourglass Fit fat burner?
Recently, Hourglass Fit has undergone formulation updates. The creators have increased the glucomannan content and removed guarana and green tea extract. The capsules are also now completely vegan friendly.
One bottle now also offers 120 capsules (rather than the previous 90 pills) – this provides a one-month supply if you follow the recommended doses.
The verdict
That concludes our Hourglass Fit fat burner review. For a women's only fat burner, Hourglass Fit holds its own. The intelligent formula, made from high-grade natural ingredients, is designed to both support a diet and maximize results.
As a product catering to women, it's refreshing. You can see that consideration for our unique weight loss needs has been at the forefront of the manufacturer's minds throughout the creation process. They've included ingredients to help combat cravings and avoid temptation, something that puts a stop to diets for so many females. The extra appetite suppressants are great for helping women face the challenge of food cravings.  Another plus is the fact that the tablets are made from vegetable cellulose, making Hourglass Fit vegan friendly.
The fat burning ingredients are well known, highly effective and optimally dosed to assist your body's natural weight loss processes. As long as you eat well on a calorie-restricted diet and enjoy an active lifestyle, Hourglass Fit should boost your weight loss efforts. The added benefit of free delivery to the UK and US is also a bonus.
If that sounds familiar to you when you're on a diet, this might not be the best fat burner for you. However, if you are sensitive to caffeine, you'll probably get on with Hourglass Fit very well.
Another sticking point may be the price. It's not the most expensive option we've found, but it's still at the upper end of the spectrum. Having said that, it's a well-researched female fat burner, packed with effective natural ingredients. We think you'll struggle to get that kind of quality from a cheaper product.
We strongly recommend Hourglass Fit as one of the best fat burners on the market for women. It works.
Total score
9/10
*Individual results may vary. Please speak with your doctor or physician before undertaking any new weight reduction, supplement, or exercise regime.
See our top rated fat burners for women
– Highest rated fat burners here – 
Fat burners: FAQs
Who would use a fat burner?
Many people turn to a fat burner for different reasons – whether that's to curb appetite, heighten energy or increase calorie burn during intense exercise, a fat burner can help.
For many, a fat burner may be a missing link and could help you complete your weight loss goal. Athletes or fighters cutting before a weigh-in may also use a fat burner to help refine their bodies and dominate their sport.
Are fat burners safe?
Fat burners are considered safe, since they generally contain plant-based, natural compounds.
When looking to purchase a fat burner, look for one that contains an all-natural formula with well-researched, studied, ingredients. Watch out for high doses of caffeine. It should also be free from a proprietary blend. Always do your own research if you're ever unsure and check for relevant supporting science so you can be sure it's effective.
Do fat burners cause side effects?
Overall, fat burners are considered safe because of their natural ingredients profile. If they're made by a reputable brand and use clinical doses, the chances of adverse effects are very low.
It's not uncommon for some fat burner ingredients to cause side effects, especially if you have an intolerance to them. The ingredients we mean include caffeine and green tea extract which are very effective stimulants. These ingredients can raise your energy levels effectively however too much can lead to trouble sleeping and stomach upset.
The best way to avoid any side effects? Just follow the manufacturer's directions carefully and consistently. If you're sensitive to ingredients like caffeine you should opt for a stimulant free fat burner.
References
Zemel, MB et al. Effects of a Leucine and Pyridoxine-Containing Nutraceutical on Fat Oxidation, and Oxidative and Inflammatory Stress in Overweight and Obese Subjects. Nutrients. 2012; 4(6): 529-541
Ebrahimi E, Khayati Motlagh S, Nemati S, Tavakoli Z. Effects of magnesium and vitamin b6 on the severity of premenstrual syndrome symptoms. J Caring Sci. 2012;1(4):183-189. [online]
Howarth NC, e. (2001). Dietary fiber and weight regulation. – PubMed – NCBI. [online]
Scientific Opinion on the substantiation of health claims related to konjac mannan (glucomannan) and reduction of body weight. EFSA Journal 2010;8(10):1798.
Ludy, MJ et al. The effects of capsaicin and capsiate on energy balance: critical review and meta-analyses of studies in humans. Chem Senses. 2012; 37(2): 103-2
 Anton SD, Morrison CD, Cefalu WT, et al. Effects of chromium picolinate on food intake and satiety. Diabetes Technol Ther. 2008;10(5):405-12.
Docherty JP, e. (2005). A double-blind, placebo-controlled, exploratory trial of chromium picolinate in atypical depression: effect on carbohydrate craving. – PubMed – NCBI. [online]
Voigt JP, Fink H. Serotonin controlling feeding and satiety. Behav Brain Res. 2015;277:14-31.
Heisler LK, Jobst EE, Sutton GM, et al. Serotonin reciprocally regulates melanocortin neurons to modulate food intake. Neuron. 2006 Jul;51(2):239-249.
Khanam, Sabina. (2018). Impact of zinc on thyroid metabolism. Journal of Diabetes, Metabolic Disorders & Control. 5. 27-28.
Khorsandi, H., Nikpayam, O., Yousefi, R. et al. Zinc supplementation improves body weight management, inflammatory biomarkers and insulin resistance in individuals with obesity: a randomized, placebo-controlled, double-blind trial. Diabetol Metab Syndr 11, 101 (2019).
Disclaimer:  The information on this site has not been evaluated by the FDA. The products on this page are not intended to diagnose, treat, cure or prevent any disease. Results in description and Testimonials may not be typical results and individual results may vary. We may earn commission if you click the links and buy the products featured on this page.