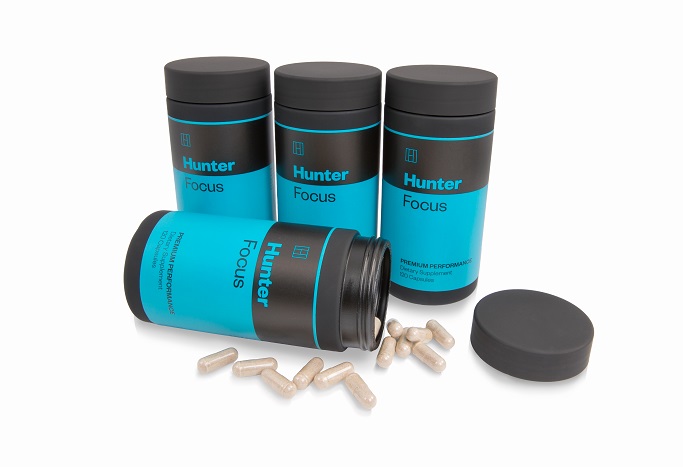 Reviews
Focus By Hunter Evolve Review 2021 – Will it Really Boost Your Brain?
Check out our Hunter Focus review to find out if it really works
Introducing Hunter Focus
There's a fresh face in the nootropics market – Focus by Hunter Focus.
Boldly identifying itself as a premium product, it's clear from the off that this supplement is trying to sell quality and differentiate itself from the rest. Every element of this nootropic looks clean-cut, smart and modern. But you know what they say, never judge a supplement by its packaging.
It's evident that Hunter Focus is marketed towards the affluent, ambitious individuals among us. It's been presented as 'the' nootropic supplement for those juggling a busy family life, a high-intensity job and a challenging fitness plan. What's more it appears to offer some of the biggest doses available, with each ingredient included at higher doses to ensure faster results.
All of this makes Hunter Focus sound like a powerhouse supplement designed to not only support your brain health, but also enhance your successful lifestyle too.
We want to know how it performs when put to the test. Let's see how it does in this Focus by Hunter Evolve Review.
The truth of just how well this supplement can benefit you and your life goals as a woman can be revealed in an in-depth Hunter Focus review.
As we review, we keep the needs of women in mind too. This product is quite clearly targeted towards a male audience, however it may still benefit female consumers too. Due to our hormonal make up, we're more susceptible to the symptoms of stress, and a good nootropic for women should be able to help with that.
What is Focus by Hunter Evolve?
Hunter Focus is a nootropic that claims to help you perform at your best across all areas of life. They say it will give you a mental edge, improve your ability to learn, enhance your attention span and increase productivity overall.
On first glance, we're impressed with the supplements label. An initial look at the dosages confirmed that this is one of the most generously dosed nootropic stacks we've seen. On top of that, we already recognize a number of the ingredients as being extremely potent and backed by scientific research.
To find out how well these premium ingredients perform, we need to see how well each one does in the eyes of science. We'll be looking for research to prove each one provides nootropic benefits you can rely on.
Once we know that, we need to ensure Hunter Focus is completely safe. To do this, it needs to be free of proprietary blends and made up of entirely natural ingredients to deliver a clean experience, without side effects. The ingredients should also be dosed based on scientific research to ensure both safety and effectiveness.
The final stage of our Hunter Focus review is to assess the value of the product. We do this by comparing the cost of the supplement to the benefits you should expect from it. This allows us to get an idea of whether Hunter Focus is a smart purchase, or a waste of cash.
Throughout this Focus by Hunter Evolve review, we'll be using our collective experience and expertise to bring you truly insightful knowledge on whether this nootropic really can boost your cognitive function. Read on and find out how Hunter Focus performed under review.
Focus by Hunter Evolve Pros and Cons
Pros
Excellent dosages
Entirely natural supplement profile
High-grade ingredients
Boosts memory and recall
Improves ability to learn
Reduces stress levels and lifts mood
Heightens creativity and problem-solving abilities
Good value
Cons
Expensive
Only available online
Who makes Focus by Hunter Evolve?
Focus by Hunter Evolve is made by Roar Ambition, a UK and US based specialist supplement company that has been delivering premium products to the market since 2014.
Roar Ambition is a company known for creating high-grade, scientifically-researched formulas. It has several popular products in its catalogue, notably, famous fat burner Instant Knockout Cut and market-leading test booster TestoFuel, amongst others.
One thing to note, Roar Ambition supplements are all made only in FDA and cGMP approved facilities, confirming their safety and effectiveness. Let's go deeper in this Focus by Hunter Evolve review – and find out how it works.
How does Focus by Hunter Evolve work?
Hunter Focus is a blend of natural nootropic ingredients designed to give you maximum mental advantage. The clinically-dosed formula works to:
Improve memory – you'll find ingredients like lion's mane mushroom in Focus to help enhance retention and improve recall
Heighten energy levels with a naturally powerful anti-fatigue formula and absolutely no stimulants
Enhance focus, attention and learning using natural nootropics like citicoline and L-theanine – so you can remain focused in even the most demanding situations
Lift mood, heighten happiness and decrease anxiety by boosting feel-good hormones including dopamine
Enrich creativity by unlocking your creative problem-solving potential
What can you expect from Focus by Hunter Evolve?
It's clear to see the creators have put every thought into developing a nootropic pill that delivers maximum focus and enhanced brain health. They harness the latest learnings on mental enhancement to deliver a formula that works to unlock your cerebral potential without any risk of side effects.
They say it can help you overcome complex problems, smash any target and defeat every deadline. So whether you have a busy day of meetings, a personal best in the training room to beat or a busy day with the family, Hunter Focus should help you remain determined and focus to achieve any goal.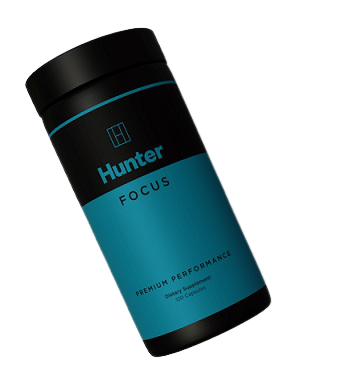 Hunter Focus ingredients
Hunter Focus contains just nine ingredient and we found each one to be entirely natural, highly-researched and entirely reliable.
The lower number of ingredients in this supplement is important, as it tells us a little more about the dosages. With four capsules a day and only nine ingredients, you can be sure of a potent formula rather than an overfilled, ineffective mix.
To give you an idea of how the ingredients in this formula work together to deliver enhanced cognitive function, we've pulled out a few of the key elements. Keep reading our Hunter Focus review to find out more about the core ingredients below.
This is the most generously dosed ingredient in the Hunter Focus formula, and it's a powerhouse in the world of nootropics.
It's been proven to release hericenones and erinacines, which then initiate the production of more nerve growth factor (NGF). This is used to help repair and protect nerves within your brain. NGF improves overall brain health and makes you sharper.
Lions mane has also been proven to promote brain plasticity which is linked to improved memory and learning ability.
On top of that, this versatile ingredient has been shown to combat the feelings of stress.
Taken from the root of the ashwagandha plant, this has been widely used as a nootropic for years. Research into the effects of the extract has revealed that it has a direct impact on the repair and renewal of axons and dendrites within your brain. This results in improved memory and recall.
It has also been shown to improve your choline levels in your brain, which results in lifting your mood and boosting motivation.
We found research that showed cortisol, the stress hormone, was reduced by almost 30% when the test subjects supplemented with ashwagandha extract[1].
Within the body citicoline splits into two compounds, choline and cytidine. Both of these have been proven to help to nourish the brain and take cognitive power up a notch[2].
Choline is converted into acetylcholine, which works with other ingredients to improve the strength of signals between neurons in your brain. This gives your memory, attention span and ability to learn a boost.
When ingested, cytidine is converted into uridine, which works to repair and protect the cells and nerves within your brain.
This extract plays an important role in increasing gamma-Aminobutyric acid, or GABA levels within your brain[3]. This is a neurotransmitter that regulates the communication between brain cells and your nervous system. Research shows that this can affect you by reducing stress levels and help you sleep better.
GABA supplementation has been used widely to help relieve feelings of stress and anxiety and even to reduce the symptoms of premenstrual syndrome. As such, we're happy to see this GABA producing nootropic within the formula, as it makes Hunter Focus even more appropriate for women.
Passion flower has also been shown to promote the release of dopamine[4]. This results in a better mood and improved focus.
When ingested, Bacopa releases bacosides A and B. Once in your body, science has shown they can improve the way you deal with the symptoms of stress. This helps you respond in a more calm and controlled way, reducing the feelings of anxiety.
These bacosides also work alongside the other ingredients to further shore up the strength of the signals between neurons. This will result in improved mood, focus and ability to learn.
| Ingredients | Amount per serving |
| --- | --- |
| Lions Mane Mushroom | 500mg |
| Ashwangandha Extract | 300mg |
| Citicoline | 250mg |
| Passion Flower | 250mg |
| Bacopa Monnieri | 200mg |
| N-Acetyl-L-Tyrosine | 200mg |
| L-Theanine | 200mg |
| Phosphatidylserine | 100mg |
| Maritime Pine Bark Extract | 100mg |
How to take Hunter Focus
The dosages in Hunter Focus are generous, therefore it's essential you take them correctly. Both to get the most out of them and to ensure overall safety.
The manufacturers suggest you take two capsules twice a day with a large glass of water and food.
Hunter Focus is made up of some powerful nootropics, so it's essential you find the ideal time to take them. If you take them at the wrong moment you may not experience the best brain boosting benefits you expect from this supplement.
As such, we'd recommend following this pattern:
Two capsules at breakfast, washed down with a large glass of water
Another two capsules at lunch, washed down with a large glass of water
When it comes to a nootropic, consistency is the key to success. If you don't take them regularly, you won't feel the best possible benefits. Science has shown that, for many ingredients long-term supplementation of some of these ingredients is the key to maximizing results.
Benefits of Focus by Hunter Evolve
The main selling point of Hunter Focus is that it will improve you brain power. But, without a little know-how, experience and scientific research, it can be difficult to define exactly what that means. Luckily, we've got you covered.
With Hunter Focus' specific formula profile, you can expect the following nootropic benefits:
Enhances memory and recall
Ingredients within Hunter Focus will strengthen the signals between neurons, that allow them to work together. This has been shown to improve your memory and your ability to recall information.
Improves ability to learn and attention span
By strengthening these signals, you can also expect an enhanced attention span and a heightened ability to learn new things. In a real-life situation, the combination of these two elements will help you excel in projects and improve your overall output at work.
Supports long-term brain health
Several ingredients in this formula also promote the regeneration and repair of brain cells. They can also protect these important cells and improve plasticity. Science shows this will make you feel sharper and calmer for longer. Many find this useful in high-pressure situations where you need a level head.
Reduces stress and lifts mood
Lowering stress levels is essential for women when opting for a nootropic stack. Hunter Focus does this via a number of different methods. Increased plasticity and boosted alpha waves both lift overall mood. By encouraging the release of essential hormones within the brain, you'll also be able to combat the symptoms of stress with ease.
Help you stay calm under pressure
Research shows us that this supplement has what it takes to increase the feeling of calm alertness that helps you work under pressure. You might describe this feeling as being 'in the zone', but on a cellular level, this is down to the boosted alpha brainwaves from the widely supplemented amino acid, l-theanine.
What do people say about Focus by Hunter Evolve?
Since its introduction to market back in 2018, Hunter Focus has been making quite the name for itself. While we struggled to find any reviews featuring women, it is highly praised by men who use it to stay focused and alert and remain physically active – even as they age. Testimonials featured on the official website say it's one of the best nootropic stacks on the market.
Some users also say it has helped them improve attention and motivation and claim it has been a key part of their life during stressful situations.

Is Hunter Focus safe?
To establish if Hunter Focus is safe to use, we need to have a look at the supplement facts. By studying the ingredients closely, we can ascertain more than just their effectiveness.
Researching and analyzing Hunter Focus' supplement facts revealed that it's safely dosed, based on science. We also discovered that every ingredient is entirely natural, which reduces the risks of side effects significantly.
Most importantly, there are no proprietary blends in Hunter Focus. This means this whole nootropic is entirely transparent, without any guesswork when it comes to what's in it, how much and how it could damage our bodies.
We recommend that you do not use any nootropic to treat an existing illness. Please speak to your physician before you decide to supplement with Hunter Focus if this is the case.
How to get the best out of Focus by Hunter Evolve
The creators advise users to take this supplement consistently daily, for at least three months, to feel the full benefit. You shouldn't have to cycle this supplement and because it's stim-free, you don't need to worry about the time of day you take it.
Follow our top tips below to get the best out of this supplement:
Take consistently every day
Use Hunter Focus for at least three months to feel the full benefit
Take it alongside a healthy, balanced diet and regular training routine
Take with food to increase ingredient absorption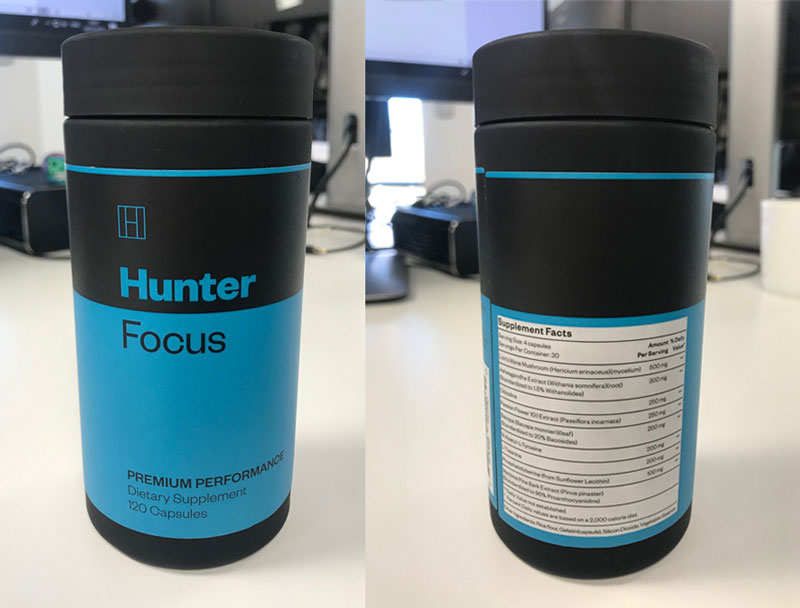 Where to buy Focus by Hunter Evolve?
A container of Focus provides 120 capsules, which equates to 30, four capsule servings.
One bottle is: $75/ £55 and is available to purchase from the official website.
The people behind Hunter Focus do offer FREE US and UK delivery when you purchase a 2-month supply. At the time of writing, you can also enjoy 50% off the entire Hunter Evolve range. Opting for a bulk-buy deal may help you save money, as nootropics work best over time. So, it's worth considering if you decide to opt for Hunter Focus as your long-term nootropic.
Anything else to know about Focus by Hunter Evolve?
Focus by Hunter Evolve is fully developed in-house. This simply shows that the creators are seriously dedicated to delivering only the best and effective products on the market. They also aim to be at the forefront of nutritional research and work with the world's best manufacturers too.
Hunter Focus is free of caffeine, so you won't suffer from any jitters or energy slumps throughout the day and instead can enjoy a flow of complete focus.
We've examined the market and found that you likely won't find a nootropic product of this quality anywhere else. It's completely transparent and formulated with a clear list of premium ingredients all in excellent dosages.
The verdict
That concludes our Hunter Focus nootropic review. On the outside, this may look like it's designed to cater for men alone, but our Hunter Focus review found it to be a comprehensive formula that works wonders for women too.
The formula delivers on all fronts, providing a sharper mind, improved memory, enhanced learning skills and heightened cognitive power.
On top of that, it helps to reduce the impact of stress on the mind, which is essential when it comes to finding a nootropic for women.
Focus by Hunter Evolve is also completely safe, well dosed and free of side effects. It also doesn't contain any proprietary blends, making it a transparent and reliable formula.
The issue we've found with Hunter Focus isn't with the supplement itself. The price is our main concern.
We know that the cost can make all the difference between picking a quality product and opting for something less effective. However, after a close review of Hunter Focus, we believe this supplement is still worth the money.
After scouring the market, we're yet to find a better nootropic supplement and we think you'd struggle to discover something more effective. Despite the premium price, we think it's well worth the money.
Total score
10/10
*Individual results may vary. Please speak with your doctor or physician before undertaking any new weight reduction, supplement, or exercise regime.
Nootropics: FAQs
Who would use a nootropic?
If you're looking to defeat brain fog or want to ensure your brain is operating at optimal levels, you might want to try a nootropic.
A nootropic could ensure your mental performance is at its peak, helping with many aspects of natural cerebral decline while lifting mood, motivation and energy.
Are nootropics safe?
On the whole, nootropics are believed to be safe, especially if your chosen supplement is of high quality, is fully transparent and all natural.
When purchasing a nootropic, try to choose one with a completely natural formula that contains studied, tested ingredients and is also free from a proprietary blend.
Different nootropics however can work in different ways and with that, they may interact with other substances like medicines. To avoid any issues and if you already take medication, we would advise you talk to your doctor before using a nootropic.
Do nootropics cause side effects?
If a nootropic is made from natural ingredients and provides a transparent ingredients label, it shouldn't cause any side effects.
Nonetheless, it's not uncommon for some nootropic ingredients to cause adverse effects in individuals, especially if they have an intolerance to them. You can avoid side effects by doing your own research, researching the supplement facts label and making sure you're not allergic to any ingredients.
What ingredients are common in nootropics?
Look out for these ingredients when you're purchasing a nootropic supplement.
Citicoline
This nootropic powerhouse helps to raise levels of important brain chemicals like acetylcholine and dopamine[5]. It's also thought to improve neuron signal strength, helping to boost memory and learning[6].
Ashwagandha
An ancient medicinal herb, ashwagandha has long been used to reduce levels of stress in the body and promote restorative benefits.
Some experts say it's beneficial for managing anxiety, reducing symptoms of depression and even enhancing performance[7][8].
L-theanine
L-theanine is a key amino acid that works to promote relaxation, improved focus and better immunity[9] [10].
L-theanine is commonly used alongside caffeine since their combined effect has been shown to improve cognitive performance and mood[11].
Bacopa
Bacopa is a key nootropic ingredient that's been shown to enhance brain function, improve spatial learning and the ability to retain information[12]. It has also shown to help reduce stress and anxiety by reducing levels of cortisol[13].
Here at Hey Spot Me Girl, we're all about safety – so we wanted to remind you to double-check with your doctor or physician if you have any concerns at all about introducing a new supplement into your diet.
Whilst supplements could be a great boost to your lifestyle, they could also have adverse effects on your body if not used properly, or if you have sensitivity to any of the ingredients. So, make sure you always check the label fully. Also, make sure you stick to the usage instructions, particularly during the first week.
It's also worth pointing out you shouldn't rely on supplements alone to achieve your physique goals. Remember girls, supplements are enhancers – not the only answer!
A balanced diet, consistent workout plan and sensible lifestyle choices are the fundamentals behind real change – and your supplement should only ever be used as a way of optimizing the results of your hard work, not a way of replacing it altogether.
So, whatever supplements you choose to improve your life, make sure your health and welfare is always paramount over anything else every single time.
---
*DISCLAIMER: These statements have not been evaluated by the Food and Drug Administration. This product is not intended to diagnose, treat, cure, or prevent any disease. Products are intended for use alongside a diet and exercise regime. The views and nutritional advice expressed by Hey Spot Me Girl are not intended for the purpose of medical advice.
Individual results may vary. Please always consult your health care provider if you are taking any medications or have any medical condition. Must be 18 years or older to purchase. Always reference the ingredients and directions on the product label.