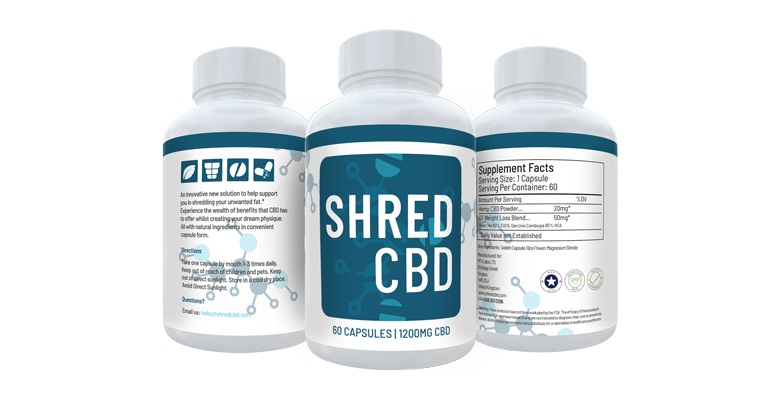 Reviews
ShredCBD Review – What Benefits Can It Offer?
CBD, or cannabidiol is growing in popularity all over the supplement market and, as more and more people are buying into this dietary craze, we want to look more closely at one of the products on the market in a ShredCBD review.
We initially noticed this product, as it clearly attempts to bridge the gap between CBD and supporting fitness – dubbing itself a weight loss and performance supplement.
There aren't many products out there that aim to marry these two aims together. Normally, CBD is supplemented to improve a sense of calm and relaxation rather than to focus on losing weight.
Find out what actually works
– View our best fat rated burners – 
We do know it can be beneficial to athletes during recovery, however we haven't really heard of a CBD supplement that could help with weight loss before. It's a very different approach to the usual stimulant-pumped so-called fat burners we're used to, and we're intrigued to see what it has to offer.
In this ShredCBD review, we'll look more closely at the scientific research around this formula to find out whether this combination really works.
However, before we get started, we want to state that a fat burner supplement is by no means proven or guaranteed to work. We will assess the research surrounding the ingredients in this formula, but we cannot say for certain whether the product will realistically help you lose weight.
We're also aware that CBD is a new trend on the market and one that is so far lacking in large amounts of firm scientific support, and it is not yet regulated by the FDA. While cannabidiol has been well received by those who take it and many positive findings regarding its health benefits continue to appear, we'll base our findings in the research available at the time of review.
With that in mind, let's take a look at the potential behind ShredCBD.
What are the benefits of taking ShredCBD
Potentially higher fat burn
Both the CBD powder and the blend could help you to increase your metabolic rate and may help your body burn fat specifically.
Reduced food intake
The CBD powder in this mix may help you to reduce the amount of food you consume. This could be particularly beneficially to women, as hormone changes can make us more susceptible to sweet cravings.
May help with exercise recovery
Supplementing with CBD may help to reduce inflammation that could make recovery and exercise pains more manageable. This may lead to increased weight loss.
At ShredCBD.com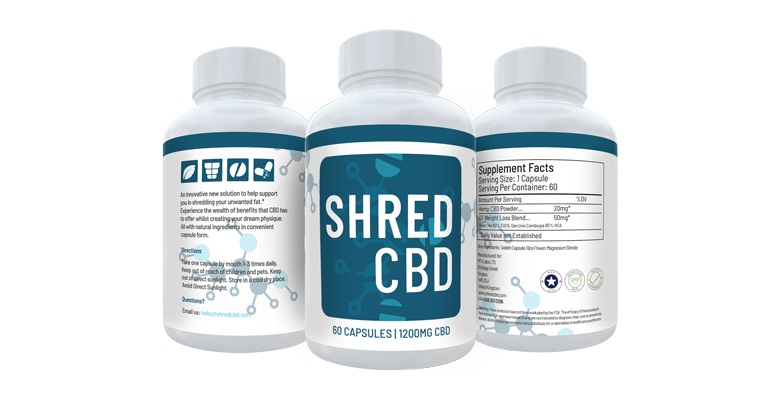 ShredCBD Ingredients
Hemp CBD Powder (20mg) – Recent research on rats indicates that when the CB1 receptor is antagonized food intake may be reduced, which might eventually lead to weight loss [1]. It has also been speculated that CBD could help to promote fat oxidization and may be linked to increased thermogenesis [2].
CBD has also been associated to better quality of sleep [3], which may help to reduce cortisol levels and could influence weight loss [4].
A review has also found CBD may help to reduce inflammation and pain, which could be beneficial to athletes [5].
SS Weight Loss Blend (Green tea 50% EGCG, Garcinia Cambogia 65% HCA) (50mg) – Green tea and garcinia cambogia are used regularly in fat burner supplements and have both been linked to weight loss in studies [6][7]. However, due to the size of this blend, we can see the fat burning potential of this supplement is limited. According to the research we've seen, higher servings of these ingredients would be necessary to reap any kind of weight loss rewards.
Find out what actually works
– View our best fat rated burners – 
Note: Research surrounding CBD and its ability to aid weight loss is limited and is often not tested on humans. However, so far, the current information available looks promising.
| Ingredients | Amount Per Serving |
| --- | --- |
| SS Weight Loss Blend (Green Tea 50% EGCG, Garcinia Cambogia 65% HCA) | 50mg |
| Hemp CBD Powder | 20mg |
Is ShredCBD safe?
When taken in as CBD isolate, it is generally considered safe to use [8].
However, concerns may arise when the CBD products contain higher levels of THC. This is the psychoactive substance that provides the 'high' feeling those who smoke marijuana experience.
CBD extracted from the hemp plant offers a much lower serving of THC, which sits below 0.1%. For a supplement to be legally sold as CBD in the US and the UK, it should have no more than 0.2% THC in it.
The very low amount found in ShredCBD therefore shouldn't give any psychoactive effects and may even be suited to athletes.
The only other element you may want to consider is that, if you're looking for a CBD supplement to help you sleep, this may not be the best option. The weight loss blend contains stimulants which may impact your sleep if taken too close to bedtime.
How to take ShredCBD
The manufacturers have based their supplement on taking one capsule, which offers 20mg of hemp CBD powder and a 50mg fat loss blend.
They recommend that you take two capsules a day, one after breakfast and one following lunch. This is a good serving recommendation; however, some people do prefer to up their CBD intake as tolerance builds.
As such you may want to take more of the supplement to reap the benefit of the CBD. However, as this contains green tea and garcinia cambogia you should avoid taking it close to bed, as they can both act like stimulants.
ShredCBD comes in capsules and must be processed through the digestive tract, which is one of the slower ways for your body to process the cannabidiol. So, expect to feel the results between 30-60 minutes after consuming.
What are people saying about ShredCBD
Like many CBD products out there at the moment, this is a relatively new product which doesn't come with a huge amount of reviews or testimonials. We found some on their website which both appear to be positive about the results they felt and their customer service experience.
However, we'd like to see more from different sources online as the product grows.

How much is ShredCBD?
A single bottle of ShredCBD offers 60 pills, at two capsules a day, is enough for 30 days of supplementation.
One bottle of ShredCBD costs: £53/$69
If you do decide you need to take more of the supplement, then this may affect the value of the product.
The verdict
Supplementing with CBD is so far, a new and relatively unexplored domain. While there are reports of benefits from a huge number of people who take it, it's difficult to find something set in stone.
Similarly, with the research surrounding CBD and weight loss, there seem to be some positive information out there. But so far nothing is solidified and science is relatively thin.
Having said that, the makers have used a very safe hemp powder, with low THC levels and a generous 20mg serving of the supplement.
Find out what actually works
– View our best fat rated burners – 
Bear in mind that it does contain stimulants, although low levels, within the weight loss blend. While the amount is small and may not have an impact on fat loss, they could interrupt your sleep if taken too close to bedtime. This may not be the best supplement for you if you're looking for something to help with your sleep.
Pros
Good CBD content
Derived from Hemp
Low THC Levels
May contribute towards appetite suppression
Could help with weight loss
Cons
May interrupt sleep if taken close to bed
Capsules are slow acting
Studies into effectiveness still underway
Total score
8/10
at ShredCBD.com
Find out what actually works
– View our best fat rated burners – 
*Individual results may vary. Please speak with your doctor or physician before undertaking any new weight reduction, supplement, or exercise regime.
Disclaimer:  The information on this site has not been evaluated by the FDA. The products on this page are not intended to diagnose, treat, cure or prevent any disease. Results in description and Testimonials may not be typical results and individual results may vary. We may earn commission if you click the links and buy the products featured on this page.