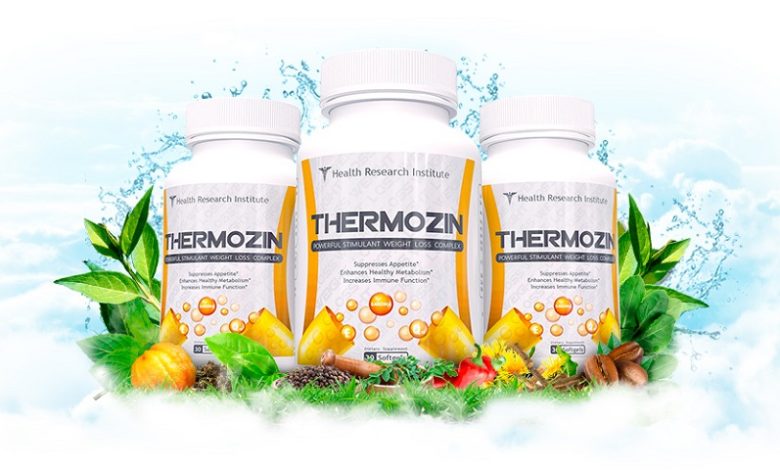 Reviews
Thermozin Review – Does it work?
Can it help shift body fat?
Thermozin Overview
Utilizing a combination of natural thermogenic ingredients Thermozin claims to get you the best of both worlds when it comes to shifting body fat. By increasing lipolysis and accelerating your metabolism, this product should help you get to your goals. What's more, there appears to be an element of appetite suppression, making it ideal for women who suffer from hunger cravings when on a low-calorie diet.
But how does it work, and most importantly, is it the ultimate thermogenic complex to get the fat loss results you want even faster?
Find out what actually works
– View our best fat rated burners – 
The Spot Me Girl team find out in this Thermozin review.
Pros and Cons of Thermozin
Pros
Completely natural ingredients
Works to boost energy & endurance levels
Money-back guarantee
May curb hunger and temptation – a woman's biggest hurdle to weight loss
Formulated in the USA in GMP-certified facilities
May enhance immune function
Cons
Contains a proprietary blend
Only available direct
High price tag
Highly stimulated
Find out what actually works
– View our best fat rated burners – 
Thermozin: The Ingredients
There are several active ingredients in this product, however an instant red flag for us is the fact that the ingredients are ambiguously represented in a proprietary blend.
But, it's clear to see the creators have done some research and made sure to include ingredients that have some beneficial effect on fat loss. Here we go into more detail about some of its most important inclusions. 
Caffeine Anhydrous – This popular stimulant has been shown to elevate physical and mental performance to help push your body even further in workouts[1]. Caffeine is also commonly included in fat burners to raise your metabolic rate for better calorie burn and ultimately lose weight[2].
Green Tea Leaf Extract – Green tea is packed with antioxidants which are believed to play a key role in weight loss. One crucial antioxidant found in green tea is Epigallocatechin – aka EGCG. This catechin has shown to boost the metabolism and burn calories during exercise and even at rest[3] [4]
Bitter Orange– This ingredient is packed with a substance called synephrine, which can elevate the amount of oxygen delivered to your muscles. This can prevent early fatigue and boost your cardiovascular endurance for better performance in the gym. However, be aware, experts warn this substance can be dangerous for women with blood pressure issues[5] since it causes the heart to beat faster.
Theobromine – A natural stimulant found in chocolate, theobromine can stimulate the central nervous system to give you a mental and physical lift. It differs to caffeine, in that its stimulant effects are said to be milder and longer-lasting.
Moringa Oleifera – This plant has been praised for its health benefits of thousands of years however research is still limited. Moringa Oleifera is thought to benefit everything from curbing your appetite and lowering cholesterol[6] to reducing blood sugar levels[7].
White Willow Bark Extract – Also known as nature's aspirin, white willow bark contains salicin which works in the same as aspirin to reduce inflammation[8]. Salicin is thought to be a potent thermogenic which may act synergistically with caffeine to raise your metabolism, although evidence is inconclusive. White willow is also useful for women since it can be used to relieve PMS symptoms.
Capsicum Annum Fruit Extract – This fiery addition works to heat up your body, increasing your energy expenditure and raising your metabolism at the same time. Studies suggest capsicum can have a demonstrable effect on reducing body fat[9].
N-Acetyl-Tyrosine – This amino acid is thought to improve your mental capacity and better your concentration[10]. As a precursor to natural neurotransmitters[11], Tyrosine acts as a stimulant and nootropic to get you through strenuous workouts with motivation.
Black Pepper Extract – Black pepper is included in many supplements to boost the bioavailability of other ingredients. It's especially useful in the Thermozin formula since research shows that black pepper (piperine) may block the formation of new fat cells.   
Serving size: 1 capsule
Servings per container: 30
Amount Per Serving | %DV
ThermoXComplex®:

1500mg*
Caffeine Anhydrous (110mg), N-Acetyl-Tyrosine, Green Tea Leaf Extract, Bitter Orange Fruit Extract, White Willow Bark Extract, Theobromine, Elecampane Root Powder, Black Pepper Extract, Moringa Oleifera Leaf Extract, Murraya Koenigii Leaf Extract, Capsicum Annum Fruit Extract
*Daily Value (DV) not established
Find out what actually works
– View our best fat rated burners –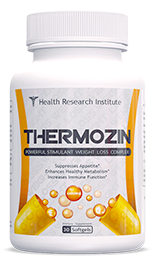 How does Thermozin work?
Using three main modes of action in this formula, Thermozin works to help you lose weight by raising your metabolism, increasing fat burn and curbing hunger.
A combination of natural thermogenic ingredients come together to support the processes involved in burning body fat, accelerating your fat loss and leading to better body composition.
By nature, women generally have a harder time losing weight, since their metabolic rates are lower than men's metabolic rates. This means women use fewer calories to fuel normal functions like breathing and blood circulation. Thermozin works to raise your metabolism, help your body use more calories for fuel and stop them from being stored as fat.
According to the creators, Thermozin also provides added health benefits, such as enhanced immune function, improved breathing and cardiovascular endurance. What's more, the natural stimulants included help to lift your energy and effectively give you more motivation to push harder during workouts, ultimately allowing for a higher calorie burn and helping you lose weight.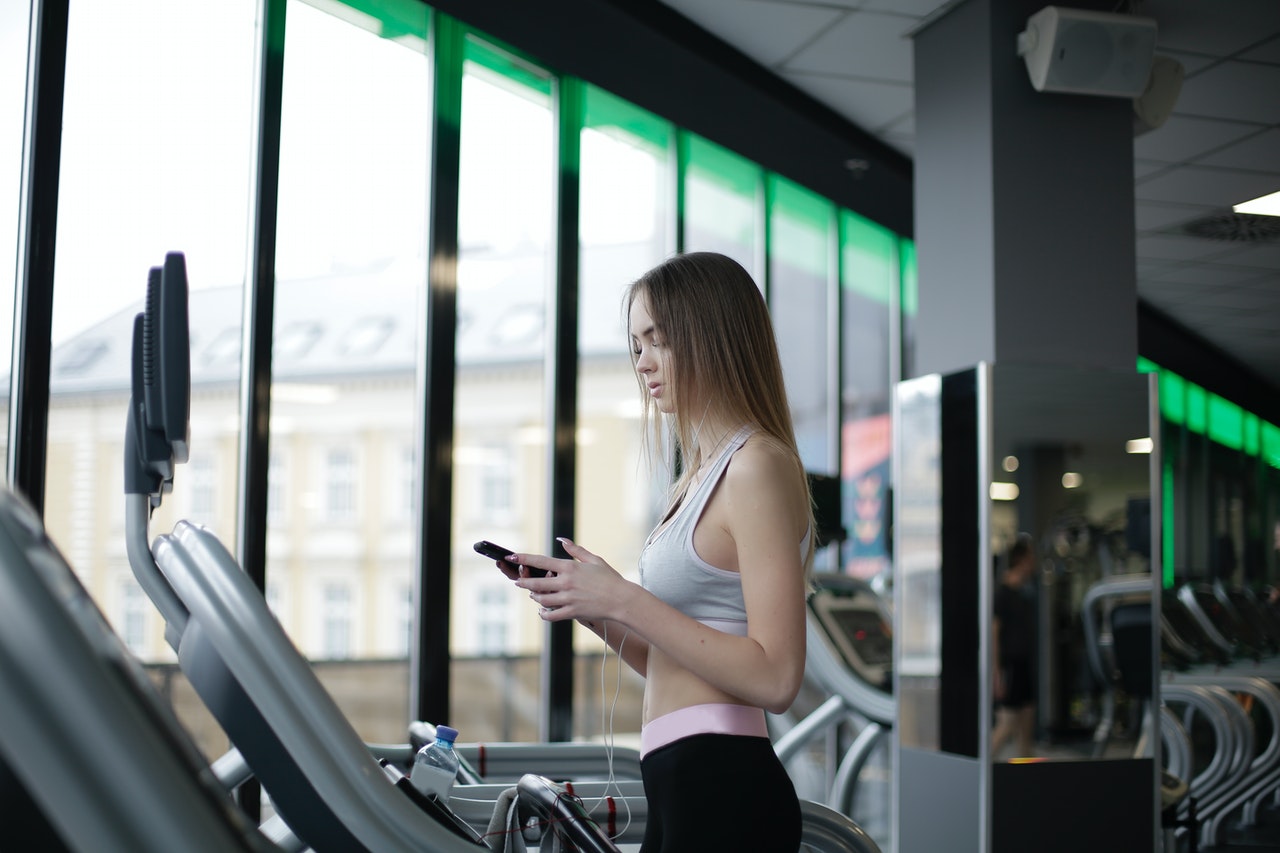 What are the benefits of taking Thermozin?
Thermozin contains a multitude of ingredients that should all contribute to weight loss in some way. Here are some of the benefits you may experience from supplementing with this fat burner.
Heightened metabolic rate
By raising your internal temperature with potent thermogenic ingredients, your body has to work harder to return to baseline temperature. This can help to raise your metabolic rate and the number of calories you burn, even at rest. 
Sticking to a healthy diet is hard enough but when the hunger cravings hit, you might be tempted to snack. Thermozin works to reduce your appetite, so you're more likely to stick to your lower calorie intake.
Boosted energy and endurance
When you're on a lower calorie diet, your energy levels might suffer, equalling little motivaton for you to work out. Natural stimulants provided in Thermozin work to raise your energy and endurance in the gym and promote higher levels of output.
Bodies naturally burn fat cells for energy, but sometimes it's not as efficient as we'd like. Thermozin puts a lot of emphasis on helping your body metabolize the food you eat and accelerate the rate at which fat is used for fuel.
How to take Thermozin
Thermozin contains stimulants and so it's wise to follow the manufacturer's instructions to get the best experience. This is especially important for women who are generally considered more sensitive to stimulants.
According to the directions, you should take one pill in the morning to get the promised effects. The dosage is just one capsule a day. We recommend taking each pill with a big glass of water.
If you're ever unsure about taking a new supplement or beginning a nutritional program, we would suggest you talk to your doctor first.
---
Thermozin results – before and after
Thermozin is a relatively new product to market and so we're still looking to see what can be achieved by taking this supplement. We will update this as soon as we find genuine before and after results.
Find out what actually works
– View our best fat rated burners – 
Thermozin reviews – what are other people saying?
According to the Thermozin website, it's rated 4.8 out of 5 stars. Customers appear to rate Thermozin highly however the lack of reviews makes it impossible to determine whether Thermozin has caused any issues for past users.
Here are some of the reviews we found online: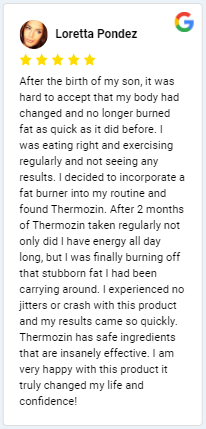 Does Thermozin have side effects?
Due to its completely natural profile, we'd be safe to assume that Thermozin is safe. However, there is the fact that this supplement is a complete propriety blend, meaning it's difficult to understand from the label the exact amounts of each ingredient in the blend. Usually, we would avoid a supplement that contains a proprietary blend.
Thermozin does contain stimulants, which can cause issues such as jitteriness and anxiety as well as interrupted sleep.
Thermozin Review: Our Conclusion
Thermozin appears to be a potent fat-burning supplement that offers a lot in terms of natural weight loss. It's clear to see there is some scientific support behind each ingredient inclusion however we can't forget the fact that the entire product is built upon a proprietary blend.
Ingredient-wise, there are solid thermogenic contenders in the mix, like green tea extract, caffeine and capsicum that all work to raise your metabolic rate. The element of appetite suppression from ingredients like moringa oleifera should also help to keep your nutrition on track, reduce calories and ultimately lose weight.
The money-back-guarantee shows that the creators also have great belief in their product however the lack of customer reviews is an issue.
Regarding women's fat burners available on the market right now, there may be others that are worth your attention – and your money. We highly recommend you view our Editor's Choice Best Fat Burners for Women for a list of safe, effective products.
Total score
5/10
Find out what actually works
– View our best fat rated burners – 
Here at Hey Spot Me Girl, we're all about safety – so we wanted to remind you to double-check with your doctor or physician if you have any concerns at all about introducing a new supplement into your diet.
Whilst supplements could be a great boost to your lifestyle, they could also have adverse effects on your body if not used properly, or if you have sensitivity to any of the ingredients. So, make sure you always check the label fully. Also, make sure you stick to the usage instructions, particularly during the first week.
It's also worth pointing out you shouldn't rely on supplements alone to achieve your physique goals. Remember girls, supplements are enhancers – not the only answer!
A balanced diet, consistent workout plan and sensible lifestyle choices are the fundamentals behind real change – and your supplement should only ever be used as a way of optimizing the results of your hard work, not a way of replacing it altogether.
So, whatever supplements you choose to improve your life, make sure your health and welfare is always paramount over anything else every single time.
Find out what actually works
– View our best fat rated burners – 
---
*DISCLAIMER: These statements have not been evaluated by the Food and Drug Administration. This product is not intended to diagnose, treat, cure, or prevent any disease. Products are intended for use alongside a diet and exercise regime. The views and nutritional advice expressed by Hey Spot Me Girl are not intended for the purpose of medical advice.
Individual results may vary. Please always consult your health care provider if you are taking any medications or have any medical condition. Must be 18 years or older to purchase. Always reference the ingredients and directions on the product label.