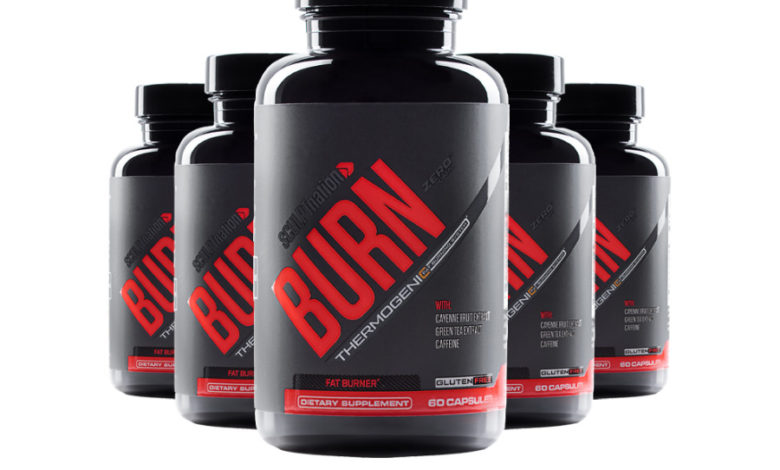 Reviews
SCULPTnation BURN Review – Does it work?
Can it burn fat effectively?
BURN Overview
The concept of SCULTPnation's BURN brings together natural ingredients to tackle your body fat head-on. The prominent focus for BURN centers around increasing your body's production levels of BAT (Brown Adipose Tissue) in order to burn white fat cells and increase your metabolism.
Using a Thermogenic Agent Matrix will, according to them, 'unlock your body's hidden triple-thermogenic powers' and 'torch body fat', providing a long-term metabolic elevation so you can continually see results.
The creators are so confident about their formula, they have even offered a lifetime money-back guarantee. But how effective is this fat burner?
Spot Me Girl is here to unpack these bold claims, using scientific research to discover how this supplement works, the benefits of taking it and if it's the right fat burner for you.
Pros and Cons of BURN
Pros
Fully transparent label
Natural ingredients
Lifetime Money-Back Guarantee
Antioxidants in green tea are great for your health
Simple to take
Cons
Not vegetarian/vegan friendly
Highly stimulated
Lack of strong appetite suppressant
Some ingredients like yohimbine could have severe side effects
Find out what actually works
– View our best fat burners for women – 
BURN: The Ingredients
The formula relies on the thermogenic qualities which each ingredient possesses. These compounds heat the body and speed up even the slowest of metabolisms, thus burning more calories – even when resting.
At first glance, we can see that there are instantly a couple of red flags to be raised. The first being the lack of a strong appetite suppressant. Although some ingredients have been linked to reducing hunger, having no key component to tackle your snacking tendencies could be detrimental to your weight loss – especially when you're working out on a calorie deficit.
The other issue is the inclusion of certain possibly harmful ingredients like yohimbine. Having been banned from certain countries across the globe like the UK, Canada and Australia due to adverse side effects, we would strongly advise doing your research and possibly even looking into other fat burners with less risky ingredients instead.
Cayenne Pepper Fruit Extract (Capsimax) – Cayenne pepper has been around for thousands of years to treat all manner of ailments – from reducing high blood pressure[1] to providing pain relief[2] and improving digestive health[3]. Nowadays, this ingredient is often found in fat burners for its ability to increase your body's heat levels, which then stimulates your metabolism so you burn more calories[4]. But the benefits don't stop there. Studies show that capsaicin, found in cayenne peppers, reduces the production of the hunger hormone ghrelin, leaving you with less of an appetite too[5].
Yohimbine Hydrochloride and Rauwolscine – This pair have been used historically to address poor sexual performance for men in particular[6]. In more recent years, studies were carried out to determine rauwolscine and yohimbine's effectiveness as a weight loss aid due to both of their abilities to boost energy. Whilst some results showed a decrease in body fat compared to participants who had taken the placebo supplement[7], other studies proved it to have absolutely no effect on fat loss at all[8]. The other issue with yohimbine has been the adverse effects, with reports showing gastrointestinal distress, increased heart rate, anxiety and high blood pressure as a result of taking yohimbine-containing supplements. A small collection of people also suffered life threatening events like heart attacks and seizures too[9].
Grains of Paradise Seed Extract – As with cayenne pepper, grains of paradise relies on spice for its role to play in fat burning. This ingredient is a distant relation to ginger which has been linked to enhanced thermogenesis and appetite suppression[10]. In a study to prove its fat burning effectiveness, participants saw a 43-calorie increase after consuming grains of paradise[11].
Caffeine – Many fat burners on the market tend to use caffeine for its ability to increase your energy levels and improve athletic performance[12]– which is particularly important when you're in a calorie deficit but want to keep your workouts effective. Caffeine also helps to mobilize fat from fat tissue by boosting your levels of adrenaline[13] and can have a hand in your motivation and focus too.
EGCG (Epigallocatechin Gallate) – This component is a plant-based compound called catechin, that carries potent antioxidants which could protect you against chronic diseases including some cancers[14]. It's predominantly found in green tea[15] and has been linked to weight loss. It's especially effective when combined with caffeine, with research showing a significant reduction in body fat[16] from increased fat burning, both during and after exercise[17].
| Ingredients | Amount per Serving | % Daily Value |
| --- | --- | --- |
| Epigallocatechin (from green tea leaf extract) | 300 mg | * |
| Cayenne fruit extract (Capsimax) | 100 mg | * |
| Caffeine | 100 mg | * |
| Grains of Paradise seed extract (Paradoxine®) | 30 mg | * |
| Yohimbine hydrochloride | 6 mg | * |
| Rauwolscine | 3 mg | * |
*Daily Value (DV) not established
Other ingredients: Gelatin, Microcrystalline Cellulose, Magnesium Stearate and Silicon Dioxide.
Find out what actually works
– View our best fat burners for women – 
How does BURN work?
The central focus of BURN is to encourage the production of BAT – Brown Adipose Tissue, also known as brown fat. Unlike white or yellow fat which is the result of storing excess calories, brown fat actually generates heat by burning calories so, in theory, the more brown fat which is produced in your body, the higher the increase in white fat burning[18], resulting in weight loss.
BURN suggests that by using thermogenic ingredients, you can increase the production of BAT in your body, thus increasing your fat burning potential. When we've looked into research to support this theory, there is no concrete evidence to prove it works. However, studies do show a clear correlation between thermogenesis activation and an elevation in metabolic rates which induces increased calorie burn and weight loss[19].
As well as increasing your metabolism, BURN's ingredients aim to target other areas to aid weight loss, including suppressing your appetite and increasing your energy levels too.
What are the benefits of taking SCULPTnation BURN?
The formula of BURN is a little contentious in places, however these are some benefits you could experience from the more well-researched ingredients when taking the fat burner.
By using thermogenic ingredients, BURN aims to burn off extra fat by heating your body and igniting your metabolism. Ingredients like cayenne pepper and grains of paradise have been linked to having thermogenic abilities that can target stored calories and help burn them off – even when resting.
When you're on a calorie deficit, the temptation of snacking can get too much. By including appetite suppressors, your hunger levels will be kept at bay making it easier to stick to your diet.
Improved athletic performance and energy
The inclusion of caffeine gives you the boost you might need if you're working out more – especially on a restricted diet. Caffeine can reduce those pangs of fatigue and elevate your exercise regime by giving you improved athletic performance.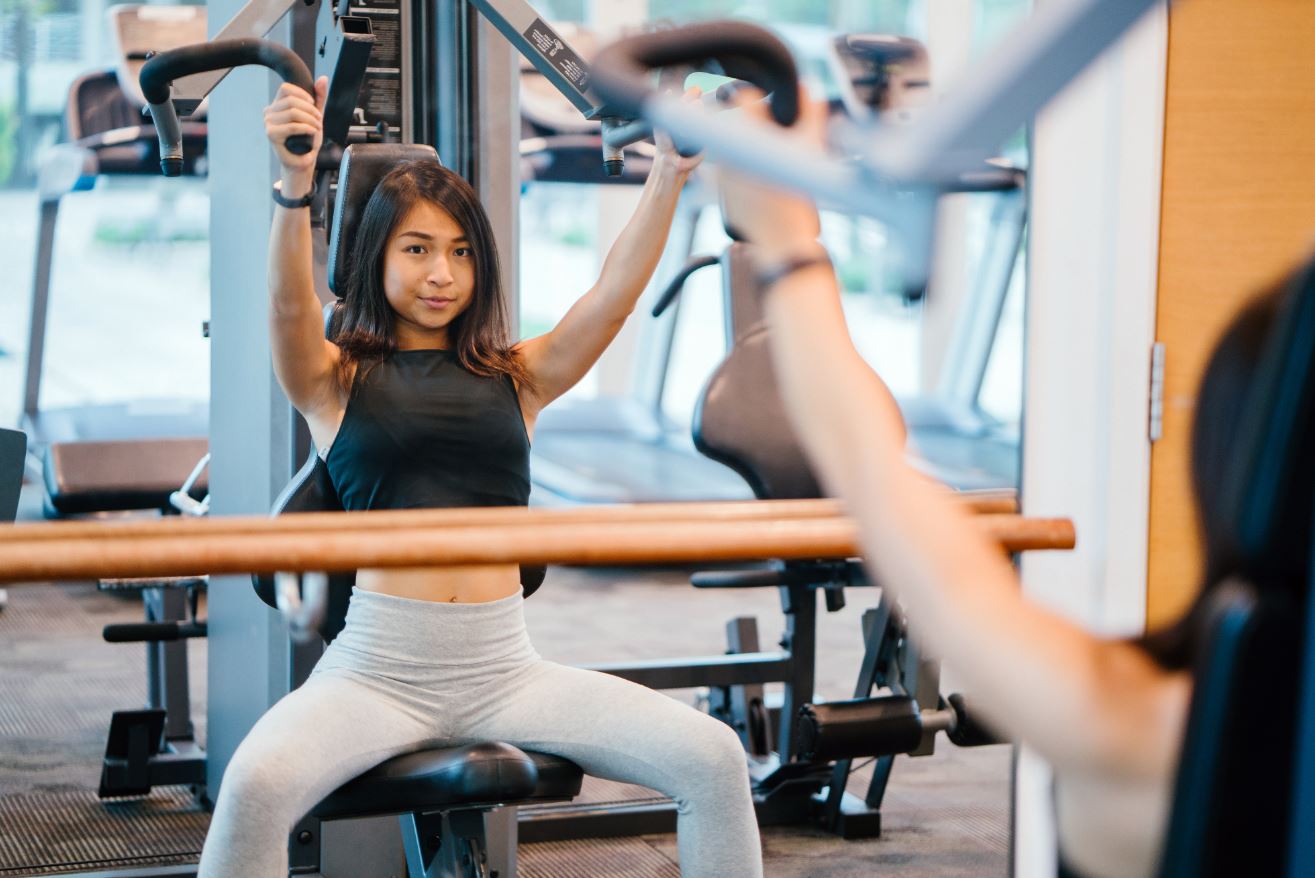 Boosted antioxidant level
EGCG brings with it a series of important antioxidants that have been linked to improving your health and overall immunity by reducing the risk of free radicals in your body. Reducing the chance of illness could be key to staying on track with your weight loss.
How to take SCULPTnation BURN?
To take BURN safely, you need to take two capsules, twice a day in intervals. It's probably easiest to take them alongside two meal times of your choice throughout the day.
Because of the high stimulant content, it wouldn't be wise to take both capsules together to avoid potential jitters. Also, make sure the final capsule you take isn't too close to bedtime as it may affect your ability to get to sleep and your sleep quality.
---
SCULPTnation BURN results – before and after
Whilst the before and after reviews are fairly limited for BURN, we found one success story where the woman combined BURN with a number of other supplements to optimize results: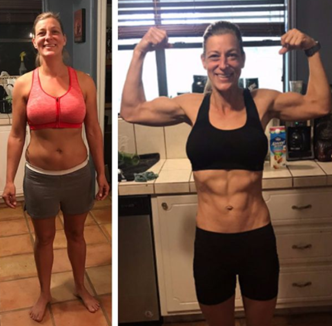 Fitness_girl_loving_country: 'I am so grateful for my transformation and couldn't have done it with out all of the above @VSHRED, @Billievshred and @sculptnation'[20]
Find out what actually works
– View our best fat burners for women – 
SCULPTnation BURN reviews – what are other people saying?
Looking across the various platforms, we found a really limited selection of first-hand reviews. On Trustpilot, 68% of the feedback scored the company and the product 'bad' whereas on their social media pages they have a few posts of 'true' success stories.
Some people across the internet, however, have suggested the supplement was ineffective to the point where they were questioning the legitimacy of the product and company as a whole.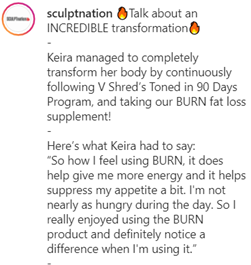 Please note: the following review has been taken from SCULPTnation BURN's Instagram page so be aware this has been used as promotional content.
Does SCULPTnation BURN have side effects?
One of the main things to draw your attention to is the high amount of stimulants in BURN's formula. The combination of caffeine, yohimbine and rauwolscine could have some pretty serious side effects – especially for women who are sensitive to stimulants.
Common side effects could include[21]:
Unsettled stomach
Energy crashes
Insomnia
Jitters
Anxiety
Aside from that, some ingredients like yohimbine have been linked to a number of even more adverse and harmful side effects like heart attacks, which is something you need to seriously consider if you're thinking BURN might be right for you.
BURN Review: Our Conclusion
All in all, BURN fat burner has a number of ingredients in its formula that are popular across many weight loss supplements. The likes of cayenne pepper and grains of paradise are featured in many supplements for their ability to increase your metabolism and burn fat quicker.
Our main issues with this fat burner, however, is that it lacks a strong appetite suppressor – something we believe to be key to keeping to your calorie deficit and ultimately achieving your weight loss goals.
The other issues come down to the safety of the product – especially for women. The intensity of yohimbine, for example, has been recognized across several countries as being dangerous, leading to it being banned from the likes of the UK, Canada and Australia.
For us, we believe there are several other fat burners on the market offering a more premium standard of ingredients that would be just as effective – if not more so – without the potential risks. We highly recommend you view our Editor's Choice Best Fat Burners for Women for a list of safe, effective products.
Total score
5/10
Find out what actually works
– View our best fat burners for women – 
Here at Hey Spot Me Girl, we're all about safety – so we wanted to remind you to double-check with your doctor or physician if you have any concerns at all about introducing a new supplement into your diet.
Whilst supplements could be a great boost to your lifestyle, they could also have adverse effects on your body if not used properly, or if you have sensitivity to any of the ingredients. So, make sure you always check the label fully. Also, make sure you stick to the usage instructions, particularly during the first week.
It's also worth pointing out you shouldn't rely on supplements alone to achieve your physique goals. Remember girls, supplements are enhancers – not the only answer!
A balanced diet, consistent workout plan and sensible lifestyle choices are the fundamentals behind real change – and your supplement should only ever be used as a way of optimizing the results of your hard work, not a way of replacing it altogether.
So, whatever supplements you choose to improve your life, make sure your health and welfare is always paramount over anything else every single time.
---
*DISCLAIMER: These statements have not been evaluated by the Food and Drug Administration. This product is not intended to diagnose, treat, cure, or prevent any disease. Products are intended for use alongside a diet and exercise regime. The views and nutritional advice expressed by Hey Spot Me Girl are not intended for the purpose of medical advice.
Individual results may vary. Please always consult your health care provider if you are taking any medications or have any medical condition. Must be 18 years or older to purchase. Always reference the ingredients and directions on the product label.