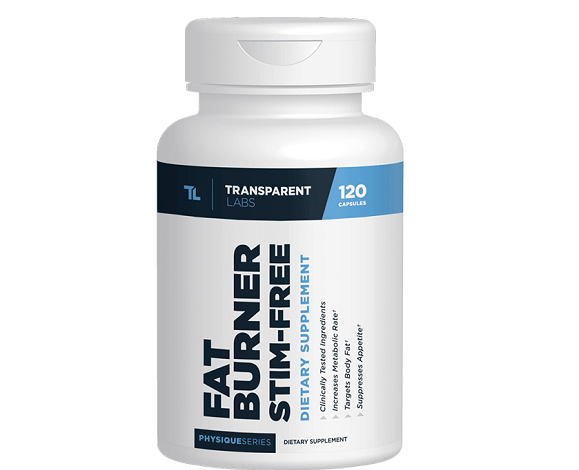 Reviews
Transparent Labs PhysiqueSeries Fat Burner Stim-Free Review
Can it help with fat loss?
PhysiqueSeries Fat Burner Stim-Free Overview
If you're into your supplements, you should be familiar with Transparent Labs. As the name suggests, the company is big on transparency and manufacturing effective products that are completely natural and full of key, science-backed ingredients.
With PhysiqueSeries Fat Burner Stim-Free, you're provided with a complete fat-burning formula that hopes to help you knock out food cravings, boost your body's ability to burn fat and trigger your metabolism to burn even more calories. It does this all without the need for any stimulant inclusions – something we appreciate at Spot Me Girl. Without any stimulants, you benefit from a supplement that's potentially side effect free too.
Find out what actually works
– View our best rated fat burners  – 
Like many fat burners though, you'll need to put some work in and cut out the junk food for it to work effectively. If you're particularly cautious about your caffeine intake or have a sensitivity to stimulants, then Stim-Free could be the fat burner for you.
Let's find out how it works and above all, if it can make your fat loss goals a reality.
Keep reading this PhysiqueSeries Fat Burner Stim-Free Review to discover more.
Pros and Cons of PhysiqueSeries Fat Burner Stim-Free
Pros
Research-backed and completely natural ingredient mix
Zero stimulants – ideal if you're caffeine sensitive
Vegetarian friendly
Overwhelmingly positive reviews
Mood boosting elements
May enhance your body's ability to burn fat
Cons
Could have more appetite suppressant elements
Premium price
Only available direct
Find out what actually works
– View our best rated fat burners – 
PhysiqueSeries Fat Burner Stim-Free: The Ingredients
PhysiqueSeries Fat Burner Stim-Free is a refreshingly simple formula of just six ingredients.
We can see there are some potent and well-recognized ingredients in the mix, and Transparent Labs claim they're all clinically researched and supported by trusted science. Here's a closer look:
Cayenne Pepper – This popular thermogenic ingredient is naturally high in capsaicinoids. These compounds are known for supporting weight loss through increased thermogenesis and lipolysis (burning fat for fuel)[1].
Forslean – Forslean is a plant extract native to subtropical and warm temperate habitats. It works by stimulating the release of fatty acids from stubborn fat tissue, helping to reduce body fat percentage[2].
5-HTP – This ingredient is often used as a supplement to boost serotonin levels, the brain hormone that stabilizes our mood, feelings of well-being, and happiness. 5-HTP may defend against low mood and reduce appetite cravings[3] – the biggest hurdles in any women's weight loss regime.
Acetyl-L-Carnitine – Naturally produced by the body, carnitine is a key amino acid that promotes the oxidation of fatty acids, helping your body use fat for energy[4]. It's also crucial for heart and brain function, muscle movement, and many other processes in the body.
Rhodiola Rosea – This root has a long history of use as medicine. As a so-called adaptogen, rhodiola rosea can enhance endurance and improve your focus under the stress you may feel when cutting calories[5].
Serving Size: 2 Capsules
Serving Per Containers: 60
Amount Per Serving
% DV
Vitamin B12 (as Cyanocobalamin)
2.4mcg
40%
Acetyl L-Carnitine
750mg
*
Forslean (10% Cpleus Forskolin)
250mg
*
5-HTP
150mg
*
Rhodiola Rosea (4%)
100mg
*
Cayenne Pepper
50mg
*
Fucoxanthin
10mg
*
*Daily Value (DV) not established
Find out what actually works
– View our best rated fat burners – 
How does PhysiqueSeries Fat Burner Stim-Free work?
The creators of Stim-Free say it works to boost your metabolic rate, suppress your appetite and boost your mood to make fat loss that bit more achievable.
Even better, with no added stimulants there's no chance of nasty crashes or energy slumps. Instead, an added blend of B vitamins works to support energy levels and metabolic function[7].
If reaching your weight loss goals seems too far away or you're struggling to shift those last few pounds, PhysiqueSeries Fat Burner Stim-Free focuses on every aspect to help you hit your targets.
Natural fat burning ingredients combine to increase thermogenesis and lipolysis, whilst dealing with the way your body handles stored fat. By boosting the rate at which you use fat for fuel, you could experience some good progress with this product.
This could be a real gamechanger when it comes to shifting stubborn body fat – especially for women. We generally have between six and 11 percent more body fat than men[8] and so our bodies have a harder time letting go of it.
Stim-Free also focuses on reducing hunger cravings, helping you to stay on track on with your calories. The added mood boosters may also keep motivation levels high when you feel like giving up.
What are the benefits of taking PhysiqueSeries Fat Burner Stim-Free?
Thermozin contains a multitude of ingredients that should all contribute to weight loss in some way. Here are some of the benefits you may experience from supplementing with this fat burner.
Thanks to its stimulant free formula, you shouldn't experience any adverse energy slumps or jitteriness normally caused by heavily stimulated fat burners. Instead, you get a gentle, natural lift from the B vitamins included.
Raised calorie burn and lipolysis
By including potent thermogenic compounds in the formula, Stim-Free ramps up your metabolism so you naturally use up more calories throughout your day. It also works to speed up lipolysis, breaking down fat cells from adipose tissue into fuel.
Hunger cravings are a girl's biggest challenge when cutting. In the Stim-Free formula, you get a blend of ingredients that concentrate on curbing your appetite, eliminating hunger and any unnecessary calories in your diet.
When the last thing you want to do is work out, Stim-Free contains natural mood boosters to drive motivation and help you maintain your activity levels.
How to take PhysiqueSeries Fat Burner Stim-Free
You should take two capsules twice a day to get the most out of this supplement. Ideally, follow the capsule with a large glass of water. You're also advised to take them an hour before eating a meal.
The label states you should start with one capsule, twice daily, to 'assess tolerance and response' for the first three days. Be sure to always follow the directions on the product to get the best experience.
Never exceed the stated dose at any time and seek medical advice if you have any health issues. If you're ever doubtful about taking a new supplement or beginning a new nutritional program, we would suggest you talk to a healthcare professional first.
---
PhysiqueSeries Fat Burner Stim-Free results – before and after
Stim-Free seems to be a popular option for women looking for a fat burner they can take at any time of the day. It's potentially one of the best products available for those who are intolerant to stimulants but want to optimize their fat loss efforts.
Looking online, we found positive testimonials from all over the world. Here are some of the results women have achieved using PhysiqueSeries Fat Burner Stim-Free.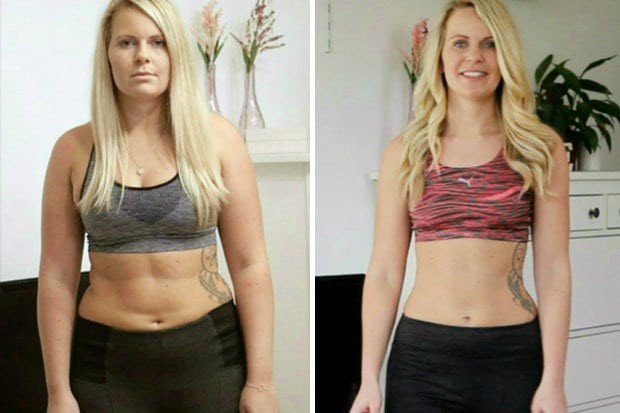 Angela H.
"I swear by these!!!"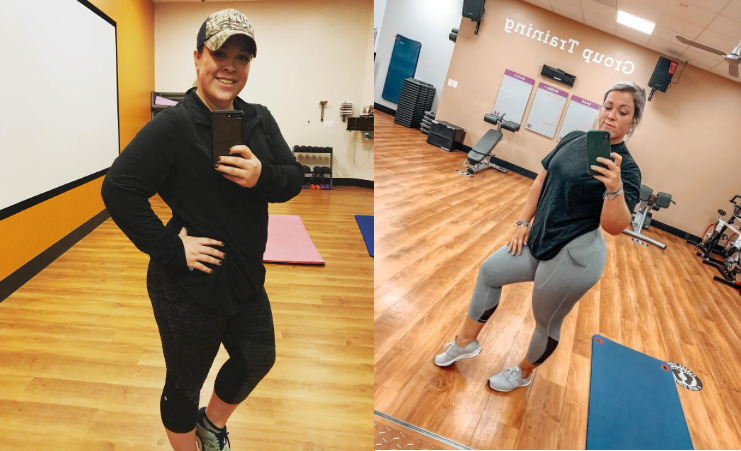 Beka T.
"The progress I've made has not only been that I've lost inches and gained muscle, but that I feel better overall." Published: August 2020
Find out what actually works
– View our best fat rated burners – 
PhysiqueSeries Fat Burner Stim-Free reviews – what are other people saying?
Stim-Free has generally been well received since its introduction to market. We found multiple positive reviews and testimonials online praising its effect on fat loss.
Here are some reviews from the company's website that may be helpful when deciding if it's the supplement for you.



Does PhysiqueSeries Fat Burner Stim-Free have side effects?
PhysiqueSeries Fat Burner Stim-Free is a completely natural formula containing ingredients that are fully backed by science. This is promising if you're looking for a fat burning supplement that aligns with the latest research.
The stimulant free formula and natural ingredients decrease the possibility of experiencing side effects. The fact that Transparent Labs are a reputable brand and use well-researched doses is also extremely positive. As you might expect from the name, the creators have nothing to hide with their supplements.
But it's not uncommon for some people to have side effects. Reviews we found online seem to suggest Stim-Free may cause nausea in some individuals, especially when taken on an empty stomach. Because of this, it may be best to try it after breakfast.
PhysiqueSeries Fat Burner Stim-Free Review: Our Conclusion
If you're looking to lose some extra fat but want to stay away from stimulant-heavy formulas, then Transparent Labs PhysiqueSeries Fat Burner Stim-Free would be a suitable choice. However, there are better options out there.
As an effective stim-free fat burner, it's potent enough to burn fat, control hunger cravings, and increase metabolic support. It also prevents fatigue and supports normal metabolism with a blend of B vitamins. What's more, you get a formula that takes your mental wellbeing into account with the inclusion of serotonin boosting 5-HTP. The adaptogen rhodiola rosea is also helpful for improved focus and stress reduction.
If you're ready to get rid of unwanted body fat with the help of a gentle formula, PhysiqueSeries is worth looking at or view our top rated fat burners.
Find out what actually works
– View our best fat rated burners – 
Total score
8/10
Find out what actually works
– View our best fat rated burners – 
Here at Hey Spot Me Girl, we're all about safety – so we wanted to remind you to double-check with your doctor or physician if you have any concerns at all about introducing a new supplement into your diet.
Whilst supplements could be a great boost to your lifestyle, they could also have adverse effects on your body if not used properly, or if you have sensitivity to any of the ingredients. So, make sure you always check the label fully. Also, make sure you stick to the usage instructions, particularly during the first week.
It's also worth pointing out you shouldn't rely on supplements alone to achieve your physique goals. Remember girls, supplements are enhancers – not the only answer!
A balanced diet, consistent workout plan and sensible lifestyle choices are the fundamentals behind real change – and your supplement should only ever be used as a way of optimizing the results of your hard work, not a way of replacing it altogether.
So, whatever supplements you choose to improve your life, make sure your health and welfare is always paramount over anything else every single time.
---
*DISCLAIMER: These statements have not been evaluated by the Food and Drug Administration. This product is not intended to diagnose, treat, cure, or prevent any disease. Products are intended for use alongside a diet and exercise regime. The views and nutritional advice expressed by Hey Spot Me Girl are not intended for the purpose of medical advice.
Individual results may vary. Please always consult your health care provider if you are taking any medications or have any medical condition. Must be 18 years or older to purchase. Always reference the ingredients and directions on the product label.