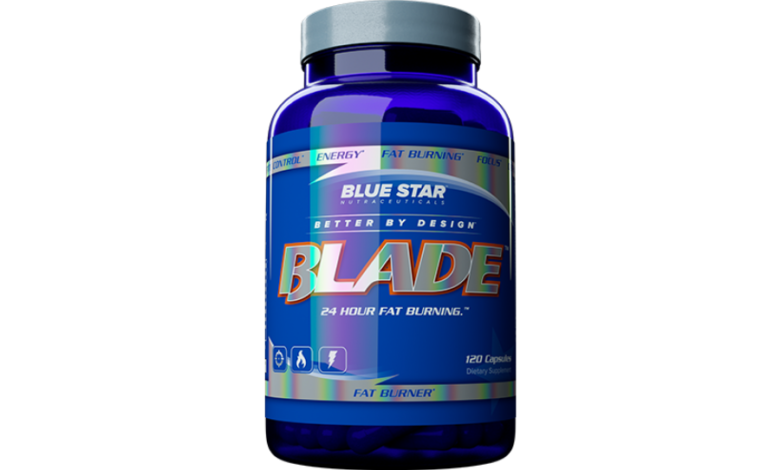 Reviews
Blue Star Nutraceuticals Blade Review 2021 – Does it work?
Is this an effective fat burner for women?
Blue Star Nutraceuticals Blade Overview
Blue Star Nutraceuticals 'Blade' claims to be triple the strength of their original 'award-winning' fat burning formula and promises to give you 24 uninterrupted hours of fat burning. Combining a range of clinically-backed ingredients, Blade focuses on powerful fat burning with speedy results.
The creators, Blue Star, have been in the industry for over 15 years, supplying consumers with everything from meal replacement shakes to clothing. Their supplements have won an array of awards over the years, giving them a definite advantage against other brands.
Their newest formula of Blade has been developed specifically for men, however we believe there could be benefits for women too and see no reason why we shouldn't check it out.
For many women who are searching for more extreme fat loss results, they often choose male-orientated fat burners as they believe they can be more effective. Since Blue Star claim this fat burner will 'shatter preconceived notions about effective fat burning', we couldn't resist a sneaky look into what really makes this fat burner stand out from the crowd – and whether it actually is as effective as they say.
You never know ladies, if it is, you might just want to jump on the Blade bandwagon too!
Pros and Cons of Blue Star Nutraceuticals Blade
Pros
100% natural ingredients
Partially transparent formula
Contains performance-boosting components
Enhanced fat burning with clinically proven metabolism boosters
Cons
High stimulant content
Some ingredients have been banned in several countries
Possible negative side effect from several ingredients

Blue Star Nutraceuticals Blade: The Ingredients
Blue Star are really vocal about the quality of their formula development, pointing out that all core ingredients have been researched on humans, rather than relying on mice or rat studies to determine a component's benefits.
They also state there are no fillers or 'fluff', which can often be found in lower quality supplements with proprietary blends. We do have to question, then, why some of the ingredients label is transparent, whilst the XD Delivery Technology Complex is a blend.
We do see some other red flags in this formula too, with risky ingredient choices and combinations, which we'll uncover next.
CH-19 Sweet Pepper – Similar to cayenne pepper, CH-19 sweet pepper contains capsaicinoids which play a key role in stimulating energy expenditure through thermogenesis[1], leading to enhanced fat burning. Studies have also linked sweet peppers like red pepper to appetite suppression, with studies showing subjects less inclined to snack after ingestion, as well as experiencing satiety for longer[2].
Acetyl L-Carnitine – This amino acid plays a big part in fat loss, with the ability to transport fatty acids to mitochondria to be converted into energy[3]. Studies are mixed, however, with some participants not seeing any weight loss at all[4]. It has also been linked to faster recovery time[5], enhanced concentration[6] and muscle growth[7] which could all help towards improving your workouts when you're on a calorie deficit.
Green Tea Extract – Green tea has been linked to a whole host of weight loss benefits. Its fat burning abilities have been widely researched, with results showing an increase in metabolism and fat oxidation, leading to significant weight loss[8]. Because of its caffeine content, you could see a drastic improvement to your mental and physical performance in day-to-day life. Caffeine has been evidenced to promote better workouts with more focus and stronger endurance[9].
Caffeine Anhydrous – Coupled with the caffeine from green tea, your exercise performance could go even further, with a substantial energy injection to support your body in a calorie deficit. Caffeine can also support appetite suppression[10], with studies showing participants feel fuller for longer, with less of an urge to snack after consumption. Beyond the physical implications, caffeine can also help increase your focus, alertness and overall cognitive performance[11] which could help boost your mood.
Advantra Z (citrus aurantium, 25% p-synephrine) – Another component brought in for its fat burning abilities, Advantra Z contains bitter orange which has been linked to increasing your metabolism for extra calorie burn. By enhancing lipolysis, bitter orange encourages a higher rate of fat breakdown in your body[12] so you can lose more weight – even after exercise. One thing to note about this component is some of the side effects reported have been worrying. Combined with caffeine, Advantra Z has caused a number of people to suffer from increased heart rate and a raised blood pressure which, for some, has led to more severe heart problems like strokes[13] further down the line.
Yohimbine HCL – Another concerning inclusion is yohimbine. Known for its energy-boosting abilities, some studies have proven yohimbine an effective weight loss aid with several participants seeing a decrease in their body fat[14]. However, it's worth noting, other studies have proven it to have absolutely no effect on fat loss at all[15]. As with Advantra Z, there have been notable side effects from taking yohimbine supplement reported, including gastrointestinal distress, anxiety, high blood pressure and increased heart rate. Some people also suffered life-threatening events like heart attacks and seizures too[16]. Because of this, yohimbine has been banned in various countries such as the UK, Canada and Australia.
| Ingredients | Amount per Serving | % Daily Value |
| --- | --- | --- |
| CH-19 Sweet Pepper (0.75% Capsiate) | 450 mg | † |
| Acetyl-L-Carntine | 400 mg | † |
| Green Tea Extract (45% EGCG) | 300 mg | † |
| Caffeine Anhydrous | 225 mg | † |
| Advantra Z® (Citrus aurantium, 25% p-synephrine) | 50 mg | † |
| Yohimbine HCI (98%) | 8 mg | † |
| XD Delivery Technology Complex™ | 61 mg | † |
| Fumaric Acid | | † |
| BioPerine® Black Pepper (Piper nigrum) (fruit) | | † |
| AstraGin™ (Panax notoginseng, Astragalus membranaceus) (root) | | † |
| Sodium R-Lipoate | | † |
| Succinic Acid | | † |
† = Daily Value (DV) not established & orders outside of United States may have ingredient variation
Other Ingredients: Magnesium Stearate, Microcrystalline Cellulose, Hypromellose.



How does Blue Star Nutraceuticals Blade work?
Blade brings together a 6-part formula of active ingredients to tackle every aspect of weight loss and help your body burn fat quicker. It targets 3 main components – energy, fat burning and focus so you can stick to your lower-calorie diet without feeling groggy, naturally burn fat around the clock and concentrate on your weight loss goals.
Using metabolism boosters like caffeine, green tea, CH-19 Sweet Pepper, Blade hopes to tap into your fat burning through thermogenesis, heating your body so energy expenditure is increased and potentially shedding calories, even when resting. Components like acetyl l-carnitine work to transport those fatty acids into mitochondria to ensure they are burned and not reabsorbed into your body.
There is a big focus on energy elevators in the formula which, for someone who is looking to see some extreme fat burning, could help you stick to a super low-calorie diet whilst still performing your best in workouts, which will intensify your fat loss and help you achieve your ideal weight quicker.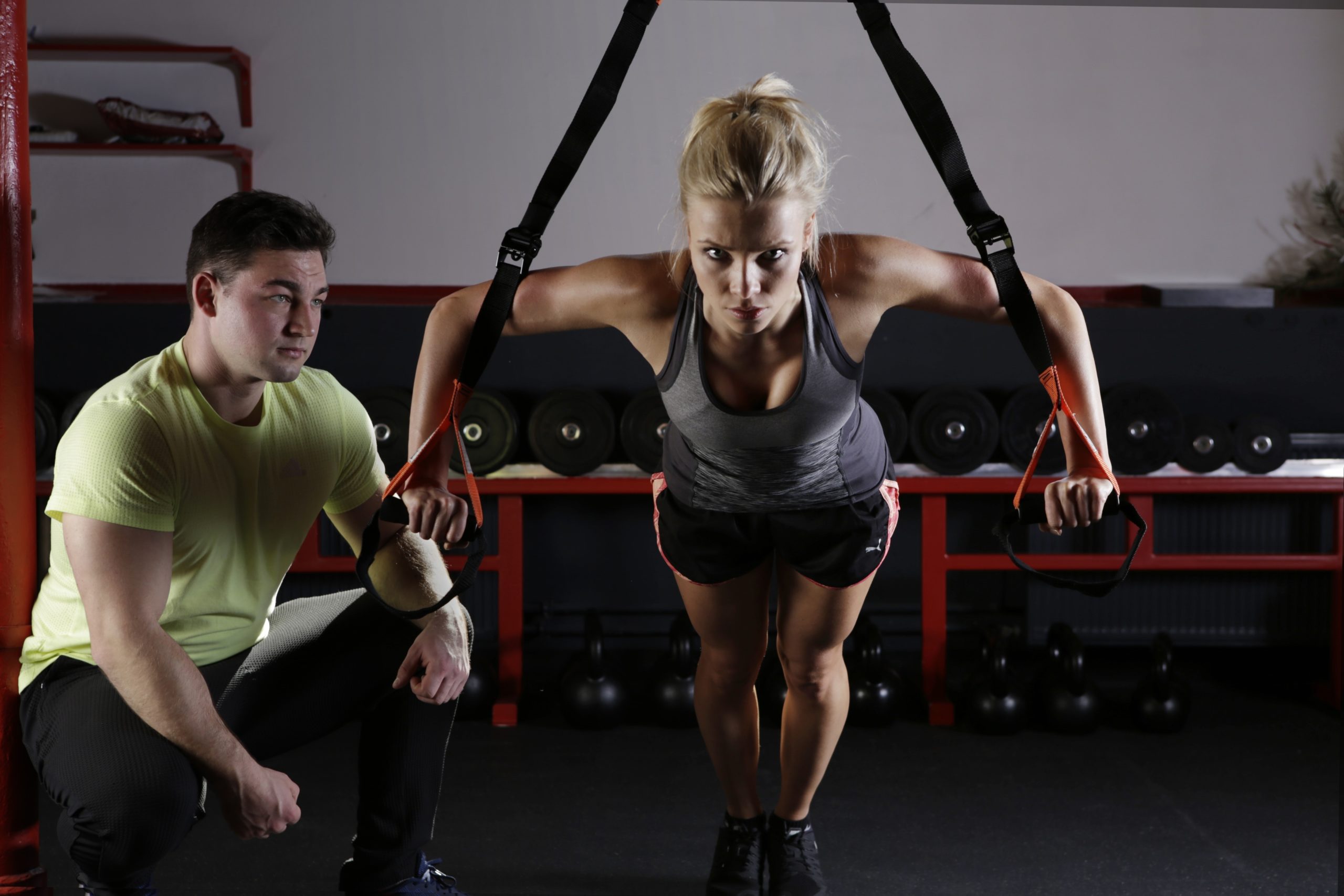 What are the benefits of taking Blue Star Nutraceuticals Blade?
Increased metabolism and fat burning
Due to the powerful thermogenic ingredients, Blade could increase your fat burning significantly through heating your body and kickstarting your metabolism for greater fat oxidation and calorie burn.
Elevated energy and exercise performance
A large chunk of this formula is made up of energy boosters that could be really beneficial if you're on a lower calorie diet. For the first few weeks whilst your body is adjusting to a calorie deficit, you could end up feeling drowsy and tired all the time. Blade will help replace the energy lost through less calories so you don't feel the need to snack in order to get through the day and can stick to your diet targets.
More focus and motivation
There are a number of cognitive-enhancing benefits within many of Blade's ingredients. Caffeine, for example, has the ability to lift your mood, help target your focus and, in turn, ramp up motivation. A cognitive boost could be just what you need to power through workouts and stay sharp in day-to-day life.
Blade's formula also includes ingredients that could contribute to reducing cravings for unhealthy snacks. By controlling your appetite, you'll be able to curb snacking and keep to your low-calorie diet easier.
How to take Blue Star Nutraceuticals Blade
Blue Star recommend starting off by taking 1 capsule over a period of 24 hours to assess your tolerance.
Following that, take 2 capsules in the morning first thing, then the final 2 capsules mid-afternoon – both with at least 8 ounces of water per serving.
They advise to not take your final 2 capsules within 5 hours of bedtime so as not to disrupt the quality of your sleep. Blue Star also state that you should not exceed the daily dose of 4 capsules in a 24 hour period.
---
Blue Star Nutraceuticals Blade results – before and after
In terms of before and after pictures, it is very limited – especially for female results. Many posts on social media we found showed results based on taking Blade along with other Blue Star products so it's difficult to ascertain its effectiveness on its own.

Blue Star Nutraceuticals Blade reviews – what are other people saying?
Overall, the reviews are mixed across the board. Some people did comment on how effective Blade was in boosting energy and weight loss as a whole, whereas others questioned its credibility as a fat burner entirely and commented on blood pressure issues too. We couldn't find any lower starred reviews on the Blue Star website itself, but that might be due to their own internal reviewing system where they have full control as to which feedback is uploaded to the site for public viewing.
Amazon.com:



bluestarnutraceuticals.com: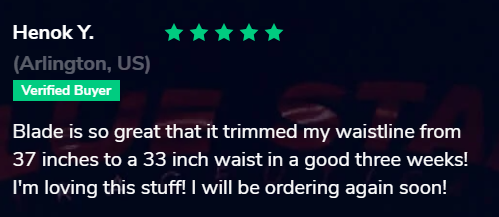 Does Blue Star Nutraceuticals Blade have side effects?
With such a high stimulant content, side effects could be quite likely – especially for women. The caffeine content surpasses the level of several strong cups of coffee so, combined with your usual caffeine intake, this could prove problematic.
Side effects of too much caffeine include nausea, insomnia, headaches, stomach distress and jitters to name a few.
With the caffeine alone, you could feel the effects of too many stimulants. But coupled with other risky ingredients including yohimbine – a substance which has been banned in several countries for causing severe and life-threatening effects, including heart attacks – we'd suggest being extremely wary of this product. Side effects from yohimbine are similar to what you'd experience from exceeded caffeine – but with both combined together you could experience much worse.
As women, many of us are more sensitive to stimulants than men, so this is maybe why Blade is marketed towards men. If you're going to try this fat burner out, make sure you take all the necessary precautions to stay safe and assess your tolerance before you take a full dose.
Our conclusion to Blue Star Nutraceuticals Blade
Our thoughts on Blade remain mixed. Whilst it does boast a selection of scientifically-backed powerful fat burners and energy boosters, we feel that there is a certain level of risk which you wouldn't find in other fat burners on the market.
Yes, it is designed for men – which is maybe why the stimulant content is so high. However, some of the ingredients chosen leave much to be desired. Blue Star claim to have used science and the very best research to develop this product, however if that's the case, is it really advisable to combine ingredients that have together caused severe and life-threatening effects in the past?
Also, using the likes of yohimbine – a banned substance in several countries – seems to suggest that they haven't thought the full formula through in terms of health and safety.
For us, we know there are many other popular and highly effective weight loss supplements across the market which can offer the same benefits – without the risk. We highly recommend you view our Editor's Choice Best Fat Burners for Women for a list of safe, effective products.
Total score
5/10

Here at Hey Spot Me Girl, we're all about safety – so we wanted to remind you to double-check with your doctor or physician if you have any concerns at all about introducing a new supplement into your diet.
Whilst supplements could be a great boost to your lifestyle, they could also have adverse effects on your body if not used properly, or if you have sensitivity to any of the ingredients. So, make sure you always check the label fully. Also, make sure you stick to the usage instructions, particularly during the first week.
It's also worth pointing out you shouldn't rely on supplements alone to achieve your physique goals. Remember girls, supplements are enhancers – not the only answer!
A balanced diet, consistent workout plan and sensible lifestyle choices are the fundamentals behind real change – and your supplement should only ever be used as a way of optimizing the results of your hard work, not a way of replacing it altogether.
So, whatever supplements you choose to improve your life, make sure your health and welfare is always paramount over anything else every single time.
---
*DISCLAIMER: These statements have not been evaluated by the Food and Drug Administration. This product is not intended to diagnose, treat, cure, or prevent any disease. Products are intended for use alongside a diet and exercise regime. The views and nutritional advice expressed by Hey Spot Me Girl are not intended for the purpose of medical advice.
Individual results may vary. Please always consult your health care provider if you are taking any medications or have any medical condition. Must be 18 years or older to purchase. Always reference the ingredients and directions on the product label.