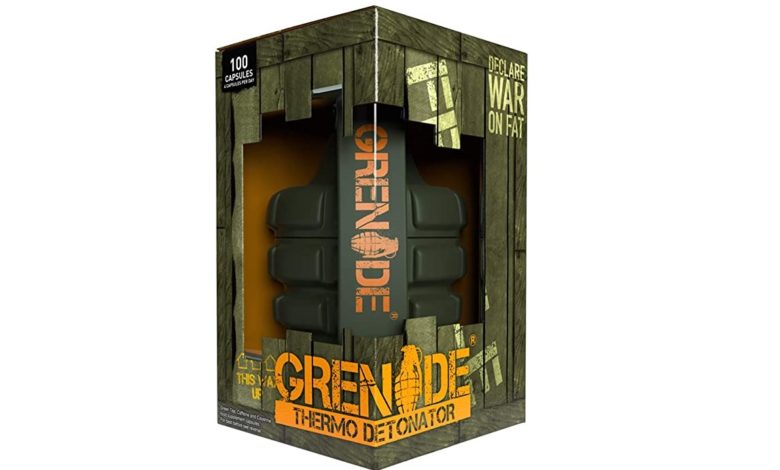 Reviews
Grenade Thermo Detonator Review – Does it work?
Can it help you achieve a leaner look?
Grenade Thermo Detonator overview
Ready to 'Declare War on Fat'? Thermo Detonator claims to have the key to achieving a leaner look with its 2-in-1 fat burning formula.
Grenade develops an array of supplements for all health goals and is a trusted brand in the industry.
Its hugely popular weight loss management system, Thermo Detonator, is inspiring fitness enthusiasts all over the world and helping users get the results they want. Suitable for both men and women, it's been designed to increase energy levels, motivate your metabolism and improve your focus, offering side-by-side support during a strict weight loss program.
Find out what actually works
– View our best fat rated burners – 
The formula works as a pre-workout performance booster too, meaning you get the benefits of better energy and focus while working out. Does it work as a fat burner or more of a performance enhancer? We find out in this Grenade Thermo Detonator review.
Pros and Cons of Grenade Thermo Detonator
Pros
Fully transparent ingredients label
All-natural formula
Manufactured in cGMP and FDA approved facilities
Raises energy levels
May boost focus and motivation
Acts as a pre-workout
Cons
Not suitable for vegetarians
High stimulant content
Fairly expensive
Find out what actually works
– View our best fat rated burners – 
Grenade Thermo Detonator: The Ingredients
Grenade Thermo Detonator is a completely transparent and natural ingredient blend. Inside the mix, you get a combination of energy elevators, cognitive enhancers and metabolism boosters which should help you achieve results faster. Here's a breakdown:
Cayenne – This scorching spice is a popular thermogenic with potent metabolism-boosting abilities to help you burn more calories[1]. It's also thought to block hunger and reduce your appetite to help you stick to a lower calorie diet[2].
Caffeine / Green Tea Extract – Both these ingredients are stimulant-heavy and contribute to improved energy and focus, powering you through your workouts. They work to satisfy your hunger too while also increasing the rate of fat oxidation[3].
Bitter Orange Powder – Also known as synephrine, bitter orange is commonly found in fat burners for its ability to improve energy and boost fat burn. However, studies suggest it may do more harm than good, with evidence showing amounts can raise blood pressure, especially when used in combination with caffeine[4]
Green Coffee – This ingredient is packed with chlorogenic acids, which are a group of antioxidant compounds that scientists believe may be responsible for its health benefits. Animal studies show it has some impact on reducing fat accumulation however there is inconclusive evidence that it has the same effect on humans[5].
| Serving Size: 2 Capsules | Amount Per Serving |
| --- | --- |
| Green Tea | 500mg |
| Bitter Orange Powder | 420mg |
| Caffeine | 225mg |
| Cayenne | 200mg |
| Phenylalanine | 25mg |
| Green Coffee | 10mg |
Find out what actually works
– View our best fat rated burners –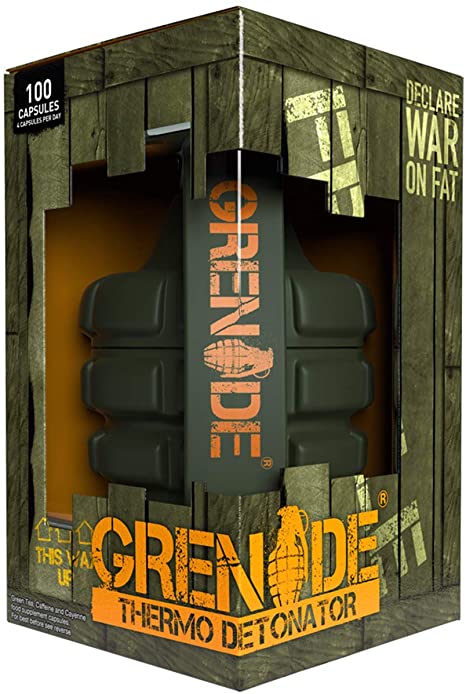 How does Grenade Thermo Detonator work?
Like all supplements of this type, Grenade Thermo Detonator is designed to be used alongside a healthy, calorie-controlled diet and a regular exercise regime.
Inside Grenade Thermo Detonator, you'll find all the classic fat burning ingredients which should be the cornerstone of any product of this category. Caffeine, green tea and cayenne pepper give it the ability to heighten thermogenesis, raising your metabolism and encouraging a higher calorie burn.
These are the core fat burning elements of the product. But that's not all you get – since it doubles up as a pre-workout supplement too. This is because of its enormous serving of caffeine per serving (225mg). It's especially a lot considering there's two servings in this supplement, meaning you'll be consuming 450mg of caffeine a day when you take this supplement.
Most high-caffeine pre workout formulas top out at around 300mg so this is a seriously potent product. This could be an issue for some women, since many can be sensitive to the stimulant and experience unpleasant side effects like headaches or energy crashes. This is something to watch out for in the Thermo Detonator formula.
Grenade Thermo Detonator also works to curb your appetite, helping you stay on track with your calorie goals.

What are the benefits of taking Grenade Thermo Detonator?
Grenade have packed this supplement with caffeine which is a great stimulant if you're looking to improve your focus and energy during workouts. Increasing energy should help you push harder with your exercise regime and ultimately stay motivated. If you're sensitive to stimulants, you may want to reduce your dosage.
Caffeine, green tea and cayenne pepper are all highly thermogenic ingredients that work to raise your internal body temperature. When your temperature is increased, you burn more calories in an attempt to return back to cooler, baseline temperatures. This process may also boost your metabolic rate and you should burn more calories daily than you normally would.
If you use this supplement while on the keto diet, it may help support your energy levels. The ketogenic diet claims to be a surefire way to gain sustained energy levels, since you restrict carbs (the body's primary energy source which you need to constantly refuel). Instead, your body can tap into stored fat and you can enjoy a stream of energy.
How to take Grenade Thermo Detonator
When starting out with a new supplement, always be sure to read and follow the product label's instructions carefully. It's always important to read the label's instructions whenever you start taking a new supplement.
To use Grenade Thermo Detonator, take 2 Capsules on an empty stomach immediately after waking up with a glass of water. Then take 2 capsules 30 minutes prior to lunch with water.
To assess tolerance, you should consume 1 capsule twice per day for the first 7 days. Timing can be key with this supplement. If you're looking to augment your workouts you could take 2 capsules right before training.
The creators also advise you to drink at least 8 glasses water per day and avoid taking it at least 6 hours before sleep.
Never exceed the stated dose at any time and seek medical advice if you experience any health issues. If you're ever unsure or need some expert advice when you start with a new supplement or nutritional program, you should talk to a healthcare professional first.
---
Grenade Thermo Detonator results – before and after
Since its introduction to market, Thermo Detonator has grown in popularity around the world. It appears to offer the boost you need to cut that stubborn bit of fat. However, we struggled to find any female genuine before and after results which were as a direct result of using Thermo Detonator.
Find out what actually works
– View our best fat rated burners – 
Grenade Thermo Detonator reviews – what are other people saying?
Although it was difficult to find before and after results, many users reported positive feelings using this supplement. Consumers mentioned feelings of energy and curbed hunger cravings as a result of taking Thermo Detonator.
However, some female users didn't get on with this supplement, reporting tummy troubles and sensitivity to the caffeine content.
Here are some reviews we sourced from the official company website which detail how this supplement could work for you.



Does Grenade Thermo Detonator have side effects?
Grenade Thermo Detonator is completely natural and free from proprietary blends. This gives us some confidence that the formula is generally safe. However, a big concern for us is the high caffeine content alongside the bitter orange extract.
Strong caffeine levels can trigger anxiety, nausea, stomach upset and trouble sleeping –all of which aren't ideal if you're looking to get healthier. The inclusion of bitter orange is also concerning since it has links to high blood pressure, hypertension and headaches. These side effects may be amplified alongside the gigantic dose of caffeine.
If you're sensitive to stimulants or suffer from existing medical conditions, speak to your doctor before supplementing with this fat burner.
Grenade Thermo Detonator Review: Our Conclusion
This potent fat burner is certainly making a name for itself in the supplement industry. The metabolism-stimulating ingredients should help you burn more calories throughout the day, whilst the cognitive and energy enhancers should keep you pushing forward.
The pre-workout element may be just what you need to drive your gym sessions when you're on a lower calorie diet.
The formula may also help you control your hunger pangs, reducing your cravings for unhealthy snacks and higher calorie foods.
Despite the positive reviews, we can't ignore the fact this supplement is incredibly caffeine-heavy. This might put you off since stimulants are known for causing side effects. It's also not suitable for vegetarians.
If you want to give your metabolism a kick-start without the risk of potential side effects, you may be best looking elsewhere. We highly recommend you view our Editor's Choice Best Fat Burners for Women for a list of safe, effective products.
Total score
6/10
Find out what actually works
– View our best fat rated burners – 
Here at Hey Spot Me Girl, we're all about safety – so we wanted to remind you to double-check with your doctor or physician if you have any concerns at all about introducing a new supplement into your diet.
Whilst supplements could be a great boost to your lifestyle, they could also have adverse effects on your body if not used properly, or if you have sensitivity to any of the ingredients. So, make sure you always check the label fully. Also, make sure you stick to the usage instructions, particularly during the first week.
It's also worth pointing out you shouldn't rely on supplements alone to achieve your physique goals. Remember girls, supplements are enhancers – not the only answer!
A balanced diet, consistent workout plan and sensible lifestyle choices are the fundamentals behind real change – and your supplement should only ever be used as a way of optimizing the results of your hard work, not a way of replacing it altogether.
So, whatever supplements you choose to improve your life, make sure your health and welfare is always paramount over anything else every single time.
---
*DISCLAIMER: These statements have not been evaluated by the Food and Drug Administration. This product is not intended to diagnose, treat, cure, or prevent any disease. Products are intended for use alongside a diet and exercise regime. The views and nutritional advice expressed by Hey Spot Me Girl are not intended for the purpose of medical advice.
Individual results may vary. Please always consult your health care provider if you are taking any medications or have any medical condition. Must be 18 years or older to purchase. Always reference the ingredients and directions on the product label.