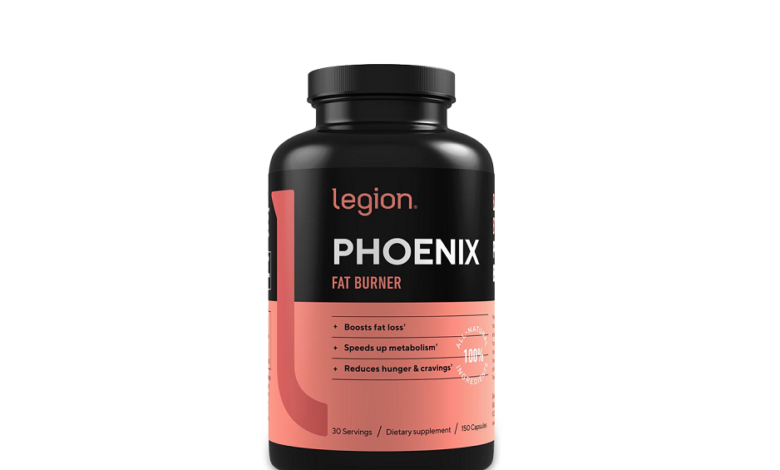 Reviews
Legion Phoenix Fat Burner Review – Does it help burn fat?
Legion Phoenix Fat Burner overview
Legion Phoenix Fat Burner is a completely stim-free fat burner that works to boost fat loss in three simple ways.
By raising your metabolism, amplifying the way your body burns fat and helping to reduce hunger, Legion claims to help you lose an additional ½ pound of fat per week alongside proper diet and exercise.
Although that might not sound like much, when normal fat loss is around 1 to 2 pounds of fat per week with a good diet and exercise program, an extra ½ is pretty significant (25 to 50% faster fat loss, according to the creators!)
Find out what actually works
– View our best fat rated burners – 
We appreciate every supplement Legion put out there. They're a big name in the supplement world and do their research when manufacturing effective supplements. Is this fat burner up to scratch?
We find out in this Legion Phoenix Fat Burner review.
Pros and Cons of Legion Phoenix Fat Burner
Pros
Clear list of 100% natural ingredients
Zero proprietary blends
Stim-free – suitable for women sensitive to caffeine
Trusted and respected brand
Clinically effective ingredient doses
Money-back guarantee
Cons
No caffeine if you prefer a kick
Some ingredients not as well researched
Find out what actually works
– View our best fat rated burners – 
Legion Phoenix Fat Burner: The Ingredients
Legion Phoenix is completely transparent when it comes to its ingredients and dosages. You'll find some common fat burning ingredients in the mix – and some others which aren't so popular. There's no caffeine in Phoenix, which could be ideal for any caffeine-sensitive individuals.
Here's a breakdown of the core ingredients:
L-Tyrosine – Commonly found in nootropics, this amino acid is thought to release neurotransmitters, which can elevate your cognitive power, enhancing performance, mood and motivation[2].
Epigallocatechin gallate (ECGC) – EGCG is an active ingredient of green tea which enhances your resting metabolic rate, ramping up your body's ability to burn calories[3]. It's also packed with beneficial antioxidants that could improve overall wellbeing.
5-HTP – This compound commonly finds itself in weight loss supplements to improve motivation and mood, as well as curbing your appetite too. This could help you stick to your lowered calorie intake and keep up your consistent training regime[4]. 
Salicin – Salicin is thought to reduce fever and inflammation[5]. But it doesn't appear to have any direct effect on weight-loss when taken alone. It may boost the effect of other ingredients such as thermogenics, however research is limited.
Serving Size: 5 Capsules
Servings Per Container: 30
Amount Per Serving
% Daily Value
Citrus Aurantium Fruit Extract (6% Synephine)
834mg
**
Naringin (from Citrus grandis Skin Extract)
600mg
**
Epigallocatechin gallate (From Green Tea Leaf Extract)
400mg
**
5-HTP (From Griffonia simplicifolia Extract)
150mg
**
L-Tyrosine
150mg
**
Salicin (From White Willow Bark Extract)
120mg
**
Hesperidin
100mg
**
Forskolin (From Coleus Forskohlii)
50mg
**
*Daily Value (DV) not established
Find out what actually works
– View our best fat rated burners –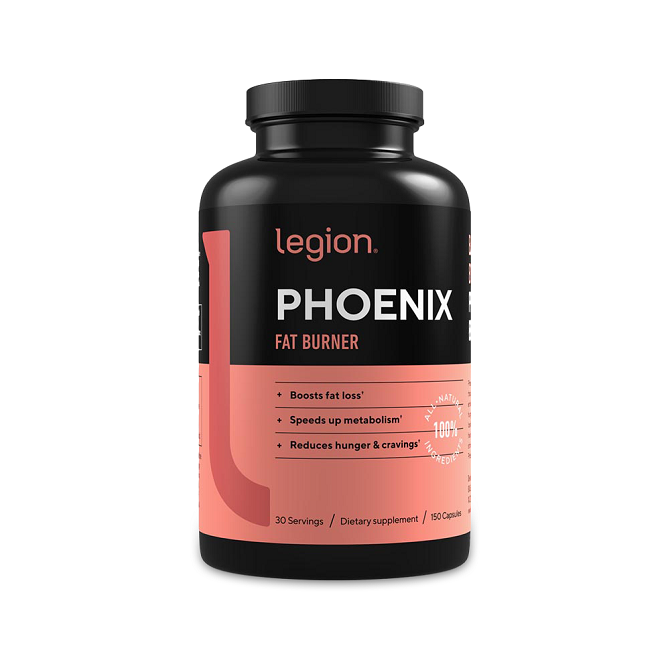 How does Legion Phoenix Fat Burner work?
Legion Athletics is a huge name in the supplement world and creates some of the most ground-breaking supplements on the market.
As a stimulant-free fat burner, you might wonder how Legion Phoenix Fat Burner delivers metabolism-raising benefits, however there are some solid thermogenic inclusions (like ECGC and naringenin) to help boost metabolic activity. Expending more energy than you consume, over time, can help you lose fat.
Each ingredient appears to have a role in helping you on your weight loss journey, from curbing your appetite and boosting fat oxidation to raising calorie burn, it appears to offer the whole package without the need for any added stimulants.
This means you get to enjoy faster fat loss without unwanted side effects like jitters, an upset stomach, or nausea.
What are the benefits of taking Legion Phoenix Fat Burner?
Burn fat more effectively
Legion is packed with compounds that work to break down fat and support your body's natural ability to burn fat. Essentially, Phoenix works to amplify the power of natural fat-burning chemicals produced by your body.
By raising your metabolism, Legion Phoenix can help you burn more calories throughout the day. Alongside the work you're already putting in, this benefit can help you lose fat faster. The faster your metabolism runs, the more calories you burn.
Every woman knows that if you want to lose weight you need to curb your calorie intake. But with hunger pangs always getting in the way, this is a difficult task. Legion Phoenix helps to suppress hunger between meals and increase satiety, so you quit the snacks and feel fuller from the foods you do eat.
How to take Legion Phoenix Fat Burner
To use Legion Phoenix, take three capsules with breakfast then, take another two capsules with either lunch or dinner.
To get the most out of Legion Phoenix Fat Burner, the manufacturer recommends combining it with caffeine, but if you're sensitive to the stimulant we wouldn't advise this.
Never exceed the stated dose at any time and seek medical advice if you experience any health issues. If you're ever unsure or need some expert advice when you start with a new supplement or nutritional program, you should talk to a healthcare professional first.
---
Legion Phoenix Fat Burner results – before and after
Legion Phoenix has a multitude of testimonials around the web. The official website contains a whole host of reviews that praise it for its positive influence on weight loss.
We found some genuine before and after results on Amazon with one female user praising its appetite-suppressing effects.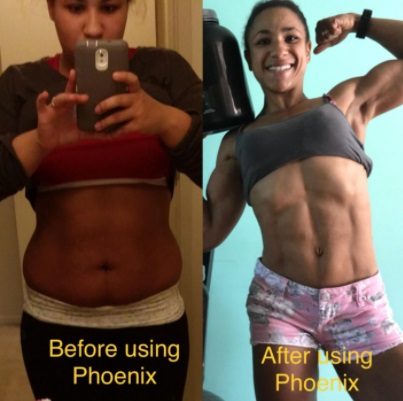 "The appetite suppressant part helped me refocus on dieting better, because you don't want to eat junk food after Phoenix." Published August 2017
Find out what actually works
– View our best fat rated burners – 
Legion Phoenix Fat Burner reviews – what are other people saying?
Many users report positive feelings using Phoenix, however there are some reviewers who state you need to use this supplement for an extended period of time to see results.
Here are some reviews we sourced from the official company website which provide more detail:



Does Legion Phoenix Fat Burner have side effects?
Legion Phoenix is completely natural and dismisses stimulants. It differs to other caffeine-jacked supplements and makes it one of the best available for women looking to trim that waistline.
Despite this, there are some questionable ingredient choices included like synephrine and salicin. Although synephrine is commonly found in fat burners and is deemed safe, large quantities of it can trigger side effects like headaches and high blood pressure[6].
We're also not fans of the addition of salicin, which lacks weight loss research. That's not something you would expect from a fat burner of this quality.
Legion Phoenix Fat Burner Review: Our Conclusion
Legion Phoenix is popular for a number of reasons. It's a solid product and checks most of the boxes you need from a weight-loss product, containing ingredients which could deliver most – if not all – of its fat burning promises.
The stim-free element is a plus – especially for females looking for a gentler fat burner. If you do want a bit of a kick, you could get your caffeine fix elsewhere. In fact, the manufacturers advise that Legion Phoenix works best when combined with the stimulant.
If you're looking for something a bit more potent, you may be best looking across the broader market. We highly recommend you view our Editor's Choice:
Find out what actually works
– View our best fat rated burners – 
Total score
6/10
Here at Hey Spot Me Girl, we're all about safety – so we wanted to remind you to double-check with your doctor or physician if you have any concerns at all about introducing a new supplement into your diet.
Whilst supplements could be a great boost to your lifestyle, they could also have adverse effects on your body if not used properly, or if you have sensitivity to any of the ingredients. So, make sure you always check the label fully. Also, make sure you stick to the usage instructions, particularly during the first week.
It's also worth pointing out you shouldn't rely on supplements alone to achieve your physique goals. Remember girls, supplements are enhancers – not the only answer!
A balanced diet, consistent workout plan and sensible lifestyle choices are the fundamentals behind real change – and your supplement should only ever be used as a way of optimizing the results of your hard work, not a way of replacing it altogether.
So, whatever supplements you choose to improve your life, make sure your health and welfare is always paramount over anything else every single time.
Find out what actually works
– View our best fat rated burners – 
---
*DISCLAIMER: These statements have not been evaluated by the Food and Drug Administration. This product is not intended to diagnose, treat, cure, or prevent any disease. Products are intended for use alongside a diet and exercise regime. The views and nutritional advice expressed by Hey Spot Me Girl are not intended for the purpose of medical advice.
Individual results may vary. Please always consult your health care provider if you are taking any medications or have any medical condition. Must be 18 years or older to purchase. Always reference the ingredients and directions on the product label.