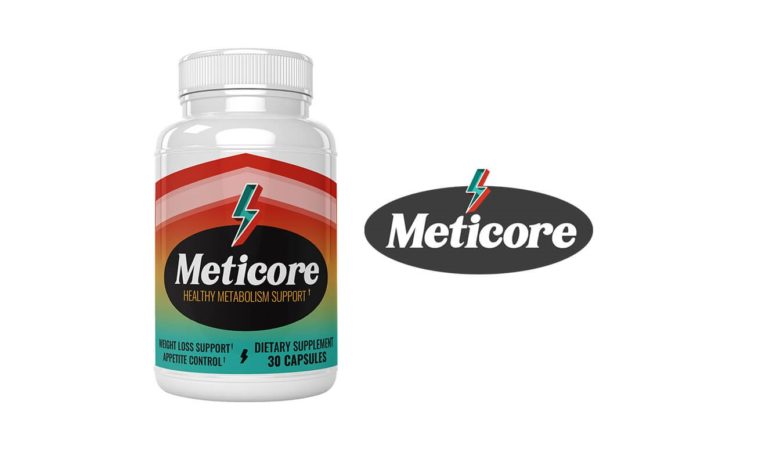 Reviews
Meticore Review
Can it rouse a sleeping metabolism?
Meticore overview
Meticore is a metabolism-boosting supplement designed to 'awaken a sleeping metabolism', boost the body's digestive system and flush out unhealthy toxins for natural weight loss.
The supplement claims to trigger a spark in your metabolism and support low core body temperature, believed to be the root cause of metabolic slowdown. This all sounds quite promising and should get you your desired results in no time. But is Meticore all it claims to be?
Find out what actually works
– View our best fat burners for women – 
Spot Me Girl put it to the test and explore just how it works. We'll delve into its core ingredients, benefits, side effects and even customer reviews. Want to know more?
Keep reading this Meticore review to see if it's the supplement for you.
Pros and Cons of Meticore
Pros
Natural formula
60-day guarantee
Veggie capsules
Stim-free
Manufactured in cGMP facilities with Non-GMO ingredients
Cons
Proprietary blend – undisclosed dosages
Needs to be used for 90-190 days to see results
Expensive price tag
Find out what actually works
– View our best fat burners for women – 
Meticore: The Ingredients
Looking at the ingredients label, we can see it's a completely natural formula, however there's an instant red flag. Most of the formula is a proprietary blend, meaning you can't determine the specific dosage of each component.
We're not fans of proprietary blends because, in our eyes, it looks like the manufacturers are hiding something. On the plus side, it does give some indication of the dosages of two of its main ingredients, vitamin B12 and chromium. Here's a breakdown:
Chromium – This trace mineral may control appetite by regulating blood glucose levels and helping your body process macronutrients correctly[1].
Turmeric – Packed with the anti-inflammatory agent curcumin, turmeric is thought to flush out toxins and other metabolic by-products. It's also highly thermogenic and reduces inflammation in the body which should help raise your metabolism and shed excess fat[2].
Ginger – Ginger is another natural anti-inflammatory that is included in the Meticore formula to boost the effectiveness of the other ingredients. It also has other weight-loss benefits by regulating blood sugar and keeping insulin levels under control[3].
Vitamin B12 – This vitamin may help boost your serotonin levels, combatting low moods and even depression[4]. It's also been linked to improved bone health[5], better nail and hair health and could enhance your cognitive performance[6].
Serving Size: 1 Capsule
Servings Per Container: 30
Amount Per Serving
% Daily Value
Vitamin B12 (as Cyanocobalamin)
10mcg
417%
Chromium (As Chromium Picolinate)
35mcg
100%
Meticore Formula Blend:
Turmeric (Curcuma longa) Rhizome, African Mango (Irvingia gabonensis) Seed, Ginger (Zingiber officinale) Rhizome, Moringa (Moringa oleifera) Leaf, Citrus Bioflavanoids (From Citrus aurantium Fruit) and Fucoxanthin
250mg
*Daily Value (DV) not established
Find out what actually works
– View our best fat burners for women –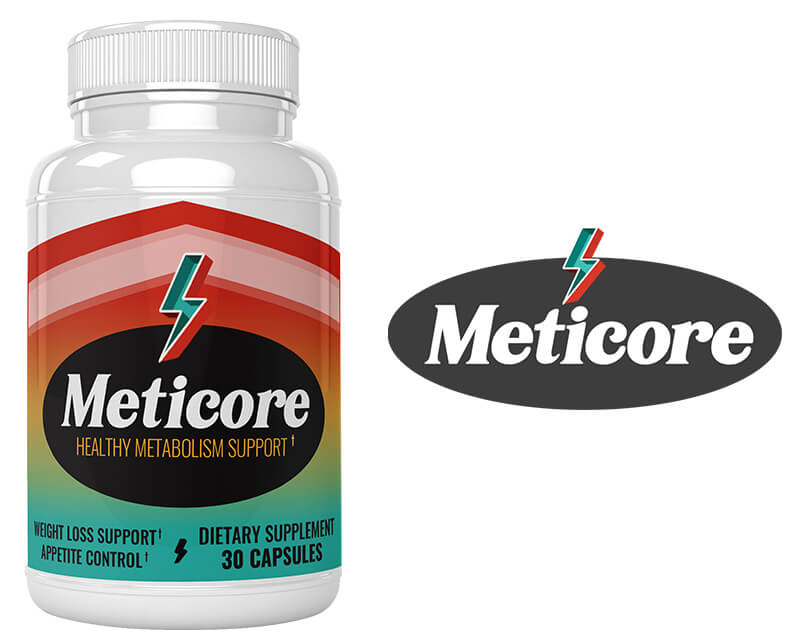 How does Meticore work?
The blend of ingredients inside Meticore claim to increase your body's core temperature and raise your metabolism, which heightens the fat burning process.
Low core temperature is thought to be one of the biggest causes of a slower metabolism[7], and as you age, it only gets worse. The creators say each individual ingredient comes together to provide a synergistic benefit and kick start the metabolic regeneration process. However, we're not entirely convinced by this since Meticore doesn't contain any real thermogenic ingredients that have been linked to potential body temperature raising.
Meticore also contains many anti-inflammatories and vitamins that are said to detoxify the body and remove harmful toxins. These minerals may also protect your body from free radicals and oxidative stress which may all indirectly contribute to weight loss.

What are the benefits of taking Meticore?
Meticore aims to boost the metabolic function of your body, keeping a steady flow of energy flowing. With more energy, you will be able to excel your efforts in the gym and notice faster fat loss.
Meticore is rich in minerals and vitamins which work to nourish your body. The detoxifying and anti-inflammatory effects of Meticore remove harmful toxins from your body and may even help soothe muscle or joint pain.
Perhaps the product's biggest claimed benefit, Meticore's natural formula works to raise your core temperature and accelerate your metabolic rate for faster calorie burn. With your metabolism ramped up, you should be able to keep the extra fat from accumulating.
How to take Meticore
Meticore is pretty effortless to introduce into your daily routine. To use it, simply take one capsule every morning with water.
For best results, the creator's advice is to continue to use Meticore on a daily basis until you are satisfied with your results. They suggest using the formula for at least 90 – 180 days for the supplement to product optimal results.
If you're ever unsure or need expert advice when you start with a new supplement or nutritional program, you should talk to a healthcare professional first. Discontinue use if you experience any unusual side effects.
---
Meticore results – before and after
We struggled to find any definitive before and after results for this supplement. The official website claims Meticore has 'already helped many people including men and women to lose weight, regardless of their age' however there is zero evidence of this.
Find out what actually works
– View our best fat burners for women – 
Meticore reviews – what are other people saying?
Meticore has a lot of buzz about it, however it's not all positive. Search online and you'll find a number of reviews questioning whether it works and the possibility it's a scam. The official website offers no real testimonials or reviews however we did find it for sale on Amazon where it has a rating 3.5/5.
However, looking at the reviews in more detail, we discovered that the product on Amazon may be fake, with many customers commenting on the different ingredient formulas. You should always do your research when buying a new supplement and buy it direct from the official website if you're not sure whether it's legit.


Does Meticore have side effects?
Meticore contains natural ingredients, so it's easy to assume there's no issue of side effects.  But you should never assume a supplement is completely safe, especially one that contains a proprietary blend.
The supplement is made in an FDA approved facility, and stringent quality practices are maintained, so this is a plus. The creators also claim the natural set of ingredients allow 'Meticore pills to work naturally without causing harmful side effects'.
Just be sure you are purchasing the official product, as any cheap knock-offs may cause serious side effects and contain ingredients that you're not aware of.
Meticore Review: Our Conclusion
It's not often we come across supplements that set out to specifically target low core body temperature. In that sense, Meticore is one-of-a-kind. We can see there are some good inclusions in the formula to contribute to weight loss but it falls flat in terms of raising your metabolism.
Meticore may be beneficial if you're looking for a detoxifying supplement but as a metabolism booster, it's not the best on the market. It may be manufactured In FDA approved facilities and you are offered a money-back guarantee for ineffective results, but this supplement is worrying on many levels.
Our main issues come down to the safety of the product – especially for women. The lack of transparency from the manufacturers is concerning and there are no genuine testimonials available anywhere.
For us, it's a no-go. We think there are several other better-quality fat burners on the market offering a higher level of safety and transparency. We highly recommend you view our Editor's Choice:
Find out what actually works
– View our best fat burners for women – 
Total score
3/10
Here at Hey Spot Me Girl, we're all about safety – so we wanted to remind you to double-check with your doctor or physician if you have any concerns at all about introducing a new supplement into your diet.
Whilst supplements could be a great boost to your lifestyle, they could also have adverse effects on your body if not used properly, or if you have sensitivity to any of the ingredients. So, make sure you always check the label fully. Also, make sure you stick to the usage instructions, particularly during the first week.
It's also worth pointing out you shouldn't rely on supplements alone to achieve your physique goals. Remember girls, supplements are enhancers – not the only answer!
A balanced diet, consistent workout plan and sensible lifestyle choices are the fundamentals behind real change – and your supplement should only ever be used as a way of optimizing the results of your hard work, not a way of replacing it altogether.
So, whatever supplements you choose to improve your life, make sure your health and welfare is always paramount over anything else every single time.
---
*DISCLAIMER: These statements have not been evaluated by the Food and Drug Administration. This product is not intended to diagnose, treat, cure, or prevent any disease. Products are intended for use alongside a diet and exercise regime. The views and nutritional advice expressed by Hey Spot Me Girl are not intended for the purpose of medical advice.
Individual results may vary. Please always consult your health care provider if you are taking any medications or have any medical condition. Must be 18 years or older to purchase. Always reference the ingredients and directions on the product label.