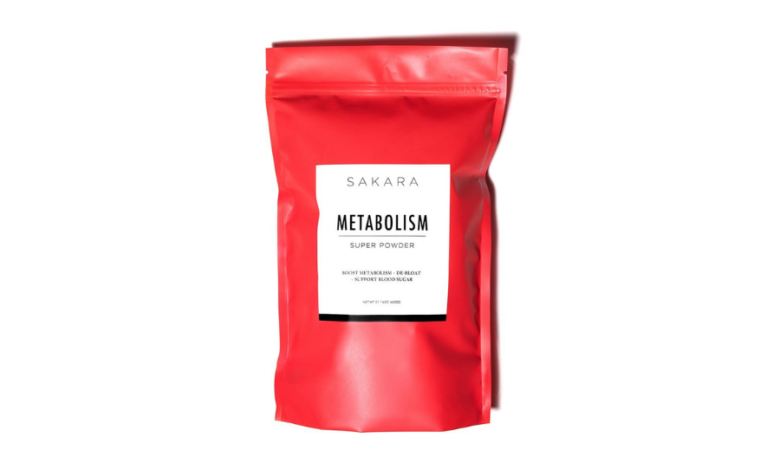 Reviews
Sakara Metabolism Super Powder Review
Can it help with weight loss?
Metabolism Super Powder overview
Created by nutritional and lifestyle experts, Sakara, the Metabolism Super Powder sounds like an exciting product for us ladies. It promises a complete metabolic boost which fires up your metabolism, stabilizes blood sugar and claims to even eliminate bloating and decrease puffiness, too.
Not only this, but it comes in a low-sugar chocolate flavor which you can add to smoothies or mix with coconut water or nut milk. They even provide inventive recipes so you can integrate it into your diet in a tasty way.
But how does this powder really work? And what benefits can you expect to see from an increased metabolism?
Find out what actually works
– View our best fat burners for women – 
Spot Me Girl have done all the legwork into this 'best-selling' metabolism-boosting supplement to unpack its formula and find out if the benefits they claim you could see are hype or reality.
Pros and Cons of Metabolism Super Powder
Pros
100% natural and transparent formula
Easy to integrate into your diet
Comes in a tasty flavor
Could boost your metabolism for weight loss
Good protein and fiber content
Vegan friendly
Cons
High in saturated fat
High price point
Find out what actually works
– View our best fat burners for women – 
Metabolism Super Powder: The Ingredients
This supplement consists of an all-natural formula which is completely transparent so you can see exact doses of each component. It uses 5 core ingredients which are all apparently conducive to helping kickstart your metabolism and keeping body fat low.
But how far do these ingredients really go in helping boost your metabolism?
Let's find out!
Horsetail Extract – This comes from a popular fern which has been used since the times of Greek and Roman Empires as an herbal remedy to a whole host of ailments[1]. Not only is it packed with antioxidants, it's also been linked to improving skin, hair and bone health[2] Because of its high antioxidant and mineral salt content, a limited number of studies have proven it as an effective diuretic which could help you shed excess water weight[3], reducing the risk of bloating.
Gymnema Sylvestre – This woody climbing shrub has a number of health benefits – including being able to regulate and reduce blood sugar levels[4]. It has many links to weight loss for its ability to reduce sugar cravings by suppressing sweetness[5], making sweet foods less appealing[6]. By blocking your sweet receptors, studies have shown participants consumed fewer sweet foods and, in turn, less calories too, contributing to significant weight loss[7].
L-Glutamine – This amino acid is a building block of protein, helping to increase your metabolism, and also plays a vital part in your immune system too. It's been linked to supporting intestinal functions[8] and aiding healthy digestion. Studies also draw a link between glutamine and an improvement in muscle growth and elevated exercise performance due to its role in synthesizing protein into the body[9]. Some research reported a decrease in muscle soreness after intense exercise[10], some muscle and strength gain[11], and reduced fatigue[12] during extensive workouts.
Fucoxanthin – Found in seaweed, fucoxanthin has been linked to weight loss for a number of reasons. Animal studies have shown a direct link to fucoxanthin and reduced body fat as it increases the process of protein metabolizing fat[13]. It has also been evidenced as an effective regulator of blood sugar, reducing it significantly in some research, which has led to weight loss[14].
Black Pepper Piperine – Black pepper is packed with antioxidants[15] and has been linked to many different health benefits, from reducing inflammation[16] to lowering cholesterol[17]. It can also help support healthy brain performance[18], improve blood sugar control[19], boost absorption of nutrients[20], promote healthy digestion and even reduce your appetite[21].
| Nutritional Facts | Amount per Serving | % Daily Value |
| --- | --- | --- |
| Calories | 90 | |
| Total Fat | 5 g | 6% |
| Saturated Fat | 4 g | 20% |
| Trans Fat | 0 g | |
| Cholesterol | 0 g | 0% |
| Sodium | 0 g | 0% |
| Total Carbohydrate | 8 g | 3% |
| Dietary Fiber | 4 g | 14% |
| Total Sugars | 1 g | |
| Includes 0g added sugars | | 0% |
| Protein | 3 g | |
| Ingredients | | |
| L-Glutamine | 1000 mg | * |
| Horsetail Extract | 440 mg | * |
| Kelp (Laminaria Japonica) Extract | 400 mg | * |
| Gymnema Sylvestre Leaf Extract | 400 mg | * |
| Black Pepper Fruit Extract (Piper nigrum) | 3 mg | * |
| Calcium | 20 mg | 2% |
| Iron | 1.8 mg | 10% |
| Potassium | 30 mg | 0% |
*Daily Value not established
Ingredients: Organic raw cocoa powder, organic coconut milk powder, L-glutamine, horsetail extract, kelp (laminaria japonica) extract, Gymnema Sylvestre extract, organic coconut sugar (1% stevia blend), luo han guo (siraitia grosvenorii) extract, black pepper fruit extract.
Find out what actually works
– View our best fat burners for women –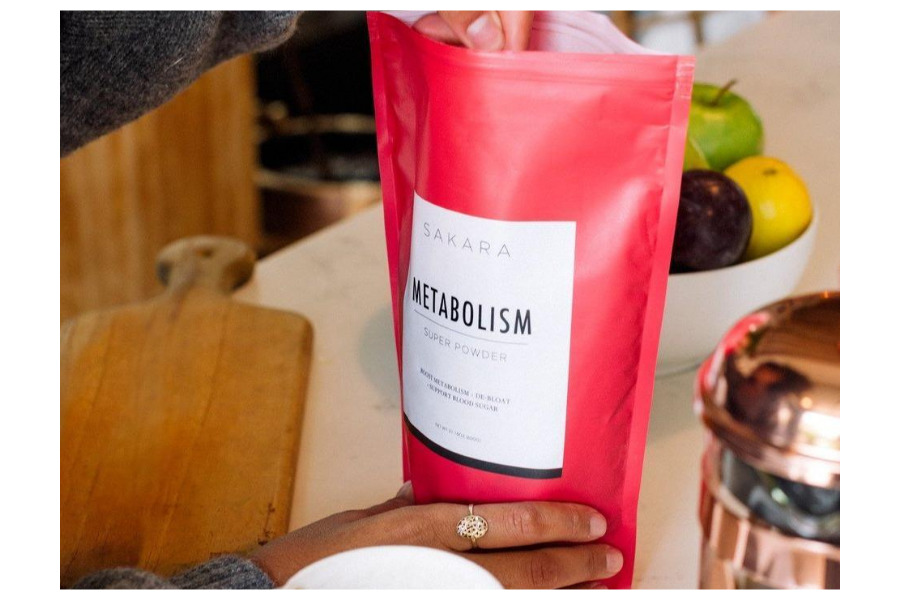 How does Metabolism Super Powder work?
The main focus for this powder is to improve your body's metabolic rate so you can start converting food into usable energy. By doing this, it hopes to encourage weight loss, improve energy levels, support better cognitive performance and reduce bloating.
Your metabolism is basically a series of chemical reactions which are needed to keep your body functioning. Whilst your metabolism works constantly, it can slow down due to a number of reasons, leaving you lacking in energy, gaining weight, craving sugar and feeling bloated.
Metabolism Super Powder uses many components which could specifically help your body metabolize protein better, meaning you could see a significant reduction in body fat as a result of it speeding up your metabolism through thermogenesis. High protein also contributes to reduction in appetite and helps regulate weight hormones too[22].
It also tackles blood sugar regulation, meaning you can have more control over your food choices, and crave less sugary snacks. This could contribute towards weight loss by reducing the temptation to overeat and help you stick to your calorie deficit.
Controlled blood sugar can also stop spikes and crashes in energy from volatile sugar levels and keep your metabolism ticking away at an effective rate[23].
What are the benefits of taking Metabolism Super Powder?
By combining digestive support, blood sugar regulators and protein synthesizing components, you could see a significant increase in your metabolic rate around the clock, which could lead to more fat burning. By kickstarting your body's metabolism, you will encourage fat to be converted into usable energy through lipolysis so you can reduce body fat and lose more weight. Also, digesting and metabolizing protein burns calories too[24], so including the protein synthesizing amino acid glutamine could improve the rate in which your body processes protein.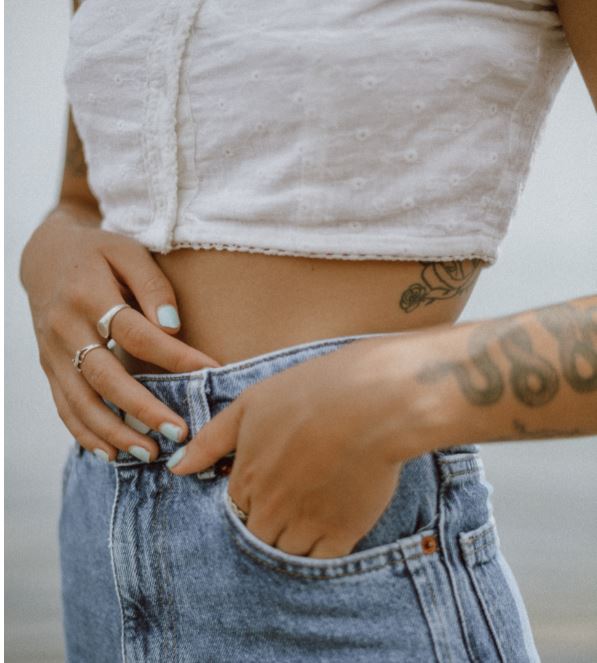 Through better digestive support and a higher metabolism, your body will be able to use up stored fat cells, whilst flushing out toxins and water weight which could reduce bloating.
Elevated energy and endurance
Components like glutamine are key to synthesizing protein into your body, which has been linked to improved energy levels and better athletic performance. Protein is a vital source of energy and has been proven to help muscle growth[25], reduce muscle soreness and increase endurance too.
Many of the components used in Metabolism Super Powder are packed with antioxidants which can help promote a healthy immune system. They may also have the ability help fight off infections like the common cold or reduce the risk of contracting chronic diseases like cancer[26] too.
Improved appetite control
By bringing in ingredients that can influence your appetite and help regulate your blood sugar levels, you could see a significant reduction in cravings for unhealthy foods. You will also have better control over your appetite in general, which could help you reduce your calorie intake if you're looking to lose weight.
How to take Metabolism Super Powder
Metabolism Super Powder comes in a range of serving packages – from single-serving sachets to 30-day supplies – so it's up to you if you want to make it a permanent fixture in your diet or just use it occasionally.
They advise, however, to take one packet per day for at least 2 weeks for the best results.
To use, blend one packet into a smoothie or any recipe featuring cacao. You can also add it to coffee or any other hot beverage too.
If you're on-the-go, you can blend or shake one sachet vigorously with 8-12oz water, nut milk or coconut water.
---
Metabolism Super Powder results – before and after
We struggled to find definitive before and after pictures for this product. What we did find were many people enjoying sharing pictures of their homemade smoothies, coffees and meals which featured Metabolism Super Powder. This is good to see as it shows many people are enjoying the brand and the extra assets like recipes ideas offered by Sakara.
Find out what actually works
– View our best fat burners for women – 
Metabolism Super Powder reviews – what are other people saying?
Reviews seem very mixed across the internet. On Sakara's website, the general feeling is very positive, with people loving the taste, the ease of use and the energy. Other sites like Amazon show people complaining about the price and effectiveness. As always, it's worth noting that everyone's body is different so there's never any guarantee that the results seen on one woman will be the same for you.
Sakara:


Amazon.com:


Does Metabolism Super Powder have side effects?
Whilst all the ingredients are natural, it's worth noting that some could cause people with sensitivities a few issues.
Horsetail, for example, has been evidenced in having diuretic effects. Diuretics have caused some issues, with reports of dehydration, headaches, dizziness, muscle cramps and increased blood sugar. Other people who have taken the Super Powder also mentioned feeling surges of energy which, for some, may be unpleasant.
If you are sensitive to any of the ingredients – or are concerned about its effect on your body – we'd advise to consult your medical physician before taking it.
Metabolism Super Powder Review: Our Conclusion
Overall we were quite impressed with this metabolism-boosting powder. It's 100% natural which we really like, and it deals with a lot of issues that many women struggle with such as bloating and excess water retention.
It's also nice to see they've put extra effort in, giving you free, creative recipe ideas so you can take it consistently without getting bored of the taste.
Find out what actually works
– View our best fat burners for women – 
The main issues we had with Metabolism Super Powder were the price point – which many people had issues with – and also the effectiveness as a metabolism booster in general. Whilst many of the components seem to help boost your body's digestive and metabolic rates, we feel it might be missing some stronger and more well-known metabolism boosters like green tea or cayenne powder.
The mixed reviews tell us that there are definite inconsistencies with results across the board, with many women not seeing change or feeling any different. For the price, we'd recommend having a look at other popular supplements with more scientifically-backed metabolism-boosting formulas and positive testimonials to ensure you're getting the best for your money.
Total score
6/10
Find out what actually works
– View our best fat burners for women –      
Here at Hey Spot Me Girl, we're all about safety – so we wanted to remind you to double-check with your doctor or physician if you have any concerns at all about introducing a new supplement into your diet.
Whilst supplements could be a great boost to your lifestyle, they could also have adverse effects on your body if not used properly, or if you have sensitivity to any of the ingredients. So, make sure you always check the label fully. Also, make sure you stick to the usage instructions, particularly during the first week.
It's also worth pointing out you shouldn't rely on supplements alone to achieve your physique goals. Remember girls, supplements are enhancers – not the only answer!
A balanced diet, consistent workout plan and sensible lifestyle choices are the fundamentals behind real change – and your supplement should only ever be used as a way of optimizing the results of your hard work, not a way of replacing it altogether.
So, whatever supplements you choose to improve your life, make sure your health and welfare is always paramount over anything else every single time.
---
*DISCLAIMER: These statements have not been evaluated by the Food and Drug Administration. This product is not intended to diagnose, treat, cure, or prevent any disease. Products are intended for use alongside a diet and exercise regime. The views and nutritional advice expressed by Hey Spot Me Girl are not intended for the purpose of medical advice.
Individual results may vary. Please always consult your health care provider if you are taking any medications or have any medical condition. Must be 18 years or older to purchase. Always reference the ingredients and directions on the product label.