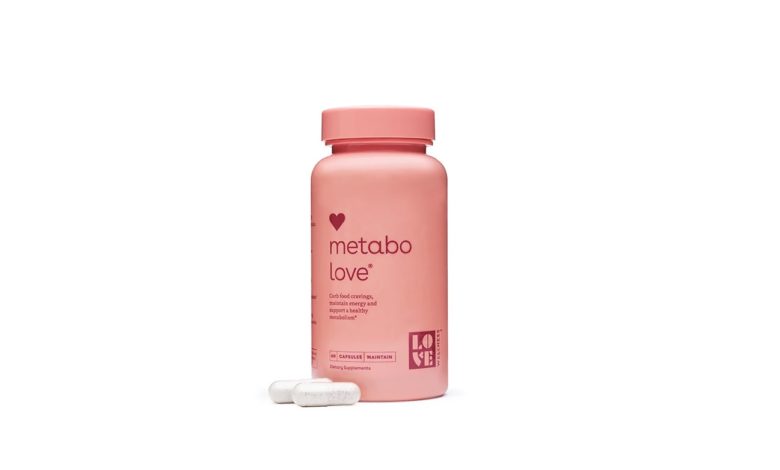 Reviews
Love Wellness Metabolove Review
Can this thyroid health enhancer help with weight loss?
Love Wellness Metabolove overview
Designed to fight 'pesky food cravings' and 'boost energy', Metabolove could be the targeted supplement you need alongside a structured diet plan.
Metabolove is part of a parcel of products developed by Love Wellness that support your personal wellness routine. The company develops a multitude of supplements for women, from multivitamins and bloating kits, to probiotics and collagen capsules.
Find out what actually works
– View our best fat burners for women – 
Metabolove differs from most fat burners, in that it works to improve thyroid health. It's this core benefit that is supposed to improve your weight loss experience. Let's find out how it works and what this supplement is all about!
Keep reading our Love Wellness Metabolove review to discover more.
Pros and Cons of Love Wellness Metabolove
Pros
All-natural ingredients
Supports thyroid health
Specially formulated for women
Energy boosting formula
Gluten & dairy free & vegan friendly
Low-stim formula
Cons
Product warnings
Proprietary blend – undisclosed dosages
May have side effects
Find out what actually works
– View our best fat burners for women – 
Love Wellness Metabolove: The Ingredients
At only four ingredients, this isn't the most potent formula we've seen. It's good to see the creators haven't used any unnecessary fillers or artificial ingredients, however there is a proprietary blend included named the 'Metabolove blend' which consists of the L-Carnitine tartrate and organic green tea leaf powder. Here are the main ingredients:
Selenium – This essential mineral is key for many important processes in your body, including your metabolism and thyroid function. It's thought to help shield the thyroid from damage caused by oxidative stress[1].
Chromium This trace mineral is said to aid with normal blood glucose levels and help your body process macronutrients correctly[2].
L-Carnitine Tartrate – Normally found in nootropics, this amino acid is thought to help with weight loss by aiding energy production. L-carnitine carries fatty acids to the cells, so they can be processed and used as fuel[3].
Organic Green Tea Leaf Powder – An important addition in any fat burner, green tea promotes thermogenesis, spiking your metabolism to increase calorie burn[4]. This means more calories burned than you normally would.
Serving Size: 2 Capsules
Servings Per Container: 30
Amount Per Serving
% Daily Value
Selenium
55mcg
100%
Chromium Picolinate
35mcg
100%
Metabolove Blend
L-Carnitine Tartrate, Organic Green Tea Leaf Powder
1250mg
*
*Daily Value (DV) not established
Find out what actually works
– View our best fat burners for women –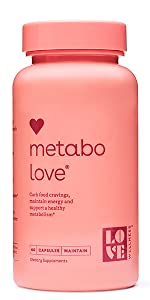 How does Love Wellness Metabolove work?
As a metabolism enhancer, Metabolove concentrates on improving the health of your thyroid to help you process macronutrients correctly.
Thyroid hormones are essential to your metabolism and help your body burn fat effectively, providing you with better energy levels and bumping up your basal metabolic rate (BMR)[5]. This means fat burning even when you're not physically active.
The green tea extract also provides some metabolism support by raising thermogenesis. By increasing your internal temperature and encouraging your body to burn more calories, your metabolism gets the boost it needs.
Apart from boosting your metabolism, the rest of the ingredients don't make a great deal of difference to your efforts. For instance, the absence of appetite suppressants means your hunger cravings won't be curbed.

What are the benefits of taking Love Wellness Metabolove?
Your thyroid and the hormones associated with it help regulate your metabolism. If you have sluggish thyroid glands, your metabolism may slow right down and cause weight gain. Metabolove uses selenium to help support thyroid health and thyroid hormone production.
Losing weight is a big challenge and restricting your calories can take its toll on your energy levels. Metabolove works to help your body efficiently process the foods you eat, to ensure you have sustainable levels of energy throughout the day. The green tea may also provide you with a clean energy lift to help you push through workouts even if you don't feel like training.
If your metabolism is running smoothly, your body should be able to process foods more effectively which could potentially benefit your digestive system.
How to take Love Wellness Metabolove
As with any supplement, always follow the directions on the packaging carefully. Scan it for any warnings or allergies if you're new to the supplement.
To use Metabolove, simply take 2 capsules in the morning with your first meal or after food daily. If you find it hard to follow capsules, the creators suggest opening up the capsules and adding it into your favorite smoothie.
This product will likely work best when used alongside a healthy diet and regular exercise routine. A warning on the box also suggests checking with a doctor prior to using Love Wellness which is always good advice to follow if you're ever in doubt about starting with a new supplement.
---
Love Wellness Metabolove results – before and after
Whilst there are several testimonials available online, with many female customers praising its effects, we struggled to find any definitive before and after images.
In fact, the website boasts of 1640 reviews with an average rating of 4.5/5. The product is also available to buy on Amazon and is rated 4/5 on the platform.
Find out what actually works
– View our best fat burners for women – 
Love Wellness Metabolove reviews – what are other people saying?
Looking at the reviews in more detail, we found that the opinion on this product is mixed. Some users praise it for its natural energy boosting effects and its ability to stir up their metabolism.
However, many other users complained of the smell of the capsules, bad tummy aches and were shocked to discover warnings on the product's packaging about cancer causing ingredients.
We sourced some reviews from the official company website and Amazon to give you a better idea.
Lovewellness.com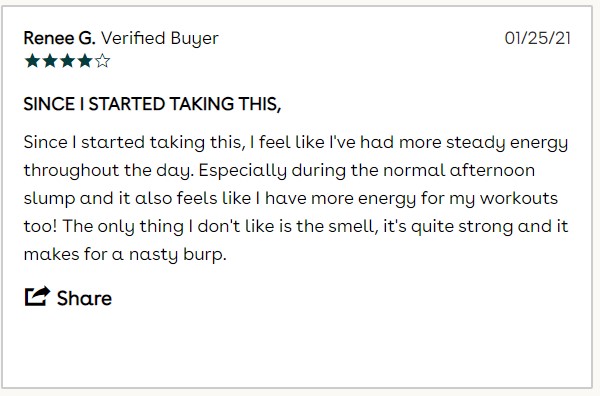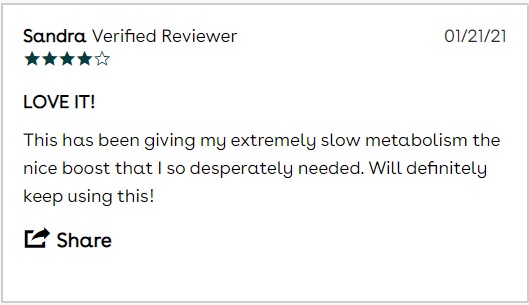 Amazon.com

Does Love Wellness Metabolove have side effects?
Love Wellness Metabolove is an all-natural fat burner designed with the female body in mind. We can see the creators have made the effort to ensure it's safe for women to take, with limited caffeine in the mix.
However, the fact that it includes a proprietary blend is concerning, since the ingredient doses of L-carnitine and green tea leaf powder are undisclosed.
We can't say for sure that this supplement won't cause side effects. Judging by the online reviews too, some women report feelings of stomach upset and digestion issues.
The warnings on the label are also rather alarming. On the product packaging, you are warned that the product may cause 'cancer and Reproductive harm'.
Love Wellness Metabolove Review: Our Conclusion
Love Wellness appears to have best intentions at heart but this metabolism booster isn't anything to shout about.
It could have a slight impact on your weight by supporting your thyroid hormones and keeping body fat at bay. The thermogenic element may also help to ramp up your calorie burn.
However, the selenium might only be beneficial if you are deficient in the mineral. The potent fat-burning ingredient green tea is a great addition but without knowing how much is included, it's difficult to judge if it's an effective dose. The lack of appetite suppressants also brings its score down.
To be frank, there may be better and safer all-rounders on the market that contribute to weight loss in multiple ways.
Find out what actually works
– View our best fat burners for women – 
Total score
4/10
Here at Hey Spot Me Girl, we're all about safety – so we wanted to remind you to double-check with your doctor or physician if you have any concerns at all about introducing a new supplement into your diet.
Whilst supplements could be a great boost to your lifestyle, they could also have adverse effects on your body if not used properly, or if you have sensitivity to any of the ingredients. So, make sure you always check the label fully. Also, make sure you stick to the usage instructions, particularly during the first week.
It's also worth pointing out you shouldn't rely on supplements alone to achieve your physique goals. Remember girls, supplements are enhancers – not the only answer!
A balanced diet, consistent workout plan and sensible lifestyle choices are the fundamentals behind real change – and your supplement should only ever be used as a way of optimizing the results of your hard work, not a way of replacing it altogether.
So, whatever supplements you choose to improve your life, make sure your health and welfare is always paramount over anything else every single time.
---
*DISCLAIMER: These statements have not been evaluated by the Food and Drug Administration. This product is not intended to diagnose, treat, cure, or prevent any disease. Products are intended for use alongside a diet and exercise regime. The views and nutritional advice expressed by Hey Spot Me Girl are not intended for the purpose of medical advice.
Individual results may vary. Please always consult your health care provider if you are taking any medications or have any medical condition. Must be 18 years or older to purchase. Always reference the ingredients and directions on the product label.