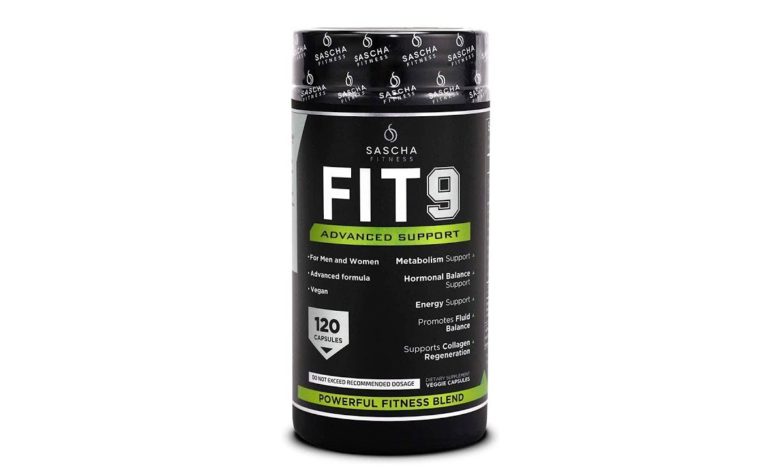 Reviews
Sascha Fitness Fit 9 Fat Loss Support Review
Can it help your body use more fat as fuel?
Sascha Fitness Fit 9 Fat Loss Support overview
Fit 9 Fat Loss Support is a natural fat burning supplement with many strings to its bow. As well as helping to raise your metabolism, improving your hormonal balance and ensuring your body uses more fat as fuel, it also works to reduce fluid retention and stimulate collagen production.
It certainly looks the part, it's a big seller on Amazon and seems to promise all the health benefits any woman would want.
Find out what actually works
– View our best fat burners for women – 
But does it live up to the hype? The Spot Me Girl team put Fit 9 Fat Loss Support under the spotlight to see if it delivers.
Keep reading this Sascha Fitness Fit 9 Fat Loss Support review to discover more.
Pros and Cons of Sascha Fitness Fit 9 Fat Loss Support
Pros
Good vitamin mix
May reduce fluid retention
Suitable for vegetarians
May support collagen production in the body
Complements your diet and training
Cons
No potent fat burning ingredients
Contains a proprietary blend
Sloppy product branding – 10 ingredients, not 9
Potential side effects
Find out what actually works
– View our best fat burners for women – 
Sascha Fitness Fit 9 Fat Loss Support: The Ingredients
The formula is made up of the ingredients vitamin C, potassium and a proprietary blend called 'Fit9 Powerful Fitness blend'. We appreciate the added vitamins which could help to support your health and wellbeing however the proprietary blend massively lets it down. Let's take a closer look at some of the core ingredients:
Serving Size: 4 Veggie Capsules
Servings Per Container: 30
Amount Per Serving
% Daily Value
Vitamin C
300mg
500%
Potassium
100mg
3%
FIT9 POWERFUL FITNESS BLEND
2310mg
*
Dandelion Root Extract, 7-Keto Dhea, DIM, Green Tea Extract 50% Caffeine, Uva Ursi Extract 20%, L-Theanine, Ginko Biloba Extract
*Daily Value (DV) not established
Find out what actually works
– View our best fat burners for women –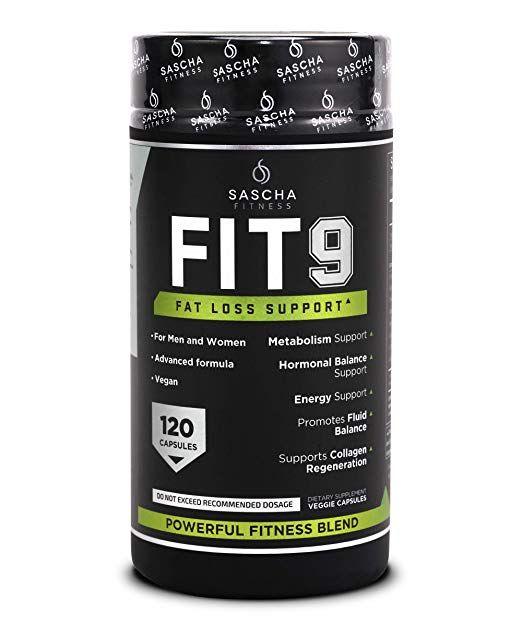 How does Sascha Fitness Fit 9 Fat Loss Support work?
The manufacturers claim Fit 9 provides nine 'super ingredients' that ramp up your metabolism and encourage fat loss by manipulating your hormones and helping your body use fat as fuel.
Diuretics in the mix also work to reduce water retention in your body, which may also help to reduce blood pressure as you release more sodium from your body. The added DIM should help reduce levels of estrogen in your body, which could influence body composition. By balancing estrogen and reducing any excess buildup, you're less likely to hold onto body fat, especially in the hips and thighs.
According to the marketing, there are nine ingredients in the formula but after further inspection, there are actually ten. This is a rather careless mistake which makes us question the legitimacy of the product as a whole.

What are the benefits of taking Sascha Fitness Fit 9 Fat Loss Support?
The creators claim the combination of Dandelion Root, Potassium and Uva Ursi will help your body get rid of excess water. This automatically equals less weight and quite rapidly too. This can also easily be mistaken for fat loss when in fact, you've only lost some extra water weight.
Fit9 focuses on improving blood circulation and the production of collagen in your body, which could result in reduced cellulite and help to prevent stretch marks.
The Fit9 formula uses a collection of natural compounds to help your body use fat as fuel, increase your resting metabolic rate and boost fat breakdown. The formula also works to reduce fat absorption which could contribute to improved fat loss.
Ingredients like L-theanine should help to promote relaxation and relieve anxiety. This equals to better mood, motivation and cognitive function, helping you stay on track with your fitness regime.
How to take Sascha Fitness Fit 9 Fat Loss Support
To use Fit 9, simply take four capsules per day. That's two each morning and two more during the afternoon.
The creators say it's best to take both capsules with a meal and lots of water to support hydration. They also promote the need for a healthy diet and exercise regime to get the best possible results.
If you're ever in doubt or need expert advice when you start with a new supplement or nutritional program, you should talk to a healthcare professional first. If you experience any unusual side effects, discontinue use immediately.
---
Sascha Fitness Fit 9 Fat Loss Support results – before and after
Looking online we can find many customer reviews from female users and the majority of them are very good. There are also numerous reviews in Portuguese.
We found some before and after photos on Amazon.com to give you an idea of how this supplement works.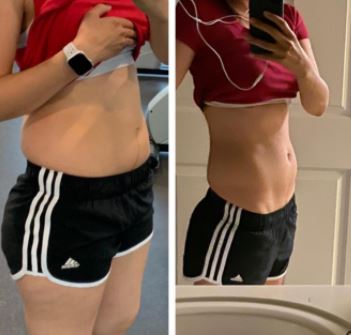 "The results with fit9 are satisfactory! Thanks for creating a fabulous product." [Translated] –  Viviano O. Published October 2019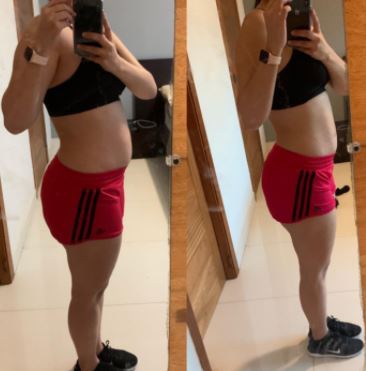 "I am happy with this product. I have much more energy [and] I'm less anxious to eat." [Translated] – Laura Amelia G. Published June 2020
Find out what actually works
– View our best fat burners for women – 
Sascha Fitness Fit 9 Fat Loss Support reviews – what are other people saying?
We struggled to find any reviews for Fit 9 Fat Loss Support on the official website however we did find some reviews on impartial sites like Amazon. Overall, it's rated 4.7 /5 making it quite popular and a favorite for many female users.
Some reviewers commented on better energy levels, a better relationship with food and less anxiety overall. There were some negative points like side effects such as headaches, low blood pressure and stomach aches. Some users also complained that the product is always out of stock.
Here are some reviews we found across the web:
Amazon.com



Does Sascha Fitness Fit 9 Fat Loss Support have side effects?
Fit 9 does contain a proprietary blend which is an immediate red flag for any potential side effects. Judging by some customer reviews too, it's likely that this supplement could cause you some issues.
Some reported side effects include:
Headaches
Anxiety
Upset stomach
Low blood pressure
Menstrual problems
The headaches may be because of the supplement's caffeine content. The the inclusion of diuretics may be responsible for the low blood pressure. DIM could also interfere with your estrogen levels which can impact your menstrual cycle.
The creators also include a warning on the official website which says you shouldn't use this supplement if pregnant, nursing or if you are sensitive to caffeine. You should also consult with your physician prior to use if you are taking medication or if you have a medical condition, including but not limited to: heart, liver, kidney or thyroid disease. The product is also produced in a facility with soy, dairy, egg and wheat ingredients, peanuts and tree nuts.
Never exceed the stated dose at any time and seek medical advice if you have any health issues.
Sascha Fitness Fit 9 Fat Loss Support Review: Our Conclusion
Sasha Fitness Fit 9 Fat Loss Support tries its best to be a female-friendly health supplement however we can't really see any true benefits to using this product.
There are some good natural ingredients which could influence your metabolism and increase fat breakdown in your body however there are some questionable inclusions too. The diuretic element could cause you some trouble and isn't really beneficial to fat loss since it only reduces water weight anyway.
The reported side effects are concerning and the ingredients blunder isn't very convincing either. To put it bluntly, you might be best looking elsewhere.  If you're looking for a more transparent, complete fat burning supplement, we highly recommend you view our Editor's Choice Best Fat Burners for Women for a list of safe, effective products.
Total score
4/10
Find out what actually works
– View our best fat burners for women – 
Here at Hey Spot Me Girl, we're all about safety – so we wanted to remind you to double-check with your doctor or physician if you have any concerns at all about introducing a new supplement into your diet.
Whilst supplements could be a great boost to your lifestyle, they could also have adverse effects on your body if not used properly, or if you have sensitivity to any of the ingredients. So, make sure you always check the label fully. Also, make sure you stick to the usage instructions, particularly during the first week.
It's also worth pointing out you shouldn't rely on supplements alone to achieve your physique goals. Remember girls, supplements are enhancers – not the only answer!
A balanced diet, consistent workout plan and sensible lifestyle choices are the fundamentals behind real change – and your supplement should only ever be used as a way of optimizing the results of your hard work, not a way of replacing it altogether.
So, whatever supplements you choose to improve your life, make sure your health and welfare is always paramount over anything else every single time.
---
*DISCLAIMER: These statements have not been evaluated by the Food and Drug Administration. This product is not intended to diagnose, treat, cure, or prevent any disease. Products are intended for use alongside a diet and exercise regime. The views and nutritional advice expressed by Hey Spot Me Girl are not intended for the purpose of medical advice.
Individual results may vary. Please always consult your health care provider if you are taking any medications or have any medical condition. Must be 18 years or older to purchase. Always reference the ingredients and directions on the product label.