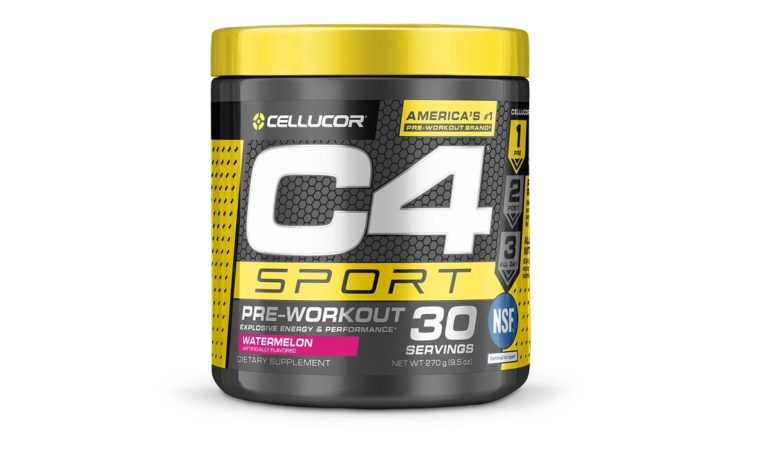 Reviews
Cellucor C4 Sport Pre-Workout Review
Cellucor C4 Sport Pre-Workout overview
If you take supplements, you'll have heard of the brand Cellucor. It's one of the most popular sports nutrition brands in the industry, specializing in dietary supplements, bodybuilding supplements, and energy drinks.
One of its most renowned products, C4 Sport is a pre-workout 'optimized for exercise', combining two formulations to support performance and energy into one, so 'every base of your workout is covered'. Whether you're a swimmer, a lifter, or just enjoy a daily jog, C4 Sport works to give you the energy you need to push through the toughest moments of your fitness journey.
Find out what actually works
– View our best fat burners– 
It's used and trusted by major league athletes and the claims are promising. Let's see what makes C4 Sport a favorite and if it's suitable for females on a mission to get more out of their training.
Keep reading this Cellucor C4 Sport pre-workout review to find out more.
Pros and Cons of Cellucor C4 Sport Pre-Workout
Pros
Well-researched ingredients
Beneficial vitamins and minerals for overall wellbeing
Nice choice of flavors
Trusted brand
Low in calories per serving
May help decrease muscle fatigue and support lean muscle growth
Cons
Contains a proprietary blend­ – undisclosed doses
Potential side effects
Uses the sweetener sucralose
Find out what actually works
– View our best fat burners – 
Cellucor C4 Sport Pre-Workout: The Ingredients
Looking at the product's ingredients label, it's a solid formula with all the ingredients we'd expect in a pre-workout, however it's not all positive. There are two proprietary blends in this mix, meaning you can't determine the exact dosage of each component. We like the additional vitamins and minerals, which may help with any deficiencies you have.
Here's a breakdown of the main components:
Creatine Monohydrate – A popular pre-workout inclusion, creatine is known to increase energy levels and enhance exercise performance by boosting your natural reserves and delivering power to your muscles[1].
Caffeine Anhydrous – This well-known stimulant can increase energy for heightened focus during exercise[2]. It's thought to increase power output as well as improve your workout volume for better results[3].
Vitamin B6 – Vitamin B6 is involved in a number of functions in the body but mainly supports protein metabolism as well as immune function[4]. It's crucial for normal energy release and reducing fatigue by helping to metabolize the foods you eat. This vitamin is especially important for women, with evidence suggesting it can reduce PMS symptoms and improve low motivation by creating mood-regulating neurotransmitters[5].
Calcium – This is an essential mineral needed by our bodies for strong bones and heart health. It's a good inclusion in the formula, because Calcium contributes to normal energy release as well as muscle function[6].
Carnosyn® Beta-alanine – Another popular pre-workout ingredient, beta-alanine works to help improve blood flow to your working muscles[7], enhancing endurance and power output.
Serving Size: 1 Scoop (15.58g)
Servings Per Container: 30
Amount Per Serving
% Daily Value
Iodine
225mcg
150%
Zinc
30mg
200%
Selenium
50mcg
71%
Copper
1mg
50%
Chromium
200mcg
167%
Citrulline Malate 2:1
6,000mg
*
BetaPure Betaine Anhydrous
2,500mg
*
BCAA 2:1:1
2,000mg
*
Beta-Alanine
1,500mg
*
N-Acetyl L-Tyrosine
600mg
*
Choline Bitartrate
500mg
*
L-Theanine
360mg
*
Caffeine Anhydrous
180mg
*
Guggulsterones
75mg
*
Mucuna Pruriens
70mg
*
L-Norvaline
60mg
*
Synephrine HCI
50mg
*
Hordenine
25mg
*
BioPerine
5mg
*
*Daily Value (DV) not established
Find out what actually works
– View our best fat burners –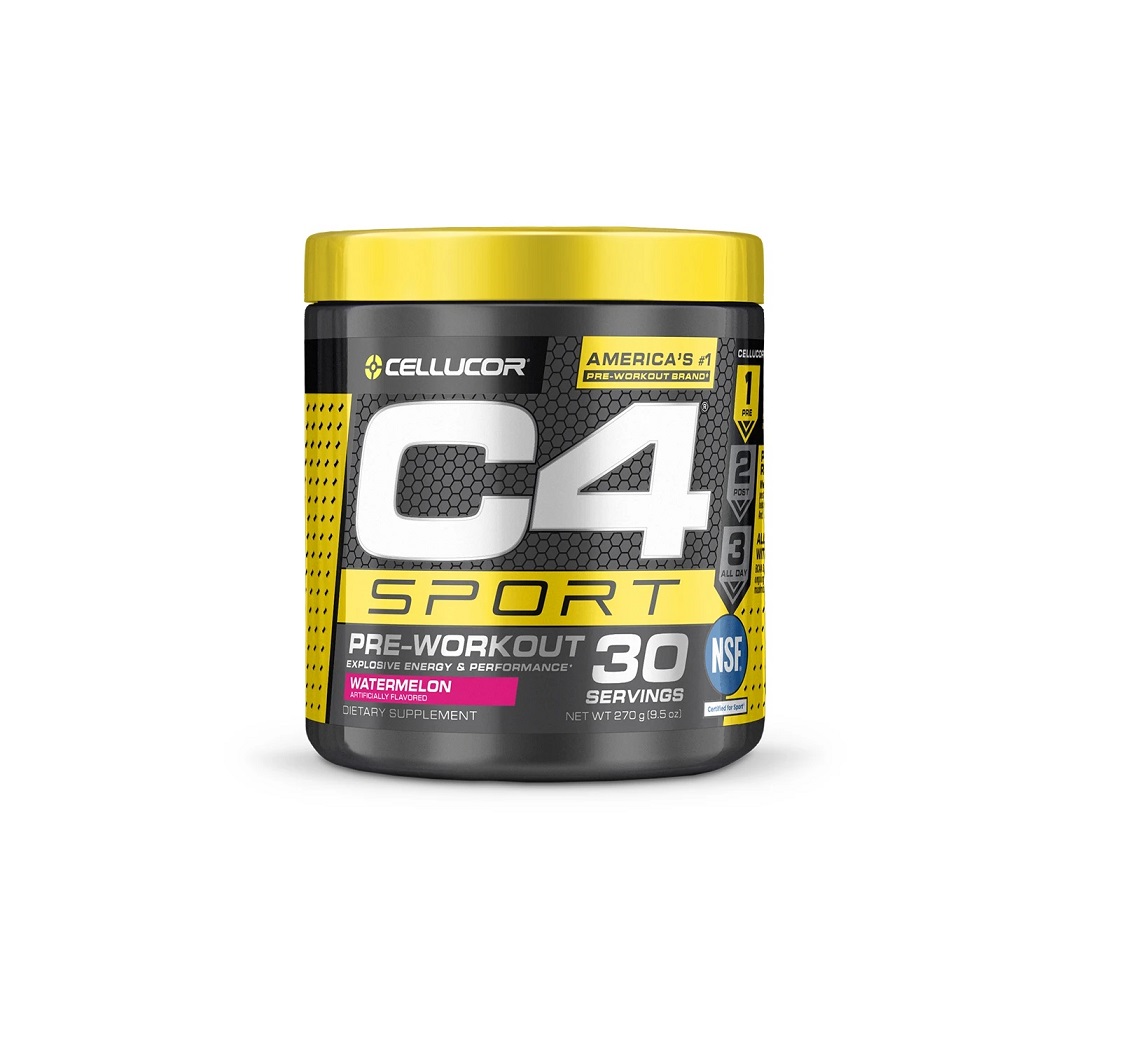 How does Cellucor C4 Sport Pre-Workout work?
Cellucor C4 is packed with popular pre-workout ingredients that have shown to add a level of excellence to exercise performance.
It aims to help you get started, supporting longer and harder training, by combining two formulations – these are the proprietary blends 'C4 Sport® Performance Blend' and 'C4 Sport® Energy Blend'. The performance side of the product combines creatine monohydrate for muscle endurance, Arginine AKG to increase blood flow, and beta alanine to help keep fatigue at bay. The energy side uses an explosive blend of caffeine and taurine for unrivalled focus and energy. For some female users, the caffeine may be a little too high.
Alongside the added vitamins and minerals, your body should feel replenished and hydrated.
While there is some cause for concern with the proprietary blend, we can see the creators have chosen solid performance-enhancing ingredients to help you keep fatigue at bay and focus on the end goal. It's just a shame there is no way of knowing exactly how much of each ingredient is included, to see whether it is an effective amount or not.
Nonetheless, C4 Sport carries the NSF Certified for Sport® badge, meaning the product has been subjected to rigorous testing and protocols required to become certified for sport.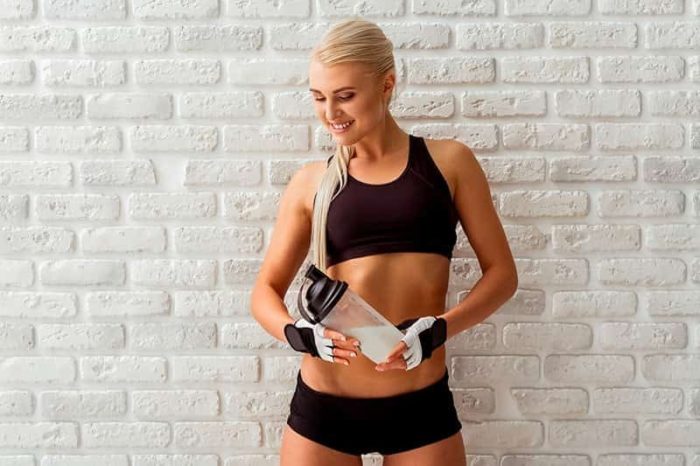 What are the benefits of taking Cellucor C4 Sport Pre-Workout?
Enhanced energy and focus
C4 Sport utilizes ingredients like caffeine, beta-alanine and creatine to improve mental alertness and deliver energy to your muscles, pushing your motivation to new levels. The creators claim the mental focus stays with you after your workouts which is a bonus if you hate the feelings of weariness that normally come after a workout.
Improved muscle endurance and pumps
Ingredients in the C4 sport formula may improve nitric oxide levels to boost muscle pumps and further enhance endurance. If your muscles can access more energy too, you'll perform better in the gym and may be able to reach new personal bests.
By promoting fatigue resistance, your muscles are empowered to keep going, pushing through more reps and increased volume. The caffeine content should also help to keep energy levels high.
If you can do more in the gym, it'll show in your muscles. C4 promotes muscular endurance to help you achieve more during your workouts. Delaying the build-up of lactic acid and hydrating your muscles correctly may even boost recovery and ultimately better lean muscle growth.
How to take Cellucor C4 Sport Pre-Workout
According to the creators, you should mix one level scoop of C4 Original with 6- 8 fluid oz of water 20-30 minutes before exercise. During your workout, you should also drink plenty of water. Do not consume more than 2 scoops per day.
If you take C4 Sport for a prolonged time, you may build up a tolerance to the caffeine and the product could stop working as well. If this happens, it may be wise to stop using the product for a week or two.
Don't ever exceed the stated dose. If you're ever unsure or need expert advice when you start with a new supplement or nutritional program, you should talk to a healthcare professional first. Discontinue use if you experience any unusual side effects.
---
Cellucor C4 Sport Pre-Workout results – before and after
Browsing the web, we found many positive reviews about C4 Sport, with loyal customers singing its praises. Many of its female customers say it has helped them power through workouts after long days at work. Here are some women users who use C4 Sport to up their focus.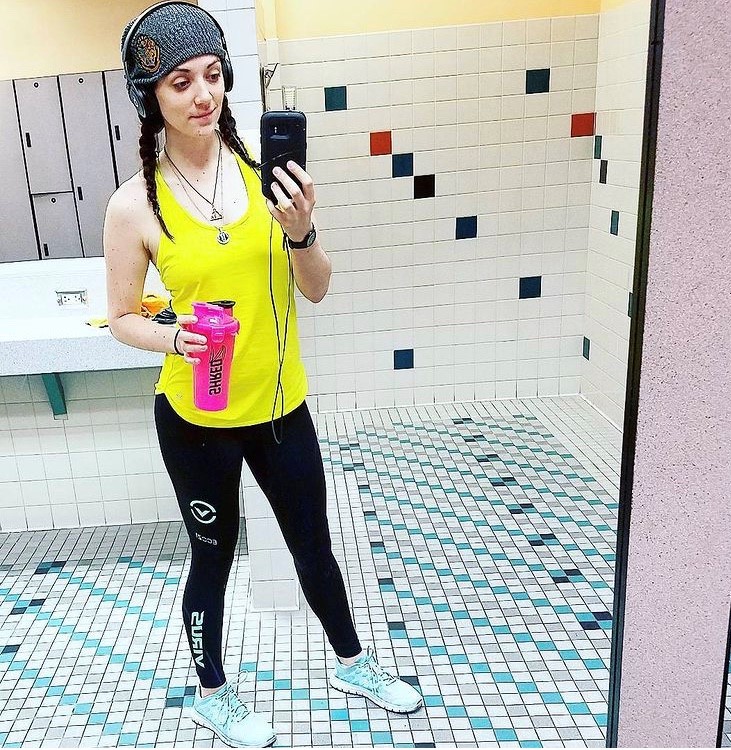 "C4 Sport Pre-Workout… #GymGrind" – @Fit.geek25. Published 2016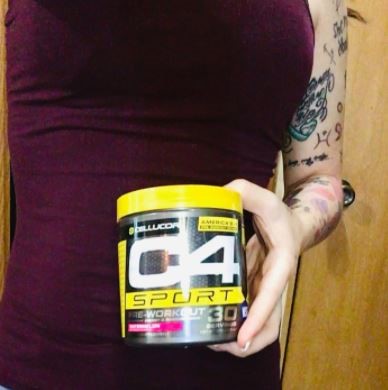 "I absolutely love the watermelon flavor, the energy is what I was more looking for. And it absolutely did not disappoint. Definitely will be buying again" – Beth. Published March 2019
Find out what actually works
– View our best fat burners – 
Cellucor C4 Sport Pre-Workout reviews – what are other people saying?
We found numerous genuine reviews for C4 Sport over on Amazon, where the product is also sold. Female users are huge fans of the C4 pre-workout range.
Users say C4 Sport makes workouts much easier and they find themselves adding more weight to their exercises.
There were a few reviews that complained of side effects like itchy skin and stomach upset. Some commented on the taste being a bit off.
Here are some we found on Amazon:




Does Cellucor C4 Sport Pre-Workout have side effects?
Cellucor C4 Sport is trusted by sporting pros and contains some well-studied ingredients, we'll give it that. However, because of the proprietary blends and the use of sucralose, we can't say for sure that this pre-workout doesn't have side effects.
The caffeine content comes in at 135mg per serving which is just a little more than a cup of coffee. This could cause side effects in women who are sensitive to stimulants, including nausea, stomach upset or just general jitteriness. It's important to monitor your caffeine intake alongside taking this supplement.
The creators also say that some individuals may experience a harmless tingling sensation, which is attributed to beta alanine. If you're not a fan of this feeling, we'd recommend avoiding this pre-workout.
There's also a warning on the label saying that this supplement should be consumed by healthy adults aged 18 or over. The best way to avoid any sort of reaction from your pre-workout is to carefully follow the manufacturer's directions correctly.
Cellucor C4 Sport Pre-Workout Review: Our Conclusion
C4 Sport contains some powerful performance-enhancing ingredients that should heighten your workout experiences. We appreciate the added vitamins and minerals which may support overall wellbeing and fill in any nutritional gaps you may be missing. There are also several flavors to choose from.
Despite the inclusion of great ingredients like creatine and beta-alanine, the proprietary blends mark it down. This is because it conceals important details about portion sizes of each ingredient in the blend. If you have an issue with sweeteners too, C4 Sport is not for you.
Despite this, it does have a good reputation as a brand and is certified for sport. It remains popular as a basic pre-workout and could be a good option if you're a beginner to pre-workouts.
Find out what actually works
– View our best fat burners  – 
Total score
7/10
Here at Hey Spot Me Girl, we're all about safety – so we wanted to remind you to double-check with your doctor or physician if you have any concerns at all about introducing a new supplement into your diet.
Whilst supplements could be a great boost to your lifestyle, they could also have adverse effects on your body if not used properly, or if you have sensitivity to any of the ingredients. So, make sure you always check the label fully. Also, make sure you stick to the usage instructions, particularly during the first week.
It's also worth pointing out you shouldn't rely on supplements alone to achieve your physique goals. Remember girls, supplements are enhancers – not the only answer!
A balanced diet, consistent workout plan and sensible lifestyle choices are the fundamentals behind real change – and your supplement should only ever be used as a way of optimizing the results of your hard work, not a way of replacing it altogether.
So, whatever supplements you choose to improve your life, make sure your health and welfare is always paramount over anything else every single time.
---
*DISCLAIMER: These statements have not been evaluated by the Food and Drug Administration. This product is not intended to diagnose, treat, cure, or prevent any disease. Products are intended for use alongside a diet and exercise regime. The views and nutritional advice expressed by Hey Spot Me Girl are not intended for the purpose of medical advice.
Individual results may vary. Please always consult your health care provider if you are taking any medications or have any medical condition. Must be 18 years or older to purchase. Always reference the ingredients and directions on the product label.