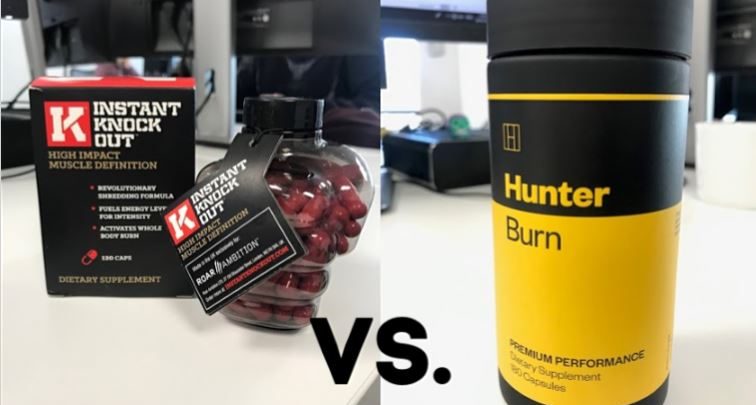 Reviews
Instant Knockout CUT Vs Hunter Burn – Which is Best?
Find out which fat burner is worth your money in our Instant Knockout vs Hunter Burn review
Discover which fat burner comes out on top as we compare and contrast Instant Knockout CUT vs Hunter Burn in this review.
If you're having trouble picking a winner between Instant Knockout CUT and Hunter Burn, you've come to the right place.
To help you choose between these two supplements, we've created a comprehensive review, that covers the pros and cons of both.
During this Instant Knockout CUT vs Hunter Burn review, we'll examine the following:
Brand Authority and Product
Ingredients and Science
Serving Sizes
Safety and Side Effects
Cost and Value
Pros and Cons
To round off this review, we'll collect all our findings in each of these categories to bring you the best fat burner between Instant Knockout CUT vs Hunter Burn.

Here, we'll examine the origins behind these fat burners. This will involve examining the reputability of the companies who created these supplements to understand whether we can expect quality and results from their products.
We'll also examine the intentions behind each formula to understand what reasons they were created for and further understand their suitability to you as a woman and your weight loss goals.
Instant Knockout CUT
This supplement is well known in the fat burner industry, and was originally created to cater for MMA fighters looking to drop weight before a big fight. Since then, Instant Knockout CUT has gone mainstream and has been used by normal gym-goers along with fitness models.
The formula is the brainchild of supplements company Roar Ambition. They're generally well known in the industry for creating highly effective supplements including the trio of Hunter products.
We, and many others, know them as a reputable company that offers a serious commitment to high-quality, well-research formulas.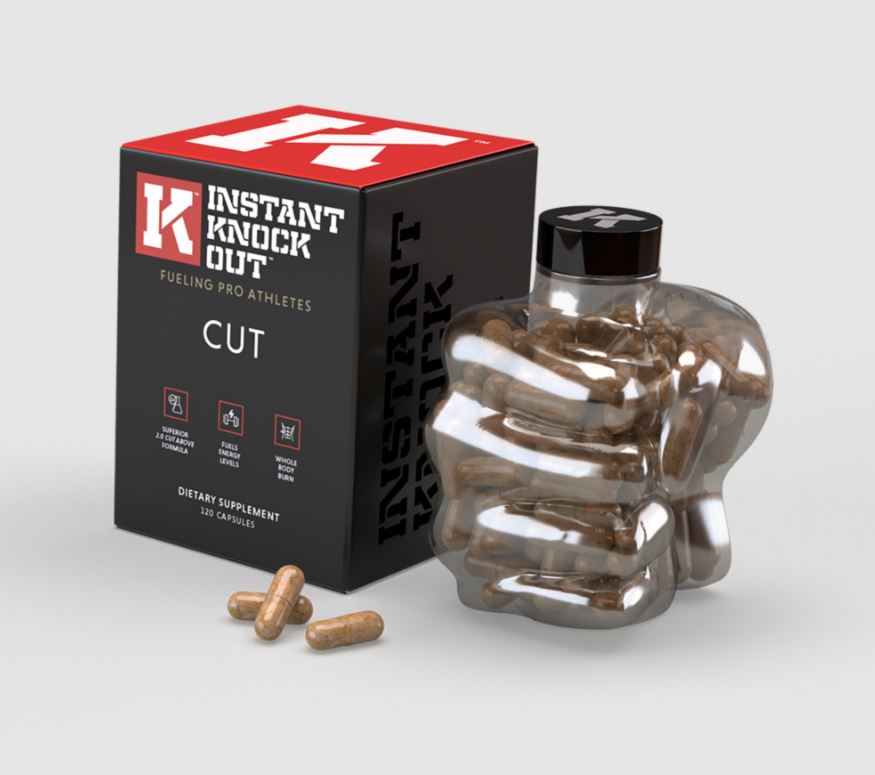 Hunter Burn
Interestingly both Hunter Burn and Instant Knockout CUT come from Roar Ambition.
Where Instant Knockout CUT is well known in the industry, Hunter Burn is a relatively new addition to the fat burner scene, having launched in the closing months of 2018.
Hunter Burn is the fat burner in a trio of products, which include Hunter Focus (a nootropic) and Hunter Test (testosterone booster). Although Instant Knockout CUT and Hunter Burn both come from the same company, they are based on very different concepts and offer very different ingredient profiles.
The range was created as a premium product to cater to the affluent man. However, we've found it has a lot to offer women looking to lose weight.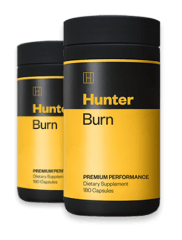 The Result: Both of these products are powerful and well suited to women. They also come from the same creators – it's a draw.
Ingredients and Research
Every good supplement comes back to one thing – a bulletproof formula. Without this you won't see any of the results you're looking for.
We'll examine both formulas behind Instant Knockout CUT vs Hunter Burn to understand the effectiveness of the supplements. As we explore the profile, we'll look out for educated ingredient choices and servings that are backed by scientific research that justify their addition.
Instant Knockout CUT ingredients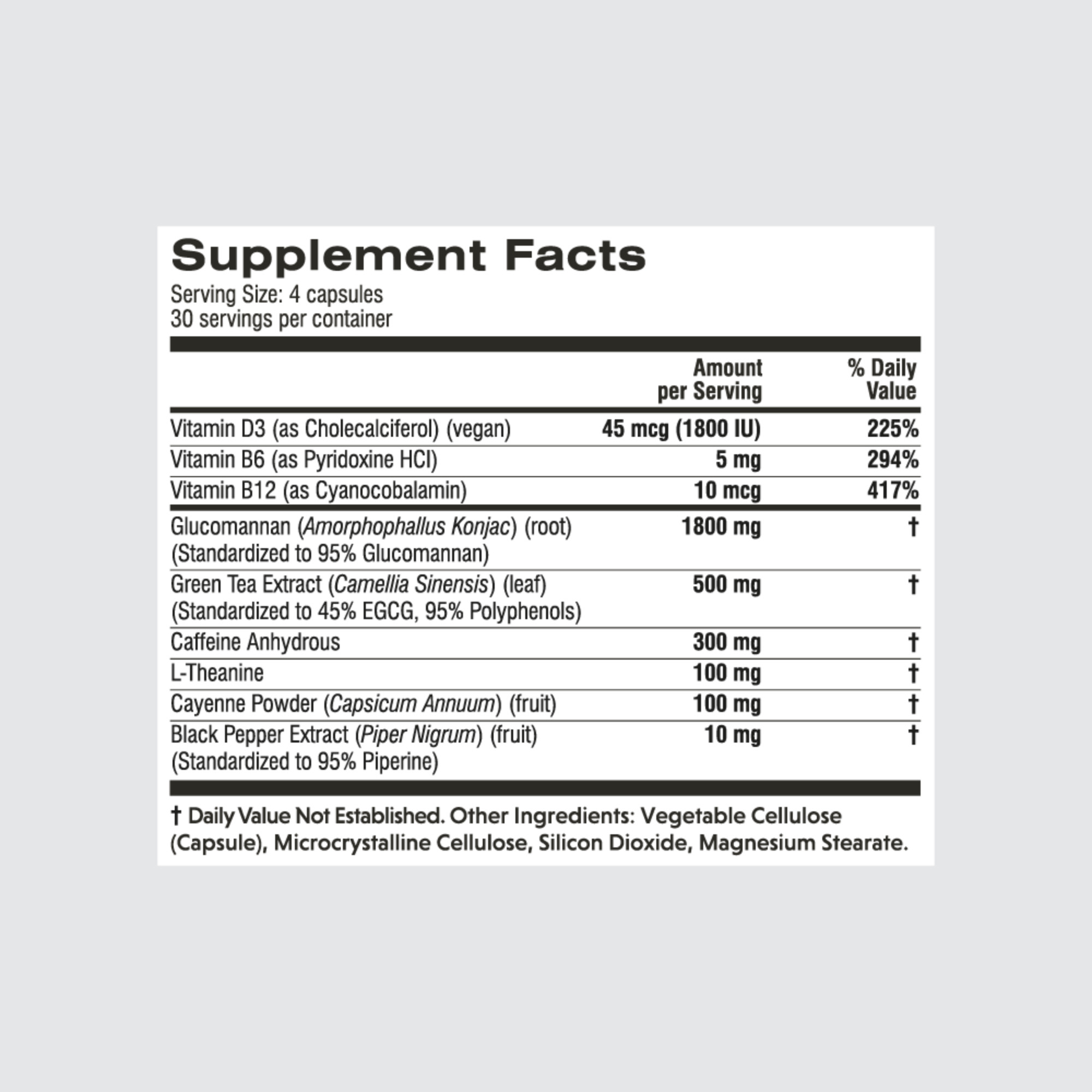 The Instant Knockout CUT formula is completely natural, which indicates a low-risk formula and a dedication to safety.
Each daily serving is spread out across four capsules a day, which has allowed the creators to provide generous portions of the 9 ingredients use in this formula.
Here we'll examine the key players to give you an idea of how the supplement works.
Caffeine Anhydrous (300mg) – This ingredient is one of the most highly research thermogenic supplements in the world and has been shown to heighten calorie burn [1]. It can also increase physical and mental energy which is beneficial when on a low-calorie diet [2]. This is a safe, yet powerful serving which will be taken throughout the day.
Glucomannan (1800mg) – This soluble fiber, also known as konjac root, is an appetite suppressant. It has been linked to reducing cravings and weight loss [3], which is essential to a women's fat burner as hormonal changes make us more susceptible to overeating. This is one of the most generous portions we've seen in a fat burner.
Green Tea Extract (500mg) – Green tea is another highly research ingredient that has been proven to increase metabolism and contributing to weight loss [4]. It contains thermogenic compounds like catechins and caffeine.
Cayenne Pepper (100mg) – Taken from hot peppers, cayenne pepper extract contains bioactive alkaloids called capsaicin. These are thermogenic and have also been linked to heightened metabolism [5] along with targeted fat loss [5].
Vitamin B6 (5mg) – this vitamin is essential to a number of internal metabolism processes and has been proven to influence a higher metabolism and more fat oxidization [6].
L-Theanine (100mg) – this amino acid works alongside caffeine to enhance the stimulant's benefits, for improved focus, drive and energy[13], whilst keeping negative side effects like jitters at bay. It's also a proven appetite suppressant[14] and has stress-fighting abilities too[15].
Hunter Burn ingredients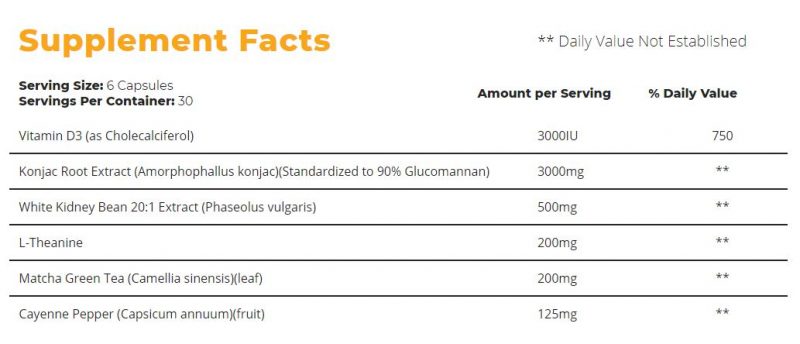 Hunter Burn also offers a completely natural ingredient profile, that provides a safe and low-risk profile.
This formula offers just six ingredient. While we initially thought this was low, when delivered across six capsules, fewer ingredients allows for some of the most generous portion servings we've ever seen.
Here are the main players in this formula.
Konjac Root (3000mg) – Burn also contains the appetite suppressant, glucomannan. However, this formula offers almost double the amount available in Instant Knockout CUT. This serving is considered optimal according to science [7].
White Kidney Bean (500mg) – This ingredient is proven to limit the amount of carbohydrates your body can absorb, therefore reducing potential weight gain [8].
L-Theanine (200mg) – This is widely known and used as a calming agent, which can have an effect on reducing cravings [9].
Cayenne Pepper (125mg) – Hunter Burn also offers a generous serving of the thermogenic cayenne pepper, which is slightly higher than that in Instant Knockout CUT.
Matcha Green Tea (200mg) – Green tea is proven to raise metabolism by up to 35% [10]. Matcha green tea has been found to be around three times more powerful than the standard strain [11].
It's worth noting that Hunter Burn doesn't contain any added stimulants, other than the small amount of caffeine available in the matcha green tea. While this may suit some women, we're missing out on one of the most highly researched thermogenic ingredients available.
Having said that, Hunter Burn offers some of the most generous portions we've ever seen, providing a formula that should deliver unparalleled effectiveness.
The Result: Instant Knockout CUT offers an excellent range of ingredients, while Hunter Burn is missing a key element – Instant Knockout CUT wins.
[Related Article: Read our full Instant Knockout CUT review]
Serving Sizes
Here, we'll examine the serving sizes of the ingredients within the two formulas, assessing how effective and practical the supplement is for daily use.
Instant Knockout CUT
The ingredients in this supplement are distributed across four capsules, spread throughout the day.
Every bottle contains 120 pills, which will give you 30 days of consistent supplementation.
We find this approach to distribution very intelligent. By spreading the servings throughout the day in four portions, it keeps your metabolism consistently high and elevates energy levels smoothly.
Four is a good amount of capsules and allows Instant Knockout CUT to provide competitive servings of key ingredients.
Hunter Burn
Ingredients in Hunter Burn are offered over six capsules per day.
Every bottle of Hunter Burn provides 180 capsules, which also gives you a month worth.
If Instant Knockout is good when it comes to servings, then Hunter Burn is the best. We've never seen a supplement offer such an optimal portion of glucomannan and found the thermogenic servings to be extremely competitive.
Our only concern is, although six capsules a day allows for excellent servings, it's also a lot of pills to take every day. However, the manufacturers recommend you take two capsules three times a day, which is easy to remember when taken before meals.
The Result: While Instant Knockout CUT offers some excellent servings, Hunter Burn provides some of the best portions we've seen over three manageable two capsule portions a day – Hunter Burn wins.
 [Related Article: Read our full Hunter Burn review ] 
Safety and Side Effects
In this section, we'll look into any potential safety issues with these supplements.
Instant Knockout CUT
Careful analysis of this formula found Instant Knockout CUT offers a completely natural profile, without any proprietary blends or synthetic ingredients.
If you are sensitive to caffeine, or drink coffee or tea regularly its worth factoring the additional amount from Instant Knockout CUT into your diet. The addition of L-theanine also works with caffeine to alleviate any harsh side effects from the stimulant – such as jitters or anxiety – so you can enjoy the energy boost without the worry.
At 300mg a day, Instant Knockout CUT provides a safe amount which sits well below the recommended limit of 400mg a day [12]. However, you should adjust your intake accordingly if you think you're at risk of taking on too much.
Never take a supplement containing caffeine if there is any chance you could be pregnant.
Overall, Instant Knockout CUT is extremely safe to take.
Hunter Burn
This is also a completely natural formula, so you don't have to worry about any unwanted side effects from synthetic materials of proprietary blends.
The only source of caffeine in Hunter Burn comes from the matcha green tea. With that in mind, you shouldn't need to alter your caffeine intake when supplementing with this fat burner.
However, you should also avoid taking Hunter Burn if you are pregnant, as it does contain small amounts of stimulants.
Hunter Burn is also very safe.
The Result: Both Instant Knockout CUT and Hunter Burn are very safe to use and shouldn't give you any side effects – it's a draw.
Cost and Value
Instant Knockout CUT Cost
One bottle: $59/£35
Two bottles: $118/£70
Three bottles + one free bottle + free delivery: $185/£110
Hunter Burn Cost
One bottle: $75/£55
Two bottles: $150/£110
Three bottles + one free bottle + free delivery: $225/£165
When comparing prices, it's clear to see that Hunter Burn is substantially more expensive than Instant Knockout CUT.
We know that, although value for money is equal for both, when two supplements are so closely matched that the price can be the final decider.
As reviewers, we think the price of Hunter Burn is justified, as the portion servings and quality of ingredients is outstanding – however, that doesn't change the fact that this price might just not be affordable most people.
The Result: While both offer good value for money, Instant Knockout CUT is the more affordable option – Instant Knockout CUT wins.
[Related Article: The Best Fat Burners for Women] 
Conclusion
Here are our results from our Instant Knockout CUT vs Hunter Burn review:
Brand Authority and Product: Draw
Ingredients and Research: Instant Knockout CUT
Serving Sizes: Hunter Burn
Safety and Side Effects: Draw
Cost and Value: Instant Knockout CUT
Although these two supplements are well matched, and both offer some of the best formulas we've seen, Instant Knockout CUT took the win based on a more affordable price.
Despite this, we'd say that if you have the cash, Hunter Burn is also worth your time and money.
*Individual results may vary. Please speak with your doctor or physician before undertaking any new weight reduction, supplement, or exercise regime.
References
Acheson KJ, e. (2004). Metabolic effects of caffeine in humans: lipid oxidation or futile cycling? – PubMed – NCBI. [online]
Goldstein E, Ziegenfuss T, Kalman D et al. International society of sports nutrition position stand: caffeine and performance. J Int Soc Sports Nutr. 2010;7(1):5. doi:10.1186/1550-2783-7-5
Birketvedt GS, et al. Experiences with three different fiber supplements in weight reduction. Med Sci Monit. 2005 Jan
Hursel, R et al. The effects of green tea on weight loss and weight maintenance: a meta-analysis. Int J Obes. 2009; 33(9): 956-61
Ludy, MJ et al. The effects of capsaicin and capsiate on energy balance: critical review and meta-analyses of studies in humans. Chem Senses. 2012; 37(2): 103-2
Zemel, MB et al. Effects of a Leucine and Pyridoxine-Containing Nutraceutical on Fat Oxidation, and Oxidative and Inflammatory Stress in Overweight and Obese Subjects. Nutrients. 2012; 4(6): 529-541
B, K. (2005). Glucomannan and obesity: a critical review. – PubMed – NCBI. [online]
Barrett, M.L. and Udani, J.K. A proprietary alpha-amylase inhibitor from white bean (Phaseolus vulgaris): A review of clinical studies on weight loss and glycemic control. Nutr J. 2011; 10: 24. Published online 2011 Mar 17.
Nobre, A.C. et al. L-theanine, a natural constituent in tea, and its effect on mental state. Asia Pac J Clin Nutr. 2008;17 Suppl 1:167-8.
Dulloo, A.G. et al. Efficacy of a green tea extract rich in catechin polyphenols and caffeine in increasing 24-h energy expenditure and fat oxidation in humans. Am J Clin Nutr. 1999 Dec;70(6):1040-5.
Weiss, D.J. and Anterton, C.R. Determination of catechins in matcha green tea by micellar electrokinetic chromatography. J Chromatogr A. 2003 Sep 5;1011(1-2):173-80.
Scientific Report of the 2015 Dietary Guidelines Advisory Committee. USDA. Feb 2015
https://pubmed.ncbi.nlm.nih.gov/21040626/
https://www.medicalnewstoday.com/articles/324120
https://www.healthline.com/health/l-theanine
Disclaimer:  The information on this site has not been evaluated by the FDA. The products on this page are not intended to diagnose, treat, cure or prevent any disease. Results in description and Testimonials may not be typical results and individual results may vary. We may earn commission if you click the links and buy the products featured on this page.