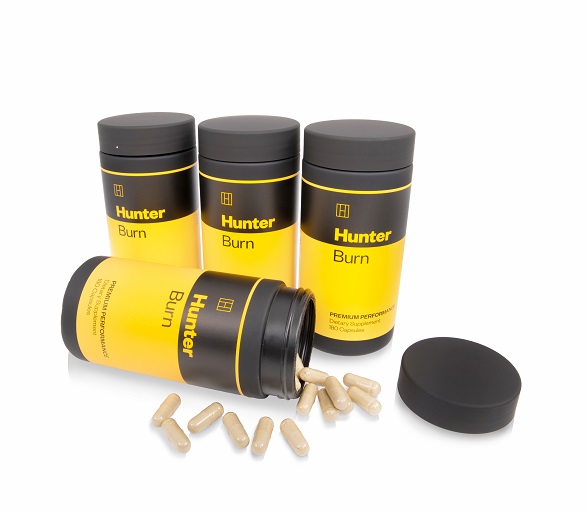 Find out how this fat burner performs under the spotlight and whether it really does work with our Hunter Burn review.
Introducing Hunter Burn
A new challenger has entered the building. Burn by Hunter Evolve is a self-described premium fat burner which seems to place some serious emphasis on quality. Ingredients, packaging and benefits are all described as top of the market by Hunter. Let's put it to the test.
Hunter Burn is marketed toward the most ambitious individuals. Specifically, those who're balancing a high-pressure job, a busy family and social life and a demanding fitness regime.
To align themselves with this demographic, according to the manufacturers, Hunter Burn has been created using only the most high-grade, well-dosed natural ingredients.
What is Burn by Hunter Evolve?
Burn by Hunter Evolve is a fat burner that promises to help you look better feel better and burn fat faster.
As a first impression, it certainly seems to be a luxury product. The packaging is sleek and clean cut, with an understated matte black bottle. Hunter Burn definitely looks the part, and it's quite clearly marketed towards men. However, we're more interested about what's in the capsules than the packaging it comes in and, at first glance, it looks like it could have the potential to help women.
This supplement claims to provide a "premium performance" which will help you burn fat, without losing muscle. It should also make you feel and look better, beat hunger cravings and power you through a low-calorie diet. The unrivalled formula, offering a potent dose of 6 capsules a day should keep you burning excess fat all day long.
We've reviewed a lot of different supplements, but Hunter Burn really piles on the benefits. It seems like a lot of big promises, so we wanted to take a closer look at the supplement facts. More importantly, we want to know how they plan to achieve all this without one of the most common fat burner ingredients – caffeine.
Burn by Hunter Evolve might not have a completely conventional fat burner formula, but from first glance, it's got some highly effective ingredients in the mix. Some of these are at the most generous dosages we've seen.
Although this is quite obviously a product designed to appeal to men, we're still excited to put this fat burner to the test on behalf of women. It contains a number of elements that will help females overcome the unique hurdles we experience when on a diet.
To find out if it really delivers, we'll thoroughly review each ingredient to assess how it contributes to the fat loss process. We'll be looking for ingredients we're familiar with, that are scientifically proven to work.
It's also a big priority of ours to find supplements that are safe to use. We'll be assessing the Hunter Burn ingredients and dosages to ensure it offers a safe and side-effect free experience for our readers.
To complete the Hunter Burn review, we'll be comparing our results against the cost of the supplement to establish a value for money rating.
At SpotMeGirl, we're very familiar with the world of supplements and have collectively reviewed countless products. We'll be using our knowledge of the industry and the expertise we've gained over the years to bring you an insight into whether or not Hunter Burn will help you lose weight. Let's find out more in this Hunter Burn review.
Burn by Hunter Evolve Pros and Cons
Pros
Optimally dosed ingredients
Supports you in your dieting efforts
Boosts fat loss results
6 capsule dose – more than competitors 
Safe and low-risk of side effects with low stim formula
Completely natural 
High-grade ingredients
Cons
Premium price point
No added caffeine if you do want an extra kick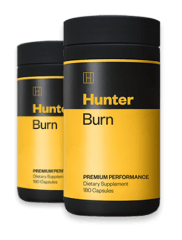 Who makes Burn by Hunter Evolve?
Burn by Hunter Evolve is a fat burner made by Roar Ambition, a UK and US based specialist supplement company that has been delivering high-grade products to the market since 2014.
The company is known for delivering premium grade, scientifically-researched formulas with several popular products in its catalogue, notably, famous fat burner Instant Knockout Cut and market-leading test booster TestoFuel, amongst others.
One thing we particularly appreciate about this company is that all its supplements are all made only in FDA and cGMP approved facilities, confirming their safety and effectiveness.
How does Burn by Hunter Evolve work?
Hunter Burn contains a blend of powerful natural fat burners to help improve the way your body loses stubborn fat. The clinically-dosed, high-grade formula works to:
Neutralize hunger – with a powerhouse of appetite suppressing ingredients like glucomannan to help you feel fuller for longer y
Heighten energy and motivation levels – using a combination of vitamin D and L-theanine to deliver sustained energy so you can destroy workouts
Fire up calorie burn – using nature's most powerful thermogenic ingredients, chosen for their ability to hike your metabolism and encourage calorie burn even at rest
What can you expect from Burn by Hunter Evolve?
Hunter Burn doesn't claim to be a miracle pill. So, you do still have to put some work in to get the results you want. Hunter Burn promises to be there to support you with better energy levels, appetite suppression and muscle maintenance.
This should all work towards one goal: to help you get the results faster, grow your confidence and transform the way others see you.
Burn by Hunter Evolve ingredients
There are only six ingredients in the Hunter Burn formula, and each one is completely natural. After thorough research into the science behind them, we found they all have specific roles to support different stages of the fat loss process and maximize fat loss results.
One of the most unique elements of Hunter Burn is that, because you take six capsules a day and because there are so few ingredients in the formula, each ingredient is very well dosed. In particular, the glucomannan is provided in a very generous portion, which improves the hunger combatting abilities of the formula.
To give you an idea of how this fat burner achieves results, we've rounded them all up below:
Vitamin D3
Clinically proven to help with weight loss, vitamin D3 is a powerful, yet unusual addition to a fat burner. We know it well from testosterone boosters, however in this mix it's used to aid weight loss and to support muscle [1].
Konjac root extract
If you've explored a few different fat burners, you'll know that glucomannan in konjac root extract is a powerful appetite suppressant. Science shows that, by expanding when it's in your stomach, it makes you feel fuller and helps to keep cravings under control [2].
Hunter Burn have emphasized this ingredient in their mix, by offering one of the biggest servings we've seen. On top of that, they've standardized it to 90% glucomannan to provide a more concentrated variation of the supplement.
White kidney bean
After research, we found that white kidney bean is the only known natural carb blocker. That means, your body won't metabolize complex carbohydrates into simple sugars, so it won't be stored as fat within your body [3]. This helps to stop you from gaining weight.
White kidney bean is a very intelligent addition to the Hunter Burn formula. Where most good fat burners, provide a preventative measure with an appetite suppressant, this supplement has that, and damage control too.
L-theanine
We know a lot about L-theanine, however it's usually present in pre-workouts and nootropics. To learn more about why it's in Hunter, we had to change our perspective a little. After research we can say it very much deserves its place in the fat burner formula.
The calm alertness we're used to from L-theanine has been found to stop comfort eating, adding to the appetite suppressant effect. It's also been linked to lower levels of fat cells in your body [4].
Matcha green tea
Green tea is one of the biggest hitters in natural fat burners. It's high in catechins, which induces thermogenesis and raises your metabolism. Matcha green tea takes this to the next level, as we've found it to be three times stronger than other common strains [5].
After looking around the market, we found that Hunter Burn is one of very few fat burners to contain this potent ingredient.
Cayenne pepper
We're very familiar with the thermogenic qualities of cayenne pepper. Studies have shown that this supplement is directly linked to an increase in body temperature, which in turn raises your metabolism [6].
With a generous portion of this in your fat burner, you'll be burning more calories, even at rest.
Want to know how the 6-capsule daily dose works? Keep reading our Hunter Burn supplement review to discover more.
| Ingredients | Amount per Serving |
| --- | --- |
| Vitamin D3 (as Cholecalciferol) | 3000IU |
| Konjac Root Extract (Amorphophallus konjac) (Standardized to 90% Glucomannan) | 3000mg |
| White Kidney Bean 20:1 Extract (Phaseolus vulgaris) | 500mg |
| L-Theanine | 200mg |
| Matcha Green Tea (Camellia Sinensis) | 200mg |
| Cayenne Pepper | 125mg |
How to take Burn by Hunter Evolve
As this supplement is so carefully dosed, we recommend you follow the advice given by the manufacturers when it comes to taking Hunter Burn. The recommended amount is two capsules, three times a day, equaling six overall.
Hunter Burn contains some powerful appetite suppressants, so we recommend you plan your intake around the times you usually eat. This way, you're less likely to overindulge at meal times or give in to snacking.
We suggest you use the following pattern:
First two capsules 30 minutes before breakfast
Second two capsules 30 minutes before lunch
Third capsule 30 minutes before evening meal
The key to success with this supplement is consistency. To keep thermogenesis working, you need to ensure you don't miss a dose.
We'd also recommend you avoid taking your last dose too close to your bedtime, as the caffeine within the green tea could affect the quality of your sleep.
Benefits of Burn by Hunter Evolve
Of course, as it should be, the main benefit of Burn by Hunter Evolve is that it should help you lose fat, when paired with a calorie-restricted diet and a healthy lifestyle. However, this supplement is a little different – it delivers results through one of the most sophisticated diet support systems we've seen.
Hunter Burn will help you burn fat using the following methods:
Increase your metabolism
As with any quality fat burner, Hunter has a selection of thermogenic ingredients, designed to raise your metabolism. This helps to boost the number of calories your body uses, even while you're resting.
Helps you resist cravings
One thing that puts an end to diets for so many women is cravings. Hormonally, we're more inclined to crave sugary or fatty foods, which makes it so much harder to resist when you're on a diet. Hunter Burn combats this by using powerful, natural appetite suppressants that are proven to work. This offers an extra pillar of support, in the form of a preventative measure.
Damage control
We're only human and occasionally a cheat meal is necessary to keep you sane and satisfied while you're on a calorie-controlled diet. To prepare your body for this situation, Hunter burn contains a natural carb blocker. This minimizes the fat storing effects you may experience after enjoying a cheat meal.
Energy boost
As well as bolstering your willpower and helping to reduce the consequences of cheat meals, Hunter Burn helps you maintain your active lifestyle by providing an energy boost. Although we're used to seeing this, we're most familiar with it in the form of caffeine anhydrous. This supplement doesn't actually contain any added stimulants. Instead you'll find a clean lift in the generous portion of the potent matcha green tea extract. It's slightly different to other fat burners, however research has revealed it's everything you need for a powerful, yet side-effect free lift.
What do people say about Burn by Hunter Evolve?
Hunter Burn fat burner is very well liked. Since coming to market, it's been a favorite for men who like to stay fit and remain active. While we appreciate seeing real reviews from users, we did struggle to find any reviews from female users. Nevertheless, there's no reason why this fat burner wouldn't be just as effective for women.
Many customers praise it for its ability to put a plug in their food cravings, heighten energy levels and maintain muscle mass even while on a calorie deficit. Testimonials featured on the official website say it could work for anyone.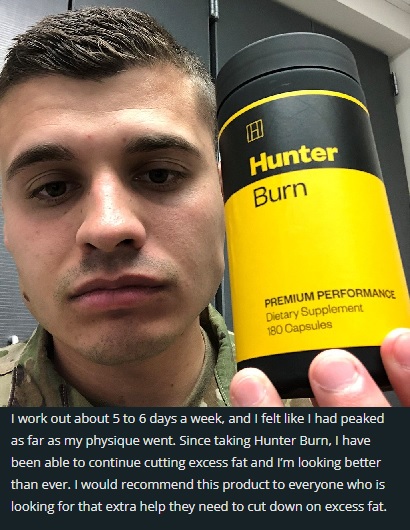 Is Hunter Burn safe?
The first place to look when establishing safety on a product is at the supplement facts label. We found that Hunter Burn boasts a completely natural ingredient profile, with just six ingredients. There are no undisclosed proprietary blends, and without caffeine anhydrous in the mix, it's unlikely you'll experience any side-effects or safety issues from this formula.
We'd rate it as one of the safest options out there.
Although no caffeine is added, there is still some within the matcha green tea. It's only a small amount but be sure to factor the additional stimulant into your overall daily intake if you're sensitive.
Simply reduce the amount of coffee or tea you drink throughout the day, drink plenty of water and avoid taking your last capsules close to bed time.
If there's any chance you could be pregnant, we recommend you avoid taking a supplement before speaking to your doctor.
How to get the best out of Burn by Hunter Evolve
According to the creators, Hunter Burn works best when taken consistently for around three months. By following their recommendations, you should feel the full benefit and finally shed those stubborn pounds. It's also fairly low in stimulants, making it great for women who struggle with caffeine.
Why not follow our top tips below to get the best out of this supplement?
Take every day
Use it for at least three months to feel the full benefit
Take it alongside a healthy, balanced diet and regular workout routine
Take with your meals to increase ingredient absorption
How much is Burn by Hunter Evolve?
A single bottle of Hunter Burn provides 180 capsules, which is enough for 30 days of the supplement.
A bottle is: $75/ £55 and can be purchased on the official website.
The manufacturers of the product provide a deal which gives you an extra month of Hunter Burn when you buy three months. You'll also benefit from free USA and UK delivery. This may help you save money if you decide to use Hunter Burn in the long term.
Anything else to know about Burn by Hunter Evolve?
This fat burner is premium, and so is price. It is one of the most expensive fat burners we've come across but like we've mentioned, it is a high-grade supplement for anyone willing to pay a large price tag to get the results they want.
The ingredients included have been proven to work and the excellent dosages are all backed by the right evidence – so if you're willing to put some work in and pay a bit more, it's worth the investment. It's worth taking note of the 6-capsule dose too. The creators insist this is more than you'd find in competitors – and we'd have to agree.  Each bottle contains 180 capsules – more than the standard 60-90 you get elsewhere.
The verdict
Although it's designed for men, all the ingredients within the Hunter Burn formula add up to a comprehensive diet support system for women. In short, it's one of our favorite fat burners.
The formula offers fat burning qualities, an impressive dose of appetite suppressants and even damage control carb blockers, which makes it ideal for the dieting woman. On top of that, it'll also energize you to head to the gym and support an active lifestyle.
Burn by Hunter Evolve is completely safe, side-effect free and, when accompanied by a calorie restricted diet and an active lifestyle, it has what it takes to give your weight loss attempts an edge.
One issue with Hunter Burn is the price. It's one of the most expensive supplements out there, which might not make it accessible for everyone. Having said that, if you can afford it then you'll struggle to find a better stimulant free fat burner.
Overall, as an appropriate and effective fat burner for women, Burn ticks all the boxes. When paired with the right lifestyle, we think it will provide noticeable support and enhance your diet results.
Total score
8/10
Shop Burn by Hunter Evolve Now
*Individual results may vary. Please speak with your doctor or physician before undertaking any new weight reduction, supplement, or exercise regime.
Find out how Hunter Burn stacks up against other fat burners. Check out our review of the best fat burner supplements right here.
Fat Burners: FAQs
Who would use a fat burner?
For some people, fat burners may be a missing link they need to complete their weight loss goals. Athletes or fighters cutting before a weigh-in would turn to a fat burner to help refine their bodies and dominate their sport.
Whether you want to shift those last few pounds or gain the energy you need to rule a workout, fat burners may enhance your fat loss efforts to get results faster. However, they'll only work if a proper diet and exercise plan is in place.
Are fat burners safe?
Most fat burners are formulated with plant-based, natural ingredients meaning they're safe to consume. You should be mindful of any over-served caffeine, artificial ingredients or proprietary blends.
For a fat burner to be a useful purchase, it needs ingredient servings supported by scientific studies. Any less or more is an indication of a poorly-balanced product, with not much thought behind it.
Do fat burners cause side effects?
Generally, most fat burners shouldn't cause any side effects but the risk is always there especially if you have an intolerance to any ingredients. These include additions like caffeine and green tea extract – stimulants that can boost your energy levels but also lead to changes in sleeping patterns or insomnia. Consuming too much caffeine might also cause nausea or headaches. Follow the manufacturer's directions carefully and consistently to avoid side effects.
What ingredients are common in fat burners?
When buying a fat burner, look out for these best fat burner ingredients.
Glucomannan
Glucomannan is a strong appetite suppressor which enters your stomach and promotes feelings of fullness. This should stop you from overeating and may even curb any snacking habits[7].
Cayenne pepper
Packed with potent thermogenic compound capsaicin, this ingredient is known for raising your metabolism and fueling calorie burn[8]. It works by hiking body temperature, making it work harder (and burn more calories) to regulate back to baseline levels.
Black pepper extract
Black pepper is commonly included in supplements to boost the bioavailability of  additional ingredients. However, it's also a strong thermogenic, and just like cayenne pepper, it could ignite calorie burn. Research says  that black pepper may also prevent fat cells from forming[9].
Here at Hey Spot Me Girl, we're all about safety – so we wanted to remind you to double-check with your doctor or physician if you have any concerns at all about introducing a new supplement into your diet.
Whilst supplements could be a great boost to your lifestyle, they could also have adverse effects on your body if not used properly, or if you have sensitivity to any of the ingredients. So, make sure you always check the label fully. Also, make sure you stick to the usage instructions, particularly during the first week.
It's also worth pointing out you shouldn't rely on supplements alone to achieve your physique goals. Remember girls, supplements are enhancers – not the only answer!
A balanced diet, consistent workout plan and sensible lifestyle choices are the fundamentals behind real change – and your supplement should only ever be used as a way of optimizing the results of your hard work, not a way of replacing it altogether.
So, whatever supplements you choose to improve your life, make sure your health and welfare is always paramount over anything else every single time.
---
*DISCLAIMER: These statements have not been evaluated by the Food and Drug Administration. This product is not intended to diagnose, treat, cure, or prevent any disease. Products are intended for use alongside a diet and exercise regime. The views and nutritional advice expressed by Hey Spot Me Girl are not intended for the purpose of medical advice.
Individual results may vary. Please always consult your health care provider if you are taking any medications or have any medical condition. Must be 18 years or older to purchase. Always reference the ingredients and directions on the product label.