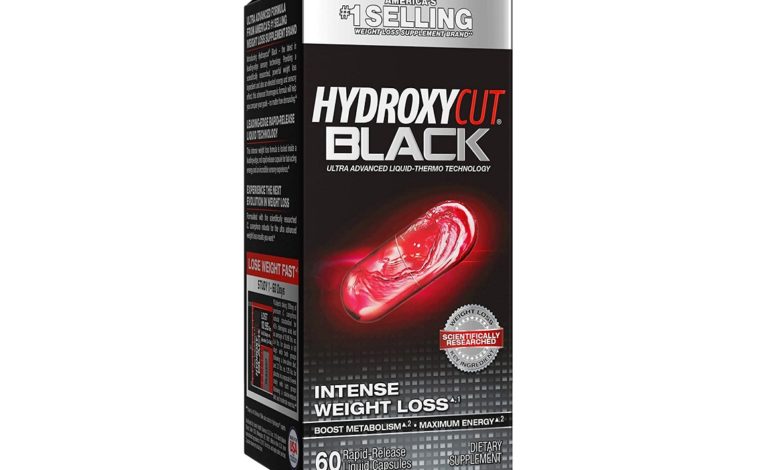 Reviews
Hydroxycut Black Review – Can it accelerate fat loss?
Hydroxycut Black overview
Labelled 'America's #1 selling weight loss supplement brand', Hydroxycut is a family of dietary supplements that target weight loss in a variety of ways.
Hydroxycut Black is just one of the products in the catalogue, promising intense weight loss results by raising your metabolism, providing maximum energy and helping you process macronutrients more efficiently. According to the manufacturer, the supplement uses cutting-edge rapid-release, liquid-thermo technology to quickly release active ingredients and accelerate weight loss
Find out what actually works
– View our best fat burners for women – 
What makes this particular supplement stand out is that it claims to offer an extreme sensory experience you can 'really feel', making the weight loss journey a little less difficult.
How does it stand up to its claims? Spot Me Girl is here to unpack Hydroxycut Black and discover if it really is worth all the hype.
Keep reading our Hydroxycut Black review to discover more.
Pros/Cons of Hydroxycut Black
Pros
Targeted, potent fat burner
Science-backed
Rapid-release technology for enhanced solubility
Maintains high willpower with mood enhancing elements
May improve exercise performance
Affordable
Cons
Caffeine packed – high serving
Contains a proprietary blend
Some ingredients like yohimbine could have serious side effects
Lack of real appetite suppressants
Find out what actually works
– View our best fat burners – 
Hydroxycut Black: The Ingredients
Hydroxycut Black is highly stimulated, concentrating on raising your metabolism and focus to help you push harder during workouts. It also works to metabolize the main macronutrients to ensure your body uses fat as a fuel source.
However, we can see that there are a couple of red flags to be raised. The first is the fact that the formula uses a proprietary blend, meaning you have no idea if the dosages are too high (making it dangerous) or too low (making it ineffective).
Another issue is the inclusion of the aggressive stimulant, Yohimbe. This ingredient is known for causing side effects and is a risky ingredient for women who are sensitive to stimulants. It's that aggressive that some countries have even banned it.
Let's take a look at some of the ingredients in more detail:
Caffeine Anhydrous – A fantastic natural fat burner, caffeine works to speed up your metabolism to help you burn through more calories daily[1]. It also helps to raise cognitive and physical energy, so you stay mentally locked in on your goals[2].
Robusta Coffee Extract – Another source of caffeine, Robusta Coffee also contains chlorogenic acid, a compound which has the supposed weight-loss action of reducing glucose absorption into the intestines[3]. This may help you feel fuller for longer.
Medium Chain Triglycerides (MCTs) – MCTs are a dietary fat that may help to increase fat oxidation, satiety and even increase energy expenditure[4]. However, research is limited and inconsistent, with some experts suggesting they add calories and could increase fat accumulation in the liver.
Yohimbe Extract – This ingredient is commonly used to boost mood and aid athletic performance however the scientific evidence behind it is weak. In fact, yohimbe is believed to be potentially unsafe, with reports showing it can cause stomach upset, sleep problems, anxiety, raised blood pressure and irritability[5].
Chicory Extract – This source of fiber aims to benefit your gut health and keep you full so you don't exceed your daily calorie limit and ultimately lose weight[6].
Serving Size: 2 Liquid Capsules
Amount Per Serving
% Daily Value
Weight Loss Plus Complex
643mg
*
Caffeine Anhydrous
200mg
*
Robusta Coffee Extract
Standardized for 45% chlorogenic acids
200mg
*
Medium Chain Triglycerides MCT Oil
200mg
*
Yohimbe Extract
Standardized for 6% yohimbine
*
Black Caraway Extract
*
Purslane Extract
*
Maitake Mushroom Extract
*
Chicory Extract
*
*Daily Value (DV) not established
Find out what actually works
– View our best fat burners –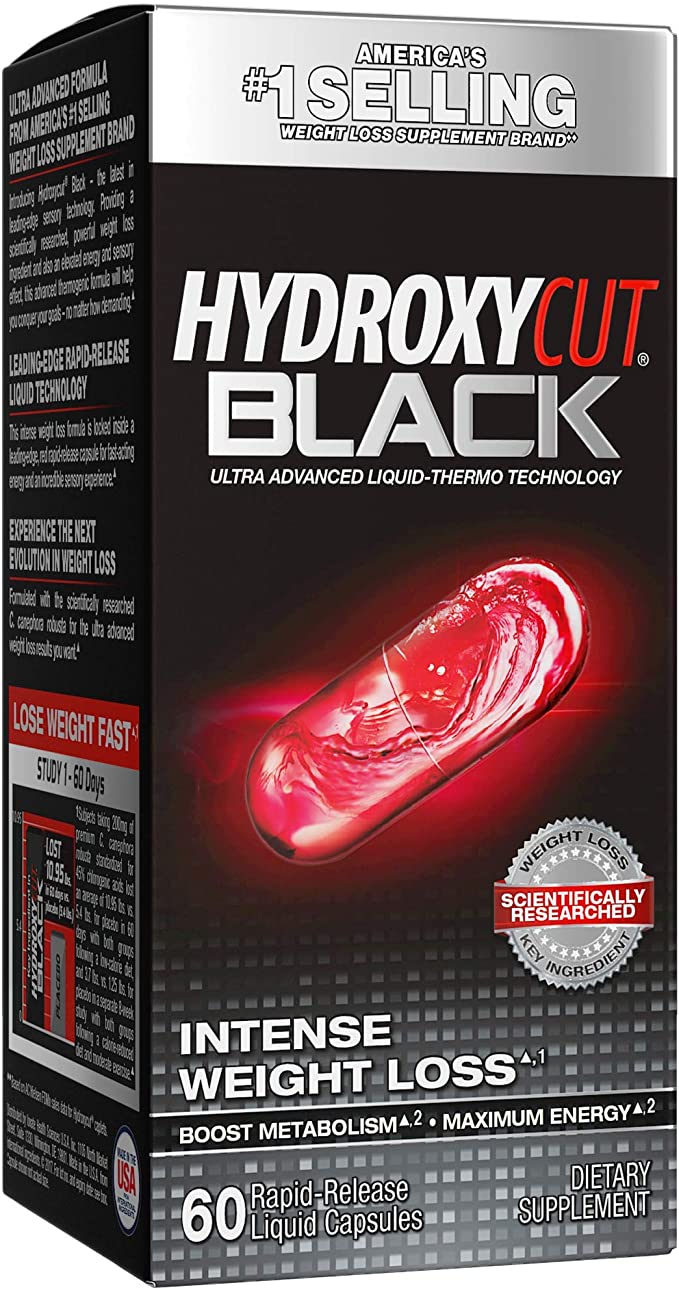 How does Hydroxycut Black work?
Hydroxycut Black's liquid thermo technology helps to rapidly release ingredients in your body and once these are inside, they come together to contribute to weight loss in many ways.
According to the creators, Hydroxycut Black promotes 'intense weight loss' by raising your metabolic rate, ramping up your energy levels and boosting macronutrient metabolism. The 'sensory' experience should also help with mood and hunger-induced irritability.
It's best to look at Hydroxycut Black as a weight loss aid, rather than a miracle pill that will boost weight loss without any effort on your part. In other words, it's not as effective as it claims, and you should use this supplement alongside a balanced diet and active lifestyle to really see results.

What are the benefits of taking Hydroxycut Black?
When you're restricting calories and exercising more, you may experience fatigue, discouraging you from training. Hydroxycut Black is heavily stimulated to support your energy and focus to help you maintain high performance in the gym. While this might be suitable for some individuals, a heavy caffeine serving may prove problematic since many women are more sensitive to stimulants than men.
Promotes macronutrient metabolism
By helping your body effectively process important macronutrients, you can use the right fuel sources (like fats) for energy and ultimately lose that stubborn body fat. This could also mean sustained energy levels throughout the day.
By using thermogenic ingredients, like caffeine, Hydroxycut Black aims to burn off extra calories and fat by igniting your metabolism. Kicking your metabolism into a higher gear will mean more calories burned – even when resting.
How to take Hydroxycut Black
To use Hydroxycut Black, you should take 1 serving (2 capsules) twice daily, 30 to 60 minutes before your 2 largest meals (e.g., breakfast and lunch).
The directions tell you to assess individual tolerance by using the table below:

The label also tells you to not snack between meals or before dinner.
Because of the caffeine content, you shouldn't take this supplement within 5 hours of bedtime as it may disrupt your sleep.
The creators also say to not exceed 4 capsules in a 24-hour period and, for best results, Hydroxycut Black should be used for 60 days in combination with diet and exercise.
If you're ever in doubt or need expert advice when you start with a new supplement or nutritional program, you should talk to a healthcare professional first. Discontinue use if you do start experiencing any unpleasant side effects at all.
---
Hydroxycut Black results – before and after
Hydroxycut weight loss products are very popular – especially in the USA. However, female before and after reviews are fairly limited for Hydroxycut Black. We did find one success story on the official website where the woman combined Hydroxycut Black with diet and exercise to lose an average of 10 pounds.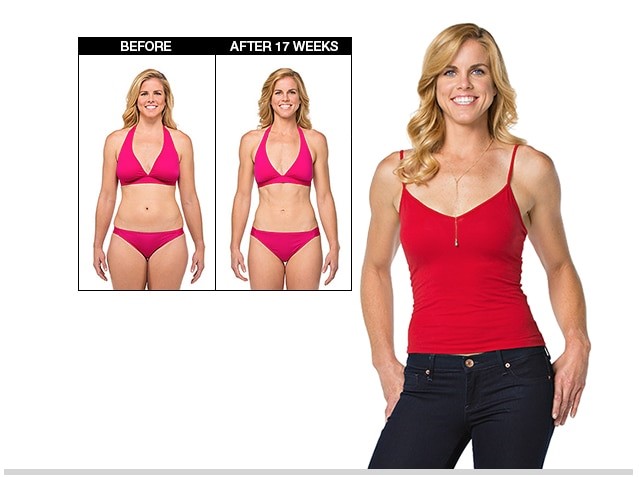 "I've had more success with Hydroxycut than any other product I have ever tried. It's a great kick-start and driving force to keep you motivated… [it] gave me the power and confidence to stay focused and determined, to help me achieve what I previously thought was impossible." Sable, USA.
We also found another female user who used Hydroxycut Black to 'smash her goals'.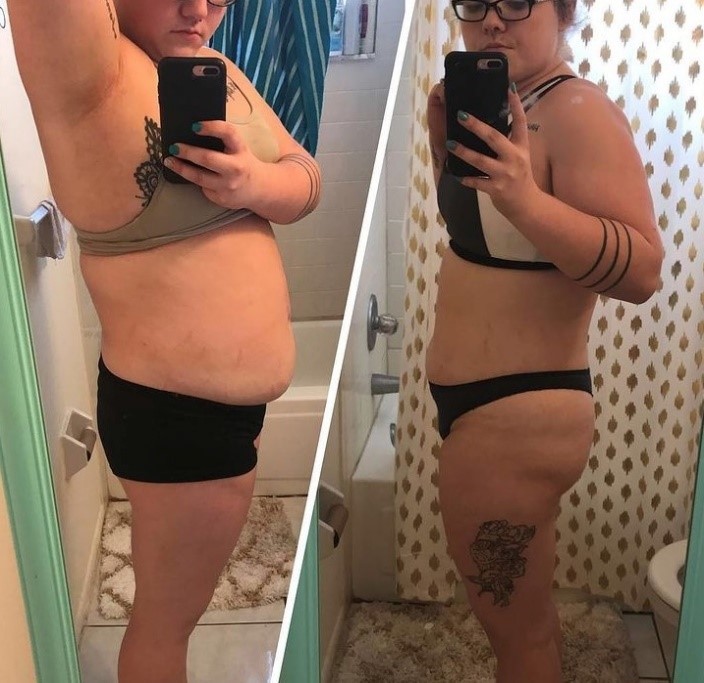 "Set your goals… smash them. #Down25lbs #WeightLossJourney #HydroxycutBlack" Kylee W. Published November 2017.
Find out what actually works
– View our best fat burners – 
Hydroxycut Black reviews – what are other people saying?
Reviews for Hydroxycut Black appear to be mixed. While the official website boasts over 50 five star reviews, other impartial sites such as Amazon give another insight into how this supplement works.
Some users say it has helped them push through weight loss plateaus and raised their energy whereas other customers reported side effects like headaches and stomach discomfort.
Here are some reviews we sourced from Amazon and the official company website. It's worth noting, most of the reviewers on the official website did receive a free sample.
Amazon.com


Hydroxycut.com


Does Hydroxycut Black have side effects?
While the ingredients inside Hydroxycut Black are all-natural, we can't say for sure that it doesn't have side effects. There are definitely some precautions to bear in mind while taking this fat burner.
For starters, the fact that you are advised to assess your tolerance isn't very reassuring. This implies the product is particularly potent and can affect people differently, so you may want to be wary of how your body reacts to it.
Regarding side effects, we think the added stimulants – and the more stimulants than necessary – such as yohimbe, means the side effects may be much greater than you expect.
Yohimbe is a potentially harmful ingredient, having been banned from certain countries worldwide like Canada and Australia for its side effects. These include sleep issues, high blood pressure, irregular heartbeat and seizures.
The combination of caffeine and yohimbe may evoke some pretty serious side effects – especially for women who are sensitive to stimulants.
This supplement shouldn't be combined with other sources of caffeine. You're also advised to consult a medical doctor before use if you have been treated for, diagnosed with, or have a family history of any medical condition, or if you are using any prescription or over-the-counter drug(s).
Hydroxycut Black Review: Our Conclusion
Hydroxycut Black is popular with many users, but for us, there are many things we don't like about it.
It's fair to say you should experience higher energy levels (from all the caffeine) and then be able to push yourself harder through workouts – but at what cost? The side effects from high doses of caffeine could prove detrimental to your health.
The caffeine should also aid daily calorie burn, by boosting thermogenesis and ramping up your metabolism.
However, there are some major downsides to this supplement. The proprietary blend isn't convincing and the caffeine and Yohimbe duo could create some seriously harmful side effects. What's more, there's no real element of appetite suppression included in this formula. This means you might struggle to curb the hunger cravings while on a lower calorie diet. Glucomannan might have been a good inclusion here.
Find out what actually works
– View our best fat burners – 
Total score
4/10
Here at Hey Spot Me Girl, we're all about safety – so we wanted to remind you to double-check with your doctor or physician if you have any concerns at all about introducing a new supplement into your diet.
Whilst supplements could be a great boost to your lifestyle, they could also have adverse effects on your body if not used properly, or if you have sensitivity to any of the ingredients. So, make sure you always check the label fully. Also, make sure you stick to the usage instructions, particularly during the first week.
It's also worth pointing out you shouldn't rely on supplements alone to achieve your physique goals. Remember girls, supplements are enhancers – not the only answer!
A balanced diet, consistent workout plan and sensible lifestyle choices are the fundamentals behind real change – and your supplement should only ever be used as a way of optimizing the results of your hard work, not a way of replacing it altogether.
So, whatever supplements you choose to improve your life, make sure your health and welfare is always paramount over anything else every single time.
---
*DISCLAIMER: These statements have not been evaluated by the Food and Drug Administration. This product is not intended to diagnose, treat, cure, or prevent any disease. Products are intended for use alongside a diet and exercise regime. The views and nutritional advice expressed by Hey Spot Me Girl are not intended for the purpose of medical advice.
Individual results may vary. Please always consult your health care provider if you are taking any medications or have any medical condition. Must be 18 years or older to purchase. Always reference the ingredients and directions on the product label.