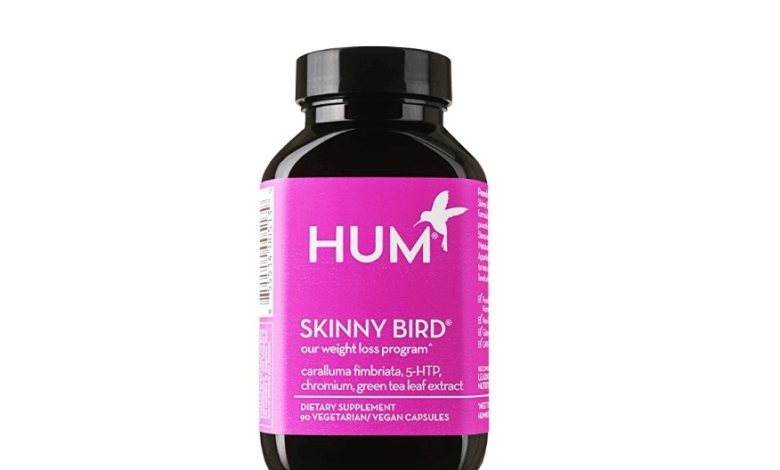 HUM Skinny Bird overview
Plant-based fat burner HUM Skinny Bird is specially formulated for the female body to promote safe weight loss. According to the creators, Skinny Bird isn't your regular fat burning supplement, with claims it can balance blood sugar levels, control stress eating and boost metabolism.
'Skinny' isn't a term we like and a fat burner with a name like this doesn't immediately promote healthy fat loss. We don't know much about HUM Nutrition (the people behind Skinny Bird) but looking online they develop a whole host of supplement from mood boosters, probiotics and energy enhancers. The brand is supported by a team of leading nutritionists though, so we feel fairly confident in this fat burner already.
Find out what actually works
– View our best fat burners for women – 
Let's put it under the Spot Me Girl spotlight to see just how it works. We'll bring you everything you need to know, from its pros and cons to its ingredients and customer reviews.
Keep reading this Hum Skinny Bird review to discover more.
Pros and Cons of HUM Skinny Bird
Pros
Should support blood sugar levels
Curbs stress eating
Made specially for women
Vegan-friendly
Mood boosting
Cons
High price tag
Missing key ingredients like cayenne pepper
Find out what actually works
– View our best fat burners for women – 
HUM Skinny Bird: The Ingredients
HUM Skinny Bird prides itself on being a completely natural and vegan-friendly formula. We appreciate the transparent ingredients label, meaning we can see each ingredient and the exact amount included. The formula is pretty basic, with just four key ingredients:
Chromium – This essential trace mineral is thought to help you metabolize fats and regulate blood sugar[1] which should also help reduce food cravings[2].
Green Tea – This powerful thermogenic works to raise your metabolic rate and increase fat oxidation due to the catechin content[3]. It contains natural caffeine which should provide you with a significant lift and potentially boost workout performance. It's also packed with antioxidants linked with a whole host of health benefits and better immunity[4].
Caralluma Fimbriata – This extract comes from an edible cactus plant and is thought to suppress appetite and reduce obesity, especially when combined with dietary control and physical activity[5]. It's also being researched for its role as an effective antioxidant and anticancer agent.
5-HTP – 5-HTP is a natural amino acid thought to boost serotonin levels, the brain hormone responsible for mood, hunger and sleep quality[6]. It's widely used in medicines that work to cure headaches, anxiety, and sometimes insomnia.
Serving Size: 1 Capsule
Servings Per Container: 90
Amount Per Serving
% Daily Value
Chromium (as picolinate)
200mcg
167%
Caralluma fimbriata extract
333mg
**
5-HTP
100mg
**
Green Tea
66mg
**
*Daily Value (DV) not established
Find out what actually works
– View our best fat burners for women –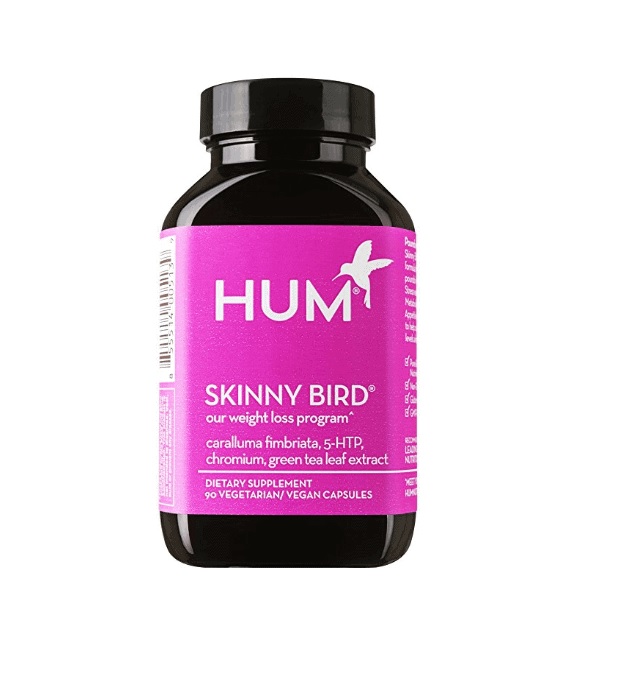 How does HUM Skinny Bird work?
Skinny Bird works in multiple ways to help you get ahead with your weight loss journey. It's been formulated to raise your metabolic rate to encourage your body to burn more calories as well as provide you with more energy to help you dominate your workouts and push harder.
You should experience curbed hunger from the 5-HTP and caralluma fimbriata extract which have both shown to improve satiety and regulate cravings. The added chromium also supports blood sugar levels which may help with hunger too.
Skinny Bird also claims to relieve anxiety and the stresses associated with dieting. 5-HTP is another useful inclusion for this as it encourages serotonin production, the 'happy hormone' linked to uplifting your mood and helping you feel motivated.

What are the benefits of taking HUM Skinny Bird?
Skinny Bird contains the natural metabolism booster green tea which also works on boosting fat breakdown. By stimulating your metabolism, you will naturally burn calories which will inevitably lead to successful weight loss[7].
Better mood and improved motivation
Reducing calories is hard alongside balancing your hectic day-to-day lifestyle. This can bring on extra stresses that you just don't need. Skinny Bird understands the struggles many women face and have included elements like 5-HTP to target your mood and help improve concentration and drive to get you through your day.
Keeping to a strict calorie intake is difficult when the hunger pangs strike. That's why Skinny Bird incorporates a number of appetite suppressors to help banish cravings and hunger, leading to less snacking and hopefully real weight loss results.
How to take HUM Skinny Bird
Skinny Bird is relatively simple to take. To use it, the creators suggest you should take one capsule, 30 minutes before food, three times per day. You could split these up throughout the day and have them alongside your breakfast, lunch and dinner.
We'd recommend you consume enough water to keep hydrated and maximize this fat burner's effectiveness.
If you're ever in doubt or need expert advice when you start with a new supplement or nutritional program, you should talk to a healthcare professional first. Discontinue use if you experience any unusual side effects.
---
HUM Skinny Bird results – before and after
There aren't many before and after results associated with this supplement. We did manage to find one female user online who used Skinny Bird for 30 days and experienced great results.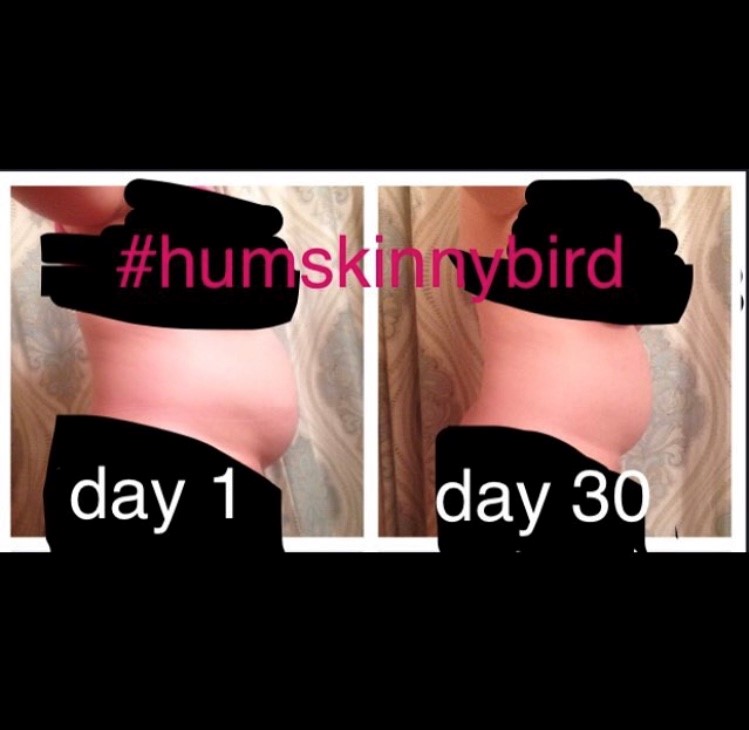 "I didn't do an actual weight check but have taken a new photo everyday and my clothes do not fit right anymore #NoMoreOvereating" – @heyguysitsmekaitlin. Published August 2015
Find out what actually works
– View our best fat burners for women – 
HUM Skinny Bird reviews – what are other people saying?
After searching online, we found that HUM Skinny Bird is available across many stores. This helped us find honest reviews and discover what other people think about this supplement.
The feeling towards Skinny Bird is mixed. Some female users felt it did curb their appetite and stop them overeating. It also helped some users feel less moody, stopped them from 'emotional eating' and reduced their sugar cravings.
On the other hand, some reviewers were a little less praiseworthy, commenting on the side effects Skinny Bird caused. Some women experienced extreme feelings of nausea, headaches, chills and shakes. Some women claimed the potency of the formula is too strong.
Here are some reviews we found across the web:
Dermstore.com


Amazon.com

Humnutrition.com


Find out what actually works
– View our best fat burners for women – 
Does HUM Skinny Bird have side effects?
Skinny Bird includes a limited number of ingredients which should mean side effects are less likely – however that's not always the case.
Judging by the multiple online reviews, Skinny Bird does appear to cause some adverse effects in users. Whether this is because of the caffeine content or the fact that customers may be allergic to one of the ingredients – we're not too sure. Reported side effects vary, from heightened feelings of nausea, digestive issues and chills to headaches and lightheadedness.
These side effects were reported in few customers, as such it's important to do your own research on the ingredients and understand whether it's the formula for you.
The creators say that if you are sensitive to the ingredients, you should take Skinny Bird with some food. If you experience any adverse reactions, discontinue use immediately and consult a physician.
HUM Skinny Bird Review: Our Conclusion
HUM Skinny Bird made a great first impression and it's clear to see it has the right intentions at its core. The transparency and natural, vegan formula is always good to see. It may provide some support for women who struggle to stay motivated and cheerful on a low-calorie diet by suppressing hunger and reducing sugar cravings. This is key to weight loss so seems to be the product's best benefit.
However, it doesn't appear to have lived up to all of its claims. The four-ingredient strong formula isn't likely to provide much fat burning effect and instead seems to focus more on curbing your hunger. The customer reviews also don't provide us with much confidence and if anything, may even put some people off from purchasing the product.
If you're looking for a fat burner with a complete formula, you may be best looking elsewhere. We highly recommend you view our Editor's Choice Best Fat Burners for Women for a list of safe, effective products.
Total score
5/10
Here at Hey Spot Me Girl, we're all about safety – so we wanted to remind you to double-check with your doctor or physician if you have any concerns at all about introducing a new supplement into your diet.
Whilst supplements could be a great boost to your lifestyle, they could also have adverse effects on your body if not used properly, or if you have sensitivity to any of the ingredients. So, make sure you always check the label fully. Also, make sure you stick to the usage instructions, particularly during the first week.
It's also worth pointing out you shouldn't rely on supplements alone to achieve your physique goals. Remember girls, supplements are enhancers – not the only answer!
A balanced diet, consistent workout plan and sensible lifestyle choices are the fundamentals behind real change – and your supplement should only ever be used as a way of optimizing the results of your hard work, not a way of replacing it altogether.
So, whatever supplements you choose to improve your life, make sure your health and welfare is always paramount over anything else every single time.
---
*DISCLAIMER: These statements have not been evaluated by the Food and Drug Administration. This product is not intended to diagnose, treat, cure, or prevent any disease. Products are intended for use alongside a diet and exercise regime. The views and nutritional advice expressed by Hey Spot Me Girl are not intended for the purpose of medical advice.
Individual results may vary. Please always consult your health care provider if you are taking any medications or have any medical condition. Must be 18 years or older to purchase. Always reference the ingredients and directions on the product label.