Reviews
Burn-XT Thermogenic Review – Is this a legit fat burner?
And how effective is it at shedding weight?
Burn-XT Thermogenic Fat Burner overview
Burn-XT is made by Jacked Factory, a company that manufactures a variety of supplements, supporting a variety of goals – from weight loss to muscle mass and strength. The creators claim to have sold over 30,000,000 servings of Burn XT to date, which is impressive to say the least.
This seriously hyped thermogenic fat burner appears to have taken the market by storm for its affordability and simplicity.
Find out what actually works
– View our best fat burners – 
Burn-XT markets itself as a highly thermogenic fat burner for men and women. We can see why. It includes all the fiery fat-fighting ingredients you'd expect for higher calorie burn, heightened energy and decreased appetite.
But at only five ingredients strong, is it as effective as it claims?
The Spot Me Girl team find out. Keep reading this Burn-XT Thermogenic Fat Burner review to discover more.
Pros and Cons of Burn-XT Thermogenic Fat Burner
Pros
Completely transparent and natural formula
No proprietary blends
Suitable for vegetarians
Manufactured in cGMP and FDA approved facilities
Should promote thermogenesis for higher calorie burn
Cons
Contains high amounts of caffeine – potential side effects if you're sensitive
No real appetite suppressants
No added vitamins or minerals
Find out what actually works
– View our best fat burners for women – 
Burn-XT Thermogenic Fat Burner: The Ingredients
The formula of BURN-XT is pretty basic but it does include some effective, clinically researched ingredients. We appreciate the transparency and the all-natural compounds used.
There are some solid thermogenic inclusions in the mix which work to raise your metabolism – both during exercise and after – so you can burn off more calories daily.
Here's a breakdown of the ingredients:
Capsimax Cayenne Pepper Fruit Extract – The thermogenic elements of this compound help to increase the amount of heat your body produces, meaning your metabolism increases and you burn more calories per day[1]. Studies have also linked this ingredient to reduced hunger and appetite, but the effect is thought to be minimal.
Acetyl L-Carnitine HCI – Derived from the amino acid L-carnitine, acetyl L-carnitine is said to help release fat stores for energy and boost cognitive function[2] which may help to keep you focused during your workouts.
Green Tea extract – Due to its natural caffeine content, green tea is said to improve energy levels, concentration and mood[3]. It's also been linked with increased fat burning by raising your metabolic rate, mobilizing fat from fat cells to be used as energy[4] and increasing fat oxidation.
Caffeine Anhydrous – Combined with the caffeine content from the green tea extract, caffeine anhydrous could improve your alertness and cognitive function, significantly influencing your physical performance[5] and workout potential. Caffeine is highly thermogenic too meaning it may raise your daily calorie burn and boost fat metabolism[6].
BioPerine®– Normally included in supplements to increase the natural absorption of other ingredients, Bioperine is also high in antioxidants to help boost your immune system[7].
| Ingredients | Amount per Serving | % Daily Value |
| --- | --- | --- |
| Acetyl-L-Carnitine HCI | 700 mg | * |
| Green Tea Leaf Extract (98% Polyphenols, 75% Catechins, 45% EGCG) | 450 mg | * |
| Caffeine Anhydrous | 270 mg | * |
| Capsimax Cayenne Pepper Fruit Extract | 50 mg | * |
| Bioperine Black Pepper Fruit Extract | 5 mg | * |
*Daily Value not established
Other Ingredients: Hypromellose Capsule and Leucine.
Find out what actually works
– View our best fat burners –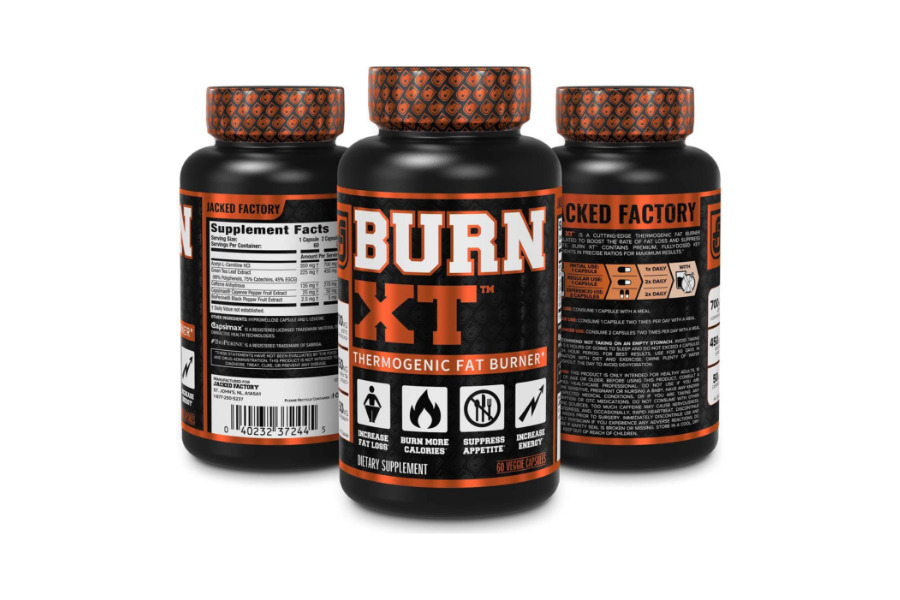 How does Burn-XT Thermogenic Fat Burner work?
Burn-XT's entire formula is centered around thermogenesis and is aimed at revitalizing the metabolic rate to help reduce body fat. Thermogenesis works by raising your body's temperature to trigger your metabolism into burning extra calories – even after exercise[8].
Each ingredient may bring other aspects to your weight loss journey, from suppressing your appetite to increasing fat oxidation and reviving your energy levels for better workout performance. The formula is stimulant heavy, meaning you'll feel pretty energized throughout the day when you take this supplement. As such, you might want to reduce your caffeine intake or not take it too close to bed time. If you're sensitive to stimulants, this is something to be aware of.
What are the benefits of taking Burn-XT Thermogenic Fat Burner?
Improved energy levels
Burn-XT is a high-stimulant fat burner so it should raise energy levels and your focus to help you smash your workouts. When you're on a lower calorie diet plan, you'll likely feel fatigued and unmotivated. The caffeine in the mix works to replace any energy lost and improve your mood.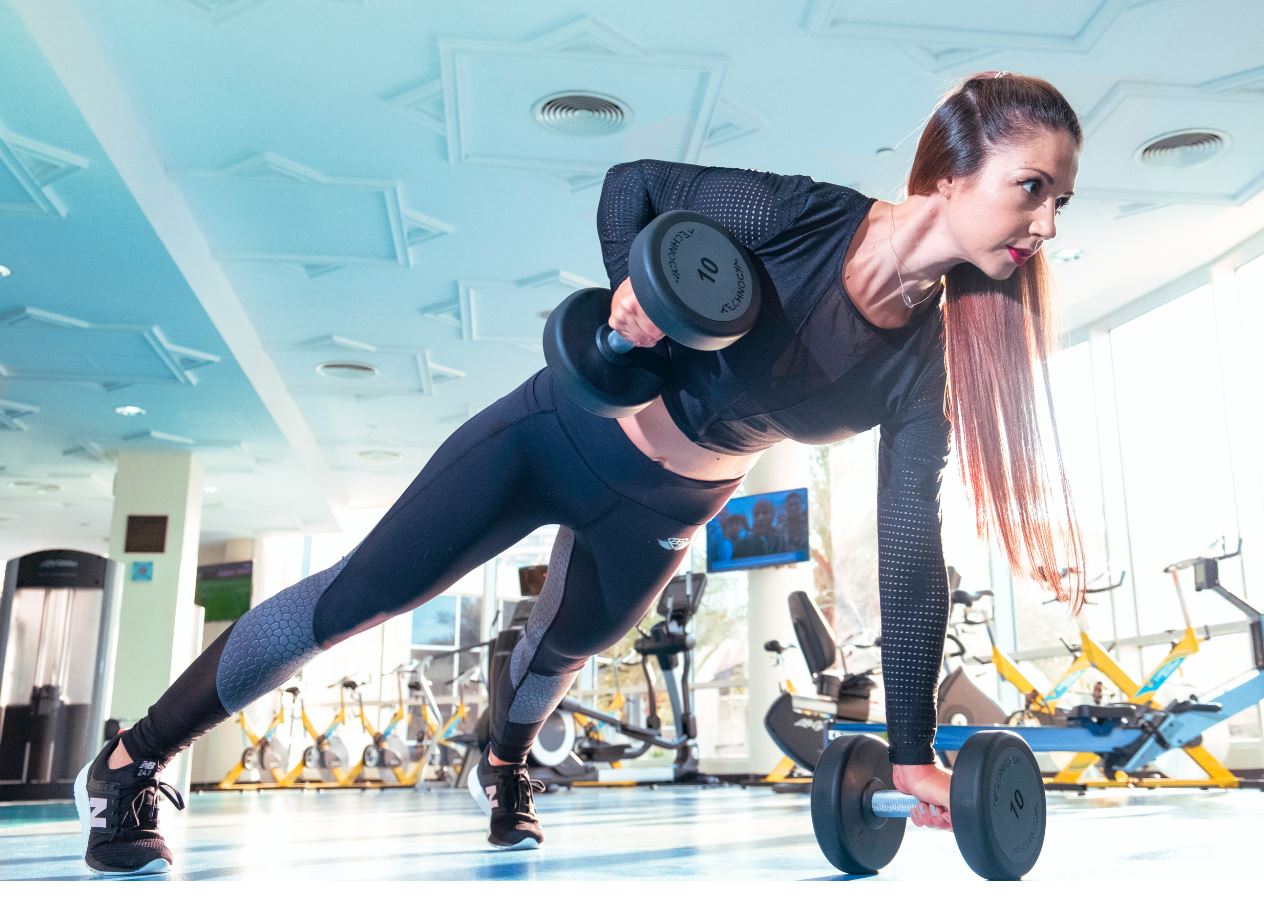 Increased fat loss
Burn-XT contains elements like caffeine, green tea and cayenne pepper to raise your metabolism for increased fat burning. The added L-carnitine might also help to boost fat loss by helping your body release fat stores to be used as fuel.
Boosted metabolism
The powerful thermogenic ingredients work to ramp up your body's metabolism to ignite calorie burn and use up energy faster. This should also mean more calories burned even after exercising.
How to take Burn-XT Thermogenic Fat Burner
To use Burn-XT, start with 1 capsule a day for 3 days. The creators say this initial trial will help you assess your tolerance.
The regular directions suggest consuming 2 capsules, 1-2 times per day before or alongside meals and a glass of water.
Because of the high caffeine content, you should avoid taking your final capsule within 4 to 5 hours of bedtime. If you are particularly sensitive to caffeine, you might want to avoid this supplement altogether.
Like all fat burners, you should take BURN-XT alongside a healthy lifestyle, with good nutrition and regular exercise for the best results.
If you're ever unsure or need expert advice when you start with a new supplement or nutritional program, you should talk to a healthcare professional first. If you experience any unusual side effects, discontinue use immediately.
---
Burn-XT Thermogenic Fat Burner results – before and after
Despite the high caffeine content, which we would have thought wouldn't agree with most women, Burn-XT boasts of positive results across the web. We sourced some great before and after results from impartial websites like Amazon here.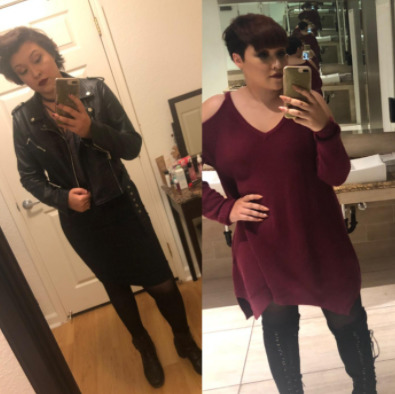 "I've tried every fat burner pill and this is the one that works for me combined with their PM product to burn fat. I don't feel jittery or feel a crash, I'm also not as hungry as I used to. Remember, it only works well if you combine diet and exercise to see results. I've lost about 15 pounds since using this product." – Christy. Published February 2019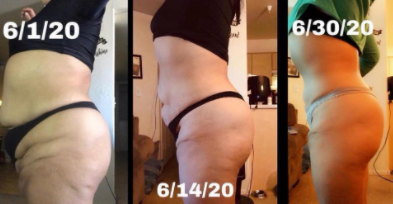 "I absolutely love this product! Gives me energy, keeps cravings at a minimum. Tackled my belly fat!" – Adrienne. Published July 2020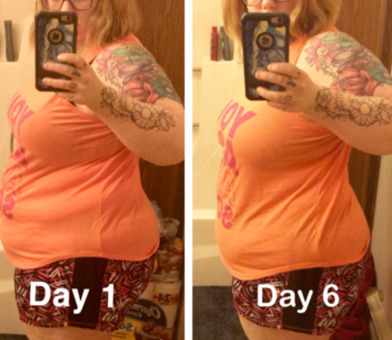 "I liked how fast this worked! There's a huge difference in the way that my clothes fit and just the side by side photos of a 6 day difference!" – Sierra. Published March 2019
Find out what actually works
– View our best fat burners for women – 
Burn-XT Thermogenic Fat Burner reviews – what are other people saying?
Reviews for Burn-XT vary. Some female users praise it for its ability to work quickly and help with better energy as well as curbing hunger. Some users also felt like their clothes fit better after a week but do say you get the best results alongside good food and exercise.
Some women weren't as complimentary, commenting on feelings of sickness, headaches and increased anxiety. Here are some reviews we sourced from the official website and Amazon.
Jackedfactory.com:


Amazon.com:



Does Burn-XT Thermogenic Fat Burner have side effects?
Burn-XT claims to be manufactured in cGMP certified facilities which indicates the creators' dedication to safety. It's also completely transparent, so you can see exactly what you're putting into your body.
Nonetheless, judging by the reviews this supplement isn't without its side effects. Many users say they experienced headaches and nausea as well as increased anxiety. This could be due to the heavy caffeine content (270mg per serving), which for some women may be just too high. Consuming too much caffeine can cause jitteriness and sleeplessness, as well as nausea.
Always follow the manufacturer's directions on the label so that you know you're taking your supplement correctly.
The creators also include a warning on the official website which says if you experience any undesirable effects, stop use immediately and consult with your doctor. Never exceed the stated dose at any time and seek medical advice if you have any health issues. If you're ever in doubt about starting out with a new supplement or nutritional program, you should talk to your doctor first.
Burn-XT Thermogenic Review: Our Conclusion
BURN-XT combines a small number of effective ingredients to support fat burning. The 5 natural ingredients all appear to have strong weight loss attributes which could boost your efforts alongside a healthy diet and exercise regime.
However, we can't help but feel there could be a broader range of compounds added into the mix to ensure maximum results. For instance, glucomannan would provide great hunger curbing support, meanwhile B vitamins may help enhance your mood and improve general wellbeing.
There's also the point about the high caffeine content, which for some women, may not be suitable at all. The reported side effects are also rather concerning however it's important to remember everyone's different and will experience different results.
Burn-XT is a budget friendly fat burner but it's not the most effective. If you're looking for a more holistic fat burning supplement, we highly recommend you view our Editor's Choice:
Find out what actually works
– View our best fat burners for women – 
Total score
6/10
Here at Hey Spot Me Girl, we're all about safety – so we wanted to remind you to double-check with your doctor or physician if you have any concerns at all about introducing a new supplement into your diet.
Whilst supplements could be a great boost to your lifestyle, they could also have adverse effects on your body if not used properly, or if you have sensitivity to any of the ingredients. So, make sure you always check the label fully. Also, make sure you stick to the usage instructions, particularly during the first week.
It's also worth pointing out you shouldn't rely on supplements alone to achieve your physique goals. Remember girls, supplements are enhancers – not the only answer!
A balanced diet, consistent workout plan and sensible lifestyle choices are the fundamentals behind real change – and your supplement should only ever be used as a way of optimizing the results of your hard work, not a way of replacing it altogether.
So, whatever supplements you choose to improve your life, make sure your health and welfare is always paramount over anything else every single time.
---
*DISCLAIMER: These statements have not been evaluated by the Food and Drug Administration. This product is not intended to diagnose, treat, cure, or prevent any disease. Products are intended for use alongside a diet and exercise regime. The views and nutritional advice expressed by Hey Spot Me Girl are not intended for the purpose of medical advice.
Individual results may vary. Please always consult your health care provider if you are taking any medications or have any medical condition. Must be 18 years or older to purchase. Always reference the ingredients and directions on the product label.