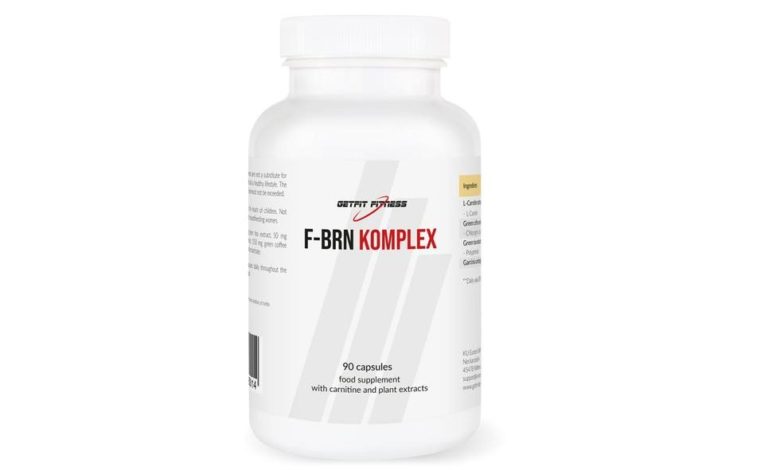 Reviews
F-BRN Komplex Fat Burner Review – Is it legit?
F-BRN Komplex Fat Burner overview
This intense-sounding fat burner promises to give you more energy, boost your metabolic rate, curb hunger and generally improve your overall weight loss experience. It sounds like the real deal – but is it?
F-BRN Komplex is relatively new to the market and at Spot Me Girl, we're always on the lookout for fresh supplements to inspect.
It's manufactured in Germany by a company called GetFit Fitness, but they provide worldwide shipping. At first glance, it looks like a simple and basic fat burning formula. Only four ingredients-strong and completely natural, it doesn't like there would be much to say about it.
Find out what actually works
– View our best fat burners for women – 
We'll put F-BRN Komplex under the Spot Me Girl spotlight to help you discover if it's the fat-burning supplement for you.
Keep reading this F-BRN Komplex review to find out more.
Pros and Cons of F-BRN Komplex
Pros
All-natural formula
May support muscle recovery
Supports digestion
Should boost calorie burn
May control appetite
Low in stimulants
Cons
Basic formula
Could do with more thermogenic compounds
Garcinia Cambogia deemed unsafe by FDA
Find out what actually works
– View our best fat burners for women – 
F-BRN Komplex Fat Burner: The Ingredients
F-BRN Komplex has one of the most basic ingredient profiles we've seen in a supplement of this type. This isn't always necessarily a good thing. On a positive note, the ingredients label is completely transparent, so you know how much of each component you're putting in your body.
In the mix, you get some thermogenic elements alongside natural hunger curbing additions.
Here's a breakdown:
Green Tea Extract – As one of the best natural fat burners, we like to see green tea extract in a fat-burning formula. Green tea possesses powerful thermogenic abilities, which can raise your metabolic and fat oxidation rates, ultimately leading to serious weight loss[1]. It's also packed with antioxidants – beneficial for overall health and wellbeing and boosting your immune system[2].
Green Coffee Bean – Green coffee is rich in chlorogenic acid which apparently helps to slow down carb absorption in your body. Chlorogenic acid is antioxidant-rich too, providing many health benefits such as lowering blood pressure and maintaining a healthy weight[3].
L-Carnitine – This ingredient is commonly added to sports supplements to aid performance and recovery. In the F-BRN Komplex, it's thought to support weight loss since it helps move more fatty acids into your cells to be burned for energy[4]. However, take this point with a pinch of salt – research is mixed and inconclusive[5].
Garcinia Cambogia – This ingredient is thought to accelerate weight loss by stimulating your metabolism[6]. Garcinia Cambogia contains a substance called hydroxycitric acid (HCA) which has shown to raise serotonin levels, the brain hormone that regulates sleep, appetite and mood. This may help suppress hunger feelings and boost motivation, however concerns from the FDA make us wonder just how safe this ingredient is.
Ingredients
Per Capsule
Daily Dose (3 Capsules)
% Daily Value
L-Carnitine Tartrate
- L-Carnitine
200mg
140mg
600mg
420mg
**
**
Green coffee extract
- Chlorogenic acid
100mg
600mg
300mg
**
**
Green Tea Extract
- Polyphenols
300mg
150mg
900mg
450mg
**
Garcinia Cambogia Extract
50mg
150mg
**
*Daily Value (DV) not established
Find out what actually works
– View our best fat burners for women –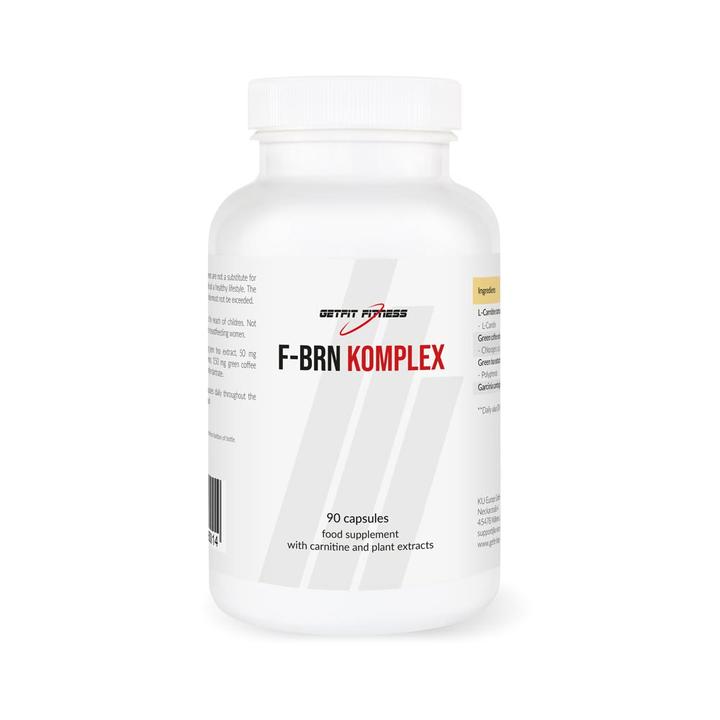 How does F-BRN Komplex work?
F-BRN looks like it should raise your energy levels to help you tackle demanding workouts.
As well as a well-needed energy injection, your metabolism should spike from the green tea and you'll experience a higher calorie burn throughout the day as a result of thermogenesis. This process puts your metabolic rate into high gear as the body tries to return to baseline temperatures. By helping to block carbs too, your body should become more efficient at using fat cells for energy.
It's worth noting that a supplement of this type would always work best when taken alongside a calorie-controlled diet and regular training. All of these mechanisms should ultimately lead to better weight loss results.

What are the benefits of taking F-BRN Komplex Fat Burner?
Increased metabolism and fat burning
F-BRN Komplex uses green tea as its main thermogenic to kickstart your metabolism into gear. By boosting thermogenesis and fat oxidation, you should burn through excess calories throughout the day – even when resting.
Enhanced athletic performance and energy
F-BRN focuses on raising your energy levels without the crashes or jitters normally associated with fat burners. This should crush your fatigue and enhance your overall exercise performance, helping you push harder and get the results you want from your workouts.
By potentially helping to raise serotonin levels, you could keep a lid on any mood swings linked with a lower calorie diet or intense training regime. Raising serotonin may also help curb any hunger pangs and keep your appetite under control so you stay on track with your healthy diet. This is a big challenge for women, as we all know, so curbing the temptation is very helpful.
How to take F-BRN Komplex Fat Burner
It's relatively easy to use F-BRN Komplex. Simply take 3 capsules daily with a full glass of water or other beverage of your choice. The creators advise you to consume enough water to keep hydrated and maximise this fat burner's effectiveness.
With 90 capsules in total per bottle, you'll be well prepared for a month with this serving size.
3 capsules at once seems like a lot – and isn't something we're used to with fat burners. Generally, the serving sizes are spaced out throughout the day to ensure the nutrients stay topped up in your body. Something to improve, it seems.
If you're ever unsure or need expert advice when you start with a new supplement or nutritional program, you should talk to a healthcare professional first. Discontinue use if you experience any unusual side effects.
---
F-BRN Komplex results – before and after
We struggled to find any before and after results for this supplement. This might be because it's so new to the market, so it's not had chance to attract enough customers yet.
Find out what actually works
– View our best fat burners for women – 
F-BRN Komplex reviews – what are other people saying?
We managed to source some F-BRN Komplex reviews from the official website.
These are a mixed bag, with some female users noting that it has curbed their hunger and provided a much needed energy boost. However other customers haven't noticed any results at all.



Does F-BRN Komplex side effects?
F-BRN Komplex is an all-natural, simple formula and it's nice to see a fat burner free of pointless ingredients.
There aren't many ingredients in the mix which cause concern for side effects however one that does stick out is garcinia cambogia. This ingredient could potentially be dangerous, and it's concerning to see that the FDA aren't sure of its safety either. In fact, according to research, garcinia cambogia may cause side effects such as[7]:
Dizziness
Dry mouth
Headache
Upset stomach or diarrhea
It's also been reported that some people taking it also experienced serious liver problems. As with any supplement, if you experience any unpleasant side effects at all, stop taking it immediately and talk to your doctor.
F-BRN Komplex Fat Burner Review: Our Conclusion
F-BRN Komplex hints at being quite effective, with powerful fat burning ingredients like green tea and green coffee extract in the mix.
However, we feel it's really missing some key thermogenic ingredients and appetite suppressors.  For instance, glucomannan could work to truly kill off food cravings and make this fat burner seriously effective for women. Thermogenic cayenne pepper could also help make quite an impact on your metabolic rate and spike it even higher. Green tea is good but it's not quite as effective on its own.
As for an effective fat burner – like the creators claim – we're not convinced. There are simply far too many contenders on the market which have much more effective fat burning formulas. We highly recommend you view our Editor's Choice Best Fat Burners for Women for a list of safe, effective products.
Total score
5/10
Find out what actually works
– View our best fat burners for women – 
Here at Hey Spot Me Girl, we're all about safety – so we wanted to remind you to double-check with your doctor or physician if you have any concerns at all about introducing a new supplement into your diet.
Whilst supplements could be a great boost to your lifestyle, they could also have adverse effects on your body if not used properly, or if you have sensitivity to any of the ingredients. So, make sure you always check the label fully. Also, make sure you stick to the usage instructions, particularly during the first week.
It's also worth pointing out you shouldn't rely on supplements alone to achieve your physique goals. Remember girls, supplements are enhancers – not the only answer!
A balanced diet, consistent workout plan and sensible lifestyle choices are the fundamentals behind real change – and your supplement should only ever be used as a way of optimizing the results of your hard work, not a way of replacing it altogether.
So, whatever supplements you choose to improve your life, make sure your health and welfare is always paramount over anything else every single time.
---
*DISCLAIMER: These statements have not been evaluated by the Food and Drug Administration. This product is not intended to diagnose, treat, cure, or prevent any disease. Products are intended for use alongside a diet and exercise regime. The views and nutritional advice expressed by Hey Spot Me Girl are not intended for the purpose of medical advice.
Individual results may vary. Please always consult your health care provider if you are taking any medications or have any medical condition. Must be 18 years or older to purchase. Always reference the ingredients and directions on the product label.