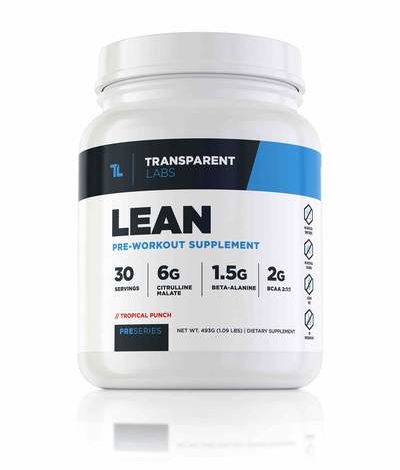 Reviews
Transparent Labs PreSeries LEAN Pre-Workout Review
Can it maximize workouts and target stubborn fat?
Transparent Labs PreSeries LEAN overview
As women who regularly work out, we know how hard it can be to stay driven. The Spot Me Girl team members have all been there!
That's why more women are turning to pre-workouts to get a nudge in the right direction. Some formulas can even help with the recovery process after you've dominated a workout.
One such pre-workout making waves in the supplement world is Transparent Labs PreSeries LEAN.
Find out what actually works
– View our best fat burners for women – 
If you're on a mission to cut fat and maintain lean muscle but find it hard to stay motivated to train, then this supplement might be a good solution. It's made for maximizing your workouts while targeting stubborn fat. It's completely natural, relatively low in caffeine and appears to be a hit with many female users.
How does it work, what are the main benefits and what do customers think of it?
We find out.
Keep reading this Transparent Labs PreSeries LEAN pre-workout review to discover more
Pros and Cons of Transparent Labs PreSeries LEAN
Pros
Smart caffeine combo – ideal for women
No artificial colors or sweeteners
Fat burning potential
No GMO and gluten free
Seriously powerful and scientifically-backed formula
Cons
Premium price
Only available direct – but not always a bad thing
Find out what actually works
– View our best fat burners for women – 
Transparent Labs PreSeries LEAN: The Ingredients
We're big fans of the Transparent Labs supplements. The creators pay careful attention to getting the formulas just right and making sure they're completely safe and effective.
With PreSeries LEAN, you're offered a completely natural, transparent formula with ingredients that are supported by clinical studies. Transparent Labs also don't include any unnecessary fillers, artificial ingredients or harmful additives, marking its safety.
Here's a breakdown of the main components:
Citrulline Malate – A staple in most pre-workout formulas, citrulline malate has a strong influence on improving strength and muscle endurance. It works by promoting nitric oxide production and boosting blood flow. This can help your muscles retrieve vital nutrients for higher stamina and growth[1]. It should also remove toxins that cause fatigue from your muscles.
Betaine – This key amino acid is thought to trigger muscle growth by amplifying power output and performance during exercise[2]. It can also reduce the onset of fatigue, allowing for longer and harder training sessions.
Beta-Alanine – This addition is thought to help you reach higher performance levels by reducing acid build-up in your muscles, the key cause of muscle fatigue while working out. It's been shown to increase the working capacity of muscles and delay muscle fatigue, ultimately supporting lean muscle mass growth[3].
Caffeine – A popular focus-enhancing ingredient, caffeine delivers a big boost to your power output, improves your focus and ultimately helps you put more into your workouts. In addition to the effort-boosting benefits, it may also heighten calorie burn by ramping up your metabolism⁴.
L-theanine – This amino acid promotes focus and alertness and, when paired with caffeine, can improve attention, without any of the associated jitters afterwards. The smart caffeine combo in this mix should help you stay motivated through your workout without any energy slumps afterwards[4]
Serving Size: 1 Scoop (15.58g)
Servings Per Container: 30
Amount Per Serving
% Daily Value
Iodine
225mcg
150%
Zinc
30mg
200%
Selenium
50mcg
71%
Copper
1mg
50%
Chromium
200mcg
167%
Citrulline Malate 2:1
6,000mg
*
BetaPure Betaine Anhydrous
2,500mg
*
BCAA 2:1:1
2,000mg
*
Beta-Alanine
1,500mg
*
N-Acetyl L-Tyrosine
600mg
*
Choline Bitartrate
500mg
*
L-Theanine
360mg
*
Caffeine Anhydrous
180mg
*
Guggulsterones
75mg
*
Mucuna Pruriens
70mg
*
L-Norvaline
60mg
*
Synephrine HCI
50mg
*
Hordenine
25mg
*
BioPerine
5mg
*
*Daily Value (DV) not established
Find out what actually works
– View our best fat burners for women –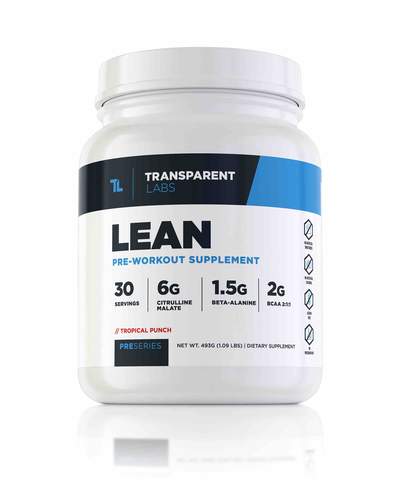 How does Transparent Labs PreSeries LEAN work?
PreSeries LEAN contains all the performance-enhancing ingredients you'd expect in a pre-workout supplement. The active ingredients work together to provide 'a high-intensity pre-workout experience', while concentrating on fat loss and additional energy expenditure.
The added benefit comes from its ability to boost fat loss and maintain lean muscle.
Each inclusion in the formula should work towards enhancing your workout performance, improving your lean physique and maintaining muscle. The smart caffeine combo is just right for women users, since our bodies are a bit more sensitive to the stimulant. The stimulants might be low but it's strong enough to provide a boost in your step.
It works as the ideal support system for performing your best and achieving your fitness goals.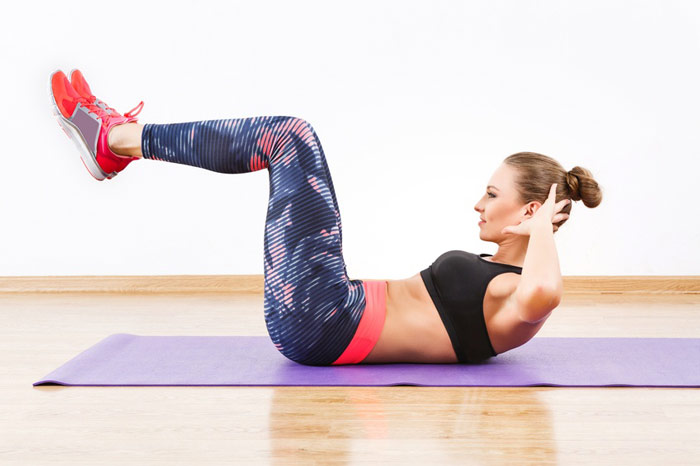 What are the benefits of taking Transparent Labs PreSeries LEAN?
Improved focus and endurance
By concentrating on improving muscle pumps and powering your energy levels you should be able to stay in the zone longer and lengthen your training sessions.
This product contains caffeine which works in perfect harmony with L-theanine to provide you with a clean lift. This removes any feelings of jitteriness and anxiety to give your training the balanced edge it needs.
LEAN's biggest selling point is the fact that it also focuses on boosting fat loss. By including synephrine, an ingredient that's purported to raise your resting metabolic rate[5], you should burn through more calories while you train and even hours after working out.
Along with better energy levels, you should feel more powerful during your training sessions to really take them up a notch. The presence of citrulline and betaine should help you go one rep higher or increase volume during exercise.
How to take Transparent Labs PreSeries LEAN
The creators advise taking PreSeries LEAN at least 20-30 minutes prior to your workout.
In terms of how much water to drink with PreSeries LEAN, you should mix 6-8 fl. oz of water with 1/2 scoop (to assess tolerance) and mix 12-16 fl. oz of water with 1 full scoop. To maintain performance levels and see real results from your workouts, take LEAN consistently.
Don't ever exceed the stated dose. If you're ever unsure or need expert advice when you start with a new supplement or nutritional program, you should talk to a healthcare professional first. Discontinue use if you experience any unusual side effects.
---
Transparent Labs PreSeries LEAN results – before and after
Despite how popular PreSeries LEAN is, it was a struggle to find images of female users who use this supplement to motivate them through workouts. One customer, Sarah, is a big fan of the Transparent Labs range and uses PreSeries LEAN for its fat loss and muscle building benefits.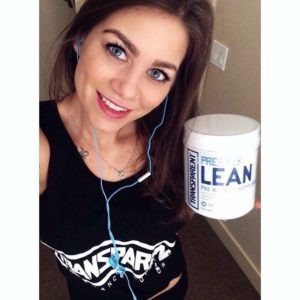 Find out what actually works
– View our best fat burners for women – 
Transparent Labs PreSeries LEAN reviews – what are other people saying?
The Transparent Labs official website is full of positive reviews for this supplement. Female users particularly praise PreSeries LEAN for its gentle but effective formula, which is apparently just enough to ramp up focus levels.
There were a few reviews where users complained of the taste, with some commenting it tastes too bitter.
Here are some reviews from the official website to give you an idea:




Does Transparent Labs PreSeries LEAN have side effects?
PreSeries LEAN is completely natural, extremely well-dosed and third-party tested with no artificial ingredients in sight. There's also a clever caffeine combo to provide you with a gentle energy boost. This is reassuring to say the least – especially for females.
With Transparent Labs, you always get 100% transparency with each and every label which should leave you with peace of mind. You are completely aware of what you are putting into your body.
PreSeries LEAN is not particularly potent so you shouldn't experience any side effects with this pre-workout. However, as with all pre-workout supplements, the risk is there.
It's not uncommon for some of the ingredients in pre-workouts to cause reactions, especially if you have an intolerance to them. This is why it's always important to carefully read the supplement label and ensure each inclusion is safe for you to consume.
The best way to avoid any sort of reaction from your pre-workout is to carefully follow the manufacturer's directions correctly.
Transparent Labs PreSeries LEAN Review: Our Conclusion
If you're looking to target stubborn belly fat or want to maintain some muscle while cutting, PreSeries LEAN is not a bad choice to ignite your workouts and get results.
It's packed with a variety of natural ingredients that offer a great deal of effects, like better focus, endurance, power, and higher fat burn.
Unlike other pre-workouts, LEAN almost works like a fat burner, hiking up your metabolism for higher calorie burn. Though this element could be improved on some parts. For instance, synephrine isn't the best fat burning supplement with only a handful of studies behind it. Perhaps cayenne pepper in the mix would be a better inclusion for higher calorie burn.
Nonetheless, the formula is a big hit with female users looking to take their efforts in the gym to the next level. It may be one of the gentlest on the market, with lots of female-friendly ingredients. For that reason, we would recommend Transparent Labs PreSeries LEAN.
Total score
9/10
Find out what actually works
– View our best fat burners for women – 
Here at Hey Spot Me Girl, we're all about safety – so we wanted to remind you to double-check with your doctor or physician if you have any concerns at all about introducing a new supplement into your diet.
Whilst supplements could be a great boost to your lifestyle, they could also have adverse effects on your body if not used properly, or if you have sensitivity to any of the ingredients. So, make sure you always check the label fully. Also, make sure you stick to the usage instructions, particularly during the first week.
It's also worth pointing out you shouldn't rely on supplements alone to achieve your physique goals. Remember girls, supplements are enhancers – not the only answer!
A balanced diet, consistent workout plan and sensible lifestyle choices are the fundamentals behind real change – and your supplement should only ever be used as a way of optimizing the results of your hard work, not a way of replacing it altogether.
So, whatever supplements you choose to improve your life, make sure your health and welfare is always paramount over anything else every single time.
---
*DISCLAIMER: These statements have not been evaluated by the Food and Drug Administration. This product is not intended to diagnose, treat, cure, or prevent any disease. Products are intended for use alongside a diet and exercise regime. The views and nutritional advice expressed by Hey Spot Me Girl are not intended for the purpose of medical advice.
Individual results may vary. Please always consult your health care provider if you are taking any medications or have any medical condition. Must be 18 years or older to purchase. Always reference the ingredients and directions on the product label.
References