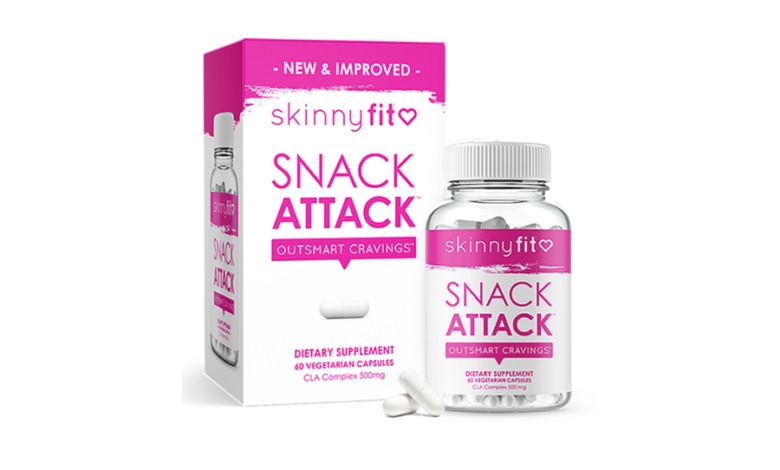 Reviews
Snack Attack Review – Is this good for weight loss?
Can this fat burner really help increase your metabolism?
Snack Attack overview
Are you ready to 'outsmart cravings'? Well, according to Skinny Fit, their new and improved dietary supplement 'Snack Attack' will give you everything you need to say 'NO' to unhealthy snacks. Using a combination of appetite-regulating ingredients, Snack Attack aims to fight cravings and help you feel satisfied for longer.
It also promises to give your metabolism a full reboot too, so you can start burning off that stored fat quicker and speed up calorie burn around the clock.
But how effective is Snack Attack as a weight loss supplement? And does it really have the best formula to help you swerve temptation and boost your metabolism simultaneously?
Here at Spot Me Girl, we like to get all the facts. So, we've put Snack Attack through its paces to see if it's just as good as they say it is.
Find out what actually works
– View our best fat burners for women – 
Read on to find out if this is the right weight loss supp for you!
Pros and Cons of Snack Attack
Pros
100% natural ingredient profile
Not a proprietary blend
Vegan-friendly
Good quality metabolism boosters
Cons
Contains caffeine
High price point
Missing more premium appetite-suppressants like glucomannan
Find out what actually works
– View our best fat burners for women – 
Snack Attack: The Ingredients
What we love about this product is its inclusivity to most people, being gluten-free, vegan-friendly and completely natural all the way through. It also has a fully transparent label so you can see exactly what dosage you're getting from each ingredient.
But how effective are these ingredients in successfully quelling your hunger whilst boosting your metabolism?
Let's take a look at the core ingredients in a little more detail:
Vitamin B12 (Methylcobalamin) – This essential vitamin cannot be produced in your body but is vital for the functioning of nerve cells, red blood cell formation and DNA synthesis. Because of this, Vitamin B12 has been linked to elevating your energy levels[1], improving your brain performance, supporting healthy hair, skin[2] and nails[3], and even preventing heart disease[4] You could also see a marked improvement in your mood and motivation with more vitamin B12, since it has been proven to alleviate symptoms of low mood and depression[5].
Conjugated Linoleic Acid (CLA) – Studies have proven a positive correlation between CLA and faster weight loss, with results showing a significant reduction in calorie intake[6], an improvement in metabolic speed stimulating more lipolysis[7] [8] and a prevention of fat production[9] Whilst extensive research has been conducted on animals, human studies have also shown an improvement in body composition, with improved muscle growth[10] and reduced body fat[11].
White Kidney Bean Extract – Often used in weight loss supplements for its appetite-suppressing qualities, white kidney beans are made up of proteins, fiber and other nutrients which could delay digestion and absorption of carbs and alleviate hunger[12]. Many studies have proven it an effective weight loss component, with participants seeing significant fat reduction[13], whilst other research was less conclusive.
Garcinia Cambogia Extract – Sourced from a fruit called Garcinia gummi-gutta, this component has been proven to help reduce your body's fat production by blocking the enzyme citrate lyase which is used to make fat[14]. It is also thought to be a great appetite suppressor by increasing levels of serotonin which can help quell cravings, increase satiety and reduce calorie intake[15].
Green Tea Leaf Extract – This herbal tea has more benefits than you would think – many of which could improve weight loss potential. Because of the caffeine content, it has thermogenic abilities, causing your body temperature to rise which, in turn, increases your metabolism and fat oxidation levels significantly[16]. The catechin in green tea – EGCG – has also been linked to boosting metabolism and reducing fat[17] too, which is why this component is found in so many fat burning formulas. Green tea can also help control your appetite to curb snacking[18].
Apple Cider Vinegar – This can be found in many diet recipes and other weight loss supplements for its ability to boost feelings of fullness and improve your appetite control[19]. But the benefits for fat loss don't stop there. It has also been linked to lowering blood sugar levels[20] and improving your metabolism[21] leading to more fat burning and less fat storage[22].
Cayenne Fruit Powder – You'd be surprised at how effective this spice really is on fat burning. Like green tea, it uses thermogenesis to stimulate your metabolism and increase the rate of fat breakdown into usable fuel to burn off[23]. It can also reduce cravings and put the plug in snacking by increasing satiety for longer[24] so you can stick to a lower calorie diet easier.
| Ingredients | Amount per Serving | % Daily Value |
| --- | --- | --- |
| Vitamin B12 (as Methylcobalamin) | 500 mg | * |
| Conjugated Linoleic Acid (CLA) Powder 60% | 400 mg | * |
| White Kidney Bean Extract | 240 mg | * |
| Garcinia Cambogia Extract (60% Hydroxycitric Acid) (fruit) | 200 mg | * |
| Green Tea Leaf Extract (40% Polyphenols) | 200 mg | * |
| Apple Cider Vinegar | 100 mg | * |
| Cayenne Fruit Powder | 50 mg | * |
*Daily Value not established
Other Ingredients: Vegetable Cellulose (capsule), Rice Extract Blend Rice Concentrate and Titanium Dioxide.
Find out what actually works
– View our best fat burners for women –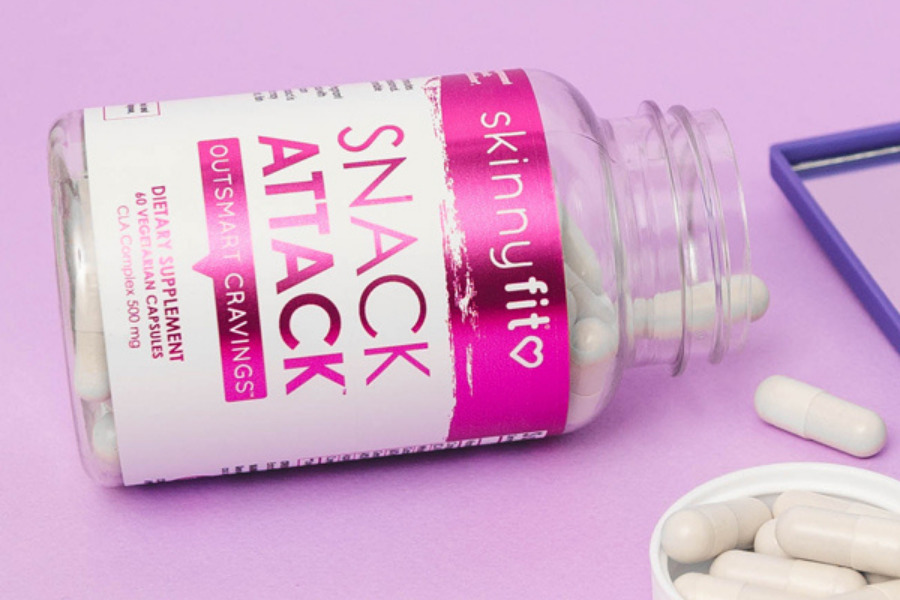 How does Snack Attack work?
Snack Attack combines a selection of powerful thermogenics with appetite-suppressing ingredients to help you fight off snacking temptations and essentially burn more fat quicker. The formula has been specifically created with women in mind, to help target those issues we all have as women when trying to lose weight.
For example, controlling your appetite on a new diet can be tough. Whilst some other fat burners on the market focus more on the metabolism-boosting ingredients without considering hunger control, Snack Attack have addressed both, showing a real knowledge of their target audience. They use ingredients like green tea and cayenne which can deal with both metabolic rate and appetite so you can stick to your diet and burn more fat simultaneously, which could lead to greater fat loss quicker.
Other components help give you a zap of energy which, if you're eating less, could be a game changer in staying sharp throughout the day and keeping workouts on point. They've even included mood-boosting agents to keep you feeling happier on your weight loss journey. After all, trying to lose weight can be really stressful – and at times you feel like giving up. These additions could make sure you stay motivated and focused on the prize – losing weight.
What are the benefits of taking Snack Attack
Greater fat burning potential
One of the main focuses of Snack Attack works to increase your metabolism. By activating your metabolism, it will stimulate your body to convert stored fat into usable energy and, essentially, burn it off. This means, by keeping your metabolism ticking over, you could burn calories round the clock – even when you're sleeping!
There's a lot of emphasis on the snack-curbing aspect. It is, after all, in the name. By bringing in hunger controllers, you can stop getting distracted by temptations and stick to your lower calorie diet easier. By helping you feel fuller for longer, the urge to eat more should hopefully be prevented and your daily calorie intake should stay balanced.
Improved mood and motivation
By utilizing mood-boosters like vitamin B12, you could maintain a balanced mood throughout your weight loss journey. As well as this, the appetite suppressors will stop cravings for sugary snacks. By doing this, you avoid those crashes from sugar spikes and feeling guilty for cheating on your diet, which could derail your motivation entirely and lead to a binge-cycle.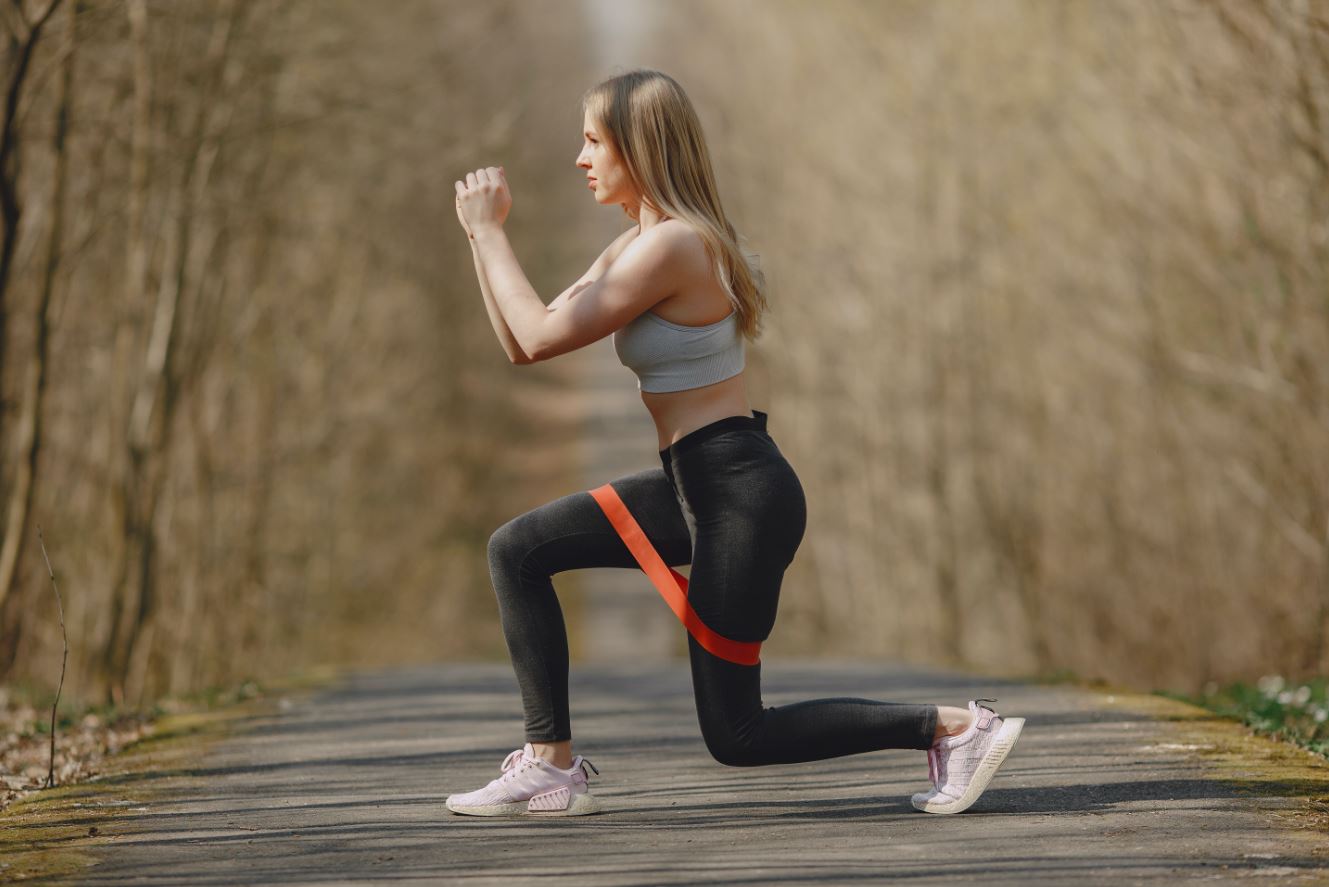 This is vital to keeping on top of your daily tasks, as well as improving your workouts if you're looking to lose weight quicker. Snack Attack's energy-enhancing ingredients like green tea can help improve focus and endurance, whilst reducing fatigue[25] so you can push yourself further during training and stay sharp throughout the day too.
How to take Snack Attack
So, Snack Attack seems pretty simple to integrate into your lifestyle.
All you need to do is take 2 capsules twice a day. Skinny Fit advises taking them between 30 and 60 minutes before a meal, or as directed by a healthcare professional.
They also recommend combining Snack Attack with a sensible diet and exercise program for the best results.
---
Snack Attack results – before and after
Whilst the Skinny Fit website is packed with testimonials for all of their products, we struggled to find before and after pictures showing Snack Attack's effectiveness. However, there are many testimonials on the Skinny Fit website: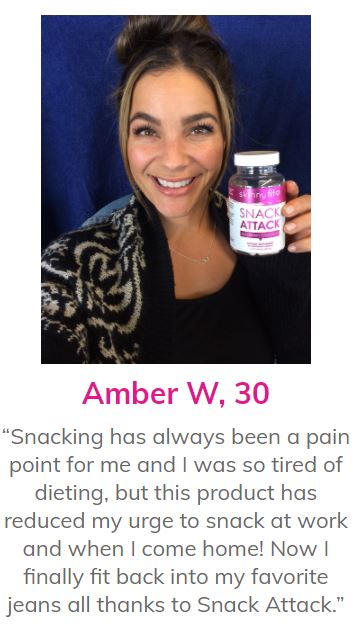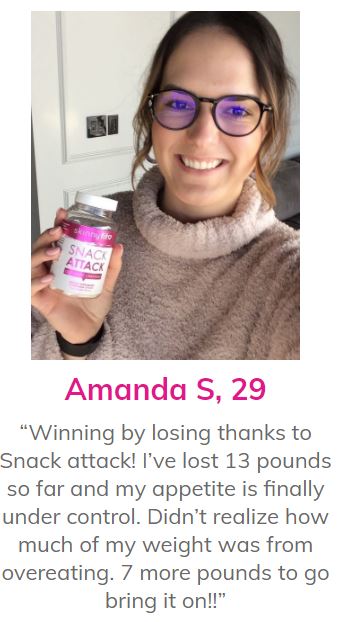 Find out what actually works
– View our best fat burners for women – 
Snack Attack reviews – what are other people saying?
On the Skinny Fit website, some of the 'real results' praise Snack Attack for having a great impact on weight loss, with better appetite control. 72% of the reviewers scored it 5*s too, which is positive.
Looking at other sources like Amazon, however, there was a mixed reaction, with many people not seeing the results they were expecting. This could be down to the formula just not working for them or if they haven't followed the recommended advice from Skinny Fit to maintain a healthy diet and exercise plan alongside taking it.
SkinnyFit:


Amazon.com: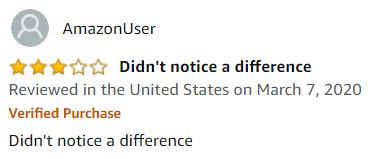 Does Snack Attack have side effects?
Whilst this is all natural and free of many allergens, some ingredients may react negatively with different people.
White kidney beans, for example, have caused some negative side effects – especially for women. Reports of flatulence, bloating and diarrhea[26] have been noted so, if you have a sensitive stomach, you may want to watch out for that.
There is also caffeine included in this supplement. Whilst it is only a small amount, women have a lower tolerance to caffeine so you may want to assess your tolerance before taking Snack Attack to avoid any negative effects like nausea, insomnia or jitteriness.
Some customers have reported feeling sick after taking Snack Attack too, so if you do experience any unpleasant side effects, it's worth stopping your dose and consulting a medical practitioner before taking any more.
Snack Attack Review: Our Conclusion
Our general feeling about this weight loss supplement is positive. At a glance, it does seem to have many of the most effective metabolism-boosters included in its formula like cayenne pepper and green tea. The appetite suppressing ingredients do also hold weight in research for being able to successfully control hunger and stop cravings. It's also not stimulant-heavy – which is a big bonus for those with a caffeine sensitivity – and shows they've thought about their target female audience too.
That being said, when you read many of the reviews, quite a lot of people have struggled to see results at all. Snack Attack does miss out strong appetite suppressants like glucomannan, which is surprising since it's one of the most effective hunger blockers available. Since the main premise of the supplement is to literally attack snacks, we think it's a missed opportunity – which many consumers have picked up on.
We also think that an additional dose of caffeine could elevate Snack Attack to being even more effective at burning fat and boosting your metabolism however we understand why, as a female-focused product, they've tried to keep the stimulant count low. All in all, there are other alternatives they have used in place of caffeine which could work just as well for many people.
Find out what actually works
– View our best fat burners for women – 
Total score
7/10
Here at Hey Spot Me Girl, we're all about safety – so we wanted to remind you to double-check with your doctor or physician if you have any concerns at all about introducing a new supplement into your diet.
Whilst supplements could be a great boost to your lifestyle, they could also have adverse effects on your body if not used properly, or if you have sensitivity to any of the ingredients. So, make sure you always check the label fully. Also, make sure you stick to the usage instructions, particularly during the first week.
It's also worth pointing out you shouldn't rely on supplements alone to achieve your physique goals. Remember girls, supplements are enhancers – not the only answer!
A balanced diet, consistent workout plan and sensible lifestyle choices are the fundamentals behind real change – and your supplement should only ever be used as a way of optimizing the results of your hard work, not a way of replacing it altogether.
So, whatever supplements you choose to improve your life, make sure your health and welfare is always paramount over anything else every single time.
---
*DISCLAIMER: These statements have not been evaluated by the Food and Drug Administration. This product is not intended to diagnose, treat, cure, or prevent any disease. Products are intended for use alongside a diet and exercise regime. The views and nutritional advice expressed by Hey Spot Me Girl are not intended for the purpose of medical advice.
Individual results may vary. Please always consult your health care provider if you are taking any medications or have any medical condition. Must be 18 years or older to purchase. Always reference the ingredients and directions on the product label.