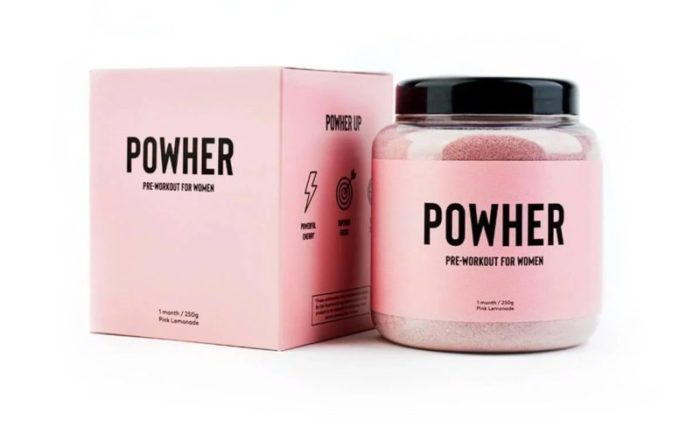 Reviews
Powher Pre Workout Review – Does it Really Work?
Find out whether this women's pre-workout is enough to boost your workouts and read our Powher review
Introducing Powher Pre Workout for Women
Truly effective women's only pre-workouts are a rarity and Powher, like so many others, has burst on to the scene, aiming to make its mark in this small area of supplementation.
In this Powher review we aim to find out whether this shiny new supplement is really formulated to suit women, and still offer a powerful boost to your workout.
Powher certainly looks like a female-focused product. The creators have even gone as far as making the powder itself a vibrant pink. It may be more of a marketing move, but one that stands out in a marketplace overrun with masculine products.
But pink powder doesn't necessarily mean it really works for women. The truth is in the formula.
Find out what actually works
– View our best fat rated burners – 
The product claims it can supercharge your results with a formula that's tailored to the needs of women.
They claim to have achieved a supplement that suits women by creating a low-stimulant formula, without creatine, that will increase motivation ahead of a workout.
As women metabolize caffeine more quickly than men, we understand the logic behind reducing stimulants to avoid a nasty energy crash. However, we want to ensure there's enough to guarantee a more energized workout.
No creatine is an interesting choice, as we know it is one of the big hitters when it comes to improving athletic performance. The creators claim they've avoided this so women won't look 'bulky'. We'll assess whether this exclusion works for the formula or not.
Overall, we were impressed with the selection of ingredients in Powher. Each one is backed by scientific research, which ticks the box for proven effectiveness.
It's also one of the more innovative formulas we've seen, indicating the creators at Ultimate Life haven't cut any corners when it comes to quality.
In our Powher review, we'll carefully analyze every element of the supplement facts. Exploring scientific research behind each ingredient to ensure it's proven to benefit your workout, safe to use in the long term and, ultimately, worth your money.
What are the benefits of taking Powher Pre Workout?
As with any pre-workout, we were looking for a bigger, better workout as the main benefit of taking Powher – and we weren't disappointed. Here's what you can expect from the ingredients in this formula.
Controlled energy boost
Powher make a lot of noise about the fact they've created a pre-workout free of the jittery, headache symptoms of a caffeine crash. They've done this by reducing their caffeine content to just 100mg and accompanied the stimulant with something dubbed a 'caffeine amplifier'. It's can enhance and complement the effects of an energy booster, whilst avoiding these unwanted symptoms.
Improved endurance
Certain elements within this formula have been shown to delay the point of muscle exhaustion, allowing you to lengthen your workout. This affords you a few extra reps, which quickly translates into a more rewarding training session.
Reduces fatigue
Several ingredients within the Powher formula have been added to ensure you're topped up with fatigue-reducing nutrients that are conducive to a longer, harder workout.
Boosts mood and mental agility
Achieving your goals is just as much about mental attitude as it is about your physical prowess. Powher have accounted for this and added nootropic ingredients, designed to ensure you're motivated and focused when going in to a workout.
Find out what actually works
– View our best fat rated burners – 
Is Powher Pre Workout safe?
Due to the entirely natural formula profile, the sensible serving sizes and the presence of highly-researched ingredients, we feel comfortable rating Powher as safe for women.
They've completely avoided unknown proprietary blends and have instead opted for complete transparency in their formulation of the product.
There is a very small 100mg serving of caffeine in this supplement. While it's a much more responsible amount than many under-researched products on the market, it's worth taking this extra portion into account if you are sensitive to the stimulant.
If you could be pregnant, do not take a product containing caffeine. Consult your physician if you're concerned this could be an issue for you.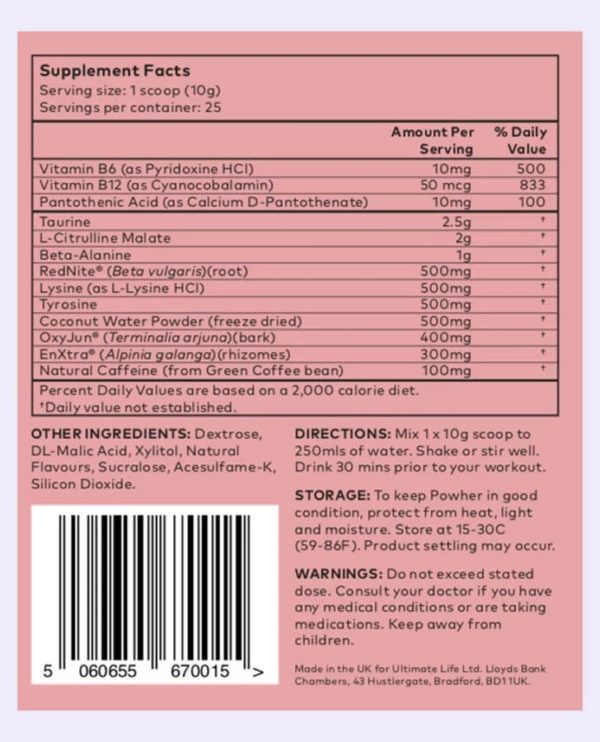 Powher Pre Workout Ingredients
This pre-workout supplement contains 13 ingredients, each contributing to the greater cause of increasing your training potential.
Although it's quite a few ingredients to add to a supplement profile, we're happy with the serving sizes in Powher.
Here we'll review the main players in this product, assessing their effectiveness, serving size and safety to determine whether they warrant their place in the formula.
Caffeine
This stimulant is used the world over for its ability to stimulate the nervous system. These provides an energy boost both to the brain and the body [1].
It helps the body burn fat rather than using up your glycogen stores, which allows for a longer training session [2].
Studies have also shown it can help you to exert greater force in your workouts by increasing your strength [3]. This even enhances athletic performance at low to moderate doses, indicating Powher's sensible portion is enough to reap reward [4].
EnXtra®
This ingredient is relatively new to the world of pre-workouts. However, after looking into the research around EnXtra®, we discovered it had some positive effects on alertness when combined with caffeine.
Scientific research indicates it can increase the length of time you remain alert for when taking the stimulant [5]. This helps to reduce the risk of the nasty caffeine crashes we mentioned before, so it appears Powher has come good on that promise.
RedNite®
This ingredient is responsible for the pink coloring in the Powher formula – so it's not just simply a marketing option.
Derived from beetroot, this powder offers up to five times the amount of nitrate the normal extract boasts. This has been shown to heighten neuromuscular advantages during a workout situation [6].
L-Tyrosine
Scientific experiments have linked L-tyrosine with the production of key neurotransmitters like dopamine and epinephrine.
By increasing the production of these 'feel good' compounds, L-tyrosine can help to improve your mood, and motivation whilst reducing ahead of a training session [7].
L-Citrulline Malate
This is a powerful vasodilator and amino acid found in watermelons. Within the body it gets to work by raising the levels of nitric oxide in your blood. This causes your blood vessel to expand, allowing more blood and nutrients to flow.
During a workout, this effect has been proven to increase endurance by reducing fatigue. This allowed athletes to complete more repetitions during a training session [6]. While the 2g serving isn't as optimal as the well tested 6g, it's still generous [7].
---
Ingredients note: One thing we're missing in this formula is creatine. We understand that many women may not want to feel the bulking effects of the supplement, however the athletic performance benefits it offers are extremely beneficial to a workout.
While we know many women would prefer not to feel bulky during a workout, the l-citrulline and RedNite® also create muscle pumps which could be considered 'bulky'. Overall, we'd say the formula is a good one and could only benefit from the addition of creatine. However, no creatine may be a bonus depending on your goals.
| Ingredients | Amount per serving |
| --- | --- |
| Vitamin B6 | 10mg |
| Vitamin B12 | 50mcg |
| Pantothenic Acid | 10mg |
| Taurine | 2.5g |
| L-Citrulline Malate | 2g |
| Beta-Alanine | 1g |
| RedNite® | 500mg |
| Lysine | 500mg |
| Tyrosine | 500mg |
| Coconut Water Powder | 500mg |
| OxyJun® | 400mg |
| EnXtra® | 300mg |
| Natural Caffeine | 100mg |
How to take Powher Pre Workout
As always, we recommend you follow the instructions of the manufacturer, as they've formulated this mix of ingredients and serving sizes to achieve specific results. We also say this, as it offers a level of safety the manufacturers have considered when creating the supplement.
Mix one 10g scoop of Powher with around 250ml of water or juice and drink around 30 minutes before your workout.
This provides enough time to allow the caffeine to start working, so you maximize the benefits.
We'd recommending leaving at least 5 hours between taking the pre-workout and your bed time so the stimulant doesn't interrupt your sleep.
It's also a good idea to adjust your caffeine intake throughout the day to accommodate the extra in the supplement. It only contains a small amount, but it's worth bearing this in mind if you're particularly sensitive.
Find out what actually works
– View our best fat rated burners – 
How much is Powher Pre Workout?
A single tub of Powher pre-workout provides a 250g, which gives your twenty-five 10g servings. This should be enough to last you around a month of consistent working out.
One tub of Powher Pre Workout costs: $45
Two tubs cost: $90
Ultimate Powher pack = three tubs of Powher + one free tub + free world wide delivery: $135
By opting for the Ultimate Powher Pack bundle, you could reduce the daily price of supplementing with this pre-workout. However, this may only be beneficial if you decide that this formula is the best possible option for you.
The verdict
Our Powher Pre Workout review has revealed that the people at Ultimate Life have undoubtedly created this supplement with the needs of women in the forefront of their minds.
The low stimulant levels in this formula account for the fact women metabolize caffeine faster than men. It provides just enough to give you a powerful lift, and other ingredients within the mix help to prolong the energy release, so the chances of a crash are significantly reduced.
They say they've also decided against using creatine, so women don't feel bulky after taking it. Although we know many women will appreciate this, for us, the performance benefits that come with creatine should've earned itself a place in the formula. Especially when vasodilators in the mix could have the same 'bulking' impact by slightly expanding the size of your muscles.
Other than that, the serving sizes and ingredients used are of such a high quality that we were undeniably impressed by Powher pre-workout.
It uses science to ensure potency, safety and power, all of which make it an excellent pre-workout for women.
While it's at the upper end of the price spectrum, it's also a high-quality product, deserving of a higher price. We don't think you'd find something of this caliber at a lower cost, so if it is in your price bracket, we'd highly recommend it.
Although the lack of creatine might not make it our favorite supplement of this kind, we'd still rate it as one of our top picks for the female fitness fanatic.
Find out what actually works
– View our best fat rated burners – 
---
Pros
Intelligently formulated to suit women
Low-stimulant product
High-quality ingredients
Safe to use
Completely natural formula
Scientifically backed
Cons
More expensive than other options
No creatine
Final Score
8/10
*Individual results may vary. Please speak with your doctor or physician before undertaking any new weight reduction, supplement, or exercise regime.
Find out what actually works
– View our best fat rated burners – 
---
References
Satish K. Garg, Green Coffee Bean, Nutraceuticals, 2016
Keijzers, GB et al. Caffeine can decrease insulin sensitivity in humans. Diabetes Care. 2002;
Warren GL1, Park ND, Maresca RD, McKibans KI, Millard-Stafford ML. Effect of caffeine ingestion on muscular strength and endurance: a meta-analysis. Med Sci Sports Exerc. 2010 Jul;42(7):1375-87. doi: 10.1249/MSS.0b013e3181cabbd8
Goldstein E, Ziegenfuss T, Kalman D et al. International society of sports nutrition position stand: caffeine and performance. J Int Soc Sports Nutr. 2010;7(1):5. doi:10.1186/1550-2783-7-5
Shalini Srivastava and Surekha Pimple (2017) Effects of Cymbopogon Flexuosus, Alpinia Galanga, and Glycyrrhiza Glabra on Attention: A Randomized Double-Blind, Placebo-Controlled Pilot Study. BAOJ Nutrition 3: 042.
PM, P. (2010). Citrulline malate enhances athletic anaerobic performance and relieves muscle soreness. – PubMed – NCBI. [online]
Sureda A, et al. L-citrulline-malate influence over branched chain amino acid utilization during exercise. Eur J Appl Physiol. (2010)
Disclaimer:  The information on this site has not been evaluated by the FDA. The products on this page are not intended to diagnose, treat, cure or prevent any disease. Results in description and Testimonials may not be typical results and individual results may vary. We may earn commission if you click the links and buy the products featured on this page.