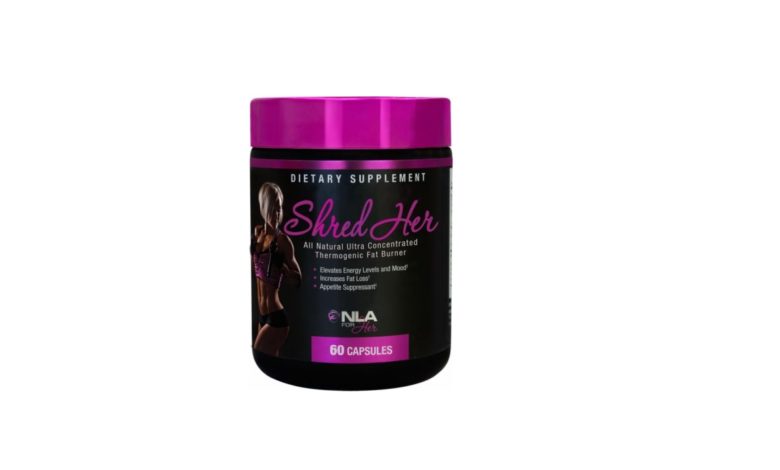 Reviews
NLA Shred Her Review – Does it make weight loss simple?
NLA Shred Her overview
Shred Her is a fat burner scientifically formulated and dosed for females to rapidly promote fat loss. The thermogenic blend promises to elevate energy, boost fat loss, support appetite control and help you 'tone'.
Shred Her has been formulated to help make losing weight as simple as possible, which for some women can be a struggle. We appreciate any supplement that puts the female body at the forefront of production and ensures the ingredients inside are suitable for us.
How does its formula hold up under the Spot Me Girl spotlight? We take a closer look and discover how it works, its benefits and customer reviews.
Find out what actually works
– View our best fat burners for women – 
Keep reading this NLA Shred Her review to find out more.
Pros and Cons of NLA Shred Her
Pros
Added vitamins
Low caffeine dose
Should boost calorie burn
May control appetite
Veggie capsule
Cons
Includes a proprietary blend
Could do with more appetite suppressing ingredients
Bitter orange may be dangerous when combined with caffeine
Find out what actually works
– View our best fat burners for women – 
NLA Shred Her: The Ingredients
NLA Shred Her is a completely female focused formula which uses a range of natural ingredients to support you on your weight loss journey. Looking at the ingredients label, there is an instant red flag because of the proprietary blend.
Here's a breakdown of the main ingredients:
Vitamin B6 – This key vitamin supports normal energy production and reduces fatigue. It's especially useful for females who suffer from PMS or low mood as it's shown to reduce menstrual symptoms like irritability, mood swings and anxiety[1].
Green Tea Extract – Green tea is a powerful thermogenic which means it should help raise your metabolic rate alongside fat oxidation rate which can lead to significant weight loss[2]. It's also packed with antioxidants, useful for overall wellbeing[3], and natural caffeine which may boost workout performance,
Taurine – This naturally occurring amino acid is thought to work incredibly well alongside caffeine to improve mental performance. It may also benefit your health by supporting nerve growth and lowering blood pressure[4].
Bitter Orange – This ingredient is becoming increasingly popular in fat burners. It's believed to impact fat burning by raising your metabolism[5] however when used in combination with caffeine, there are potential and quite scary side effects. Some studies suggest it may increase your blood pressure when used alongside caffeine[6].
Raspberry Ketones – Raspberry ketones are thought to promote fat breakdown for fuel and boost your metabolism for a higher calorie burn[7]. However, research is limited and on animals only, which makes us question just how effective this ingredient is.
Serving Size: 2 Capsules
Servings Per Container: 30
Amount Per Serving
% Daily Value
Vitamin B6
10mg
500%
Pantothenic Acid
20mg
200%
Fat Incinerating Matrix
Green Tea Extract, Taurine, Caffeine Anhydrous, Citrus Aurantium Extract (Bitter Orange), Green Coffee Bean, Raspberry Ketones, Ursolic Acid, Guarna Extract
1,180mg
*Daily Value (DV) not established
Find out what actually works
– View our best fat burners for women –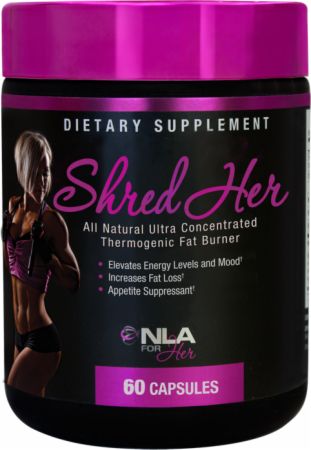 How does NLA Shred Her work?
Shred Her has been formulated to speed up the rate at which your body burns fat whilst elevating your energy and suppressing your appetite to help you experience real results.
You should get a sustained energy release from the caffeine, green coffee and green tea to help you stay motivated all day and achieve workout goals. Your metabolism should also experience a spike from the thermogenic compounds and push you to burn more calories.  This process of thermogenesis puts your metabolic rate into high gear as the body tries to cool back down to baseline temperatures, meaning you could be shedding calories even when resting.

What are the benefits of taking NLA Shred Her?
Increased metabolism and fat burning
Shred Her is a highly thermogenic complex which is designed to stimulate your metabolism and encourage fat burning for fuel. This means excess fat burning all day long – even after exercise.
Enhanced athletic performance
There are a few stimulants included in the Shred Her formula which focus on lifting your energy levels. This should quell any feelings of fatigue and amplify your overall exercise performance, helping you push harder through your workouts. The stimulant content is rather high for a female-focused supplement though.
Some of the ingredients in the blend may help to curb any hunger pangs and keep your appetite under control. This should remove any temptations to snack or overdo it on your calorie intake. This is generally a big issue for women on a diet plan so helping to reduce hunger is a great tool.
How to take NLA Shred Her
It's relatively easy to use NLA Shred Her, with only 2 capsules to take daily. The label on the bottle advises users to take 1 capsule immediately after waking up. You should then take your second capsule 3-6 hours later.
We'd recommend you consume enough water to keep hydrated and maximise this fat burner's effectiveness. The creators also say you should avoid alcohol and extra caffeine while taking this supplement.
If you're ever unsure or need expert advice when you start with a new supplement or nutritional program, you should talk to a healthcare professional first. Discontinue use if you experience any unusual side effects.
---
NLA Shred Her results – before and after
While there are many reviews available online, we struggled to find any before and after results for this supplement. This is a bit odd as it appears to have been on the market for nearly ten years.
Find out what actually works
– View our best fat burners for women – 
NLA Shred Her reviews – what are other people saying?
We've scoured the web to find genuine reviews of NLA Shred Her.
Many female users have a lot of praise for the supplement, noting that it has increased their energy levels and boosted their weight loss results without any crashes or jittery feelings.
However other customers were less than impressed, with some experiencing no results at all. A few women also reported side effects like heart palpitations and headaches which may be as a result of the caffeine content.
Here are some reviews to give you an idea:
NLAforher.com


Amazon.com



Does NLA Shred Her have side effects?
NLA Shred does contain a proprietary blend so it's difficult to see the doses of some of the ingredients. This makes it more likely to cause some potential effects.
What's more, judging by the online reviews, NLA appears to cause some issues for some users like headaches, upset stomach and dry mouth.
The main concern we have with Shred Her is the overuse of stimulants – there's caffeine, green tea, green coffee and guarana in the mix. Because of the proprietary blend, we can't see the green tea extract, guarana or green coffee doses, meaning that they could be too high.
The bottle does come with some warnings like it shouldn't be used by anyone under the age of 18 or if you're pregnant. The warnings also say that you should not use Shred Her if you have a medical condition, are taking any prescription medication or have a sensitivity to caffeine. If you experience any adverse reactions from Shred Her, discontinue use immediately and consult a physician.
NLA Shred Her Review: Our Conclusion
NLA Shred Her includes some solid fat burning ingredients that are popular on the supplement scene but we're not wholly convinced it could make much difference to your fat loss goals.
We had high hopes for NFL Shred Her and thought it could be a winner for women looking for a female-friendly formula. But instead, we were left disappointed.  The proprietary blend largely undermines the product's effectiveness and hides the doses of some important ingredients.
Unfortunately, NLA doesn't appear to live up to the hype. There are many other contenders on the market which have safer and more effective fat burning formulas. We highly recommend you view our Editor's Choice Best Fat Burners for Women for a list of safe, effective products.
Total score
3/10
Find out what actually works
– View our best fat burners for women – 
Here at Hey Spot Me Girl, we're all about safety – so we wanted to remind you to double-check with your doctor or physician if you have any concerns at all about introducing a new supplement into your diet.
Whilst supplements could be a great boost to your lifestyle, they could also have adverse effects on your body if not used properly, or if you have sensitivity to any of the ingredients. So, make sure you always check the label fully. Also, make sure you stick to the usage instructions, particularly during the first week.
It's also worth pointing out you shouldn't rely on supplements alone to achieve your physique goals. Remember girls, supplements are enhancers – not the only answer!
A balanced diet, consistent workout plan and sensible lifestyle choices are the fundamentals behind real change – and your supplement should only ever be used as a way of optimizing the results of your hard work, not a way of replacing it altogether.
So, whatever supplements you choose to improve your life, make sure your health and welfare is always paramount over anything else every single time.
---
*DISCLAIMER: These statements have not been evaluated by the Food and Drug Administration. This product is not intended to diagnose, treat, cure, or prevent any disease. Products are intended for use alongside a diet and exercise regime. The views and nutritional advice expressed by Hey Spot Me Girl are not intended for the purpose of medical advice.
Individual results may vary. Please always consult your health care provider if you are taking any medications or have any medical condition. Must be 18 years or older to purchase. Always reference the ingredients and directions on the product label.