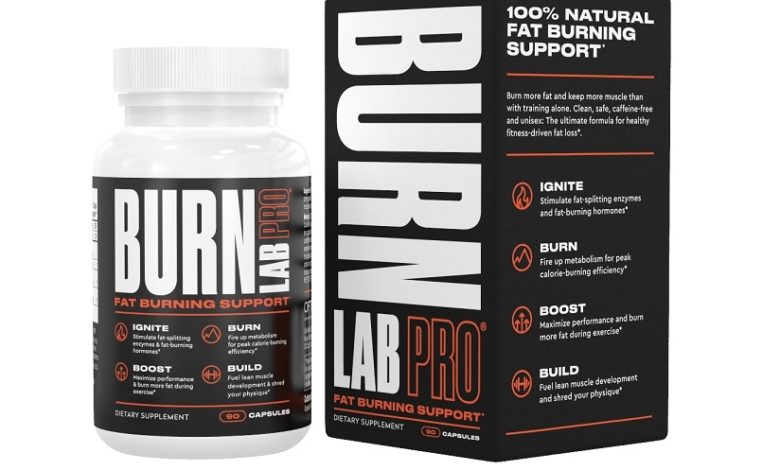 Reviews
Burn Lab Pro® Fat Burner Review – Can You Drop the Pounds With It?
We analyze the Burn Lab Pro Fat Burner formula to find out if it's worth your money
Introducing Burn Lab Pro®
This supplement has been created to help enhance and support your physical performance. Our Burn Lab Pro® review will found out if it delivers on these promises.
The concept behind Burn Lab Pro Fat Burner is a little different to what you may expect from your usual weight management supplements. It has been created to support weight loss and preserve lean muscle when doing fasted cardio.
Our first thought upon researching the supplement was that this approach to fat burning may not be universally appropriate for all women. However, upon closer investigation, we discovered a few elements that might offer the fat burning results we know many females are looking for.
Find out what actually works
– View our best fat rated burners – 
The creators of Burn Lab Pro say it can help you lose weight by raising your metabolism, supporting muscle development and increasing the results of fasted cardio training.
It's also a completely stimulant free formula, which we know many women prefer, as we are much more sensitive to caffeine than men. Too much caffeine can lead to heightened blood pressure levels and other negative responses [1].
However, a high-quality fat burner for women comes down to more than just what's in it.
We'll be analyzing the formula to the finest detail to uncover the quality, effectiveness and proven relevance of each ingredient.
As we do this, we'll also be on the look out for any red flags in terms of safety. Every supplement should be natural, free from proprietary blends and safe to use to pass our rigorous testing criteria.
To round off our Burn Lab Pro® review, we'll compare our findings to the price of the supplement. This will help us to establish the value of this weight loss aid and give us a good idea of whether or not it's worth your money.
Read our Burn Lab Pro® fat burner review to find out whether this is the supplement for you.
Find out what actually works
– View our best fat rated burners – 
What are the benefits of taking Burn Lab Pro
To understand how Burn Lab Pro can help you burn fat, we need to break down the benefits this formula offers. Take a look.
Increased calorie burn
The Burn Lab Pro formula contains thermogenic ingredients, which can help to raise your metabolism and then overall calorie burn. This is complemented with elements that help to enhance the effectiveness of thermogenic properties.
Aids fasted cardio
Ingredients within this supplement have been shown to help improve the results of fasted cardio and enhance weight loss.
Supports muscle
Elements of this formula take on a protective role, neutralizing the muscle-damaging enzymes that can appear when exercising in a calorie deficit. This adds to the way in which this formula supports fasted cardio.
Is Burn Lab Pro Fat Burner Safe?
This formula is entirely natural, uses only high-grade, safe ingredients and is completely transparent.
It's also free of caffeine, so you don't have to worry about adjusting your stimulant intake when you include it in your diet.
Overall, we're happy to say Burn Lab Pro Fat Burner can be taken without fear of risks or side effects.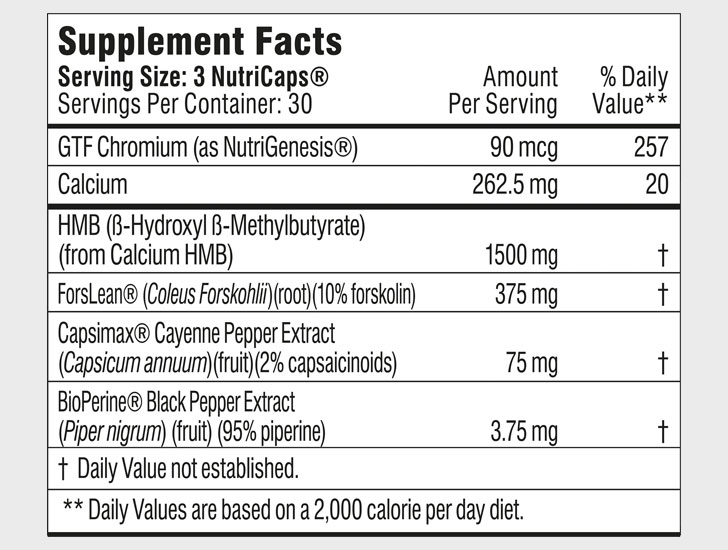 Burn Lab Pro Fat Burner Ingredients
This supplement contains few ingredients.
Usually when we see fat burners, we prefer to see fewer ingredients in favor of intelligent formulation and higher serving sizes. However, in this case, we're concerned that the Burn Lab Pro Burner offering might be limited by this unusually small selection of ingredients.
We're normally happy with around 7-10 elements in a high-performing fat burner.
Here's a run down of the contents of Burn Lab Pro fat burner.
HMB (ß-Hydroxy ß-Methylbutyrate)
This ingredient is derived from the amino acid leucine, one of three BCAAs. When tested during fasted training, it's proven to increase performance and delay muscle wastage [2].
HMB does this by combatting enzymes that can lead to muscle degradation, which as been shown to protect and promote growth [3].
Coleus Forskohlii
This is a root herb, which contains high levels of the active ingredient, Forskolin.
This has been shown to initiate a process that increases levels of cyclic adenosine monophosphate, or cAMP. Science shows this could help to improve muscle to fat ratios, as it's linked to hormones that regulate metabolism, thermogenesis and muscle growth [4].
Cayenne Pepper Extract
This ingredient is well known to us and widely used in the fat burning industry for a good reason.
It's been proven time and time again to be a powerful thermogenic, that increases energy expenditure, so your body burns more calories [5].
On top of that, it's been shown to enhance fat oxidization, so your body turns to fat for fuel more easily [6].
While we're happy to see it in the Burn Lab Pro Fat Burner formula, it's a very small portion considering it's the only thermogenic in the mix.
Black Pepper Extract
This offers the active ingredient piperine, which is considered a thermonutrient, due to its ability to optimize the effects of thermogenic ingredients [7].
It has also been linked to slowing adipogenesis, also known as the formation of new fat cells [8].
---
Note: As we're reviewing this fat burner for women, one thing we'd like to see here is an appetite suppressant like glucomannan. Due to hormonal fluctuations, women are more likely to experience cravings than men, and that's where an appetite suppressant can come in handy. However, Burn Lab Pro Fat Burner doesn't contain one – this may not make it optimal for the fairer sex.
| Ingredients | Amount per serving |
| --- | --- |
| HMB (ß-Hydroxy ß-Methylbutyrate) | 1500mg |
| Coleus Forskohlii | 375mg |
| Cayenne Pepper Extract | 75mg |
| Black Pepper Extract | 3.75mg |
| Calcium | 262.5mg |
How to take Burn Lab Pro
The serving sizes on the supplement facts for Burn Lab Pro Fat Burner are based on just three capsules a day.
However, the manufacturers suggest you take between two and four capsules 15 minutes before a workout.
For us, this isn't ideal.
First and foremost, one serving a day doesn't give the thermogenic chance to work to it's maximum potential. We'd prefer to see servings spread out across the day to ensure a constantly raised metabolism rather than just a spike.
Secondly, if you feel you need to take four capsules, that instantly halves the value of Burn Lab Pro Fat Burner, and essentially doubles the price.
Find out what actually works
– View our best fat rated burners – 
How much is Burn Lab Pro Fat Burner
One bottle of Burn Lab Pro is $59/£39
Note: A single bottle of this supplement provides 90 capsules, which is enough for a month of use. However, if you decide you need to take four capsules a day, you instantly half the amount of time Burn Lab Pro lasts for. This could mean you end up paying twice the price if you wanted to use this supplement full time.
The verdict
Our Burn Lab Pro review revealed some excellent pros, and some thought-provoking cons.
While this formula should help to support certain aspects of fat burning, it also comes hand in hand with some drawbacks.
Overall, the formula is high-quality, well-researched and contains some intelligent ingredients. On top of that, it's completely natural and we have no doubt that it's safe to use in the long run.
Find out what actually works
– View our best fat rated burners – 
However, it's lacking an appetite suppressant, something we know is invaluable in a fat burner for women.
On top of that, the recommended amount of the supplement can vary depending on how effective you find the formula. While this allows you to find your desired amount, it may cut the value of the product in half, which could cost you more money in the long run.
Additionally, unless you're a dedicated fasted cardio fan, this may not be the optimal formula for you.
After performing our Burn Lab Pro Fat Burner review, we found this to be a top-quality product, with an intelligent ingredient selection. However, the limited formula may not make this the best choice for many women.
---
Pros
High-grade formula
Intelligent ingredients
Completely natural
Safe to use
Stim-free
Cons
No appetite suppressants
Only best for fasted cardio
May not suit every woman
Few customer reviews
Very few ingredients
Final Score
7/10
Find out what actually works
– View our best fat rated burners – 
*Individual results may vary. Please speak with your doctor or physician before undertaking any new weight reduction, supplement, or exercise regime.
References
Temple JL, Ziegler AM. Gender Differences in Subjective and Physiological Responses to Caffeine and the Role of Steroid Hormones. J Caffeine Res. 2011;1(1):41–48. doi:10.1089/jcr.2011.0005
Holeček M. Beta-hydroxy-beta-methylbutyrate supplementation and skeletal muscle in healthy and muscle-wasting conditions. J Cachexia Sarcopenia Muscle. 2017;8(4):529-541. doi:10.1002/jcsm.12208
Alon T, Bagchi D, Preuss HG. Supplementing with beta-hydroxy-beta-methylbutyrate (HMB) to build and maintain muscle mass: a review . Res Commun Mol Pathol Pharmacol. 2002;111(1-4):139-51.
Allen DO, Ahmed B, Naseer K. Relationships between cyclic AMP levels and lipolysis in fat cells after isoproterenol and forskolin stimulation . J Pharmacol Exp Ther. 1986 Aug;238(2):659-64.
Yoshioka M, St-Pierre S, Suzuki M, Tremblay A. Effects of red pepper added to high-fat and high-carbohydrate meals on energy metabolism and substrate utilization in Japanese women . Br J Nutr. 1998 Dec
Lejeune MP, Kovacs EM, Westerterp-Plantenga MS. Effect of capsaicin on substrate oxidation and weight maintenance after modest body-weight loss in human subjects . Br J Nutr. 2003 Sep;90(3):651-59.
Kym KJ, et al. Piperidine alkaloids from Piperretrofractum Vahl. protect against high-fat diet-induced obesity by regulating lipid metabolism and activating AMP-activated protein kinase . Biochemical and Biophysical Research Communications. Vol 411, Issue 1. 22 July 2011. pp 219–225
Park UH. et al. Piperine, a component of black pepper, inhibits adipogenesis by antagonizing PPARγ activity in 3T3-L1 cells . J Agric Food Chem. 2012 Apr 18;60(15):3853-60.
Disclaimer:  The information on this site has not been evaluated by the FDA. The products on this page are not intended to diagnose, treat, cure or prevent any disease. Results in description and Testimonials may not be typical results and individual results may vary. We may earn commission if you click the links and buy the products featured on this page.