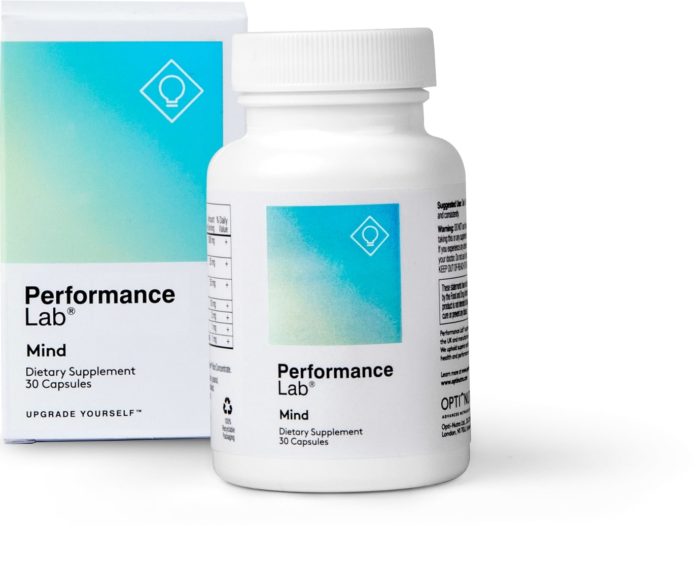 Reviews
Performance Lab Mind Review 2021 – Does it Really Work?
Find out if this nootropic improves cognitive function, or if it's simply a waste of time right here
Introducing Performance Lab Mind
One of the world's leading supplement labs has created their own nootropic: Performance Lab Mind.
This addition to the Performance Lab suite certainly looks the part. The pristine white container gives it a clinical, reliable feel that immediately makes us think of scientific labs and diligently researched formulas.
It might look like quality, but we need to look into the supplement facts to find out if it walks the walk.
To do this, we need to perform an in-depth Performance Lab Mind review.
During our review, we need to know if Performance Lab Mind is a good nootropic for women. It might not surprise you to find out that women have different needs when it comes to finding a brain booster.
Due to hormonal fluctuations, we experience stress and anxiety in a completely different way to men. We're more susceptible to these issues at certain points of the menstrual cycle. A good nootropic for women will help to alleviate the negative impacts of these changes in hormone levels.
Performance Lab Mind boldly identified itself as a cognitive enhancer, claiming to help to elevate your brain function to improve performance on the whole.
An initial review of the formula tells us that, although this nootropic undoubtedly uses high quality ingredients, it might fall short of its promises due to some key factors.
It contains only four ingredients, which may not be enough to provide the kind of cognitive support we've come to expect from high-quality supplements.
Despite this, we need to take a look at the ingredient profile before we decide on this one. We'll analyze the science around each ingredient, to find out if it uses the most potent ingredients, at the best possible dosages.
Once we've ascertained the effectiveness of the formula, we need to look into how safe it is. By referring to scientific research again, we can confirm if there are any risks involved in regularly supplementing your diet with this nootropic.
From there, we compare the results with the cost of Performance Lab Mind. By clearly defining how well it performs and measuring that up against the price, we can establish the value of the product, and help you decide if it's worth your money.
What are the benefits of taking Performance Lab Mind?
Performance Lab Mind claims to enhance cognitive function. While this is, of course, the end goal for a nootropic, this still feels a little vague. To help you understand what this means, we've delved into how you can expect this nootropic to impact your daily life.
Improves ability to learn and information retention
Ingredients within this nootropic have been proven to support the brain in learning new things and retaining fresh information. This is strongly linked to memory enhancement too.
Boosts mood
This formula boasts mood-improving properties that encourage a more positive outlook and stress combatting benefits. This has been shown to help users stay calm in high pressure situations and reduce the symptoms of anxiety.
Heightens brain health
Elements within this formula have been added to nourish the brain and help with cell repair and regeneration. This improves health, which has been shown to delay the natural degeneration that comes with age.
Is Performance Lab Mind safe?
This is an entirely natural formula, completely free of proprietary blends. These are the best foundations for a safe, reliable nootropic.
Performance Lab Mind is also completely free of caffeine, so you can take the supplement, without accounting for any additional stimulants.
This formula has also been created without any allergens, synthetic ingredients or GMO's, so it's safe to use for everyone.
If you're thinking about supplementing with Performance Lab Mind to treat an existing medical issue, we suggest you speak to your physician first and should under no circumstances alter your medication without approval.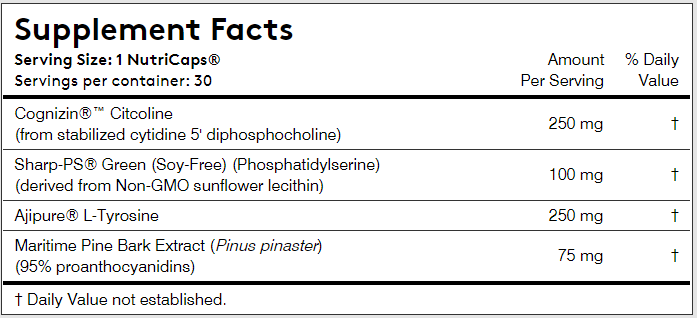 Performance Lab Mind ingredients
This nootropic is made up of just four ingredients, which is a slight concern for us. Although the doses for the included elements are generous, we think Performance Lab Mind could benefit from a more comprehensive, versatile approach by broadening the supplement profile.
Having said that, we like the ingredients they have used. Check them out to see exactly how they can influence your brain processes.
Citicoline (as Cognizin®)
This is a regular in nootropic stacks – for a very good reason. We've foudn evidence to suggest it provides benefits across a large range of brain functions. It plays a key role in the regeneration and repair of brain cells [1], along with boosting the number of neurotransmitters available [2].
By enhancing these functions, you'll experience a greater ability to learn and hold on to new information. It will also contribute to heightened brain health, which will keep you sharp for longer.
The dosage of 250mg is generous and will allow you to get the best out of this powerhouse nootropic ingredient.
Phosphatidylserine (as Sharp PS® Green)
This compound, although present in nearly all cells in the human body, is in its highest concentration in the brain. In fact, it makes up nearly 15% of the fats in the organ.
By supplementing with the ingredient, it heightens the production of Nerve Growth factor, which has been linked to repair and regeneration, which is imperative to general brain health [3].
It can also enhance the plasticity within the brain, which is the underlying function that supports learning and new information retention
N-Acetyl-L-Tyrosine (NALT)
This is yet another widely used nootropic ingredient and has been shown to trigger the production of a number of essential mood-enhancing chemicals within the brain. It's the pre-cursor to dopamine, norepinephrine and epinephrine, which are all linked to encouraging a positive outlook and heightening mental performance when stressed or under pressure [4].
This is an essential addition for women, as we mentioned above, stress affects us more readily than men.
Maritime Pine Bark Extract
Within the body, maritime pine bark extract can raise nitric oxide levels, which increases blood flow to the brain. This allows more oxygen, glucose and key micronutrients to flow to the right cells, and nourish your neural processes [5].
The main benefits of this is your brain will be healthier, which will help you to maintain higher cognitive performance for longer, even as age-related degeneration takes place.
| Ingredients | Amount per serving |
| --- | --- |
| Citicoline | 250mg |
| Phosphatidylserine | 100mg |
| N-Acetyl L-Tyrosine | 300mg |
| Martime Pine Bark Extract | 75mg |
How to take Performance Lab Mind
This nootropic contains some very well dosed ingredients, so we recommend you follow the advice of Performance Lab Mind. This helps to ensure you have a safe experience with this nootropic, as well as maximizing the effectiveness of it.
They suggest you take one or two capsules a day, depending on your tolerance to the supplement. According to Performance Lab Mind, you should aim to take it with your breakfast and a large glass of water.
For the best results, take the nootropic regularly and consistently. According to research, this is best way to ensure you get the most out of every ingredient within this formula.
We'd like to note that we don't consider this to be the best way to improve cognitive performance. With just one serving a day, you'll experience a spike in performance, which will wear off throughout the day. By spreading the ingredients across several capsules and taking them at regular intervals throughout the day, you're more likely to enjoy cognitive benefits throughout the day.
How much is Performance Lab Mind?
A single bottle of Performance Lab Mind provides 30 single capsule servings, which should be enough to last around a month.
However, if you feel you need to take two capsules a day, it cuts the longevity of the supplement in half and should only last you about two weeks. This can seriously impact the value of Performance Lab Mind.
A single bottle of Performance Lab Mind costs around: $50 or £40
Performance Lab also offer a multi-buy deal where you receive deals when you buy more than one bottle of the supplement. If you decide to order two bottles, you'll benefit from 5% discount off the total price, and if you opt for three, you'll receive 1 free box.
Keep this in mind if you think Performance Lab Mind might be the nootropic for you.
The verdict
Performance Lab Mind is a high-quality product. We know that these ingredients, at these doses can have a big impact on cognitive improvement.
They provide a range of benefits that will undoubtedly help to enhance your overall brain performance.
With this formula your ability to learn should be heightened, you'll retain information more easily and your mood should be improved. On top of that you'll experience better general brain health.
Despite this, it's by no means the most comprehensive or effective formula available.
There are too few ingredients within this mix to stand up to the more sophisticated mixes on the market. By adding some more elements to the supplement profile, we believe this formula could offer a more all-encompassing nootropic experience.
For example, the addition of l-theanine could support the mood-boosting properties of NALT for a stronger, more powerful effect.
We'd also prefer a more staggered approach to taking Performance Lab Mind. We don't think one capsule with breakfast is enough to maintain heightened cognitive performance throughout the day.
There's also the point that, if you do decide you need more than one capsule a day, you're cutting the servings you get from the container in half. That means, for the same price, you'll only get 15 days' worth of the supplement, which seriously impacts the value.
Having said that, every ingredient within the Performance Lab Mind formula is proven to work, well-dosed and will undoubtedly improve your brain processes and overall performance. It's just a simple fact that there are better, more sophisticated formulas out there.
Pros
Heightened learning ability
Enhances memory and recall
Boosts brain health
High-grade, proven ingredients
Cons
Not the best value for money
Formula needs more essential ingredients
Overly simplistic
Final Score 
7/10
*Individual results may vary. Please speak with your doctor or physician before undertaking any new weight reduction, supplement, or exercise regime.
References
Taylor, P. and Brown, J.H. Synthesis, Storage and Release of Acetylcholine. Correspondence to Palmer Taylor and Joan Heller Brown, Department of Pharmacology, 0636, University of California, San Diego, La Jolla, California 92093.
Hasselmo, M.E. The Role of Acetylcholine in Learning and Memory. Curr Opin Neurobiol. Author manuscript; available in PMC 2009 Mar 24.
De Simone R., Ajmone-Cat M.A., Tirassa P., Minghetti L. "Apoptotic PC12 cells exposing phosphatidylserine promote the production of anti-inflammatory and neuroprotective molecules by microglial cells."Journal of Neuropathology and Experimental Neurology. 2003 Feb;62(2):208-16.
Harris R. Lieberman, et al. The catecholamine neurotransmitter precursor tyrosine increases anger during exposure to severe psychological stress . Psychopharmacology (Berl). 2015; 232(5): 943–951.
David Vauzour, et al. The neuroprotective potential of flavonoids: a multiplicity of effects . Genes Nutr. 2008 Dec; 3(3-4): 115–126.
Disclaimer:  The information on this site has not been evaluated by the FDA. The products on this page are not intended to diagnose, treat, cure or prevent any disease. Results in description and Testimonials may not be typical results and individual results may vary. We may earn commission if you click the links and buy the products featured on this page.