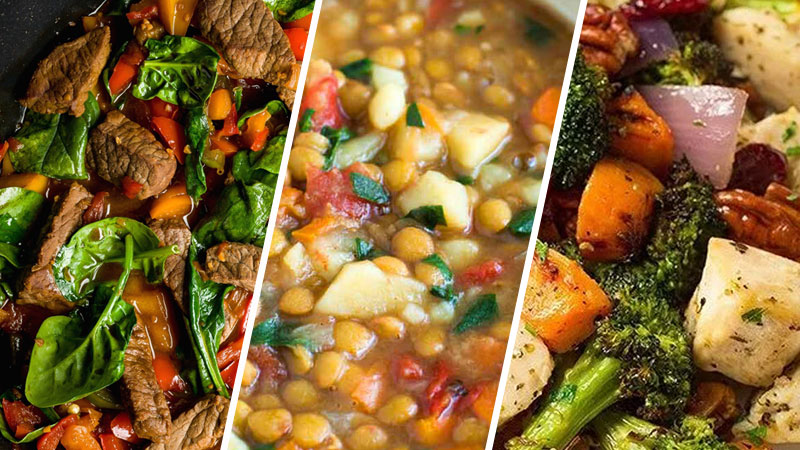 Recipes
3 Healthy Meal Prep Recipes to Help You Stick to Your Diet
If your goal is to lose weight, build muscle or just feel healthier, these healthy meal prep recipes will supercharge your progress.
In todays' hectic world, it's hard to keep motivated to stay lean and fit. Finding the time to cook healthy meals every night seems impossible – but don't worry, we have the answer you've been looking for.
Meal prep is the new, uber-cool way for busy moms to stay on top of their nutrition. No more grabbing junk food, no more worrying about food choices.
Everyone from athletes to figure athletes are using these healthy meal prep recipes… and now it's your turn.
Why meal prep is important
Meal prep helps you control what you eat, track your calories and maximize healthy nutrition.
It doesn't matter how hard you work out in the gym or how much you try to be active daily.
If you aren't supporting your goals with good food choices and nutritious meals, you're just not going to succeed in carving out that lean, curvy figure.
Imagine coming home from a sweaty cardio workout or a busy day in the office to find your meal fully prepped, laid out in front of you ready to tuck into.
Sounds like heaven, girl.
Meal planning helps you make better decisions
How many times have you found yourself snatching a gas station sub or a junk food takeout because you didn't make lunch?
You know you should take the time to check the ingredients, choose a low-calorie option and assess the macros, but with your afternoon meetings in just a few minutes you haven't got the time to search for good food.
Instead, you grab what you can and have to make do.
That's a familiar situation, right?
This is where meal preparation comes in.
Taking the time to plan and prepare your meals in advance helps you to calculate exactly how much food you need to support your goals. It reduces the changes of straying from the plan. It controls your cravings, temptations and distractions too.
"Meal prep supports your healthy eating goals by reducing the temptation of high-calorie snacks and treats".
The benefits of meal prepping
Much like a great exercise program needs structure, planning and adherence; so does your diet. Some women have it in lock down, and others struggle to make the right decisions each day.
Here are just some of the reasons why meal prep supports you in your quest to the best physique ever:
Buying in bulk helps to reduce frivolous spending
Helps you stick to the right foods, calories and macros
Reduces food waste – you can throw whatever's left into the following meal
Optimizes time efficiency (which we can all benefit from!)
Stops you straying from the plan
Helps you plan snacks and the occasional treat food
You can get the whole family involved – get the kids to help make choices too
Adds more structure to your diet
Fewer last-minute trips to the food mall or eating out
Reduce the stress of constant cooking
Adds more variety to your weekly eating
Planning your prep: what do you need?
You don't actually need a great deal to jump on the meal prep wagon. The biggest thing you need is some motivation to get going and achieve a super-hot bod. That's it.
Oh, and these few things:
Storage containers
Pans and utensils
A slow cooker
Measuring scales if you're tracking calories
That's it.
Like we've said already, meal prep is THE easiest part of a healthy lifestyle.
Right. It's time to take a look at some of our SpotMeGirl favorite healthy meal prep recipes. We literally can't live without these.
And now it's time for you to get them too. 
Recipe 1: Slow cooker veggie lentil soup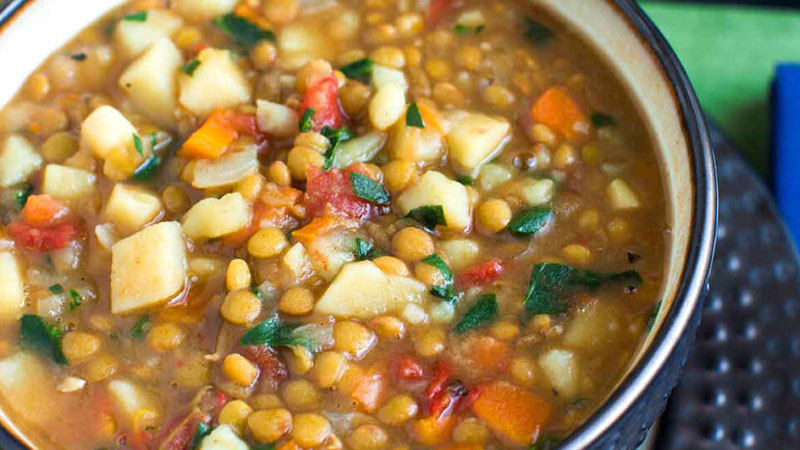 Soups aren't just for a wintery day. They're jam-packed full of nutritious vegetables and chewy lentils that optimize health and keep you feeling full. It's also a great way to stay hydrated too.
Throw in some ham hack, chicken or pork for a high protein hit.
Ingredients:
1 cup of red or yellow lentils
3 large carrots, peeled and roughly chopped
1 white onion, chopped
2 celery stalks, chopped
1 large potato, peeled and roughly chopped
½ cup spring greens
2 liters vegetable stock
½ tsp of paprika, cumin, dried chili powder, oregano
Instructions:
Throw the vegetables, stock and into a slow cooker and let it cook for 7-8 hours on a low heat or 5 hours. If the soup is a little thick, add more vegetable stock.
Recipe 2: Chicken, broccoli and sweet potato
This recipe's been used by fitness fanatics for years. It's low calorie but high in protein, vitamins and healthy carbs.
Ingredients:
1 chicken breast
A large sweet potato, skinned and diced into cubes
1 cup tenderstem broccoli
1 garlic clove
Pinch of chili flakes
1 tsp garlic powder, cumin and paprika
A squeeze of lemon juice
2 drizzles olive oil
Salt and pepper to taste
Instructions:
Preheat the oven to 200˚C (395 ˚F).
Place the diced potatoes on a baking tray and drizzle olive oil. Throw the cumin, paprika, salt and pepper over the ingredients and stir well.
Cook the potatoes for 15 minutes and then throw the broccoli in the same tray. Cook for a further 10 minutes.
While the potatoes are baking, drizzle olive oil in a hot pan, throw in a clove of garlic and sear the chicken on both sides for 2-3 minutes. Reduce the heat to medium and cook for a further 5 minutes on each side. Toss in some garlic powder. When cooked, squeeze the lemon over the chicken.
Recipe 3: Teriyaki beef stir-fry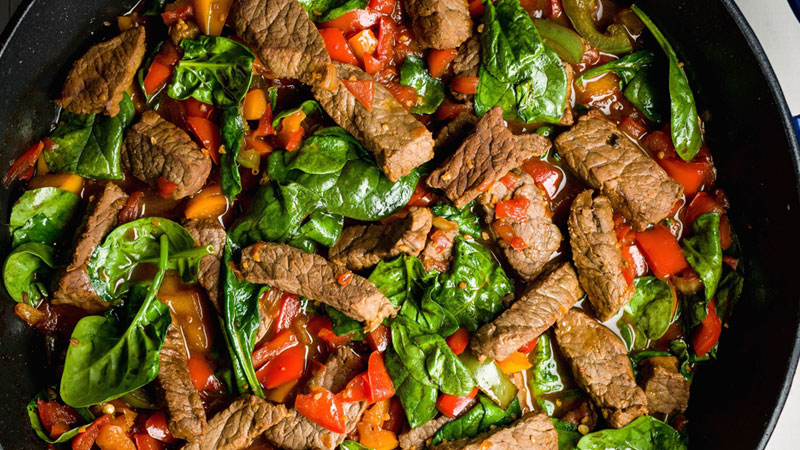 Tender beef coated in sweet, spicy sauces served with intensely-bright-colored vegetables and noodles.
Ingredients:
1 lb thinly sliced sirloin steak
1-2 tbsp sesame oil
1 red bell pepper, deseeded and sliced
1 green bell pepper, deseeded and sliced
2 mushrooms, sliced
½ red onion, sliced
Handful of beansprouts and spinach
200 g fresh egg noodles
¼ cup sesame seeds to garnish
Teriyaki sauce:
¼ cup dark soy sauce
¼ cup brown sugar
2 cloves of garlic, minced
2 tsp dried ginger
1 tsp dried chili powder
1 tbsp honey
Instructions:
To make the sauce, place the ingredients in a small pan and cook under a medium heat until the sugar has dissolved, and the consistency of the sauce is sticky.
Heat a large pan with some olive oil. Throw in the vegetables and cook until they begin to soften. Throw in the egg noodles and cook for a further 2-3 minutes.
Wipe out the pan and cook the beef slices on a medium-high heat until sealed on all sides. Throw the sauce over the beef and cook for a further 2-3 minutes until the sauce clings to the beef.
Add the vegetables and noodles to the beef mixture and cook for 1-2 minutes until piping hot.
Garnish with sesame seeds and cilantro.
The bottom line
These healthy meal prep recipes are great for feeding your body with nutrients and energy. Check them out and fit them into your meal prep. It's a simple and effective way of grabbing your goals with both hands.