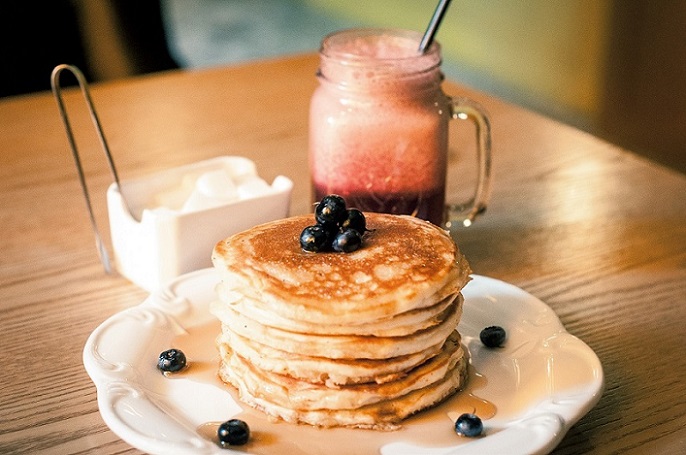 Tossing and turning over the thought of pancake day? Creamy Nutella melting over hot, fluffy, pancakes is enough to send anyone's diet over the edge.
But pancakes don't need to be smothered in sugar or full of saturated fat to be enjoyable. Healthy pancake recipes do exist!
That's right – what if we told you there was a way to enjoy pancake day – but still keep your macros in check?
Well, there is. Here at SMG, we've created 4 super easy and healthy pancake recipes that will keep your healthy diet on track.
The perfect pancake
Pancakes are very versatile. No really, you can have them with pretty much anything and everything. Even better? You can eat them for breakfast, post-workout, pre-workout and even as a little late-night snack.
When it comes to making the perfect pancake, we have two tips you should follow: make sure your pan isn't too hot and your batter isn't too thin/watery.
Healthy pancake recipes
It's time to say goodbye to boring breakfasts and paltry post-workout snacks. Get stuck into these 4 healthy pancake recipes and get the nutritious kick your body needs.
1. Banana pancakes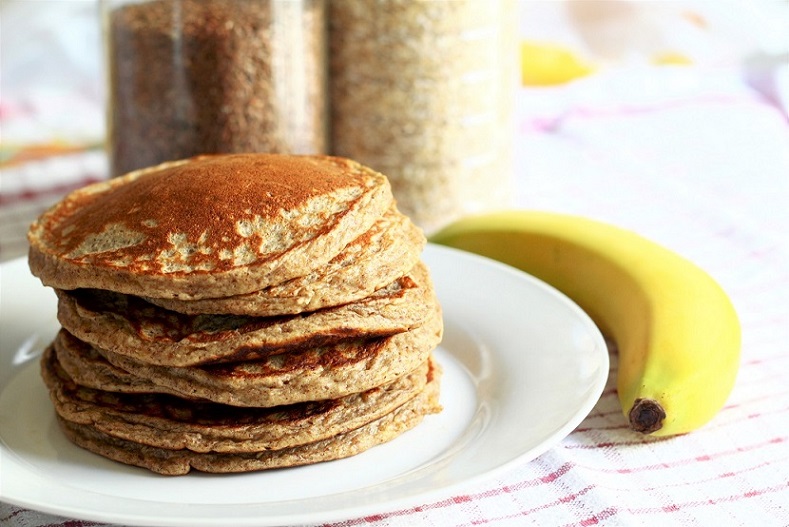 Bananas are packed with essential vitamins and minerals such as potassium, vitamin B6 and C. They're also a great way to up your daily protein and fiber.
The good thing about fiber is that it increases satiety and helps you feel fuller for longer[1], meaning you can stick to your calorie goals and find it easier to maintain a healthy weight. The vitamin C content is important for overall health, contributing to boosted immunity[2], reduced blood pressure[3], wound repair[4] and bone health[5]. Alongside vitamin B6 is important for a normal functioning metabolism, brain health and keeping those locks long and healthy[6].
This super nutritious pancake recipe is exactly what you need to start your day right. What's better? We've kept the calorie down by using just one egg alongside two egg whites.
This healthy pancake recipe makes 3-4 pancakes.
What you'll need

1 whole egg
2 egg whites
1 banana
1 tbsp coconut oil
Method
Mash the bananas together and stir in the cracked eggs until the mixture blends together. It might be lumpy but don't worry, it's to be expected with the bananas.
Heat the coconut oil in a skillet on a medium heat, making sure it covers the entire bottom of the pan.
Pour in a 2.5-inch wide amount of the batter and spread it evenly to the edges.
After about 1 minute on one side, carefully flip the pancake over and continue to cook for another minute until golden brown.
Perfectly sweet from the bananas, these healthy pancakes can be served on their own or with a drizzle of maple syrup!
[Related article: 5 Quick and Easy Pre-Workout Snack Recipes]
2. Rolled oat protein pancakes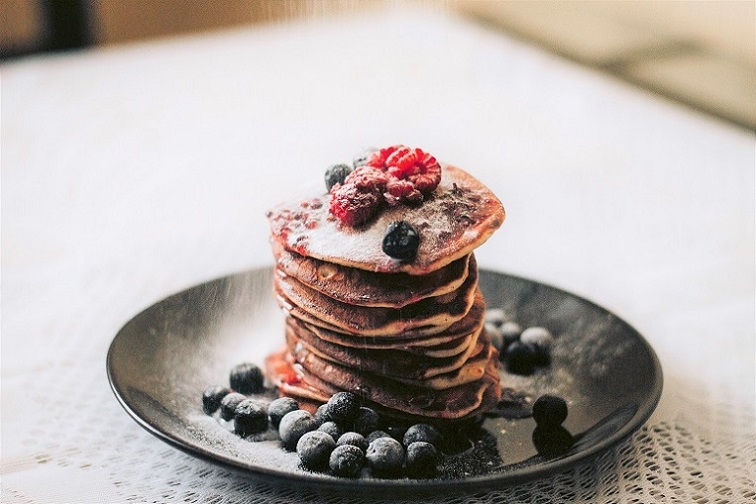 This recipe is all about oats and protein. Oats are a well-balanced powerhouse of carbs, protein and fiber. They're loaded with vital nutrients, vitamins and antioxidant plant compounds[7] [8].
In this recipe, you get a fiber boost from flax meal and an extra protein pep from the scoops of protein powder – ideal if you're exercising regularly and want to build muscle. A good protein powder is often cheaper and more convenient than depending on whole foods completely.
Why are we pushing protein? A high protein diet is also perhaps one of the most important factors of effective weight loss[9] or maintaining a healthy weight. It is known to boost metabolism, curb appetite and alter several weight-regulating hormones[10]. So, if you're not getting enough protein, it's time to start.
This healthy pancake recipes makes around 6-9 pancakes.
What you'll need
1 cup oats
1 banana
2 eggs
1/2 cup egg whites
4 tsps. baking powder
A pinch of salt
A pinch of cinnamon
1–2 scoops protein powder
2 tbsp. flax meal
1 tbsp coconut oil
Handful of dark chocolate chips/ blueberries

Method
Add the ingredients to a blender.
Blast the ingredients on a medium low speed until they're all well mixed.
Heat the coconut oil in a skillet on a medium high heat, covering the base of the pan.
Pour a 2.5-inch-wide amount of batter to the skillet in small circles. Spread the mixture evenly.
When the edges look like they're crisping up (after about a minute or two), flip the pancake and cook it evenly on the other side.
Sprinkle the dark chocolate chips/blueberries on top of the pancake and enjoy.
[Related article: 5 High-Protein Snack Recipes]
3. Omelet pancakes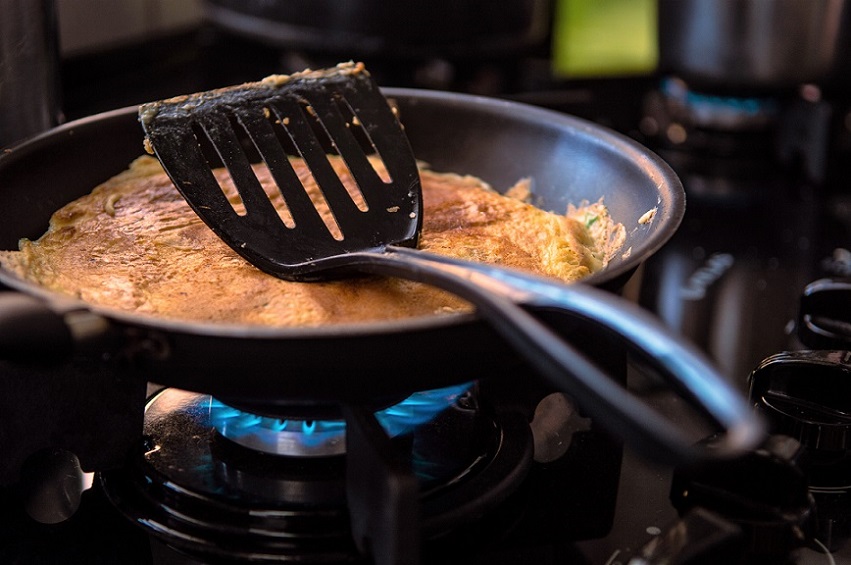 Got a savory tooth? Fix it with this tomato and pepper healthy omelet pancake recipe. This one is a little different from the others – that is, we're not really sure if we can even call it a pancake. But it looks like one, so we're going with it.
The eggs and bell peppers come together to make this one a nutritious elixir. Eggs are a rich source of all sorts of amazing minerals and vitamins – including the likes of vitamin A and B, selenium, and zinc[11]. On top of this, there's also some vitamin D and calcium. Is there anything that isn't in eggs? We're sure you know how nourishing eggs are, so we can stop there.
But what about bell peppers? These colorful fruits are loaded with minerals and vitamins including vitamin C, B6 and potassium[12]. Even better, we get some good antioxidant content from bell peppers, which are associated with many health benefits and preventing chronic disease[13].
This tasty savory treat serves two people.
What you'll need
4 large eggs
A handful of basil leaves
2 tsp rapeseed oil, plus a dash for the pancakes
1 quartered, deseeded & sliced yellow bell pepper
2 thinly sliced garlic cloves
1 tbsp cider vinegar
400g can chopped tomatoes
Method
First – make the sauce. Heat the rapeseed oil in a large skillet.
Fry the yellow pepper and garlic until softened.
Pour in the cider vinegar and let it sizzle.
Tip in the chopped tomatoes and add in a 1/3 of a can of water.
Cover and leave to simmer for up to 15 minutes until the sauce thickens.
Now for the pancakes! Crack an egg into a bowl and beat with 1tsp of water and seasoning.
Heat a dash of rapeseed oil in a skillet and add the egg mixture. Leave to cook for 1-2 minutes until it sets as a pancake. Remove and repeat with the other 3 eggs.
Roll the pancakes and serve onto a plate. Spoon over the sauce and dust with the basil leaves.
4. Chocolate protein pancakes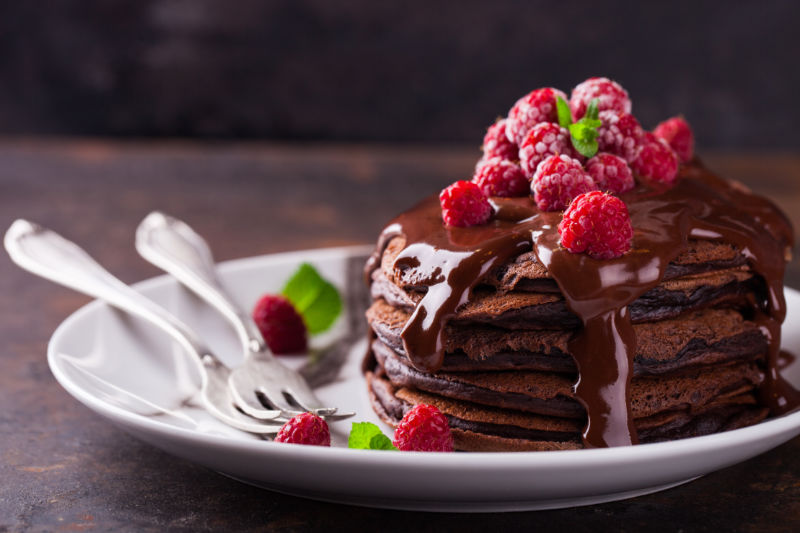 Chocolate, healthy? Yep! Good quality dark chocolate is bursting with fiber, iron, magnesium and a load of other, beneficial minerals[14].
Some research has even shown that dark chocolate has more antioxidant activity, polyphenols, and flavanols than fruits such as blueberries and acai berries[15]. Antioxidants protect against cell damage caused by free radicals, known as oxidative stress[16].
Dark chocolate may also help prevent heart disease by impacting on cholesterol levels[17].
In this recipe, we've included enough of it to help you fix that sweet tooth and benefit, health-wise. Alongside, we have the anti-inflammatory effects of cinnamon[18] which can help protect your body.
This healthy chocolatey indulgence makes around 7-9 pancakes.
What you'll need
1 cup rolled oats, blended
1 banana
2 eggs
1 scoop chocolate protein powder
2 tbsp cocoa powder
1 tsp baking powder
1/4 cup almond milk
A pinch of salt
A pinch of cinnamon
1 tbsp coconut oil
A handful of dark chocolate cut into chunks
A handful of fresh blueberries
Method
Drop all the ingredients into a blender and blast until they're mixed together.
Melt the coconut oil in a skillet over a medium-high heat, making sure the entire base of the pan is covered.
Pour a 2.5-inch-wide amount of batter into the skillet. Spread the mixture evenly across the pan.
Cook each side of the pancake for around 2 minutes or until golden brown. At this point, sprinkle in the dark chocolate chunks and let them melt.
Serve with a garnish of blueberries for an extra nutritious flavor.
[Related article: Healthy Brownie Recipes for a Guilt-Free Cheat Meal]
The last bite
If you've made it this far with your 'new year, new you' diet, there's no need to fall flat when it comes to pancake day. With these quick, easy and healthy pancake recipes you can enjoy a guilt-free treat.
Don't get left out! Fire up your frying pan and get flipping. If you enjoyed these recipes, let us know in the comments below!