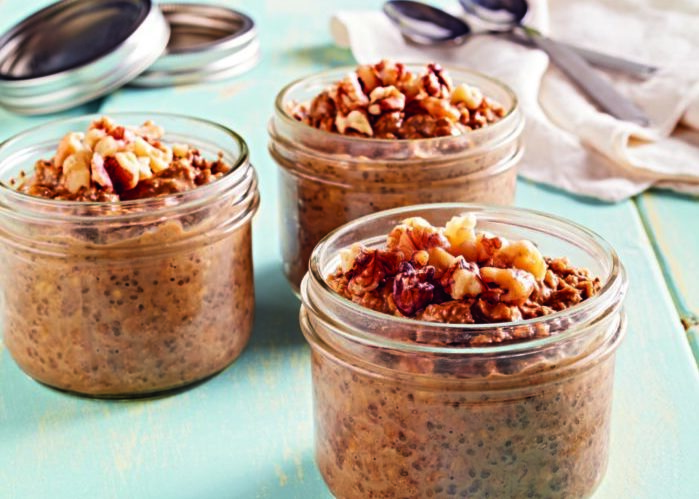 Recipes
5 Quick and Easy Pre-Workout Snack Recipes
Before you head to the gym, you need to make sure you've got enough fuel in the tank to get the job done. With the right pre-workout snack recipes in your culinary arsenal, you can energize your body to get the best possible results from your training session.
Say goodbye to no motivation and grinding, sluggish workouts – nailing your pre-workout nutrition is the key to success.
When it comes to pre-workout snack recipes there are a few essential requirements we need from them. Aside from being delicious, they should supply a good portion of carbohydrates to give your body a powerful energy kick.
They should also ideally contain some protein to heighten muscle growth and maximize gains.
Luckily, we've gathered a selection of super tasty, easy-to-prepare snacks that will help you hit your nutritional needs and power up your workouts.
[Related Article: A Definitive Guide to Pre-Workout Supplements for Women]
Pre-workout snack recipes
1. Chocolate and peanut butter proats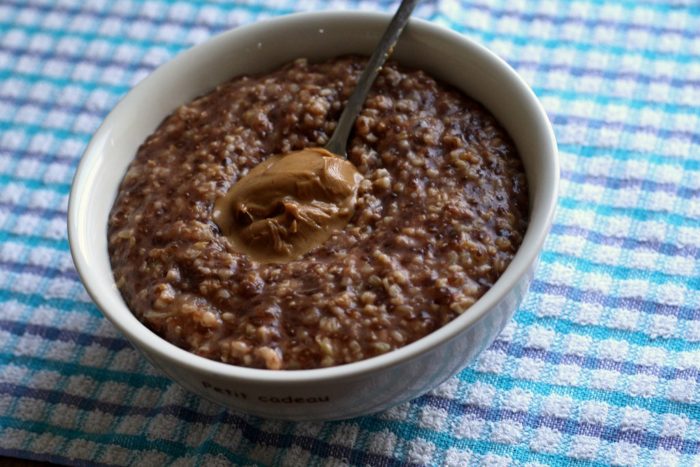 Whether you're waking up for a morning session, or plan to go after work, whipping up a delicious bowl of protein oats (or proats) takes less than five minutes. Not only does it contain a good healthy serving of muscle building amino acids, oats are a form of slow release carbohydrate that give you a steady stream of energy, rather than a spike.
Try out this pre-workout snack around 60 minutes before you head to the gym to feel energized and strong for the session ahead.
Ingredients
Rolled oats
Milk or your choice of dairy free substitute
Your favorite protein powder (Chocolate works well!)
A spoon of peanut butter
Method
Measure out a portion of rolled oats that suits you and your workout ahead and pour into a bowl
Add your chosen liquid and mix
Stir in a scoop of your favorite protein powder until it's completely incorporated
Cook the oats in the microwave for around two minutes
Take it out of the microwave and add more milk to reach your preferred consistency
Finish with a scoop of peanut better on top
2. Peanut butter energy balls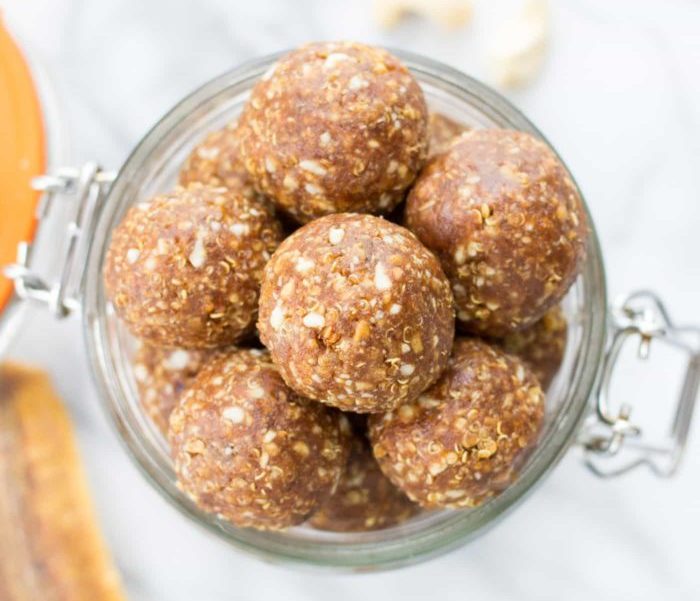 If you're looking for something quick, easy and delicious, then call off the search. A peanut butter energy ball is the perfect way to prep your body for a challenging workout. The quinoa base of this pre-workout snack gives you a good portion of protein and nutrients, while the fats in the peanut butter will fill you up and give you a good energy boost.
What's more, you can meal prep a batch of these in one go, so they're ready to be eaten whenever you need them. Enjoy 3-4 of these before a training session to feel the energizing benefits of these powerful peanut butter balls.
With this formula you should be able to make 20 balls.
Ingredients
One cup of water
Half a cup of quinoa
Quarter of a cup of peanut butter
Two teaspoons of maple syrup or agave nectar
Half a teaspoon of cinnamon
Method
Take a small saucepan and add the water and quinoa in together
Place the pan on the heat and bring the mixture to a boil
Once you see bubbles, stir with a wooden spoon, place the lid on top and reduce the heat to allow it to simmer for between 10-15 minutes or until the water is absorbed
Set aside to cool
Place the quinoa into a mixing bowl and add all the other ingredients. Stir well until completely incorporated
From there, take small sections of the mix and form into small, equally sized balls until you have about 20
Lay the balls out on a tray and place in the freezer for 30 minutes to allow the mixture to firm up
From there, store your energy balls in the fridge until you need to eat them
[Related article: 6 Best Breakfasts for Fat Loss]
3. High protein overnight oats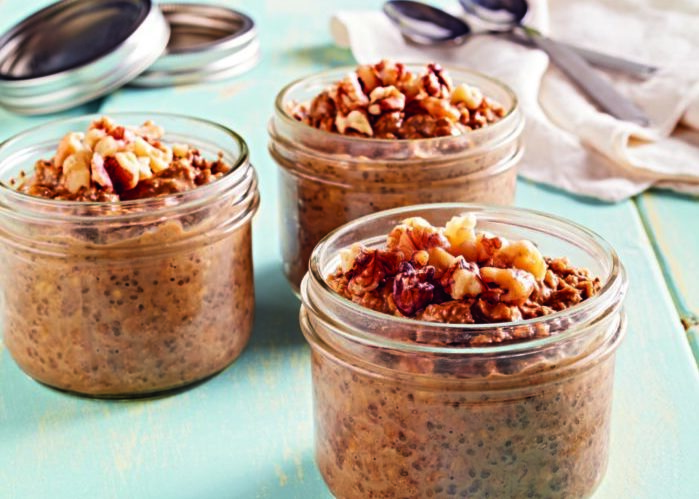 Preparation is the key to success, and making your pre-workout snack the night before is the perfect way to make sure you get the most out of a training session, while taking the pressure off your busy schedule.
They don't take long to prep and, with this pre-workout snack recipe, you'll benefit from all the right nutrients need to energize your training session.
Ingredients
Quarter of a cup of oats
Half a cup of milk or dairy-free alternative
Half a cup of plain Greek yogurt or dairy-free alternative
Chocolate protein powder
One teaspoon of cocoa power
Frozen raspberries
One teaspoon of peanut butter
Method
Mix the almond milk, yogurt, protein powder and cocoa powder together in a bowl
Once it's completely mixed through, gradually fold the oats into the mixture until it's fully incorporated
Pour the mixture into your chosen container (we recommend a Tupperware if you're taking it to work with you) and place in the fridge to rest overnight
The next morning, take it out of the fridge, stir through before eating and add a sprinkle of frozen raspberries and a scoop of peanut butter to finish
4. Bacon egg muffins
If you prefer a savory snack ahead of your workout, then a bacon egg muffin is the way to go. They're simple to make in bulk and come in small bite-sized portions, so you can tuck in to a delicious treat right before your workout.
Not only are these savory muffins bursting with flavor, they're packed full of protein and nutrients that will help you up your game in the gym. Check it out.
You'll get six muffins out of this mix, which equates to three servings.
Ingredients
Two cups of spinach
Half a chopped onion
One egg and two egg whites
Three pieces of cooked bacon, sliced
One cup of cooked quinoa
Method
Wilt the spinach in a pan with a dash of olive oil and the onion
Once it's wilted, add the eggs and stir until scrambled
Add this scramble to a bowl and then mix in the rest of the ingredients until fully combined
Take your muffin tray and coat each cup holder with non-stick spray or a little butter
Spoon equal portions into six of the cup sections
Bake the mixture for around 20 minutes
[Related Article: Drop Fat With This Guide on How to Meal Prep for Weight Loss]
5. Banana and peanut butter bites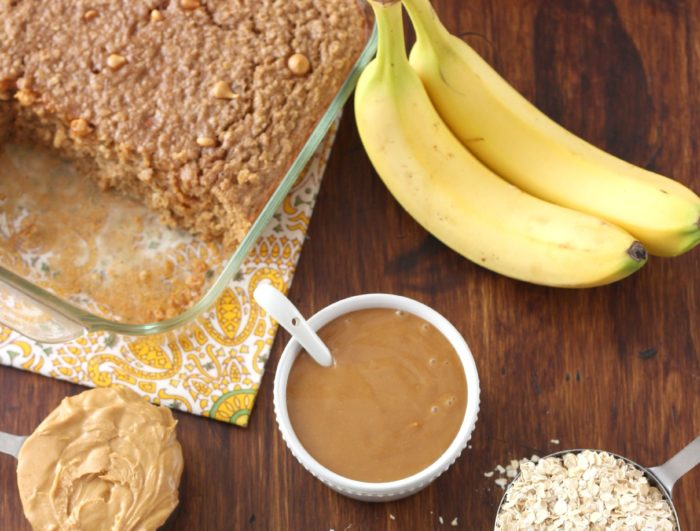 This pre-workout snack recipe is pure, delicious simplicity, but it's enough to help you power through a tough workout. Whether you don't have time to meal prep, or your cupboards are running on low, all you need is a banana and some peanut butter to power up your session.
Because it's so easy and accessible, this versatile snack is perfect for those moments you're in need of a boost. Whether that's a mid-morning pick-me-up or an afternoon energizer, you can't go wrong with this pre-workout snack recipe.
Ingredients
One banana
A tablespoon of peanut butter
Raisins
Method
Cut your banana into around five slices
Spread the peanut butter out over each one
Finish with a sprinkle of raisins
Enjoy!
The final bite
Never feel sluggish or unmotivated in the gym again and get the best out of every workout with these delicious pre-workout snack recipes.
They're carefully designed to deliver essential nutrients to your body, so you've got the energy you need to power through, and the building blocks you need to grow.
Try these pre-workout snack recipes before your next session and maximize your performance.