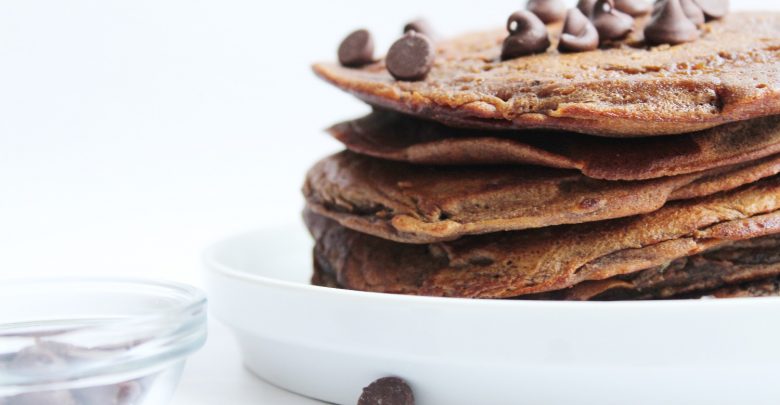 Recipes
3 Easy Protein Pancake Recipes
Is there any breakfast more delicious and fulfilling than fresh, home-cooked pancakes?
That smell alone first thing in the morning is enough to set you up for the day. Top those delicious fresh-cooked treats with fresh cream, maple syrup or sweet jam and you've got yourself one heck of a great morning.
But there's one drawback, pancakes for breakfast ain't exactly healthy right?
Wrong.
Fitting a plate of delicious pancakes into your dieting might be easier than you think – all with protein pancake recipes.
We've created three recipes that put a new, healthy twist on your average pancake so you can stick to your diet, while enjoying a guilt-free treat.
What are protein pancakes?
Ok, we hear you. Healthy pancakes surely can't be a thing. But give us a moment to convince you.
One of the most effective, proven ways to lose weight is to enjoy a high-protein diet [1], and protein pancakes fit that bill down to the ground.
If you're going to achieve a high-protein diet, you need a hearty helping of these amino acids in every meal – and so many of us fail to get ours in at breakfast.
Fitting in a good level of protein into your breakfast is the ideal way to get you off to a good start, and ensure you're getting enough of this nutrient into your diet.
What's more, our protein pancake recipes provide you with fiber, essential nutrients and a well-balanced meal that will complement any healthy diet.
Starting to sound a little better? Good.
A protein pancake honestly is the way to get the best of both worlds.
Follow our step-by-step instructions and learn how to make protein pancakes with these delicious recipes.
Protein pancake recipes
Check out these protein pancake recipes to kickstart a day of healthy eating and satisfy that sweet tooth.
Before you get started, you're going to need a few things in your kitchen. Check you've got the following before you begin whipping up a breakfast feast:
Blender or smoothie maker
Round, flat-based skillet
Spatula
Once you have all of these things, you're ready to start cooking up a storm. Take a look at the recipes below and pick out your favorite.
Chocolate protein pancakes
Chocolate in a healthy breakfast?! It sounds too good to be true right?
When it comes to sweet treats, chocolate pancakes reign supreme.
You don't have to skip out on your diet to enjoy these for breakfast either. Our protein pancake recipe has you covered with a delicious, healthier take on this classic.
We don't skimp on flavor either, this recipe uses real bits of dark chocolate to satisfy that sweet tooth, without making you go completely off track. Check it out below.
Ingredients:
3 eggs
2 ripe bananas
¾ cup of rolled oats
¼ cup of chocolate flavored protein powder
2 tbsp of cocoa powder
1 tbsp coconut oil
1 tsp ground cinnamon
Dark chocolate, cut into small chips
Fresh raspberries
Method:
Add the eggs, bananas, oats, protein powder, cocoa powder and cinnamon into your blender. Blend until smooth.
Take your skillet and heat it up on the stove. Add the coconut oil to melt it
Once the coconut oil is melted, ensure it covers the base of the pan completely
Add a third of your pancake mix to the pan and move it around until it evenly covers the base
Cook for about 2-4 minutes. You should be able to see the edges turn from shiny, to dull as they cook, and bubbles should begin to appear at the center
Take your spatula and test if your pancake ready to flip by sliding it underneath. If it's strong enough, flip it over
At this point, add a few dark chocolate chips to melt. Cook for another 2-3 minutes or until done
Serve the pancake with a garnish of fresh raspberries for a fresh, sweet flavor
[Related Article: 3 Healthy Chicken Breast Recipes]
Banana protein pancakes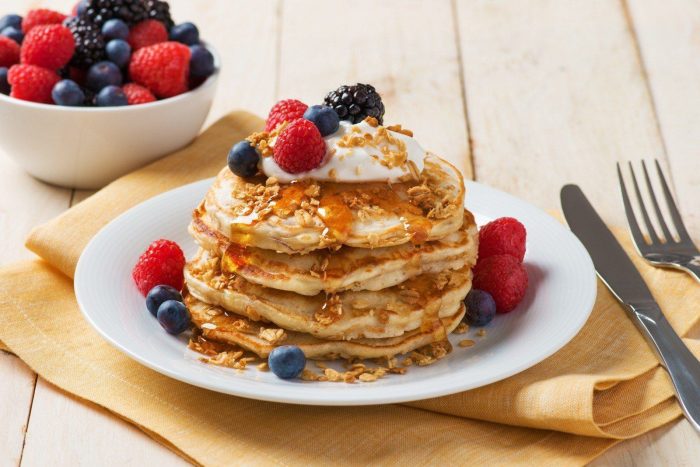 This is a classic for a reason. Nothing says Sunday morning treats like banana pancakes.
We've created a delicious protein pancake recipe that has all the deliciousness of the original dish, but with added protein-packed benefits.
Fire up the skillet and get to work fixing up this sweet treat, without any of the guilt.
We've topped this pancake with a hearty helping of Greek yogurt, fresh fruit and honey. This adds a little extra sweetness and freshness, along with even more protein from the thick Greek yogurt. Amazing, right?
Ingredients:
2 eggs
¾ cup of rolled oats
½ cup of vanilla protein powder
¼ cup of almond milk
1 ripe banana
½ teaspoon of ground cinnamon
Greek yogurt
Fresh fruit
1 tbsp of coconut oil
Method:
Add the eggs, oats, vanilla protein powder, almond milk, banana and cinnamon to a blender
Blast in the blender until everything is completely smooth
Heat up your skillet on the stove at a medium heat and place coconut oil in the center to melt
Ensure the oil covers the entire base of the pan before pouring a third of your mixture into the mix
Coat the base of the pan with the mixture and cook for 2-4 minutes until the edges start to dull and raise slightly
Grab your spatula and flip the pancake. Cook for another 2-3 minutes on that side or until done
Serve with a dollop of Greek yogurt and a little squeeze of honey for a sweet treat that ticks all the health boxes
[Related Article: High Protein Low Carb Dinner Recipes ] 
Oatmeal protein pancakes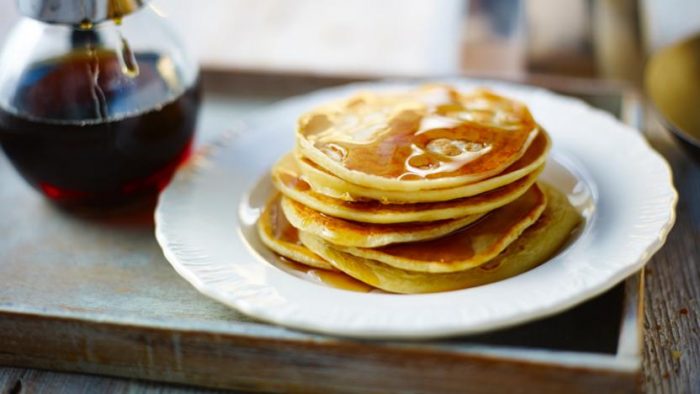 Oats are one of those incredible super foods that offer a whole host of health benefits. So, we thought, why not turn your morning bowl into a delicious breakfast treat?
We've created a protein pancake recipe, designed to help you get the most out of your oats and top up on those super healthy, fat-burning amino acids.
Check it out and upgrade your usual oatmeal breakfast for some next level satisfaction.
In this recipe, you won't be getting your protein from a powder. Instead we've used egg whites to provide a complete amino acid profile.
Ingredients:
1/3 cup of rolled oats
1 cup of egg whites
½ tsp ground cinnamon
1 tbsp maple syrup
1 tbsp coconut oil
Method:
Add the oats, egg whites, cinnamon and maple syrup to your blender and blast until smooth
Heat your skillet up to melt the coconut oil
Ensure the oil overs the bottom of the pan so the pancakes doesn't stick
Pour half a cup of your mixture into the pan and spread evenly to the edges
Cook for 3-4 minutes or until the edges start to come away from the skillet and bubbles start to form in the middle
Take your spatula and flip the pancake over
Continue to cook on this side for a further 2-3 minutes
Serve with a squeeze of maple syrup for added sweetness
[Related Article: Healthy Brownie Recipes for a Guilt Free Cheat Meal] 
The final taste
With these protein pancake recipes, you can quite literally have the best of both worlds.
Believe it or not, a delicious, fluffy, flavorsome and healthy pancake isn't that hard to create yourself.
Simply follow our step-by-step guidelines and you can transform you breakfast into something that not only satisfies your cravings, but helps you stick to your clean-eating plan too. It's what dreams are made of.
What are you waiting for, fire up that skillet and start flipping those pancakes like a pro today. Let us know what you think when you've had a taste!
Jäger, R., et al. (2017). International Society of Sports Nutrition Position Stand: protein and exercise. Journal of the International Society of Sports Nutrition. 2017 14:20