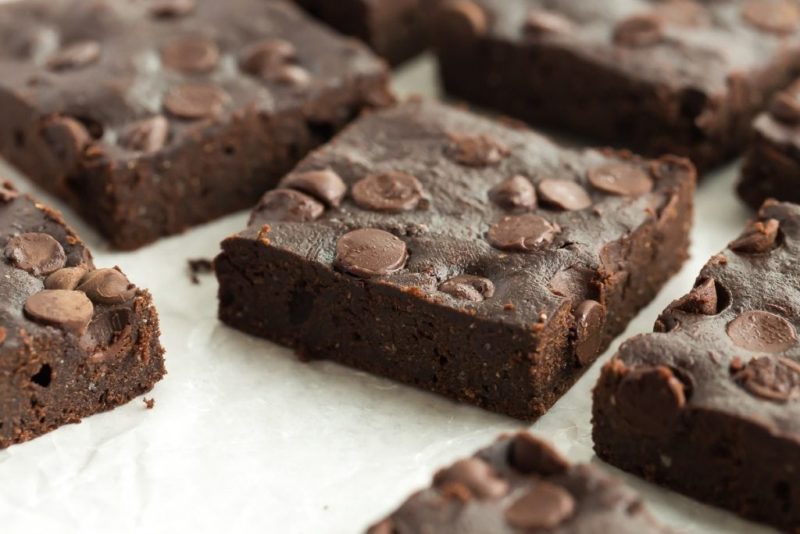 Recipes
Healthy Brownie Recipes For a Guilt-Free Cheat Meal
Sometimes girl, you deserve a cheat meal. You've been working hard on your diet, but you're only human – you're craving something sweet. Well, check out our healthy brownie recipes and enjoy a guilt free cheat snack that tastes just like the real thing.
When you're nailing that diet, it's likely you'll start craving a little treat here and there. Don't sweat it girl, it happens to everyone and you're only human. By giving yourself a little break with a much needed snack, you can actually improve your adherence to a diet.
See, it's basically a good idea to cheat a little bit. We're just thinking about you, girl.
The trick is to perfect your cheats. By giving yourself something you've been craving, but controlling what you eat, you can enjoy a treat, without going completely off the rails. That's where a delicious healthy brownie recipe can be a diet-saver.
Ok girl, we'll level with you, there are still some fats and carbs in here, you can't get that delicious brownie texture and decadent flavor without a few sacrifices. However, these healthy brownie recipes are a whole lot better for you than your store bought treats.
Overall, they're  lower in calories, fats and refined sugars, making them a much better choice if you're on a calorie restricted diet. Plus, who doesn't love getting their bake on occasionally?!
So girl, don't get hangry. Check out these healthy brownie recipes for some seriously delicious, yet guilt-free healthy brownie recipes that will give you the perfect cheat from your diet.
[Related Article: Discover the 6 best breakfasts for fat loss with SpotMeGirl.]
Healthy brownie recipes:
Three-ingredient, flourless healthy brownies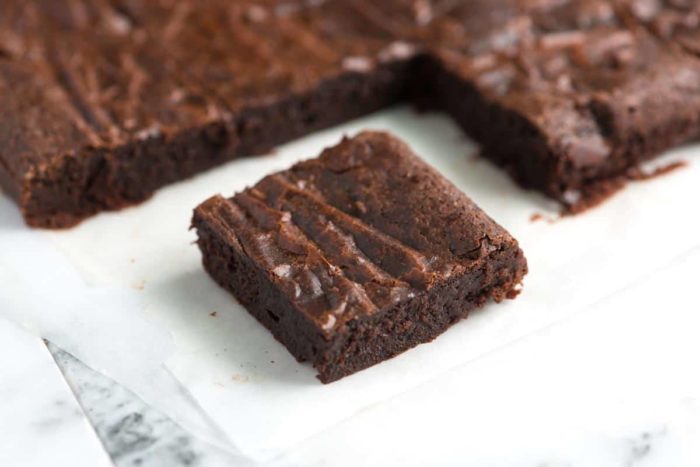 You heard us right. Only three ingredients and zero flour or butter goes in to these bad boys. In fact, if we wanted to go into the detail, it's also vegan, gluten-free, refined sugar free and even paleo, if you're into that. That means they're low calorie, reduced carb and reduced fat. It's basically a free pass to gooey, chocolatey heaven.
Not only are these tasty AF, they're also super easy to track and factor into your diet because there are so few ingredients involved.
Despite there only being three ingredients, it still packs a powerful flavor punch. The banana gives it a delicious sweet kick, while the cocoa powder provides the chocolatey goodness we're living for. On top of that, the nut butter gives it an earthy tone. If you're a fan of a peanut butter flavored brownie, this one's for you.
The beauty is really in the simplicity in this one, girl.
Ingredients:
Three large overripe bananas, peeled and crushed
½ a cup of your favorite smooth nut butter
¼ cup of unsweetened cocoa powder
Method:
Preheat the oven to 350 degrees Fahrenheit
Grease a small baking tray with coconut oil to create a non-stick surface
Take a pan and place it on a low heat to melt your nut butter a little
When it's in more of a liquid form, pour it into a large mixing bowl and add the banana and cocoa powder before mixing thoroughly
Pour it into the baking tray and spread evenly over the base
Place in the pre-heated oven and cook for about 20 minutes until it's cooked all the way through
Leave to cool before cutting and serving
[Related article: Pre-Workout Nutrition – 4 Signs You're Not Eating Enough]
One bowl healthy brownie recipe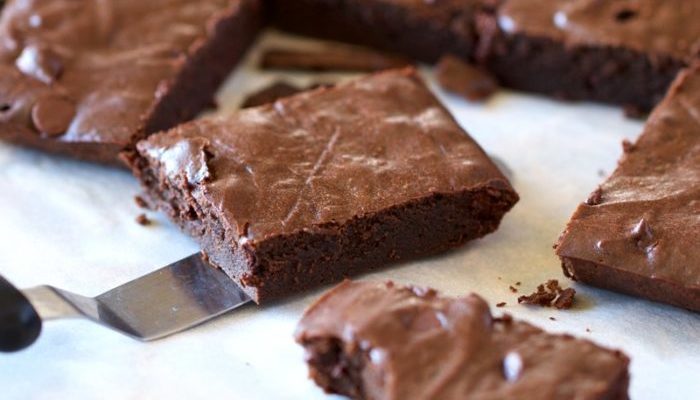 Not only is this one low on calories, you can make it one bowl, so there's hardly any dishes to do either. Is this the dream brownie? We think it might be.
It's also rich and delicious as heck, so you're in for a gooey, fudgy treat girl. It might feel like the most sinful meal you've had all day, but this brownie really is much healthier for you than something you can pick up at the grocery store.
Without refined sugars or butter in the mix, it significantly lowers the calorie value of this healthy brownie. That means you can fit it in a fudgy, chocolatey treat, without worrying about derailing your diet completely.
Add this one to your cooking list and you'll be able to chow down on a sweet treat without any of the guilt.
Ingredients:
1 tbsp of coconut oil
3-4 tbsp of finely chopped dark chocolate
2 egg whites from large eggs
¼ tsp salt
1 tsp of vanilla extract
¼ of Greek yogurt, non-fat
½ cup of coconut sugar
6 tbsp of unsweetened almond milk
¾ cup of unsweetened cocoa powder
¼ tsp of baking powder
¾ cup of white, whole grain flour
Method:
Preheat your oven to 300 degrees Fahrenheit
Take your baking tray – a 8-inch-square tray will give you 16 servings – and coat the inside with a little coconut oil to create a non-stick surface
In a medium bowl, take the butter, egg whites, salt and vanilla and whisk together until it's all completely incorporated
Add the Greek yogurt and mix until no large lumps remain
Next, stir in the coconut sugar and the almond milk, followed by both the cocoa and baking powder
When that's all incorporated, add the flour and gently fold it in until it's completely mixed through. Once that's in, finish with two tablespoons of the dark chocolate and stir well
Pour the batter into the baking tray and spread until it covers the surface evenly, then place the remaining dark chocolate on the top
Place in the pre-heated oven and bake for 15 minutes for delicious, fudgy brownies
[Related article: Best Pre-Workout Meals for Muscle Gain ] 
Fudgy healthy brownies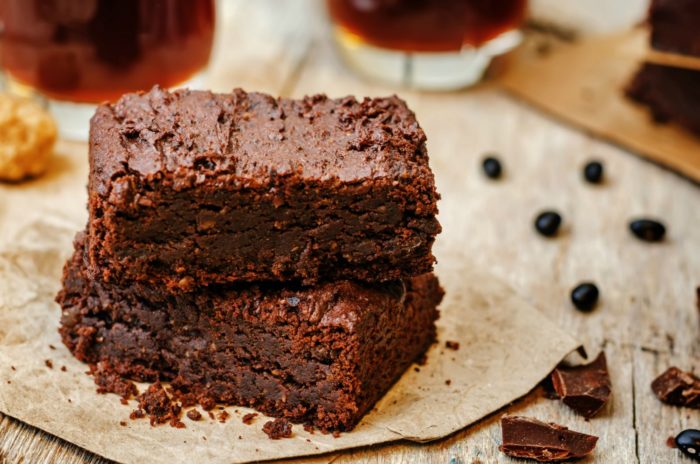 This is one of the most delicious no-fuss healthy brownie recipes you'll find, girl. It's completely free of refined sugar and butter or oil. That means low cals girl, and you know that means we're going back for a second slice… or third.
What's more these fudgy little delights are made with common ingredients you'll find easily in your cupboard. Obviously, it's absolute goals to have a cupboard full of nut butters and coconut flour, but sometimes you're just fresh out of those more luxury items. This is perfect if you can feel yourself on the brink of diet destruction and you're in need of a quick brownie fix.
Check this recipe out and bake your own gooey, decadent healthy brownies. Take a bite of these and you'll be certain you're eating the real thing. Fear not girl, it might taste like the real deal, but it's just a fraction of the calories you'll get from a conventional brownie.
Ingredients:
½ cup of coconut oil
1/3 cup of finely chopped dark chocolate
1/3 cup of whole wheat flour
1/3 cup of honey
¼ cup of cocoa powder
½ tsp of salt
2 eggs
Method:
Preheat your oven to 300 degrees Fahrenheit
Coat the inside of a baking tray (8×8 inches provides 16 servings) with a little coconut oil
Take a small saucepan and melt the coconut oil and dark chocolate together over a low heat. Stir occasionally until it's completely melted
In a medium bowl, stir the flour, cocoa powder and salt together
In another mixing bowl, mix the egg, honey and melted chocolate and coconut oil until it's completely combined
Add the dry mixture to the wet and fold with a spatula until it's completely incorporated
Pour the whole mix into the baking tray and spread it evenly over the base.
Place in the oven to bake for 25-30 minutes. Less time makes it slightly fudgier.
Leave to rest and cool before serving
The final taste
Girl – You. Are. Welcome.
Not only are these brownies mouth-wateringly good, they're low on refined sugars, fats and calories too. So, although they'll give you a much needed treat, it's nothing that will send you into a diet-danger-spiral.
In fact, by enjoying a little sweet treat and satisfying those cravings, it's often just the break you need, before you can refocus your energies on nailing your diet on the regular.
Get your taste of the sweet life, but stick to that diet like a girl-boss with these healthy brownie recipes.