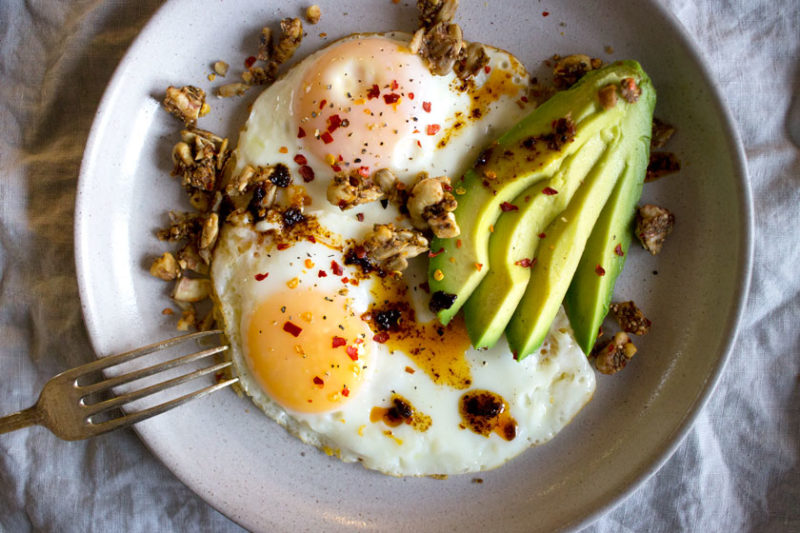 Rise and shine girl – we're here to help you start your day the right way, with our top 5 favorite fat loss breakfasts.
Whether you're short on time, in need of a "cheat" meal or are looking for a vegan dish, begin every day with a healthy fat-loss breakfast. We've got you covered with six delicious meals that will help you lose weight and support muscle.
Why do I need a fat loss breakfast?
We know a lot of people skip breakfast, preferring to eat later on in the day or just have a quick snack because they're too rushed in the morning. No worries girl, you do you. But if you're anything like us, without breakfast you'll be hangry by 11am, which ain't pretty.
The way we see it, every mealtime is another opportunity to get in more of that magical muscle-building macro, protein.
A smart fat-loss breakfast can give you a powerful start to the day. Protein will help you hit your muscle-building goals and energize your body from the word go. With a healthy, well-balanced meal first thing in the morning, you may feel some of these benefits:
You'll find it easier to focus first thing
Your productivity will improve
You should be less hungry
Make fewer hangry food decisions (you'll keep cravings at bay!)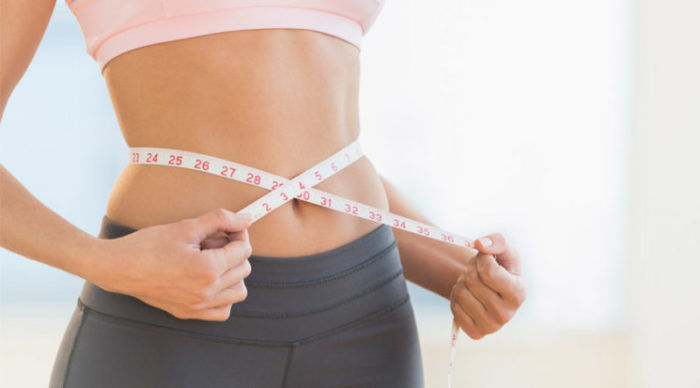 What makes a fat loss breakfast work?
When you start planning out your fat-loss breakfast, you need to think about the nutrients you're putting in to your body.
A good rule of thumb is to make sure you're on a calorie restricted diet and hitting the right macros. Generally, if you're looking to train weights, grow stronger and lose fat, then a high protein diet is the way to go. The protein will help you maintain muscle which can help you burn more fat.
Aim to reflect this in your fat-loss breakfast by monitoring the calorie value of your food, including plenty of protein in snacks and meals and making sure everything you eat will nourish your body.
Related article: What Does IIFYM Mean? – A Guide to Flexible Dieting for Fat Loss
We've created these fat-loss breakfasts to reflect a healthy diet, with controlled calories and a high protein content. Everyone's calorie needs are different, so we haven't put measurements into these recipes – you can figure out the amounts you eat to perfectly complement your own diet.
#1 The egg option
The humble egg packs a powerful punch as a fat-loss breakfast. Full of nutrients, brimming with protein and crammed with healthy fats, we had to put them at number one.
Scramble 'em, fry 'em, boil 'em or even throw 'em in an omelet. We never get bored of eggs. This versatile food is one of our favorite ways to pack in all those essential nutrients first thing in the morning and set you up for the day.
In this egg-based breakfast, we'll show you how to make a healthy, high-protein omelet.
Ingredients:
A handful of cherry tomatoes cut into halves
Spinach
Chopped mushrooms
2 eggs
2 egg whites
Method:
Mix everything together in a bowl.
Heat a small amount of your chosen oil in a pan and be sure to coat the whole surface.
Add the mixture to the pan, ensure it covers the whole area and keep on the heat until the egg is cooked all the way through.
Tip: If you've got the skills, flip your omelet half way through to ensure it's cooked evenly on both sides. If you don't have the skills, don't worry girl, we're not all born chefs. Just put it under a grill to cook the top for the last five minutes.
#2 The "cheat" option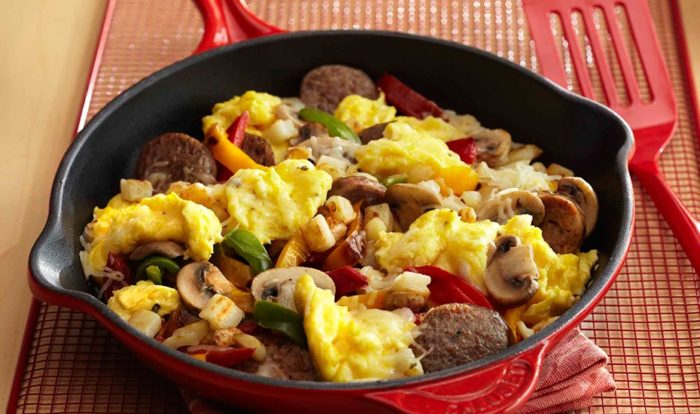 For this fat-loss breakfast, we're going down the route of a hearty, nutrient packed dish based around chicken sausages. They're lean, tasty and high in protein. It might feel like a cheat meal, but the fact is this one is perfect for fat loss.
It goes without saying meat is one of the main sources of protein available, but we said it anyway. If you want to mix it up and try another meat-based fat-loss breakfast we'd say stick with leaner meats. They'll have less calories per pound and are packed with muscle growing protein.
Ingredients:
Chicken sausages
2 eggs
1 egg white
Spinach
Method:
Cook your sausages in the recommended method
As the sausages cook, whisk your two eggs and your egg white together in a mixing bowl
Pour them into a shallow non-stick pan and add a handful of spinach and cook over a medium heat
Keep the eggs moving with a wooden spoon until you have scrambled eggs
Serve the eggs with the sausages for a tasty guilt-free "cheat" breakfast
Tip: Turn this one into a skillet and cut up your sausages, throw in some peppers, onions and peppers for a twist on this tasty dish.
Related article: 5 High-Protein Snack Recipes
#3 The speedy option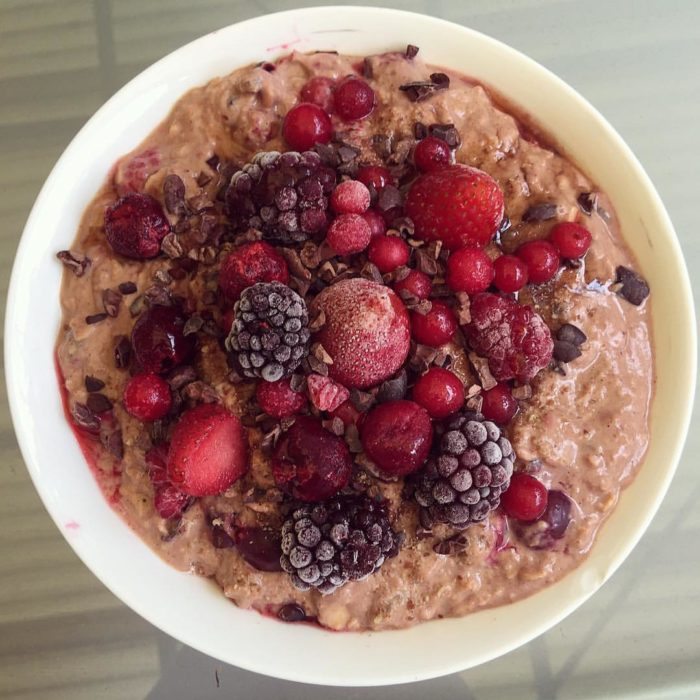 Girl, sometimes it's pretty much impossible to think about making a full breakfast first thing in the morning. You're exhausted and you're too hangry to think about cooking – and you're probably still asleep.
Don't worry girl, we've got you covered with a breakfast that gets you all your macros, without taking you ages to cook.
Meet protein and oats, or proats. It's tasty, it's quick and it's got everything you need to hit a fat-loss breakfast:
Ingredients:
Rolled oats
Your favorite protein powder
Water, milk or almond milk
Frozen berries
Method:
Cook the oats and the liquid to your desired oatmeal consistency. Microwave for speed and ease, or cook in a pan if you're feeling fancy.
Add your whey protein and a little extra liquid if it's needed and mix well until the powder is completely incorporated.
Add your frozen berries to the top for a refreshing twist on the dish.
Tip: If you're vegan, find a plant-based protein and use water or almond milk to create an animal-friendly version of this warming fat-loss breakfast.
#4 The gram-worthy option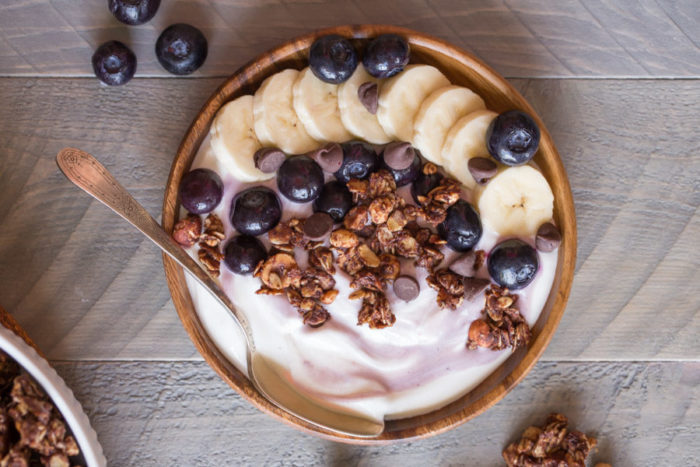 If you've got more of a sweet tooth, but you still want to make some serious gains, then high protein yoghurts are the perfect fat loss breakfast for you. They'll help curb your cravings without breaking your diet.
Perfect the yogurt bowl and you'll soon be part of the mouthwatering #yogurtbowl revolution on Instagram.
These days, there are high-protein yogurts in every supermarket. Add these to your shopping cart and you'll soon have an easy snack to support your diet or the perfect breakfast to start you off.
The temptation with this is to add loads of granola to the top. You can, but just be aware that a lot of these products contain big helpings of sugar. If you're keeping your calories down, opt for a low sugar variety or go for fresh fruit for added fiber.
Ingredients:
Greek yoghurt
Your fave fruits
Method:
Pour your Greek yoghurt into a bowl
Top with an array of your favorite fruits for a fresh, high protein, high fiber start to your day
Tip: Add a touch of savory flavor to your bowl and sprinkle the dish with unsweetened coconut shavings, nuts or a helping of peanut butter.
#5 The "on-the-go" option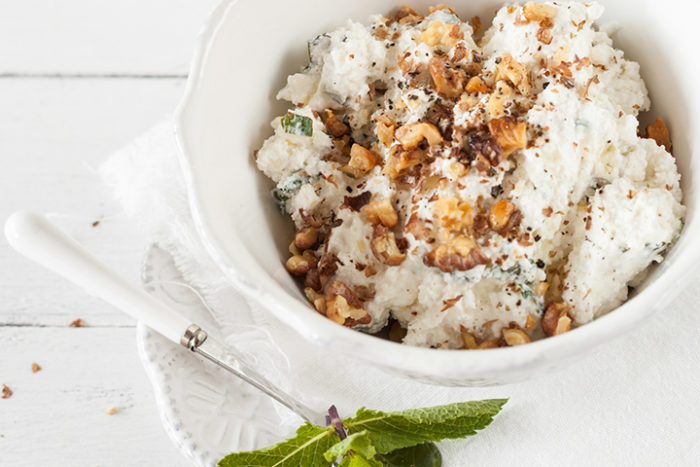 This is another opportunity to turn your breakfast into a guilt-free sweet treat. But this one is perfect if you're a girl boss who needs to get her protein fix on-the-go. Luckily, cottage cheese is full of the stuff.
Simple prep it the night before, put it a plastic container and you can enjoy it on the way to the gym first thing, or at your desk post-workout.
We hear you girl, it sounds kinda strange to just have a bowl of cheese for breakfast. But if you know how to work with it, this one can be a sweet delight.
Not only is it super tasty and full of all those essential nutrients we keep banging on about, it's super quick and easy to prepare. Follow our recipe and find out for yourself.
Ingredients:
Cottage cheese
Walnuts
Honey
Blueberries
Method:
Put your portion of cottage cheese in a bowl
Sprinkle the walnuts and blueberries on top
Finish with a little honey over the top
Tip: If you're watching your carb intake and want to avoid the simple sugars in honey, opt for a sugar free syrup option. You should be able to find some in any well-stocked grocery store.
Related article: Drop Fat with This Guide on How to Meal Prep for Weight Loss
#6 The vegan option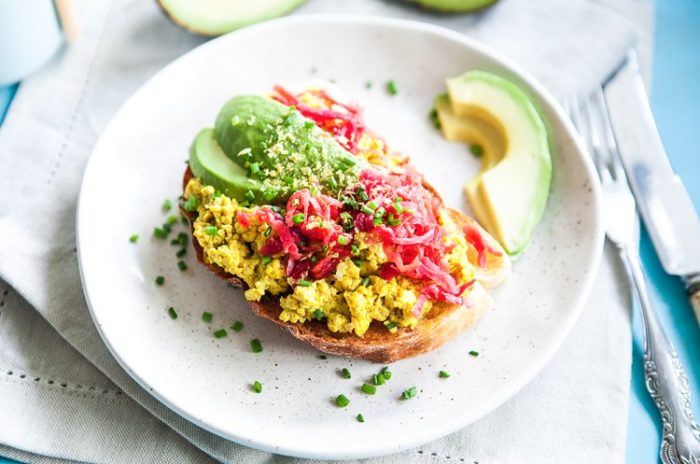 For all those plant-based babes out there, we've got a delicious breakfast packed with a complete protein amino acid profile.
If you haven't already, check out tofu. It's a sister to tempeh and it makes a delish option for plant-based fat-loss breakfast. Put this in your morning repertoire and you're on a track for some serious vegan gains.
We're going for a tofu on toast vibe with this one girl, so check it out. It's perfect for a mid-week treat yo'self meal, or a Sunday morning brunch, but with the added bonus of being a healthy fat-loss breakfast.
Ingredients:
Tofu
Vegan whole meal bread
Halved cherry tomatoes
An avocado
Paprika and salt
Method:
Break up some tofu and use a fork to crumble it into smaller pieces
Heat your chosen oil in a pan on a medium heat
Add the tofu, paprika and salt and cherry tomatoes and cook until everything is hot throughout
Slice your avocado up to suitable sizes
Toast some bread and put the tofu and avocado over the bread
The final bite
There you have it girl, you've got enough fat loss breakfasts to keep you hitting your weight goals and growing muscle like a pro. Each one is powered by protein and healthy nutrients, so you can enjoy a delicious first meal of the day, whilst smashing your fitness goals in one go.
Whether you've got a sweet tooth or are a plant-based goddess, these meals will have you covered. Put your culinary prowess to the test and whip them up for yourself.