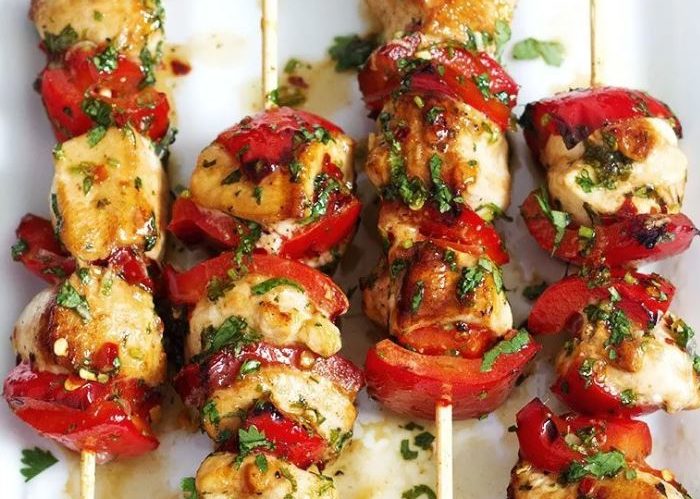 Recipes
3 Healthy Chicken Breast Recipes
In the world if health and fitness, chicken is a go-to source of muscle building protein and versatility of flavor. Add some healthy chicken breast recipes to your menu and find the perfect partner to your diet and fitness routine.
Perfecting your diet isn't always the most exciting thing to do. Without the right kind recipes, meals can become dull, repetitive and uninspiring very quickly.
To help you mix up your eating routine, without falling off the wagon, we've created these truly delicious healthy chicken recipes.
They're lean, packed full of protein and tasty to boot. Read on to learn how to make them for yourself.
Health benefits of chicken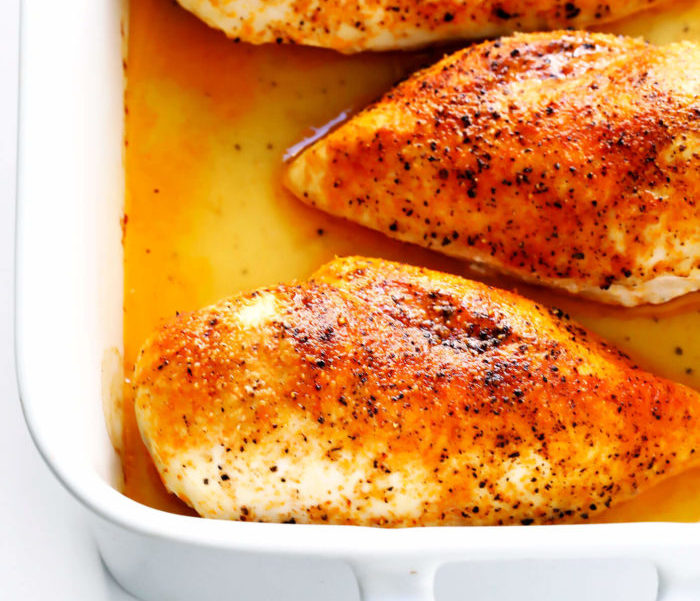 There's so much to love about a really good healthy chicken breast recipe.
The main benefit of chicken breast is it's lean. This means it's a great source of low-fat, low-calorie protein.
While that might not seem very important, it's actually what makes it such a great ingredient for a weight loss diet. By opting for a high-protein diet, you can maintain a higher level of muscle, which in turn promotes fat loss [1] and can contribute towards a healthier body composition.
As it's low-calorie, chicken also fits well into a calorie-restricted diet.
Of course, we're talking about a plain chicken breast here rather than anything fried or battered. As soon as you add these extra bits, you can expect the calories and fats to go sky high. Not so healthy. They may taste good, but don't worry, the flavor in our recipes will put fried chicken to shame.
Whether you're planning on losing fat or gaining muscle, or both, including chicken in your dishes can put you on the right track.
On top of all the body composition potential, chicken breast contains a whole host of health-boosting nutrients, that will also nourish your body.
Here's a few of nutrients chicken can offer:
Protein – helps to maintain and muscle while promoting fat loss
Selenium – a trace mineral that plays a key role in thyroid function, reproduction and DNA synthesis
Phosphorus – a major mineral stored in your bones, DNA and cell membranes. It's essential to a range of reactions and plays a key role in muscle contraction, maintaining strong bones and normal kidney function
Vitamin B6 – this is needed to convert food into energy and plays an important role in metabolism, brain function, growth and maintaining a healthy body
Creatine – this compound is key to muscle energy production and can heighten athletic performance in a workout
[Related article: How to Meal Prep for Weight Loss]
Healthy chicken breast recipes
Harness all the nutritious powers chicken has to offer and check out these delicious, healthy recipes today. We've created some truly tasty dishes that will keep diet boredom at bay, whilst giving your body the nutrients it needs to stay in top shape.
Sticky spicy chicken tenders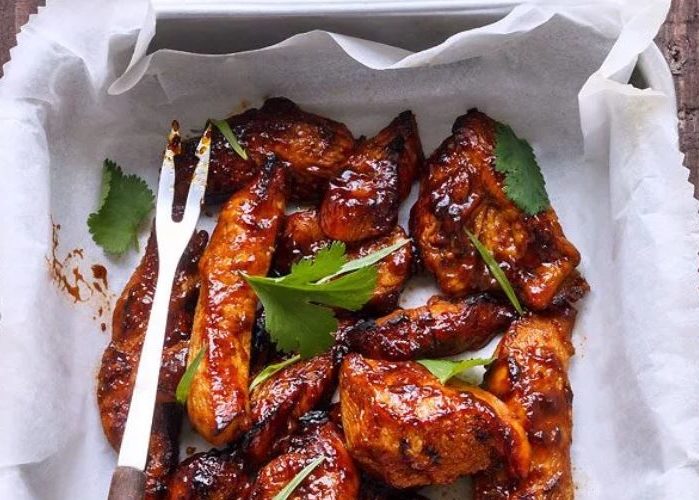 This delicious healthy chicken breast recipe is the answer to your takeaway cravings. It's a nutritious twist on an Asian classic, that helps you get benefits from all the goodness chicken has to offer, whilst packing a powerful flavor punch at the same time.
Serve this up alongside some homemade egg-fried rice and stir-fried veggies for a well-balanced, healthy meal.
Ingredients
450g of skinless chicken breast, cut into tenders
Marinade
4 tbsp olive oil
2 tbsp of Sriracha sauce
2 tbsp low sodium soy sauce
2 tbsp apple cider vinegar
1 tbsp sugar
5 garlic cloves
One-inch section of peeled ginger, finely grated
Juice from one lime
Method
Preheat the oven to 425°F or 200°C
Put the marinade ingredients into a large bowl and mix until fully incorporated and smooth
Add the chicken tenders to the marinade, ensuring they're all coated as much as possible. Cover the bowl and place in the refrigerator for an hour
Line a baking dish with parchment paper
When the chicken is done marinating, place each one in the baking dish, then spoon a little extra sauce onto the pieces for added flavor
Place in the oven to cook for between 25-30 minutes
While the chicken is cooking, pour the remaining sauce from the bowl into a pan and place on a medium heat to reduce. Ensure the sauce comes to a boil and keep it moving with a wooden spoon to stop it sticking to the pan
Once it's a thick, sticky sauce, remove from the heat then pour over your cooked chicken tenders before serving
 [Related article: The 5 Best Lunches for Weight Loss]
Sweet Chili Chicken Breast Skewers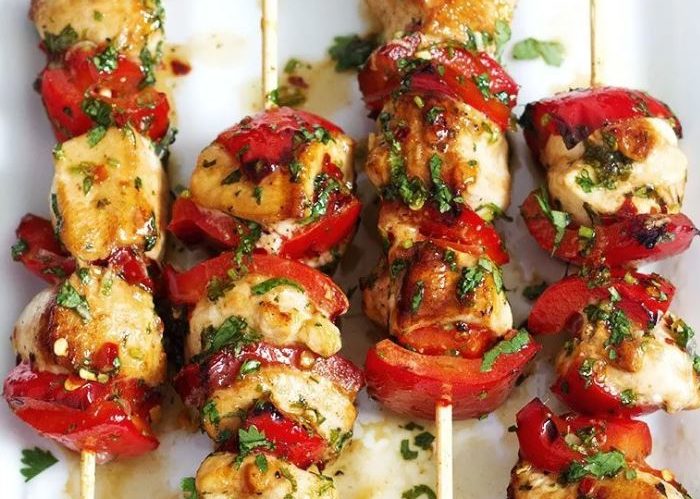 Combine the sweetness of honey with the heat of chilis in this sweet and salty healthy chicken breast recipe.
These grilled skewers will make a change from your usual baked chicken breasts, and give you a whole heap of flavor in every bite.
Dish this up with a serving of wholegrain rice and a fresh summer salad.
Ingredients
Skewer:
4 chicken breasts
2 red bell peppers
Marinade:
¼ cup freshly squeezed juice from a lime
2 tbsp olive oil
1 tsp honey
1 tsp red chili flakes
½ tsp salt
Zest of one lime
2 garlic cloves, finely chopped
Method
Pre-heat your grill to a medium-high heat
Add the marinade ingredients to a bowl and thoroughly mix until they're completely incorporated
Cut the chicken breast into cubes and place in a large bowl
Pour the marinade over the chicken, ensuring each piece is coated
Cover the bowl and place in the refrigerator to marinate for about an hour
In this time, cut your bell peppers into squares, similar to the size or the chicken
If you're using wooden skewers, soak them in water for about a minute
Once the chicken is marinated, begin to create the skewers by piercing a piece of chicken, followed by a couple squares of bell pepper. Alternate between, opting for either five or six pieces of chicken on each skewer
When you've used all the chicken and peppers, place the skewers under the grill for around five minutes, before turning them over and cooking on the other side. Continue until they're cooked through and the peppers are slightly charred on the edges
Pour the remaining marinade in a pan and place on a medium to high heat. Bring to the boil, then lower the temperature so it's lightly simmering. Keep the mixture moving until it becomes sticky and thick, then remove from the heat.
Finish by spooning the sauce onto the skewers for extra flavor
[Related article: High Protein, Low Carb Dinner Recipes ] 
Bruschetta Chicken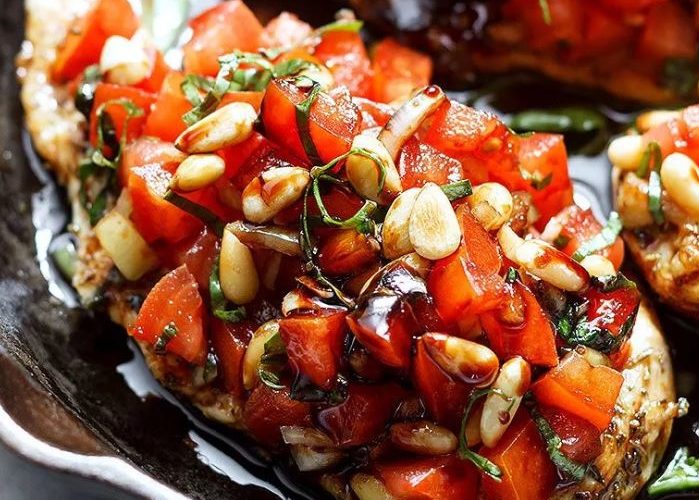 This is bruschetta re-imagined with a high-protein twist. Swap out the high-carb bread for a nutritious chicken breast and you've got yourself a delicious, easy-to-make dish that'll brighten up your midweek dieting blues.
Fresh tomatoes coupled with sweet balsamic vinegar, served on a super healthy chicken breast – it packs in the flavor as well as the protein hit.
Present this with a summery quinoa salad or a Mediterranean cous-cous to complete the meal.Check out this healthy chicken breast recipe below.
Ingredients 
Two skinless chicken breasts
½ cup balsamic vinegar
3 tbsp olive oil
3 tbsp toasted pine nuts
2 tbsp finely chopped red onion
1 tsp finely chopped garlic
12 cherry tomatoes, finely chopped
Shredded fresh basil
Method
Pour the balsamic vinegar into a pan and bring to the boil. Once it starts to bubble, lower the heat so it gently simmers
While this is happening, cut your chicken fillets in half horizontally to create two thinner fillets
Place the chicken on a skillet, bring the heat up and cook through
Once completely cooked and browned on the outside, place the chicken fillets on a plate to cool slightly
Mix the tomatoes, olive oil, red onion and garlic together in a bowl until well distributed
Spoon the mix out on top of each chicken fillet
Sprinkle on some salt and the pine nuts
Finish by pouring the balsamic vinegar reduction over each of the fillets and serve
[Related article: 5 High-Protein Snack Recipes ]
The final bite
Mix up your weekly routine, hit your body composition targets and improve your overall wellbeing with these healthy chicken breast recipes.
We've packed the flavor and the protein in these recipes to help you stay on top of your diet and keep your body in top condition.
Check them out today, freshen up your weekly menu and take you're your health to the next level with these healthy chicken breast recipes.
References
Jäger, R., et al. (2017). International Society of Sports Nutrition Position Stand: protein and exercise. Journal of the International Society of Sports Nutrition. 2017 14:20