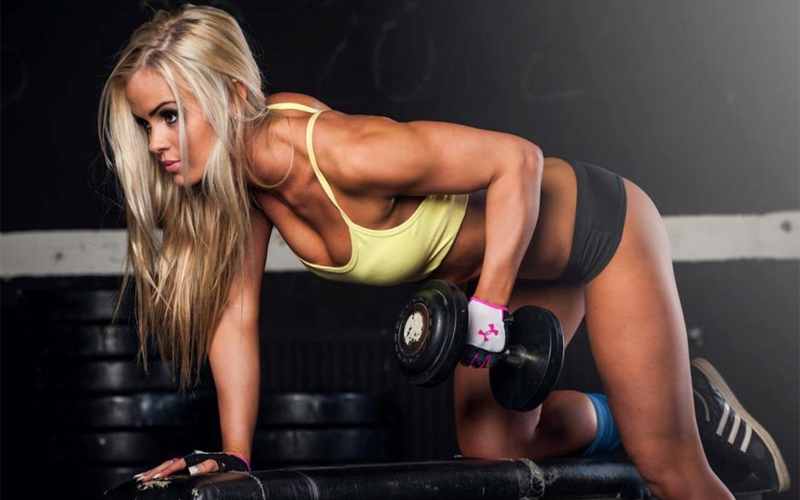 If fitness is your forte, you'll know that being active and eating right are two of the most important things you can do to achieve your goals.
For those of us who are athletes, strength trainers, or just like a heavy session in the gym from time to time, our dietary needs are well above the average person.
If you're regularly crushing your workouts and experience that amazing post-gym feeling, it sounds like you're doing a good job of hitting your macronutrient needs. But if you're regularly left with twinging triceps and aching quads, you might not be meeting your nutrient goals.
It sounds like you could do with some BCAAs.
What Are BCAA Supplements?
BCAA supplements are often taken to decrease muscle fatigue, build muscle and alleviate muscle soreness.
Otherwise known as branched chain amino acids, BCAAs are a group of three essential amino acids known as: leucine, isoleucine and valine[1]. These building blocks combine and form proteins which is essential for muscle growth.
Each one offers different health benefits, but they mainly help your muscles recover from demanding activity, rebuild and grow stronger. If you're serious about weightlifting or swear by short and snappy HIIT sessions, BCAA supplements are worth your attention.
Leucine is believed to be the most important, supporting your body's ability to build muscle proteins[2]. Isoleucine and valine appear to be useful for producing energy and lowering blood sugar levels[3] [4].
BCAAs are essential because your body can't make them itself – so it's important to get them from your diet or supplements. You can generally find BCAAs in meat, poultry or fish, milk, cheese and eggs. If you're a veggie or vegan, you can get enough BCAAs from foods like tempeh, tofu, nuts and quinoa[5].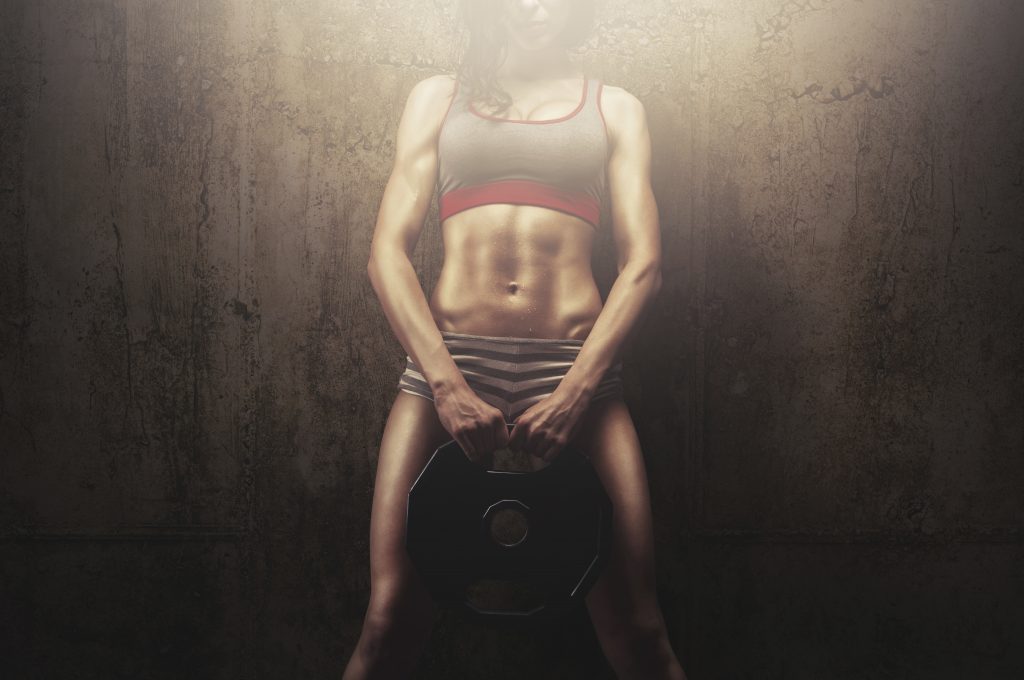 Benefits of BCAAs
As the building blocks of proteins, BCAAs are your body's basic ingredient for life. They're linked to almost every process going on in your body.
Any active woman will benefit from adding a BCAA supplement to their diet – both aesthetically and physiologically. While you might find them in foods, the supplement form also uses a free-form amino acid, meaning your body will absorb it faster and easier.
These are the most notable benefits of BCAA supplements:
Best BCAA Supplements in 2021
Discover our top 10 BCAA supplements of 2021 and pick one that fits your needs.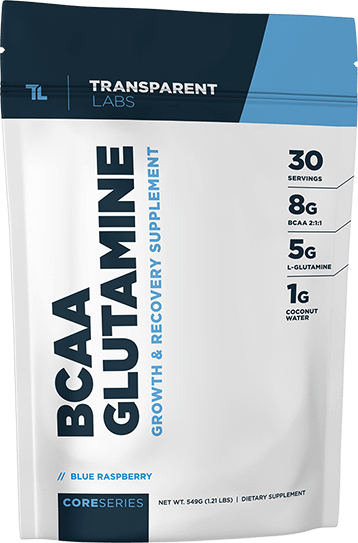 Quick overview
Our best choice for 2020 is CoreSeries BCAA, a potent recovery blend containing leucine, isoleucine, valine, glutamine and coconut water extract. Its high-grade ingredient profile is effective for stimulating protein synthesis, increasing muscle growth[12] and reducing fatigue[13] and exercise-induced muscle damage[14].
The product uses premium fermented vegan BCAAs, which are included at a very generous weight of 8g. This is by far one of the best dosages we've seen, in comparison to the industry average of 3-5g.
Who makes it?
CoreSeries BCAA is made by the experienced heads at Transparent Labs, a US-based supplement company that develops everything from protein powders and pre-workouts to prebiotics and intra-workout supplements. Living up to its name, Transparent Labs' products are 100% natural, science-backed and free of artificial sweeteners and harmful additives. The company is completely transparent about its formulas.
Key features
8g BCAAs per serving
Available in 6 tasty flavors including green apple & blue raspberry
100% natural
Research-backed formula
Ships worldwide
Vegan-friendly
No proprietary blends
Summary
This is one of the best BCAA supplements around right now. It's well-dosed and should give you everything you need to increase muscle endurance and boost recovery. At $39, it's in line with the majority, despite it having over two times the serving size. What's more, it can even accelerate fat loss[15] [16] making it an excellent choice for women on a weight loss journey.
*Individual results may vary. Please speak with your doctor or physician before undertaking any new weight reduction, supplement, or exercise regime.
Quick overview
Not quite making the top spot is Performance Lab Sport BCA,  a simple, well-dosed supplement designed to support muscle growth[17], extend endurance[18] and provide athletic nutritional support. Its ingredient profile includes the BCAAs leucine, isoleucine and valine in an ideal 2:1:1 ratio. There's no other ingredient apart from the 100% plant-based capsules that the BCAA powder is contained in.
Who makes it?
Opti-Nutra's Performance Lab is the mastermind behind this supplement. The company develops a range of formulas under the 'Sport' umbrella, designed to support athletic performance. Its supplements focus on supporting muscle growth, body composition, strength and workout intensity.
Key features
3g BCAAs per serving
Supports healthy immune defenses
No added unnecessary ingredients
100% natural
No proprietary blends
Capsule form
Vegan friendly
Summary
This is one of the cleanest formulas around. It's free from GMO, soy, gluten and synthetic additives. The creators offer an impressive transparent formula of the three important BCAAs. This makes for a very simple and effective supplement which, at $30, is also affordably priced. It's one to buy if you're looking for something easy to take and help improve athletic performance.
*Individual results may vary. Please speak with your doctor or physician before undertaking any new weight reduction, supplement, or exercise regime.
Quick overview
Taking bronze is BPI Sports Best BCAA, a powdered form of the best BCAAs you can take – they're also processed in a way that makes them peptide-bonded, which may improve absorption.
Each scoop offers 5g of BCAAs per serving in a 2:1:1 ratio of leucine, isoleucine and valine which should help you improve performance and results in the gym. There's also 1g of 'CLA Matrix', a proprietary blend of healthy fats said to enhance recovery and boost fat burn.
Who makes it?
BPI Sports is a rapidly growing US-based supplement company, known for its wide variety of supplements including protein powder and bars, pre-workouts and ketogenic diet support. The company also provides training plans and nutrition tips alongside supplements that 'work as hard as you do.'
Key features
5g BCAAs per serving
100% natural
Available in over 10 tasty flavors including sour candy & cherry lime
May prevent fat storage – due to CLA content
No artificial colors
Highly absorbable
No soy
Summary
This supplement supports better body composition and comes in at a reasonable price of $26. The BCAA dosage is a generous 5g and should help your body recover from the grueling workouts you put it through. Despite the proprietary blend, the CLA matrix shows promise to enhance fat burning, which could work wonders for women on a strict weight loss plan.
*Individual results may vary. Please speak with your doctor or physician before undertaking any new weight reduction, supplement, or exercise regime.
Quick overview
All Day You May by Rich Piana 5% Nutrition is another highly dosed BCAA supplement designed to boost energy levels, recovery and overall performance while training. With this one, you get a generous 6g of BCAAs per serving in powder form.
But that's not all – included in the mix is also a blend of other beneficial ingredients that support your joints and immune system. While the 3 main ingredients are a proprietary blend, its supporting ingredients are of high quality.
Who makes it?
Rich Piana 5% is a familiar name in the sports nutrition world, with its founder a former well-recognized American bodybuilder.  The company offers everything from functional foods, nootropics, protein and creatine supplements. Rich Piana 5% is serious about delivering safe, high-quality supplements and as such, 'only works with manufacturers operating under Good Manufacturing Processes'.
Key features
6g BCAAs per serving
Supports joint, digestive & liver health
Available in 6 tasty flavors including fruit punch & lemon lime
Includes beneficial vitamins
Replaces electrolytes – with coconut water concentrate
Includes EAAs and CEAAs – providing all the amino acids your body needs
Summary
All Day You May BCAA provides a dedicated blend of ingredients to support your fitness goals. You get a generous BCAA dose alongside essential amino acids (EAAs) and conditionally essential amino acids (CEAAs), meaning your body has what it needs for effective recovery. Despite the use of proprietary blends and the high price of $42.99, it offers a whole host of recognizable, beneficial ingredients that you can depend on.
*Individual results may vary. Please speak with your doctor or physician before undertaking any new weight reduction, supplement, or exercise regime.
Quick overview
Next up is BulkSupplements BCAA 2:1:1, a pure BCAA powder with no other ingredients besides lecithin. With this formula, you get BCAAs leucine, isoleucine, and valine in an optimal 2:1:1 ratio. The potent blend means you get exactly what you need to promote muscle endurance, beat fatigue and reduce muscle soreness after your workouts. It's also unflavored which could be seen as a negative or positive.
Who makes it?
Much like the name suggests, BulkSupplements is a bulk provider of premium supplements and high-quality raw ingredients – in fact it supplies over 400 pure nutritional supplements worldwide. It uses simple, no-frills packaging and delivers lab-tested raw ingredients to ensure purity, quality and consistency in bulk quantities.
Key features
Optimal 2:1:1 ratio of 3 main BCAAs
Lab-tested
Unflavored/unsweetened
Completely pure formula
Customizable doses
Affordable
Summary
With no added ingredients, this product is ideal for women looking to keep things simple and reap the benefits of pure BCAAs alone. For the quality and price starting at $26 , it makes for a very affordable yet effective BCAA supplement. The unflavored and unsweetened profile may be off-putting, however the powder can easily be added to your favorite shake or juice.
*Individual results may vary. Please speak with your doctor or physician before undertaking any new weight reduction, supplement, or exercise regime.

Quick overview
Optimum Nutrition's instantized BCAA capsules provide a basic, complete solution for all your workout needs. There's nothing included but the three main BCAAs themselves. You get an ideal 2:1:1 ratio of leucine, isoleucine and valine which can boost muscle endurance, growth and recovery between workouts. However, at only 1g of BCAAs per serving this isn't the most potent on the market. The capsules are also made of gelatin meaning they aren't vegetarian, kosher or halal.
Who makes it?
One of the best brands out there, Optimum Nutrition is a leading figure in the supplement world, providing high-quality products like protein powder, creatine and multi-vitamins. Name a fitness supplement and we can guarantee Optimum Nutrition makes it. The company controls the entire manufacturing process, creating its front-running supplements in state-of-the-art production facilities in-house.
Key features
Ideal 2:1:1 ratio of 3 main BCAAs
1g of BCAAs per serving
Premium quality
No artificial flavors, sweeteners or colors
No extra ingredients
Gelatin capsules
Affordable
Summary
Optimum Nutrition's Instantized BCAA Capsules are a good option if you want a basic, effective BCAA. The capsule form means they're portable and easy to take which would suit women constantly on the go. At $24, they're also the cheapest option compared to many powdered alternatives, however you don't get a strong dose. It's naturally one to avoid if you're vegetarian or vegan because they're packaged in gelatin caplets.
Shop Instantized BCAA Capsules now
*Individual results may vary. Please speak with your doctor or physician before undertaking any new weight reduction, supplement, or exercise regime.

Quick overview
XTEND Original BCAA powder offers a strong, research-backed BCAA formula with added amino acids, vitamins and minerals. The powder allows you to train longer and harder and shortens recovery time so you can get back to crushing your workouts. With a potent 7g of BCAAs per serving, you can be sure your body is getting an optimal dose to recover well.
Who makes it?
XTEND has been around for a while now and uses science, innovation and clinically studied ingredients to make the best recovery products. It dubs itself the 'world's #1 BCAA brand' and we can see why. The company has been developing BCAAs for over 10 years. This classic BCAA remains one of the most popular and is available in over 10 zingy flavors.
Key features
7g of BCAAs per serving
Includes electrolyte blend for better hydration
Zero calories, sugar & carbs
Over 10 delicious flavors
Added minerals & vitamins
2:1:1 ratio of leucine, isoleucine & valine
Summary
This is a fully loaded, calorie-free recovery formula with additional recovery enhancing ingredients. Its unique blend of hydrating electrolytes should also help you refuel and recover. The creators have also added a gram of citrulline malate which may boost energy and help reduce muscle wasting[19] during and after your workouts. For women on a calorie restricted diet and sticking to a budget, this could be the BCAA supplement for you, especially for the price of $23.
*Individual results may vary. Please speak with your doctor or physician before undertaking any new weight reduction, supplement, or exercise regime.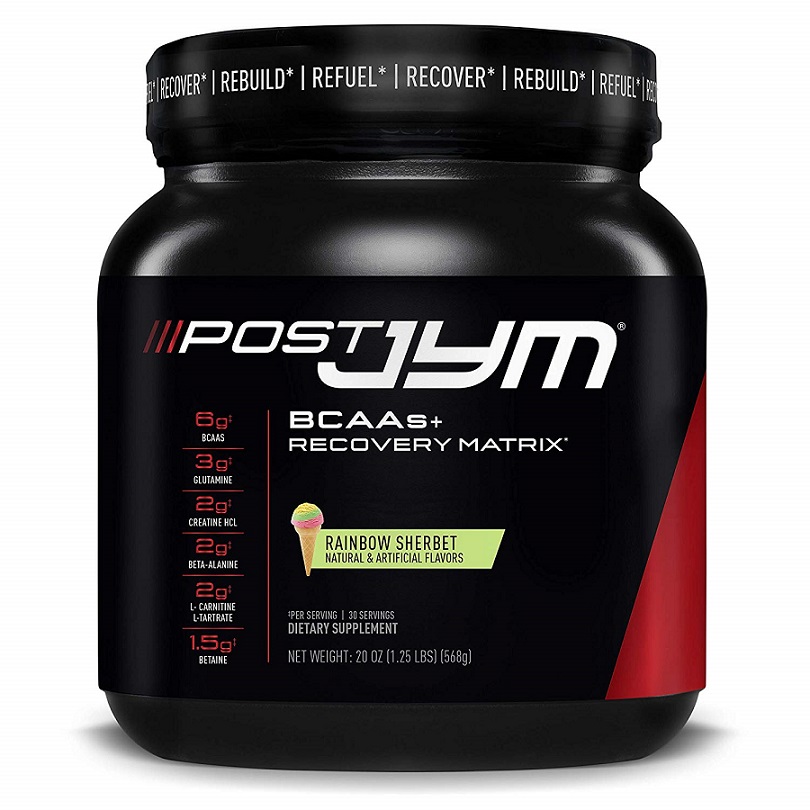 Quick overview
This 8-ingredient strong powder might give you everything you need when it comes to maximizing recovery and getting results. With each scoop, you get 6g of BCAAs leucine, isoleucine and valine in a 3:1:1 ratio which contribute to increased protein synthesis. Other ingredients like L-glutamine[20] and L-carnitine L-tartrate may enhance the repair of broken muscle tissue for faster body recovery. The creatine and beta-alanine are also critical to muscle growth.
Who makes it?
Jim Stoppani is the brains behind this supplement and his company Jym Supplement Science is built on his reputation. The founder uses his expert knowledge in bodybuilding nutrition and strength training to produce formulas that work. The idea 'science and quality' goes into every one of his products. These include everything from pre-workouts and vitamins to fish oil and fat burning supplements.
Key features
6g of BCAAs per serving
3:1:1 ratio
Includes other ingredients critical for muscle growth & repair
No proprietary blends
Added BioPerine® to enhance absorption of the ingredients
Available in 6 great flavors
100% transparent ingredients label
Summary
Jym Supplement Science supplements are ones to take seriously, especially if you're putting the work in at the gym. At $36, Post JYM Active Matrix isn't the cheapest but offers a blend of stellar post-workout ingredients which should help you pack on lean muscle and maintain it. Ingredients like creatine and L-carnitine also means that your muscles get the nutrients they need to recover well.
*Individual results may vary. Please speak with your doctor or physician before undertaking any new weight reduction, supplement, or exercise regime.
Quick overview
Cellucor's Alpha Amino includes the main three BCAAs as well as 11 extra amino acids. With each scoop, you get 5g of BCAAs with a 2:1:1 ratio of leucine, isoleucine and valine to promote serious recovery after giving the gym your all. There are also electrolytes and extra minerals to support hydration and overall wellbeing.
Who makes it?
Award winning, US-based supplement company Cellucor is behind Alpha Amino. The company is well-renowned for its pre-workouts and has a lot of support behind its products. Cellucor's supplements are backed by multiple amounts of research and developed in the most innovative ways to deliver an excellent workout experience.
Key features
5g of BCAAs
2:1:1 ratio
Added electrolytes to support hydration
11 added extra amino acids
No soy or added sugars
Includes extra minerals to support overall wellbeing
30-day money back guarantee
Summary
The Alpha Amino formula focuses on replenishment and recovery to fight muscle breakdown and replace lost minerals. The BCAA content comes in at an industry average but it's still a good dose. Alpha Amino also keeps you hydrated with its added electrolytes, minerals and coconut water.  In all, it's a solid BCAA supplement, which should only set you back by about $20.
*Individual results may vary. Please speak with your doctor or physician before undertaking any new weight reduction, supplement, or exercise regime.
Quick overview
BCAA Complex 2200 offers important branched chain amino acids in their most easily absorbed form. The four serving caplets provide around 2g of BCAAs in a normal 2:1:1 ratio of leucine, isoleucine and valine. Considering we've seen other supplements offering up to 8g, this is a small serving size. However, with the formula you also get beneficial vitamin C, B2 and B6 which makes the supplement a little more nutritious than the majority. Unlike many BCAA pills, these ones are not encased in gelatin which makes them suitable for vegetarians.
Who makes it?
Founded in the USA, Dymatize is '100% committed to building athletic nutrition productions that are masterfully formulated'. It develops everything from protein bars and powders, as well as creatine monohydrate and micronized glutamine. The company strives for perfect products, setting the bar high to help you feel like an athlete.
Key features
2g of BCAAs
Ideal 2:1:1 ratio
Added beneficial vitamins
Capsule form
Vegetarian friendly
Affordable
Summary
This isn't the strongest BCAA complex on this list, hence why it's taken our number 10 spot, however it offers a nutritious ingredient profile. While it's possible to get a higher BCAA hit by taking more caplets, the four-caplet serving is already a lot to consume in one go. Despite this, you can pick up 200 caplets for around $15 which makes it the most affordable one we've seen so far.
*Individual results may vary. Please speak with your doctor or physician before undertaking any new weight reduction, supplement, or exercise regime.
What To Look For In a BCAA?
Now that you know how important a BCAA supplement is, it's also important to see what to look for when choosing the right one. Since there are so many different kinds out there, let's go over some of the top things you should look for when choosing your supplement.
Brand reputation
Is the manufacturer trusted and well known in the supplement industry? Read user reviews to find out more about the companies or do some research, so you can be sure that they're trustworthy.
Ingredients and dosage
Proprietary blends are a way for companies to hide exactly what they are giving you. Is the ingredients label completely transparent?
Look for a BCAA supplement that has specific doses of: leucine, valine, and isoleucine in a 2:1:1 ratio. According to some studies, the typical effective BCAA dose for increasing muscle recovery is 7+ grams[21]. For performance alone, smaller dosages may work, but the recovery benefits are lost[22].
Naturally flavored
Good tasting BCAAs are naturally flavored, with no additives or artificial ingredients. Try and avoid any that are synthetically flavored or sweetened.
 Value
The most expensive product does not mean you are getting the best value. Look for a BCAA that will cost you about $0.50 to $1.50 per serving. Depending on the brand and reviews, this will be a great bang-for-your-buck supplement.
Suitability
What form is the supplement available in? Is it caplets, pills or powder? If it's a powder, find out if it is flavored or not.
Figure out when you're most likely going to take BCAAs and buy the form that suits your needs most. Supplements like this should be easy to take.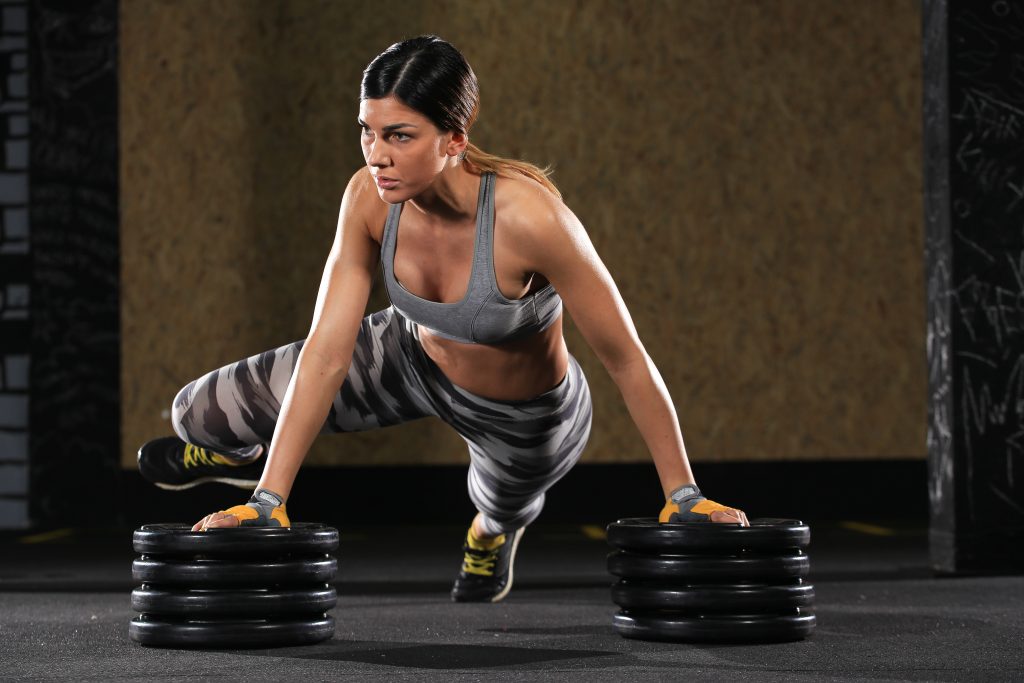 Who Should Use BCAAs?
Virtually everyone who exercises should consider using BCAAs. If you're a fitness enthusiast and like to keep healthy, you can benefit from taking branched chain amino acid supplements.
Women over the age of 18, especially if active, can add BCAA supplements to their diet to help with better weight loss, muscle building and recovery.
BCAAs Side Effects
As with all supplements, it's important to understand the possibility of unwanted side effects. On the whole, BCAA supplements are safe to take and most people don't experience any side effects at all.
However, many of these supplements contain extra ingredients like beta-alanine. This ingredient is known to provoke a strange but normal tingling sensation when consumed.
Everyone reacts to things differently though, so be mindful of your body and talk to a healthcare professional if you experience any adverse side effects.

In conclusion
Of all of the supplements out there, BCAAs are ranked pretty high on the "get it" list. BCAAs are great for recovery, they taste great, and you are able to notice some great strength and endurance gains with them.
Finding the right one takes some research, but our top 10 list should point you in the right direction. Transparent Labs CoreSeries BCAA stood out for us. It's competitively priced, the best-dosed and even offers fat burning elements, making it the perfect choice for women looking to shape up. Even better, vegans and vegetarians are supported with this one.
Don't buy into the marketing ploys that some companies use to lure unsuspecting buyers in. Come prepared with the knowledge and tips we've given you so that you can buy the right BCAA for you.
Check out these related articles:
Disclaimer:  The information on this site has not been evaluated by the FDA. The products on this page are not intended to diagnose, treat, cure or prevent any disease. Results in description and Testimonials may not be typical results and individual results may vary. We may earn a commission if you click the links and buy the products featured on this page.