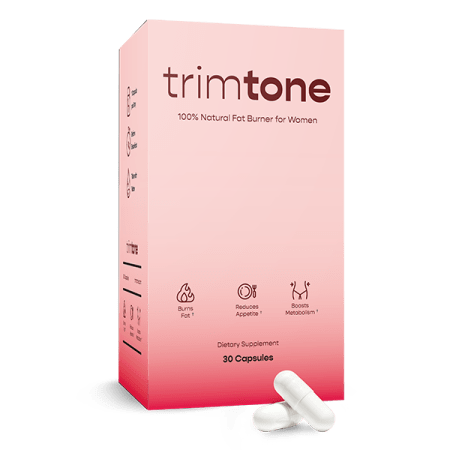 Reviews
Supplements
Trimtone Fat Burner for Women Review – Is it Legit?
Can this female-friendly fat burner fire up fat loss?
Introducing Trimtone Fat Burner for Women
Here at Spot Me Girl, we're always on the lookout for new and promising supplements that may help us optimize our physiques and stay on track with our health and fitness goals. Of course, we understand the need to put in a little effort ourselves. But when times get a little tough or we've hit a weight loss plateau, fat burners may help.
We recently came across Trimtone and knew we had to take a closer look.
Specifically designed for women to help them achieve their 'body goals faster', Trimtone is fuelled by nature to cover all the important aspects of weight loss for females.
In this Trimtone fat burner for women review, we'll find out how it works.
At first impression, Trimtone looks good but with premium contenders like Hourglass Fit on the scene, how does it stand up? Trimtone doesn't appear to be overloaded with unnecessary ingredients and every single ingredient is 'straight from mother nature' but the same can be said for Hourglass Fit.
How does it compare in a widely competitive market? And most importantly, will it work for you? In this Trimtone fat burner review, we'll find that out and more.
We'll uncover exactly what makes this supplement work, looking at its ingredients, benefits and value for money, so you can decide whether this fat burning supplement is the right one for you.
Keep reading our Trimtone fat burner for women review to find out more.
Trimtone Fat Burner key benefits
Trimtone is naturally formulated and boasts a blend of ingredients that are backed by the latest scientific research. How can it benefit your weight loss goals? We list its key benefits below.
Triggers thermogenesis
Trimtone is packed with compounds like caffeine[1] and green coffee[2] that are said to help boost thermogenesis. This process is when your internal body temperature is increased and your body burns calories in an attempt to cool back down to baseline temperature. By pushing your body into a state of thermogenesis, your metabolic rate is also raised, and you should burn more calories than you normally would.
Curbs food cravings
For women on a low-calorie diet, food cravings are just a fact of weight loss life. It's extremely difficult to stop feeling hungry and just as easy to give in. Trimtone takes hunger and appetite into account and incorporates a key number of ingredients like glucomannan in its capsules to help banish food cravings. This should lead to less snacking and ultimately weight loss.
Boosts energy
Having more energy should help you push harder with your exercise regime and ultimately stay motivated. In the Trimtone mix, you get a potent mix of energy-boosting compounds including green tea, green coffee and caffeine[3] – ingredients all known for their stimulant benefits. Caffeine is also found in green coffee and green tea, giving you a powerful dose of energy and alertness to encourage you every day.
For some women, this may be an issue since many can be sensitive to the stimulant and experience unpleasant side effects like headaches or energy crashes.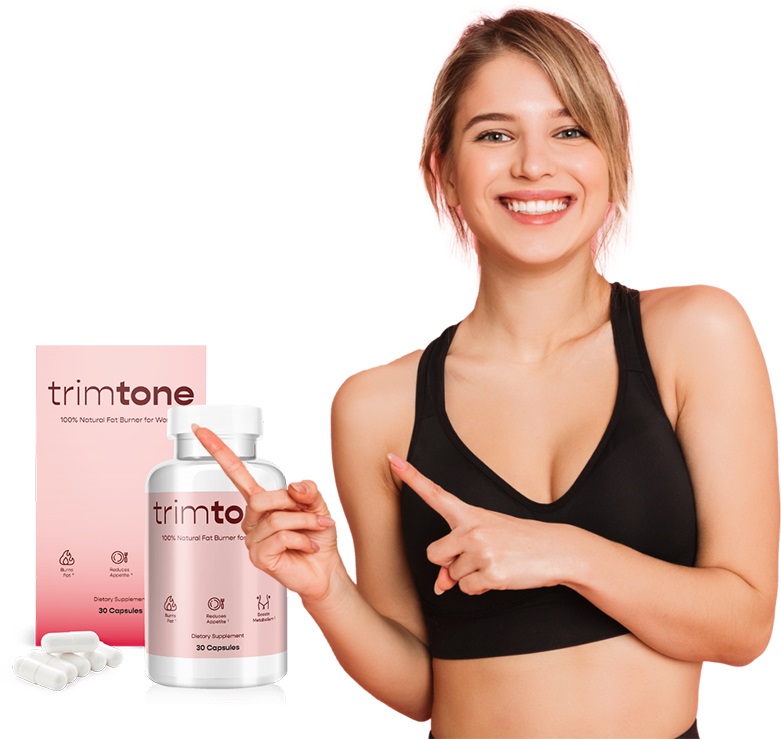 Is Trimtone Fat Burner safe?
Because of its completely natural ingredient profile, we'd say Trimtone is a safe supplement to take. We can tell the creators have put some serious thought into its development, including well-researched compounds that are all attributed to effective fat loss.
The only thing to take into consideration is this supplement's heavy stimulant content. To say this is a female friendly fat burner – it doesn't appear to factor in the fact that many women can be heavily sensitive to stimulants such as caffeine.
It contains 120mg of caffeine per daily dose (which they say is the equivalent of about one cup of coffee) alongside 100mg of green coffee and 100mg of green tea – so if you're sensitive to caffeine or experience any adverse side effects from these compounds, you should limit your consumption of caffeine when taking Trimtone or even avoid it altogether.
Trimtone ingredients
Trimtone ingredients approach effective fat burning from multiple angles. We're happy to see its ingredients label is completely transparent and there is no sign of proprietary blends, meaning you can see exactly what you're taking and how each inclusion may help you lose weight.
Keep reading our Trimtone fat burner for women review to discover what each ingredient could do for you.
Caffeine
Caffeine is a popular stimulant used in fat burners because of its ability to raise calorie burn and energy levels[4]. Caffeine is said to improve your metabolism, boost alertness and mood, as well as being a powerful pre-workout too[5]. It's also a potent thermogenic which can boost metabolism and fat burn. As mentioned, Trimtone is heavily stimulated which doesn't make it entirely ideal for women who are sensitive to caffeine or similar substances.
Green coffee
Green coffee is sourced from the coffee beans that haven't been roasted and many believe they have an antioxidant effect. The compound is a great source of chlorogenic acid which is said to reduce fat absorption[6] and control blood sugar[7]. Being a source of caffeine it's also a powerful thermogenic which should up your daily calorie burn.
Green tea
This powerful ingredient is a firm favorite in many fat burners. Green tea is filled with antioxidant-rich catechin compounds that boost your metabolism[8] and tell cells to break down fat for energy[9]. The nutrient also has inbuilt caffeine which we know is linked to fat burning and improved exercise performance[10]. Some researchers also believe that the catechins in green tea may reduce the amount of carbohydrates your body absorbs[11], meaning your body should store fewer carbs as fat.
Grains of Paradise
This unusual-sounding ingredient is a herb part of the ginger family. As a potent thermogenic, it's thought to provide your metabolism with a much-needed boost to burn through calories and ultimately reduce body fat. Grains of paradise has also been studied for its ability to activate brown adipose tissue (BAT) and burn calories[12]. When BAT is destroyed this may help to regulate blood sugar levels, keeping energy levels stable so that you're less likely to experience food cravings.
Glucomannan
Glucomannan is one of the most well-researched natural appetite suppressants available. Otherwise known as Konjac root, it's a soluble fiber that has the ability to suppress hunger cravings. It works by entering your stomach, absorbing water and expanding into a gel-like substance. This process slows down stomach emptying, creating a sense of fullness[13]. For this reason, glucomannan has strong links to weight loss, helping to reduce food intake and control your calories.
Glucomannan is also linked to other health benefits, with research showing it may improve some heart disease factors like lowering cholesterol levels[14].
| Amount per serving | %DV |
| --- | --- |
| Caffeine Anhydrous | 120mg |
| Green Coffee (Coffee Arabica) [Bean] Extract | 100mg |
| Green Tea (Camellia Sinensis) [Leaf] | 100mg |
| Glucomannan 90% (Amorphophallus konjac) [Root] Fiber | 100mg |
| Grains of Paradise (Aframomum melegueta) [Seed] | 40mg |
| Other ingredients: Gelatin (Capsule), Magnesium Stearate and Silica | |
How to take Trimtone
Trimtone is very simple to take, with only one capsule to be consumed once a day. On its ingredients label, it suggests you take one capsule each morning with water before your breakfast.
The creators say they've made Trimtone 'super easy for you to use so you can get on with your life and focus on what's important'. We would have to question whether this is an effective way to take a supplement like this. For instance with Hourglass Fit, you're advised to take four capsules daily – this can keep the nutrients topped up and working efficiently in your body, helping you stick to your goals and stay motivated. Can Trimtone offer the same with only one capsule a day? We're not so sure.
How much is Trimtone Fat Burner?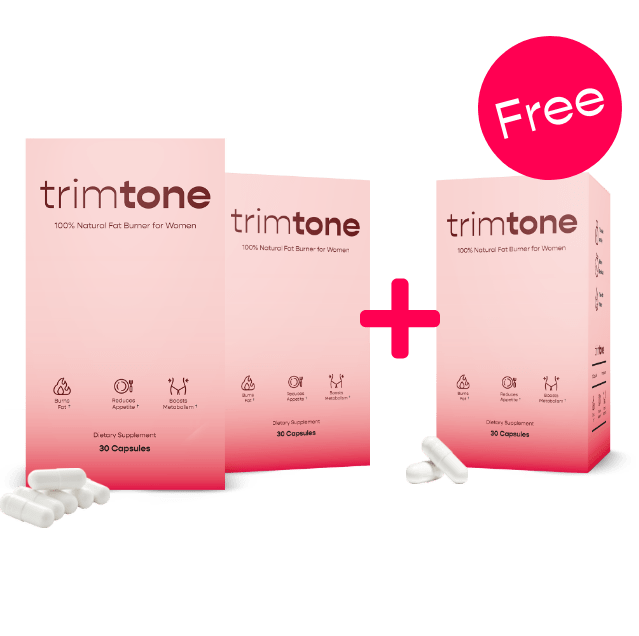 You can purchase Trimtone in three different ways, depending on how long you wish to supplement with the fat burner. The more you buy, the more you save.
Purchase options available at the time of writing include:
1 month supply (30 capsules): $49.95
2 months' supply + 1 month FREE: $99.90
3 months' supply + 2 months FREE: $149.85
The Trimtone official website declares a whopping 100 days' money-back guarantee. So if you're not happy with your results, you'll be able to send back any Trimtone you haven't used and get a total refund.
As always, with any supplement, be sure to stick to a healthy diet and exercise regime to see the best results. Trimtone isn't a miracle pill, but rather a support system –  and the creators do make this clear. If you have no intention of eating healthy and getting active on the regular, this supplement isn't for you.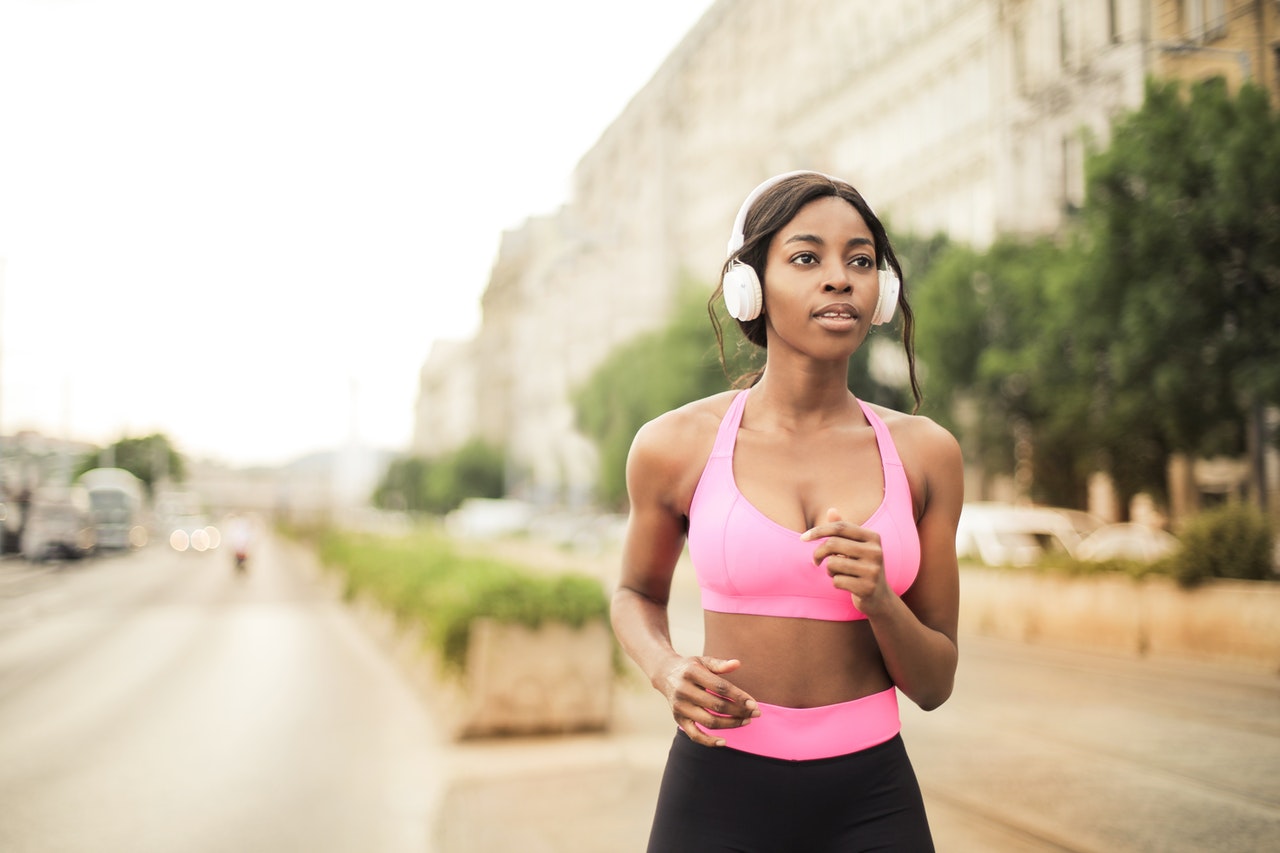 Trimtone vs. Hourglass Fit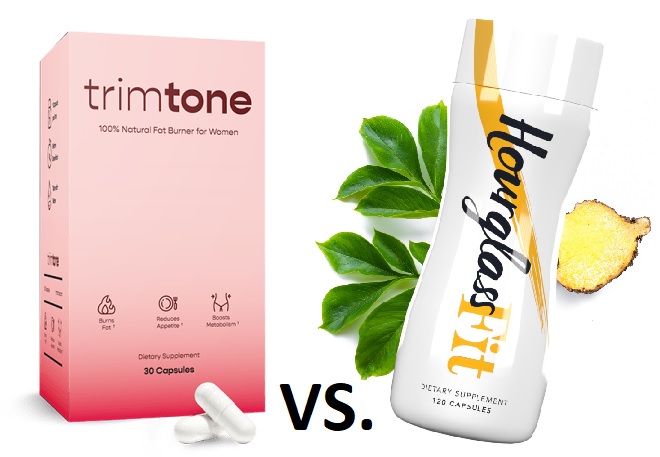 We've mentioned both products throughout this review and it only seems right to outline the differences between each. Trimtone and Hourglass Fit both claim to be the best female fat burner on the market but in our eyes there can only be one winner.
Hourglass Fit boasts a collection of natural and effective ingredients that all work to boost fat loss alongside a healthy diet and training regime. The natural fat-busting ingredients are well known, highly effective and optimally dosed to support your body's natural weight loss processes.
Unlike Trimtone, Hourglass Fit comes with the promise of zero side effects and it's clear to see that the capsules have been created with care. There's no caffeine or other stimulants included in the mix. As well as this, you'll find no proprietary blends or synthetic ingredients in sight. For women, who are generally considered more sensitive to stimulants, Hourglass Fit would certainly be the best option.
Hourglass Fit is also suitable for vegans and vegetarians and boasts thousands of happy users across the world who have reported no safety issues. There's also the added peace of mind that its ingredients are FDA approved – this isn't something we could find confirmation of with Trimtone. In all, we'd have to say Hourglass Fit has an advantage over Trimtone.
Want to know more? Check out our Hourglass Fit Review below. 
Read our Hourglass Fit Fat Burner Review
Trimtone Fat Burner – The verdict
For a fairly new female-only fat burner, Trimtone certainly seems like it could contribute to weight loss or help optimize your best figure. Each ingredient is backed by the relevant scientific research, showing the supplement's ability to help you cut fat and stay on track with your physique goals.
There are a number of effective elements, from thermogenics to appetite suppressants, that promote weight loss. That said, it is extremely odd to see how much caffeine is packed into Trimtone, especially since women are known to be more susceptible to the adverse effects of this popular stimulant. If you are sensitive to stimulants, we would not recommend Trimtone.
In terms of the price, it is on par with many competitors but still at the upper end of the spectrum. However, we appreciate the clinically proven ingredients included and believe you'd struggle to find this quality in a cheaper alternative.
Pros
Completely natural formula
Clinically proven ingredients
Supports women alongside healthy eating/exercising
Potent thermogenic elements
Appetite suppressing
Only one capsule a day
Cons
Heavily stimulated
High price tag
Not vegan/vegetarian friendly
Final score
7/10
at Trimtone.com
*Individual results may vary. Please speak with your doctor or physician before undertaking any new weight reduction, supplement, or exercise regime.
Discover how Trimtone compares to similar products in our review of the best fat burners for women here. 
Disclaimer:  The information on this site has not been evaluated by the FDA. The products on this page are not intended to diagnose, treat, cure or prevent any disease. Results in description and Testimonials may not be typical results and individual results may vary. We may earn commission if you click the links and buy the products featured on this page.