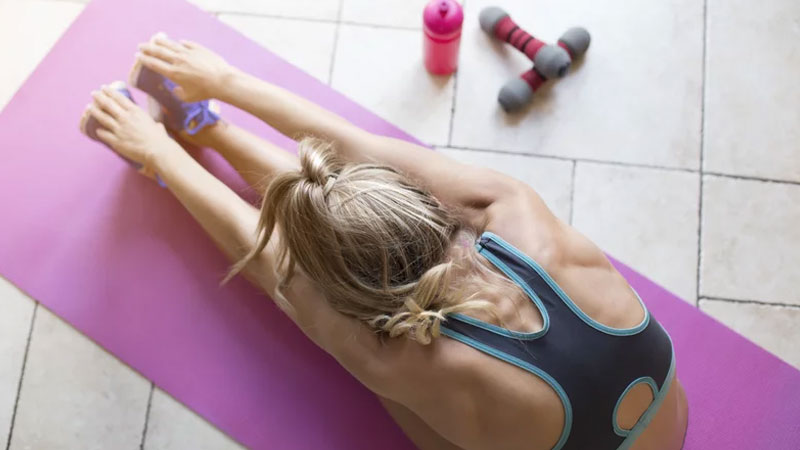 As a beginner to strength training you don't quite feel ready for the gym. You want a workout for a woman that'll let you train from home, but still make great progress.
And that's what you'll get.
Over the last couple of years we've realized as women that strength training ticks all of the boxes when it comes to getting stronger, fitter and leaner.
If you could bottle it up and sell it, it'd make you millions. Strength training really is that effective. It adds years to your life… and life to your years.
But if you don't know where to start it can be difficult to know what to do first. Dumbbells? Barbells? Body weight?
It's confusing.
That's where we come in though.
If you want to use strength training to drop fat, firm up your physique and develop a curvy and womanly figure, this is the beginner's home workout guide for you.
Beginner Strength – Where Do You Start?
The fact that you're here, reading this article, shows that you mean business.
There are so many women out there that don't realize the potential that strength training offers.
You're already ahead of the pack.
The problem is though that you're just a bit unsure where to start.
That's cool.
Well, first of all you don't need much equipment. That makes things a hell of a lot easy. You can use the old dumbbells in the garage if you have some, or just things around the house. Body weight is fine too.
You won't need a gym membership either.
Just find some space in your front room, bedroom or even on your garden, grab a water bottle and get ready to make some changes.
What can you achieve with beginner home workouts:
Burn your way to a sexier silhouette
Construct a strong, toned but feminine body
Improve your confidence
Build a killer booty, athletic legs, slimmer waist and shapely arms
How often should you complete this beginner's home workout?
That's kind of up to you. But our advice would be based on two things – your current fitness levels and also how much time you've got available.
If you're healthy, have a generally okay level of fitness and just so happen to be a beginner when it comes to strength training at home, go for 3-4 times per week.
2 is also fine, but just won't give you optimal results.
Less than that and you won't progress.
One thing that beginners often suffer from is setting unachievable goals – training too often, going too hard at the beginning, expecting life-changing results in the first week; that sort of thing.
You don't need to push for more than 4 workouts right now as you'll need to balance your new workout with recovery.
Work your way into the program gradually, work within your limits (but still hard) and above all – be consistent.
You could even add a pre-workout into the mix to really push yourself.

Why use strength training in the first place?
"Strength training makes a woman muscular and manly".
Erm, no. No it doesn't.
Lifting weights is a great way to benefit your body.
It won't make you big and bulky, only womanly and sexy.
Here's why:
Muscle adds shape and curves – it's impossible to choose where you burn fat from your body. But you can choose where you accentuate your shape by building muscle.
Burn more calories – when you build muscle, your body needs to use more energy to make it move, resulting in a higher metabolic rate.
Improved health – strength training decreases your risk of cardiovascular and metabolic illness. It boosts physical and mental health too.
You'll get a cardio effect from strength training – lifting weights is hard. And even though it isn't repetitive like running or cycling, do it right and you'll sweat and breath like you were on the treadmill.
Body weight training or equipment?
Body weight strength training is a great place to start for females wanting to get to grips with the beautiful world of muscle-toning resistance exercise.
It's easy to fit into your routine, can be modified to suit your fitness levels, covers all of your major muscle groups and you'll never run out of options either. It's a great calorie burner too.
And best of all… there's no excuses either.
You literally need nothing to get a workout in.
Just time and effort.
There's also the option of weights too.
Using portable equipment such as elastic bands, dumbbells or kettlebells allows you to make some exercises harder.
But strength training using equipment is riskier if you're a complete beginner because you're lifting heavier loads.
So in a nutshell, go with whatever suits you, your abilities and your confidence level. Neither method is necessary as such, so you decide which is best for you.
In our program we've used exercises where you can use either method. That way you can decide.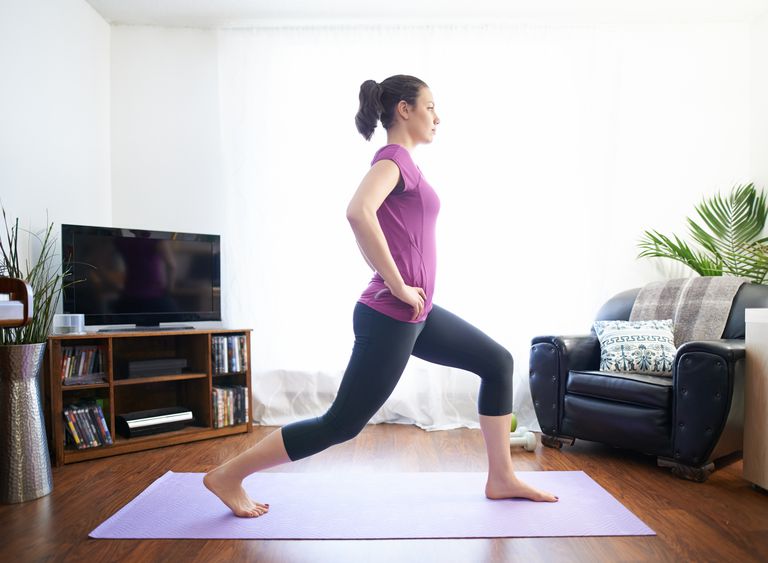 Using the Beginner's Strength Training Workout for a Woman
Getting into shape as a beginner takes little more than some determination, attitude and motivation.
We provide the tools you need right here in this guide. You just need to bring the effort.
Fast results with the right program
In this program we've got rid of the fluff and given you a program that guarantee fast results. A leaner figure and a stronger, more confident you is just around the corner.
Because this home strength workout is so streamlined it'll only take you 30 minutes to get through.
This'll not only help you fit it into your lifestyle, it'll give you an opportunity to really give it your all.
We're after high-intensity calorie burning here – so short and sharp works well.
If you need an extra energy boost, the right pre-workout can provide it.

Strength training circuits to maximize results
So how do you maximize calorie burning and muscle building in 30 minutes?
The answer is… strength circuits.
This is the breakdown of your beginner's strength training workout:
Simple exercises organised into alternate upper and lower body
Complete 12-20 reps of each one, back-to-back
Only rest for 30-60 seconds between exercises
Rest 2-3 minutes after the end of each circuit
Complete as many circuits a you can in 30 minutes
If you follow this structure you'll maximize productivity. You'll engage your muscular system as you take each set to fatigue, and challenge your heart and lungs as you force blood around you body like you were taking part in a cardio session.
But this is the most important point of all…
Take it at you own pace.
You can always start slow, complete less circuits and improve over time.
The Workout
| Exercise | Body weight option | Weighted option | Reps |
| --- | --- | --- | --- |
| 1 | Prisoner squat | Goblet squat | 12-20 |
| 2 | Dips | Dips with weight in lap | 12-20 |
| 3 | Lunges | Lunges with weights by side | 12-20 |
| 4 | Plank | Renagade row | 12-20 |
| 5 | Press-ups | Floor press | 12-20 |
| 6 | Mountain climbers | Romanian deadlift | 12-20 |
Try Boss Shape and Burn – The Brand New Female Strength Program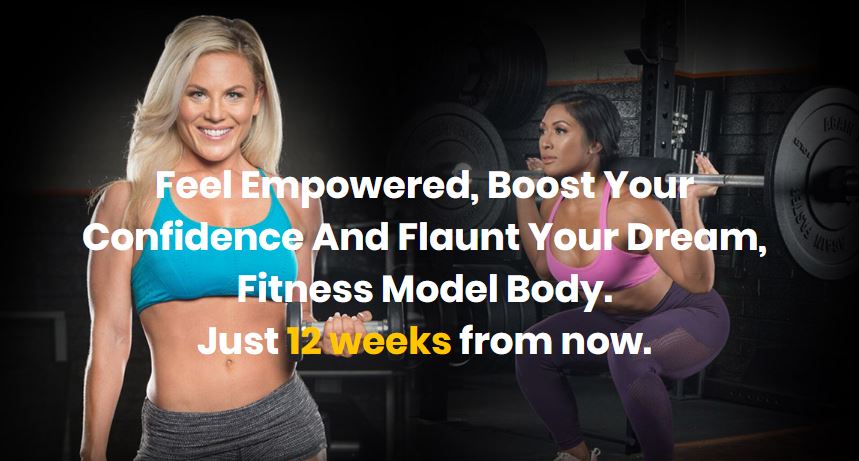 Shape and Burn by Boss Workouts is a comprehensive training guide written and delivered by experts in fitness and female strength training.
It's for women that want to build the body of their dreams using cutting edge strength training built for both beginners and experienced ladies that lift.
Aimed at getting you lean, strong and building your confidence, host Niki Zager gives you all of the tools to completely transform your body and mind and feel a million dollars as you hit the beach.
Shape your body the way you want it
Develop lean curves and crazy sex appeal
Build your confidence and feel great
Get toned and strong, without muscle bulk
With video tutorials for EVERY exercise and EVERY workout, comprehensive training and nutrition guides and even a recipe and meal plan, this is your best opportunity yet to discover a new you.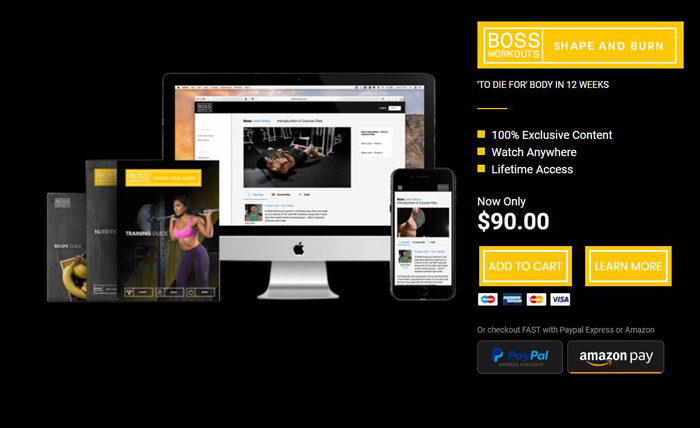 ---
---