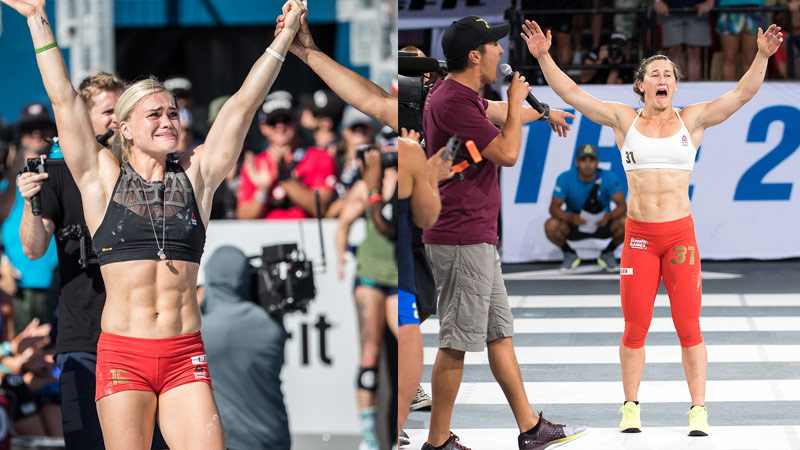 Nothing has taken the fitness world by storm quite like CrossFit. A sport quite literally created to test fitness, not to train it.
CrossFit was originally developed by Greg Glasman, who also first came up with a true definition of fitness. Which according to the official site crossfit.com is, "increased work capacity across broad time and modal domains." Put simply, performing exercises for time.
CrossFit workouts are no one size fits all routine. They're tough, built from a formula of functional movements completed at an intense pace.
Exercises include everything from Olympic lifting right on through to gymnastics and rowing. Making the sport fun and ever changing for the girls taking part.
Head to any CF box (that's what they call their purpose built gyms) and you'll see whiteboards inked with PBs and other numbers filling the walls. This is because the sport obsesses over tracking progress and scores. Making it highly addictive and motivational.
WOD's for Women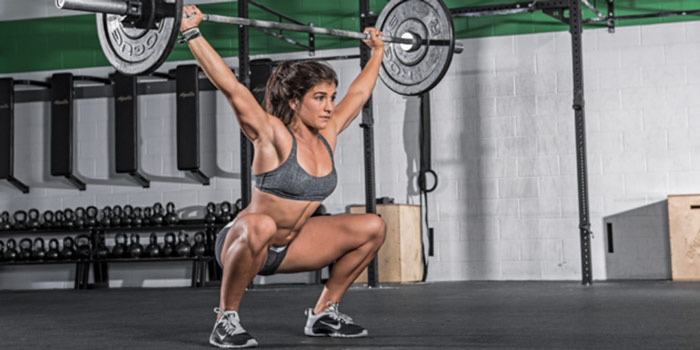 WOD stands for Workout of the Day. A daily assortment of lifts, calisthenics and cardio exercises put together each day to challenge those who enter the box. Workouts change every 24 hours, so each new day brings together a whole new challenge and excitement.
Because of CrossFit's focus on breaking personal bests and striving to be better than yesterday, it empowers women.
Female participants define themselves with their work ethic and athletic superiority. Providing an ethos of equality that draws women to the sport. CrossFit ladies lift heavy like the badasses they are and have fun.
Sports like CrossFit and Olympic lifting are helping to make women feel strong and change societies views on what it means to be "feminine". Strong is the new sexy, and feeling good in our own body is no longer about what we weight or being skinny.
It's about being strong, powerful and determined.
The Road To The Games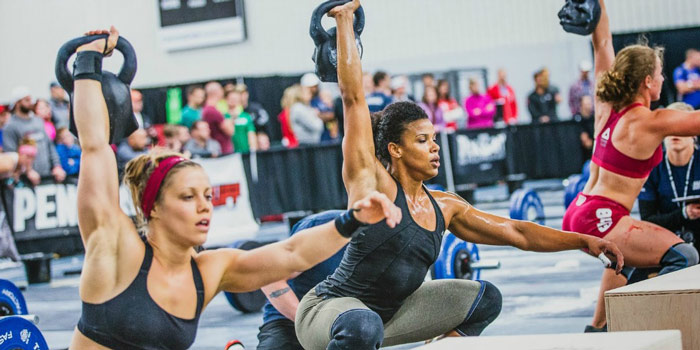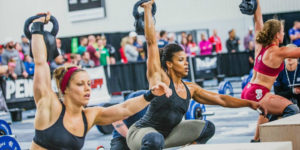 The truest test of a female CrossFit athletes fitness is winning The Reebok CrossFit Games. A competition that has been held every summer for over a decade, which lasts for three days. This year the games will take place between August 1-5 in Madison, Wisconsin.
Competitors can only train for the games using intuition alone. As the official workouts of the games can sometimes only be released just hours before.
This, according to the organizers, if the only way to fairly test overall fitness. Plus the anticipation kind of makes everything just that bit more exciting. Even if that isn't their official reasoning.
To make it to the games competitors must first conquer two deciding tournaments. The Open and The Regionals.
As The Open and Regionals progress, only those in the best shape will survive. Eventually deciding the top 40 fittest men and women on the planet.
So, in order to succeed, female athletes must be extremely well conditioned both physically and mentally. It takes a total badass to make it to Regionals, never mind the spectacular games. Which is broadcast on TV networks throughout the world.
Top 5 Female CrossFit Athletes 2018
Now, it's that time of year again! The Open and Regionals have official been wrapped up and all eyes are set on The CrossFit Games 2018.
The worlds top 40 fittest, toughest and grittiest women have been decided. Last year it was the Aussie Tia Claire Toorey who took the top spot. But as anyone who knows the games will vow, almost anything can happen.
Here's our top 5 choices for ladies that could be crowned queen of The Reebok CrossFit Games 2018:
#1 – Katrín Davíðsdóttir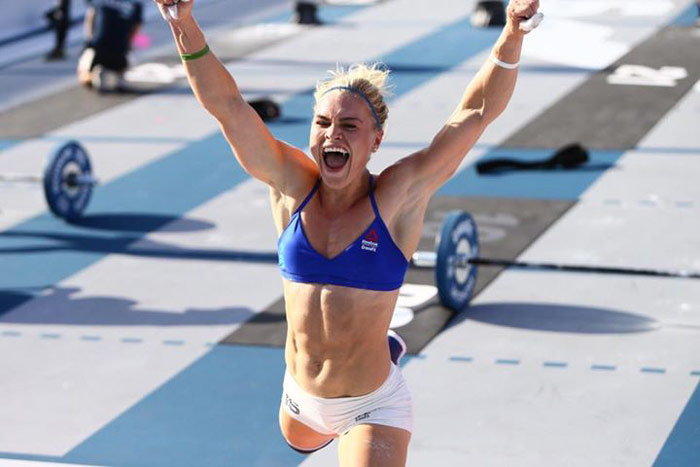 Region: North East
Age: 25
Height: 169CM
Squat: 265lb
Clean and Jerk: 225lb
Deadlift: 315lb
CrossFit Games Appearances – x4
Katrín Davíðsdóttir is one of the most recognizable female athletes in the sport. As the Icelandic native has been inside the top ten for a number of years. She dominated the field at this years Regionals and will head into the games ranked as the #1 favourite.
Davíðsdóttir is one of only two women to win the games more than once, alongside fellow countrywoman 'Iceland Annie' Anníe Mist Þórisdóttir. She was hailed as women's champion two consecutive years in a row from 2015 to 2016.
However, Davíðsdóttir wasn't always a professional CrossFit athlete. Before starting the sport at aged 18 she spent 10 years as a gymnast and a year as a competitive track athlete.
Katrín has made four appearances at the games so far, making 2018 her fifth appearance.
She will competing out of CrossFit New England guided by her coach Ben Bergeron.
#2 Tia-Claire Toomey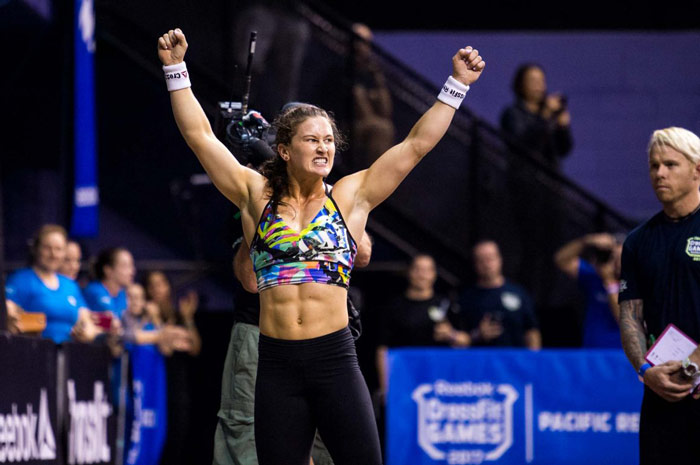 Region: Australasia
Age: 24
Height: 163CM
Squat: 150lb
Clean and Jerk: 111lb
Deadlift: 178lb
CrossFit Games Appearances – x3
When Tia-Claire first broke onto the scene she shocked the entire CrossFit community taking 2nd place in the 2015 games. A feat amplified tenfold by the fact that she'd only been in the sport just over 2 years!
After claiming Rookie of the year for her 2015 effort, Tia-Claire was determined to show beginners luck played no part in her success. She did this by solidifying her place in the rankings by taking 2nd place again in 2016.
Before she found CrossFit, Toomey had a history of competitive track and field. However, her dreams of reaching the Olympics wouldn't involve distance running.
Instead she would enter the 2016 Summer Olympics in Rio as Australia's #1 ranked female weightlifter. A lifetime achievement which would see her snack 180.7lb and clean-and-jerk 235.8lb to claim 14th place.
She will head to the games representing CrossFit Gladstone, a gym she owns with her husband Shane.
Fun fact: The Olympian is so dedicated to becoming the fittest female on planet earth, she was even filmed training on her wedding day.
#3 Anníe Mist Þórisdóttir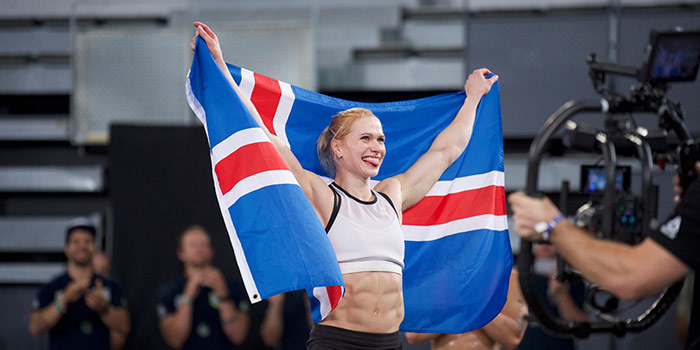 Region: Europe North
Age: 28
Height: 167CM
Squat: 275.6lb
Clean and Jerk: 238lb
Deadlift: 170lb
CrossFit Games Appearances – x5
'Iceland Annie' is a true veteran of the sport, making 7 appearances at the games since 2009. Up until the event Anníe had only one month of CrossFit experience, having primarily only ever trained in bootcamps.
Besides being a total badass out there on the competition field she is also known for her positive attitude. Always being found with a smile on her face both in and out of competition.
Just like her fellow Iceland native, Anníe has also claimed the title of womens champion twice in her career. Once in 2011 and then again the following year in 2012.
Before finding CrossFit and bootcamps, 'Iceland Annie' spent eight years as a gymnast. Something which helped her form a solid foundation of strength and fitness, to handle the rigours of her now competitive career.
It is said Anníe trains a total of four hours a day, only resting on one day per week. That's pretty hardcore if you ask us!
Plus, she'll never be stuck to find a bar to bend as she co-owns CrossFit Reykjacvik where she also teaches.
#4 – Kara Saunders (Webb)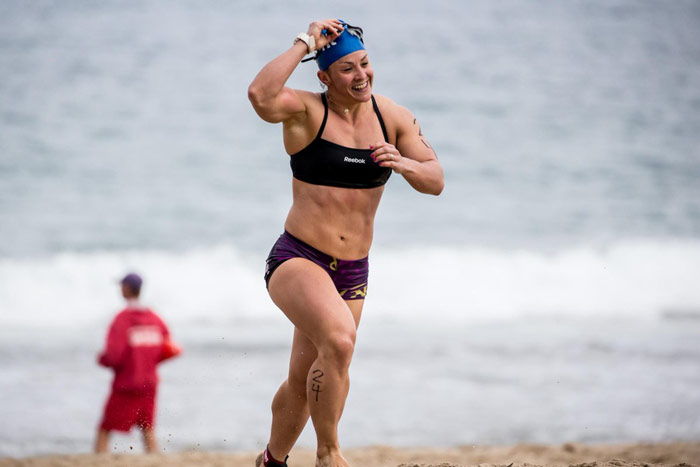 Region: Australasia
Age: 28
Height: 162CM
Squat: 155lb
Clean and Jerk: 118lb
Deadlift: 165lb
CrossFit Games Appearances – x7
Kara is currently ranked at the #1 Female CrossFit competitor in the whole of Australia. She says the key to her success is; "grit" and "you have to be willing to do what other people don't want to do."
Although Kara has not yet won at the games, she has been steadily climbing the leader-board since her impressive Games debut back in 2012.
At age 19, Kara fell in love with CrossFit after being introduced to the sport by her then personal trainer Brian Bucholtz.
It only took two years for Kara to take her natural ability and competitive spirit to the Pacific Regional. A competition where she would put her name firmly on the CrossFit map, beating many more experienced women to take 1st place.
Due to her notorious grumpy mood-swings when things don't go her way, many know Kara as 'She-Bear'. A nickname taken from the comedy TV show The Simpsons.
Last year in November she opened her own CrossFit box. 'She-Bear' said her goal was, "…to provide a space that feels as comfortable as going home to your parents house. Everyone is welcome, and everyone is equal."
That sounds good to us Kara, we hope to visit one day!
#5 – Kari Pearce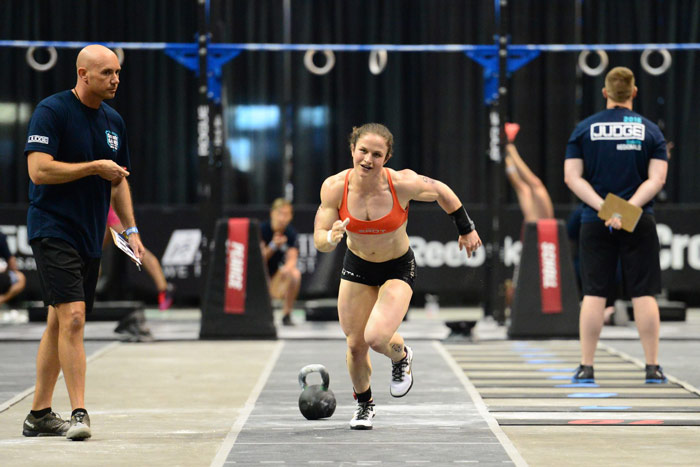 Region: North East
Age: 28
Height: 162CM
Squat: 310lb
Clean and Jerk: 214lb
Deadlift: 365lb
CrossFit Games Appearances – x2
Just like all the other girls featured on this top 5 list, Kari had a background in other sports before finding CrossFit. Well, when we say background, we mean completely stacked history of competition.
You name it, Kari's probably done it. At age three she began her sporting career as a gymnast. Something she would continue for 18 years building her an incredible athletic foundation and ability to control her own body.
After gymnastics came weightlifting. A sport she picked up whilst taking part in a strength and conditioning internship at the University of Michigan.
Kari only ever competed once in weightlifting due to picking up a number of injuries. She would then move onto bodybuilding, before eventually progressing into power lifting.
Whilst preparing for her first power lifting competition she was approached about coaching CrossFit. According to Pearce, this would be the perfect opportunity for her to start, which she did after winning her first power lifting competition.
Due to her crazily eclectic background she progressed at a rapid rate. In little under 12 months she was able to rise from an unknown rookie to being ranked 21st in the world. What a badass!
Make way for the Games
So, there you have our Top 5 female CrossFit competitors heading into the Reebok CrossFit Games 2018.
The most exciting thing about this sport is that quite literally anything can happen. Athletes have no idea what their final test may be. Even us, the fans, can only guess as to what insane workouts the officials will put together.
Make sure to keep an eye out for these ladies and be blown away by their amazing athleticism and pure determination.
We'll be tuned in for every lift, run and carry of every day. So should you be!