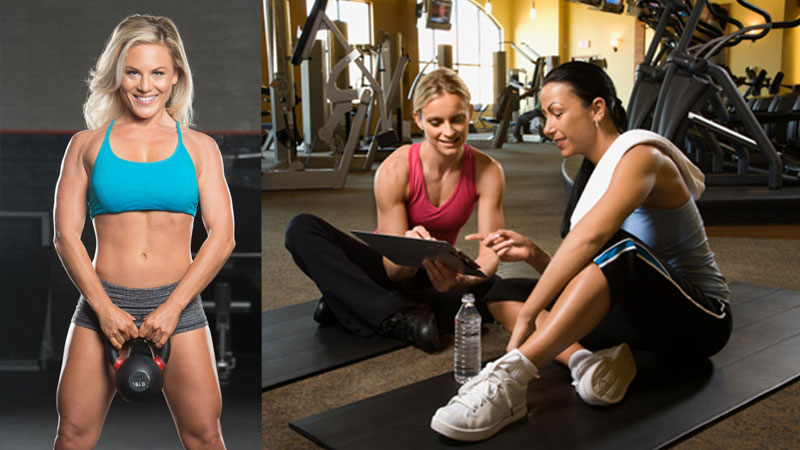 Lifestyle
Benefits of a Female Fitness Trainer – Finding One Online
Lost your motivation and looking to step things up a gear? You need a female fitness trainer that'll boost your progress and help you smash your goals. 
Going it alone is tough.
When it comes to knowledge, energy and motivation, you can't beat a personal fitness trainer. Not only are they highly skilled in the dark arts of exercise programming and physiology, they'll also kick your ass in the gym too.
And that's a good thing if you lack the drive to make big changes to your body, or just don't know where to start.
Research shows that if you find the right trainer you'll accelerate your way to your goals at double pace. And with nearly 55% of trainers being female, you've got a great chance of finding one that can really help you hit your targets.
Here are the benefits of a female fitness trainer… and how to find one online. 
Why Hire a Female Fitness Trainer?
"I just feel weird having a male trainer"
"I'd rather not have a hunky guy see me sweating"
"I don't want to talk to a man about my belly fat or menstrual cycle"
As a woman you just might not be comfortable with a male fitness trainer.
You dread going to the gym at the best of times, let alone meeting up with a burly (and kind of hot) trainer who's as wide as he is tall, and screams like a drill sergeant when you're doing your workouts with him.
And who can blame you?
Maybe it's the story you heard about the pervy trainer that liked to get up too close and personal  when his clients were squatting. Or it might have been about the one that kept asking his client out on a date.
Not all male trainers are like that of course.
But either way, when you're free of make-up, red-faced and panting away after a tough set of bike intervals, you'd feel much more comfortable if it was a female fitness trainer looking back at you.
Hiring a female fitness trainer makes much more sense
Not only does a female fitness trainer know how to get the best from you during your sessions, she knows where you're coming from too.
She gets your concerns and lack of confidence, and chances are she won't be hitting on you between sets either.
A female trainer also gets the fact that females are built differently to male clients. And that makes it easier to write a great workout program that suits your needs (including that time of the month too).
Top Reasons to Hire a Female Fitness Trainer
We're big believers in getting a female trainer. That doesn't mean you should avoid working out with the guys, but if you're new to exercise or low on confidence, working out with a female fitness trainer is a great idea.
Here's why…
#1. You can talk to her
You might have personal things you need to talk to your trainer about. It could be a medical issue or a woman's problem. You don't feel comfortable telling a male trainer, but you know that a female fitness trainer will understand.
#2. She knows her stuff
Not only is a female fitness trainer skilled at exercise selection, workout intensity and program writing, she also understands the science behind effective exercise training.
It takes all of the guess work out of your gym workouts and keep you pushing ever closer to your end goal.
#3. A female fitness trainer can train with you
Okay, they might be light years ahead of your fitness levels, but having a 'buddy' to train with you is highly motivating.
And you'll probably feel comfortable with a woman, but not when it's a guy with 19 inch arms that can lift three times more than you can.
#4. It's more than just fitness training
When we've used trainers in the past, we've found that building a connection with them is really easy. And once you get on well you can pass the time by chatting about guys, gym clothes, hair, anything really.
Female fitness trainers aren't just professionals… they're friends too.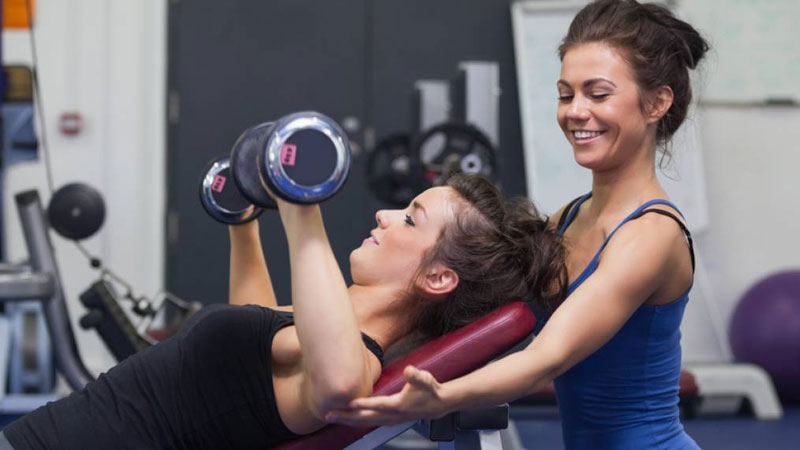 Finding a Female Fitness Trainer Online
Finding a female fitness trainer online that ticks all of the boxes can be tough.
But with the right questions and a keen eye you'll be able to find he right trainer for you without any issues.
Choosing the right trainer is easy when you know how. It's just about finding one with the right fit for you.
Take time to research the right trainer
Have a look at local fitness trainer profiles online. Read what they're about and have a look at what their specialist areas are.
if it suits your own goals then you've got a good potential match.
Before you decide to contact them, check their prices (be aware though that some want you to call them for pricing so this isn't always possible).
Spend time checking some of their testimonials from clients, as well as their 'transformation' pictures (before and after images).
If you like what you see, give them a call and get that first chat set up.
Check their credentials
You're well within your rights to ask what qualifications your female fitness trainer has.
The unfortunate reality is that many online coaches skip the education part because they think their ability to train their own body means they can train you too.
But it isn't that simple.Make sure they have a relevant qualification, as well as insurance.
So if the worst was to happen and you got hurt, you'd be covered under their policy.
How will they help you?
In order to make sure your program will be tailored specifically to you, it's wise to find out what your trainer will do to help you get there.
You need to know what they thinking about the types of training you'll be using. And how many workouts a week you need to take part in to get there.
You've got to be able to commit, but you've also got to enjoy it as well. If the trainer wants to give you workout after workout of training methods you just plain don't like; they aren't a good fit for you.
Here are a few questions you could ask a potential female fitness trainer…
What are your specialist areas and what qualifications and insurance do you hold?
Have you got a portfolio of client successes that you can share?
What type of clients do you work with the most?
How does your online training work? Is it via video call, email, social media groups?
How do you receive payment?
Can I get my money back if I'm not satisfied with my results?
In each case you need to make sure the answers suit your needs and you're completely happy with them.
---
Check out Niki Zager for example…
When it comes to finding a great female fitness trainer, here's our best example…
We're huge fans of bikini champion and former LA Kings cheerleader Niki Zager at SpotMeGirl.
Not only is this female fitness trainer straight up gorgeous, she has a figure to die for too. And she's at the top of her game when it comes to being a great fitness trainer.
Niki really is the full package. Sadly though, expert trainers can be really expensive. But Nikki has come up with a complete virtual training package. Read more below…
Boss Shape and Burn – Discover a fantastic lean body, beach ready figure
Personal fitness training can be tough.
You could spend hundreds of dollars each month to get even a moderately good coach. And that's a gamble.
Niki Zager heads up an awesome booty-building, fat-shredding online and video workout program called Shape and Burn.
It's a 12-week strength program that guarantees:
A fitter, stronger and leaner figure in as little as 3 months
More confidence and sex appeal
A downright bangin' booty and shapely silhouette
The program is comprehensive. You get a 12-week program, full training guide, videos, nutrition guide and even a recipe guide too.
And best of all..
It's only $90 for everything!
No reoccurring fees. Just straight up great programming from the best female fitness trainer out there.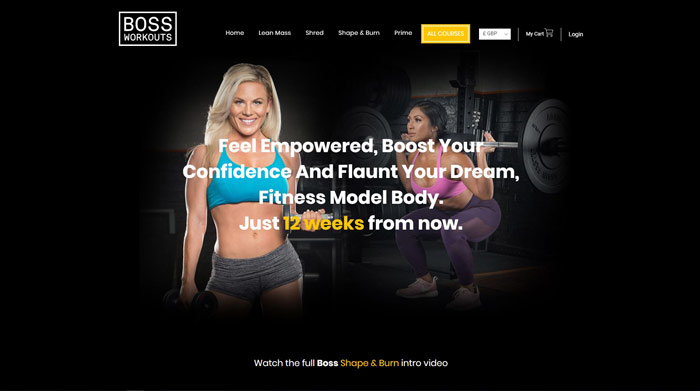 ---
---