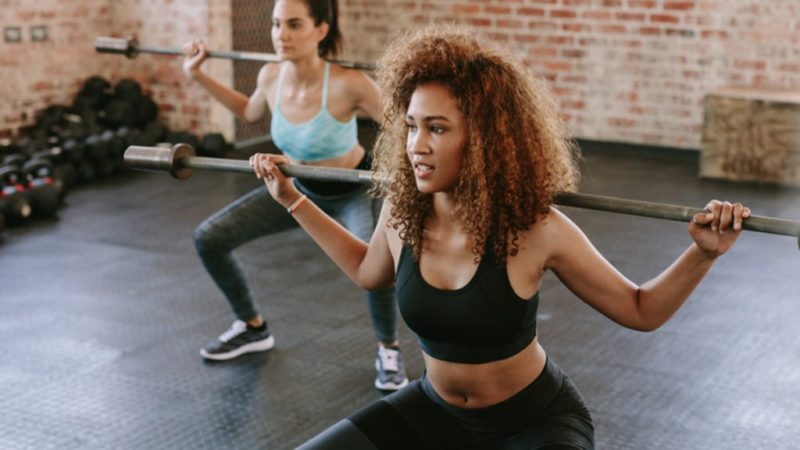 Lifestyle
Becoming a Personal Trainer – a Guide for Girls Who Lift
SMG is a safe space. We can all admit it, we've thought about it once or twice. You're in the gym, smashing an amazing workout and you look at how far you've come and you think, I could make this a full-time gig. Help others change their physiques and improve their health.
It's the dream, right? Using your passion in life to take home the dollar is what people everywhere to aspire to. So you've know you love the fitness game, is it time to become a fully qualified PT?
Before you take the leap from fitness fiend to PT extraordinaire, there are a few things you need to think about. It's a whole career change girl, and that shouldn't be taken lightly.
Luckily for you, we've got your back. At SMG we've created a guide on everything you need to think about before you become a personal trainer.
Article preview:
What does being a PT mean?
What to think about before changing career
Important qualities for a personal trainer

How to become a personal trainer
What does being a PT mean?
Alright, alright, we know you know what a PT is. But bear with us on this, it's worth thinking about the day-to-day activities and complete basics of a PT to decide if it's the one for you.
A personal trainer is someone who's dedicated to training individuals. As a PT you'll be catering to the needs and the ambitions of the person you're training. So although you might love hitting the bar and doing your squats, your client might not.
With that in mind, you need to be versatile. Whether their goal is losing fat, building muscle or just helping them feel better by getting one burner of a workout in every week, you have to adapt.
A lot of being a PT means writing up workout plans to suit your client, but it goes beyond that too. You're there to help them achieve their physical dream and, as you know, it's not always an easy ride.
People turn to a kick-ass PT when they're lost or they've tried everything and are not getting results. You're their light at the end of the tunnel. You need to be there for guidance and motivation along the way. Otherwise they might end up giving up. Even if you know they've got it in them to go the distance.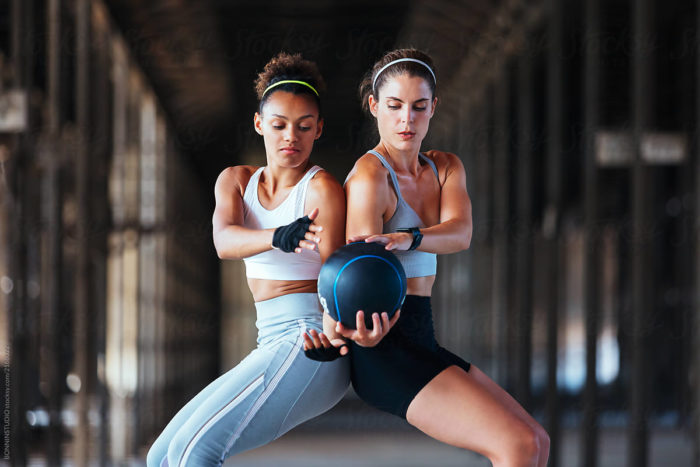 What to think about before changing career
Let's get real for a second girl. Dreamy as a career as a PT is, you need to look into the pros and cons. By weighing up the two sides, it'll help you land on a final decision.
Pros:
A lot of PT's work for themselves
You'll be turning your number one passion into a money-making career
You'll be in your favorite place every day – the gym
You can meet loads of like-minded people – you may even find your perfect workout partner
If you set your rates right and you're a top-quality PT, you can make some serious money
You're making your own rules and setting your own agenda. Working for yourself sounds great right? You'll have more freedom to make your own hours and no bossman dictating the rules.
If you love it, it doesn't really feel like work. Turning that one thing you're really passionate about into your main source of income is an extremely rewarding feeling. When everything is running smoothly and you've got a steady stream of clients, you'll definitely feel happy.
If you get results, are fun to work with and make a strong reputation for yourself, it's likely you can put the prices up for some serious returns.
[infobox] Key point: There's plenty of pros to being a PT, including being your own boss and spending more time in your home-from-home, the gym. [/infobox]
Cons:
We know you probably don't want to face it, but there are actually a few cons to heading down the road of PT. Girl, we don't want you to go in there blind without any advice or tips on what to expect.
It can be long hours
There are a lot of other PT's out there
It may take time to create your client base
Self-employment means doing everything yourself
The majority of your clients will have full-time jobs, so their fitness routine works around that, and that means so do you. Get ready for 5 am starts, lunchtime sessions, and late-night bookings.
It's something every trainer has to do and something you should be aware of from the get-go. A lot of the time, this means cutting down on social stuff and definitely not going out for a few cocktails if you've got a client in the AM.
The world of fitness is in the middle of a revolution and there are PT's everywhere looking to spread the love and earn some money along the way. You need to distinguish yourself from the competition – and that takes more than just an amazing Insta-worthy bod.
One of the hardest things about setting yourself up in the world of personal training is creating your client base. Sometimes a steady base can take years to establish.
To get started you're gonna need to be the nicest woman in the gym – unfortunately, there's no room for sassitude at this point girls. Introduce yourself to everyone and make sure they all know your name.
As long as you know your stuff, you market yourself well and you're an approachable girl, the clients will gravitate towards you.
Being self-employed sounds great. But it's also a huge learning curve for most of us. It's definitely worth getting your study on and checking out as much as you can about book-keeping.
[infobox] Key point: It might be the dream job, but it's not all rainbows and unicorns. Think about the cons just as much as the pros. [/infobox]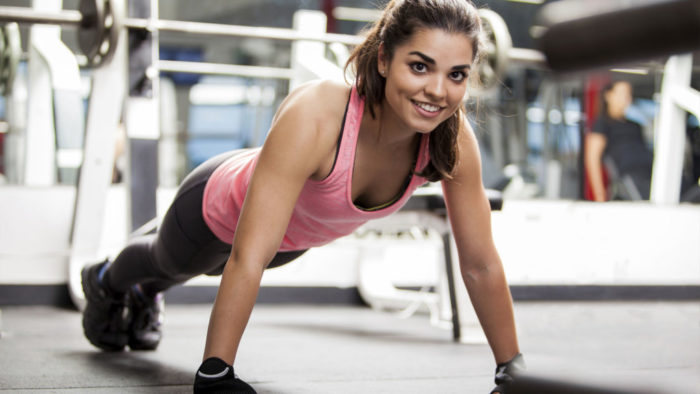 Important qualities for a personal trainer
To make it as a personal trainer, there are a few things you definitely need to perfect.
Sure enough, your incredible physique will inspire and impress. However, a lot of people who turn to a PT for help may be a little intimidated by the gym environment. To make everyone feel at ease and comfortable, you need to be calm, charismatic and really knowledgeable.
Its also just a great idea to provide an impeccable service – these people are your main source of income now girl.
Here are a few things you can do to impress your clients and make them feel confident in your abilities as a pro personal trainer:
Know your stuff – Show them you know what you're talking about. Results will speak for themselves in the long run, but in the meantime, impressive knowledge and knowing your craft will reassure them they're spending their money with the right girl.
Be punctual – There's nothing worse than tardiness when you're paying someone for a service. Be there early and you'll never fail to impress.
Serve charisma – You could know everything there is to know about the gym, but if you can't hold a conversation with your client, they won't feel comfortable.
Always do your prep – Have your workout plan to hand, get your space set up and be there showered and ready to go.
Practice sensitivity – When you're PT-ing in a busy gym, your client might not want you to talk about body fat percentages and weights in an open setting.
[infobox] Key point: Make your clients feel comfortable with your knowledge, punctuality and your natural charismatic charm. [/infobox]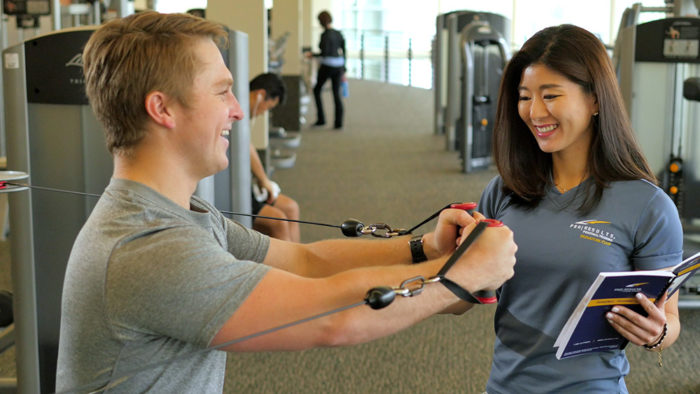 How to become a personal trainer
A long story short, with some studying and usually a hefty fee, you can become an officially qualified personal trainer.
You know it takes years of knowledge, understanding and practical research to really become a personal trainer, but the qualification is the one thing standing between you and that career change. And it's a pretty important one.
On the course you can actually learn more about the science behind working out. You'll delve into all the details on anatomy and really hone your knowledge on the stuff you've learned over the years. So it's definitely worth doing for the training alone.
On top of that, you need your PT qualification to apply for insurance, which is an essential extra layer of protection for anyone in the fitness industry.
If you've read over this guide and you're still up to the challenge, here are a few places you should look to get your qualification from:
National Strength and Conditioning Association
American Council on Exercise
National Academy of Sports Medicine
American College of Sports Medicine
National Federation of Personal Trainers
Do your research and aim to find the very best course that suits you and what you want to do with your career as a PT. You can even find specifically designed specialist courses to help you find your niche and separate you from the rest.
That's it, girls. Once you've gone through the pros and cons, and you know what it takes to get your qualification it's just a matter of going for it. Once you've done your studying and you're clued up on the anatomy and the science, you can get in the gym and start building a solid client base.
Need more inspiration for your fitness journey? Explore our other articles: